This cranberry sauce with a twist is sweet, a bit tart and incredibly delicious! Spiced with rosemary and a pinch of cinnamon, our apple cranberry chutney is the perfect complement to your holiday meals! Best of all? It's ready in just 15 minutes!
While cranberry sauce on the table is a must for many holiday gatherings and dinners, it's never been a particular tradition within my own family. In fact, I'd never really thought to make cranberry sauce myself until it unexpectedly showed up on my plate at a small restaurant in Bavaria. I had ordered schnitzel with a gorgonzola cream sauce (schnitzel being one of my favorite German recipes and gorgonzola being my one true love) and it was served alongside an unassuming cranberry sauce that completely transformed the dish! The sweet tartness of the cranberry sauce paired so incredibly well with the creamy gorgonzola and fried pork cutlets that I've been recreating the flavor combination at home for awhile now!
apple cranberry chutney
My favorite way to add cranberries to dinner has become this spiced cranberry chutney. As opposed to your regular cranberry sauce, this chutney is a bit chunkier with small pieces of apples and dried figs. It's sweetened with brown sugar and orange juice and spiced with fresh rosemary and just a hint of cinnamon!
To make this chutney recipe, you just toss all your ingredients into a saucepan and cook over medium heat until you get to your desired consistency. I like to pull mine off the heat as soon as the cranberries start popping and the apples are tender so that there are still quite a few pieces of fruit. If you want a smoother consistency you can just cook it a bit longer until the cranberries and apples break down a bit more!
A few notes: both fresh and frozen cranberries work well for this recipe and I used frozen this time around. And if you don't have any dried figs on hand, you can always substitute them for other dried fruits such as dried apricots or even candied ginger!
how to enjoy your new favorite cranberry sauce
Other than serving this cranberry chutney with your thanksgiving turkey, we like to add it to charcuterie boards, pork chops and grilled cheese sandwiches. It's also great anywhere you would use jam or compote — think syrup for pancakes, swirled with yogurt or spread on a slice of toast with a bit of cream cheese!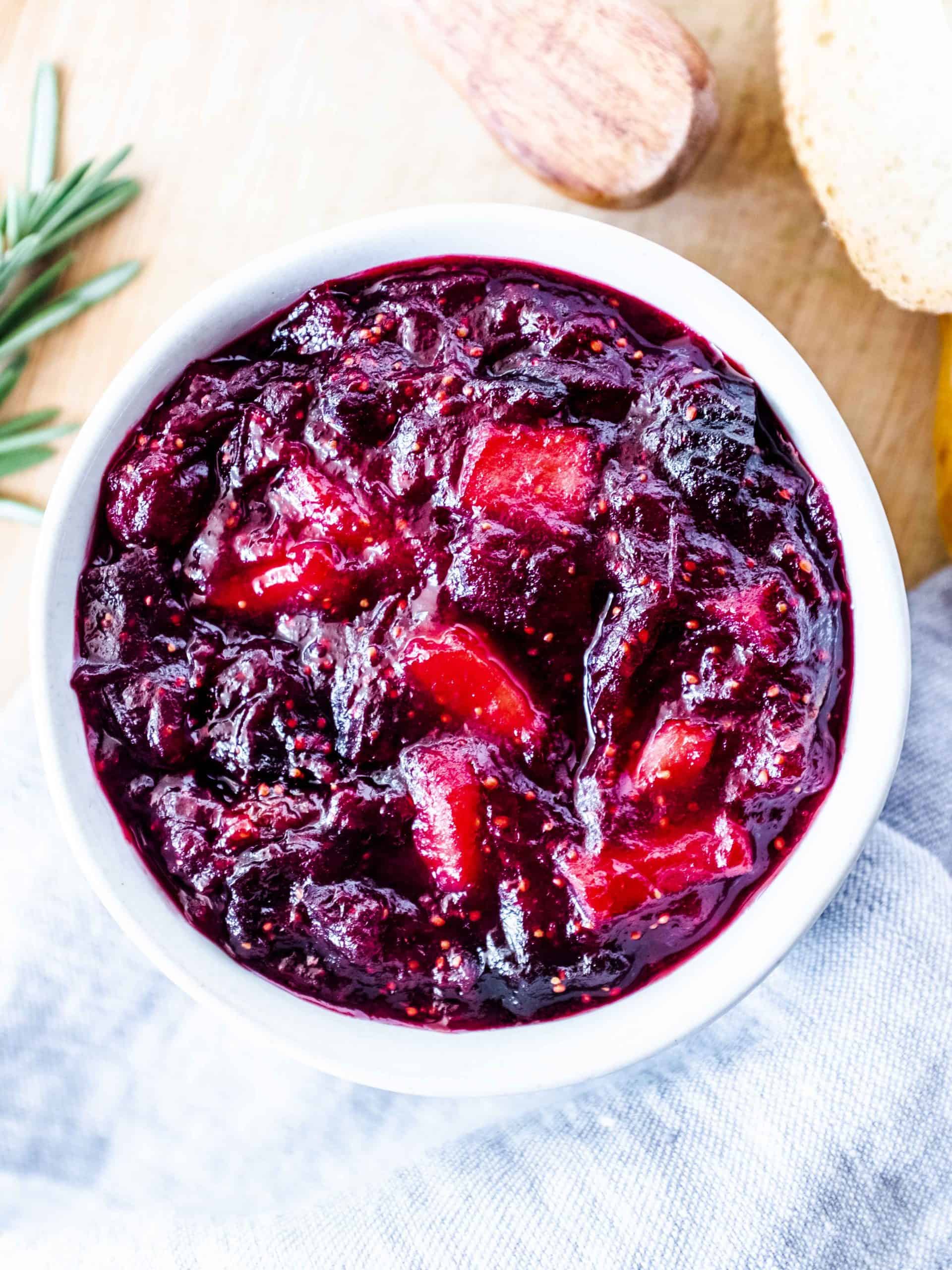 ingredients
cranberries*

12 oz (340 g)

tart apples

2 small

(peeled, cored and chopped)

chopped dried figs

¾ c (120 g)

brown sugar

¾ c (150 g)

orange juice

½ c (120 ml)

apple cider vinegar

¼ c (60 ml)

ground cinnamon

¼ tsp

fresh rosemary

2 sprigs

salt

to taste
instructions
Combine all ingredients in a saucepan over medium heat. Simmer for 15 minutes or until the apples are tender, the cranberries begin to pop and the sauce thickens.
Remove from heat and let cool completely. Store in an airtight container in the refrigerator for up to two weeks.
notes
cranberries: both fresh and frozen cranberries will work for this recipe!

Did You Make This Recipe?
This post may contain affiliate links through which we may earn a small commission at no additional cost to you. We only recommend products that we genuinely love and would use ourselves.
For more recipes perfect for thanksgiving, make sure to check out these posts: