Our apple crumble cheesecake features a crunchy graham cracker crust, silky cheesecake filling with a hint of cinnamon and an easy apple crumble topping! This autumn-inspired dessert is the ultimate showstopper and perfect for your next holiday gathering!
We're celebrating the first days of apple season with this cozy autumn-inspired cheesecake! Velvety cheesecake, tart apples and a crunchy streusel topping, apple crumble cheesecake is the perfect baking project for the first weekends of fall.
And if you need more ways to use up your apple harvest, make sure to check out our apple crisp with polenta streusel and apple fritters with pecans!
getting started
special equipment
You'll need a 9-inch (23 cm) springform pan for this recipe. Springform pans have sides that unfasten with a latch, which makes removing the cheesecake a cinch.
Because springform pans are comprised of two separate pieces, some can be prone to leaking. I've never had any issues with my pan, but if you're worried you can always place your springform pan on top of a rimmed baking sheet to catch any leaks in the oven.
cheesecake base
We'll start off with our favorite cheesecake recipe. The crust is made with crushed graham cracker crumbs, melted butter, sugar and cinnamon. Although if you wanted to add a little more fall flavor, you could switch out the graham crackers for ginger snaps or your favorite crispy spice cookies.
As for the cheesecake filling itself, it's light and creamy, not overly sweet and spiced with just a bit of cinnamon!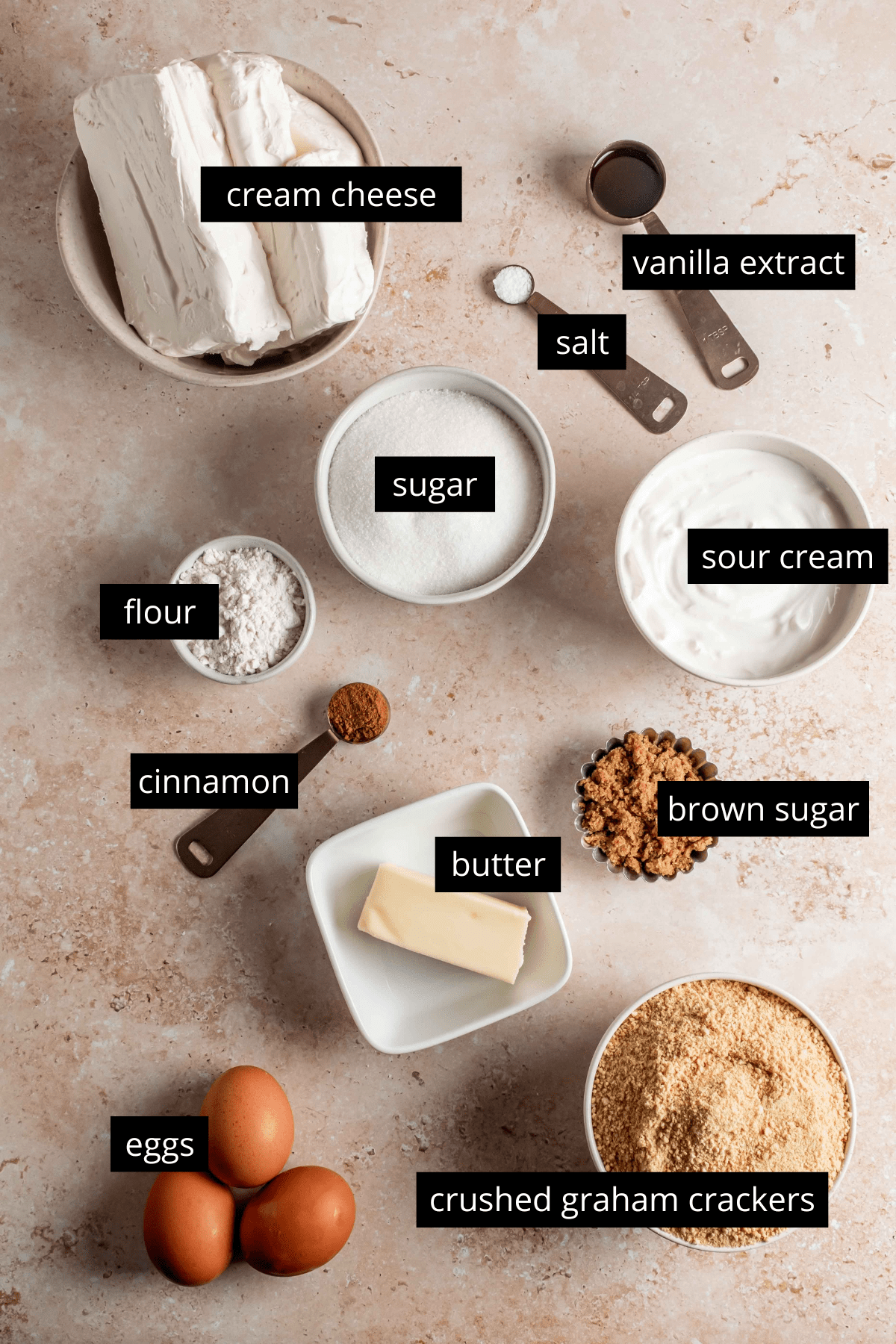 apple crumble topping
Our topping is made up of two parts: spiced apples and a crunchy streusel. It might sound like a bit of work, but both components are super easy to whip up!
apples
The apple topping consists of chopped apples mixed with maple syrup and cinnamon. Granny smith apples are perfect for this recipe as their crisp tartness pairs extremely well with the creamy cheesecake. But really honeycrisp, golden delicious and gala apples would all make great substitutes.
One quick tip: When transfering the apples to the cheesecake, use a slotted spoon to avoid getting too much liquid on the cheesecake.
streusel
The crispy streusel is made by cutting cold butter into a mixture of flour, rolled oats and brown sugar. To make this process easier, first cut the cold butter into small cubes. Then use a pastry knife, a pair of forks or even your hands to work the mixture together until it begins forming clumps. Sprinkle the streusel over the apples and your cheesecake is ready to bake!
assembly + baking
To recap, this cheesecake can be assembled in four easy steps.
Prebake the crust for 10 minutes and let it cool to room temperature.
Pour in the cheesecake filling.
Add a layer of spiced chopped apples.
Sprinkle the streusel over the top and bake!
When it comes to bake time, this cheesecake generally takes about 75 minutes in the oven. But I would recommend to start checking at the hour mark and go up to an hour and a half if necessary. Only bake longer if absolutely necessary! The cheesecake should be set around the edges, but still quite jiggly in the center. Make sure not to overbake to avoid a dry texture.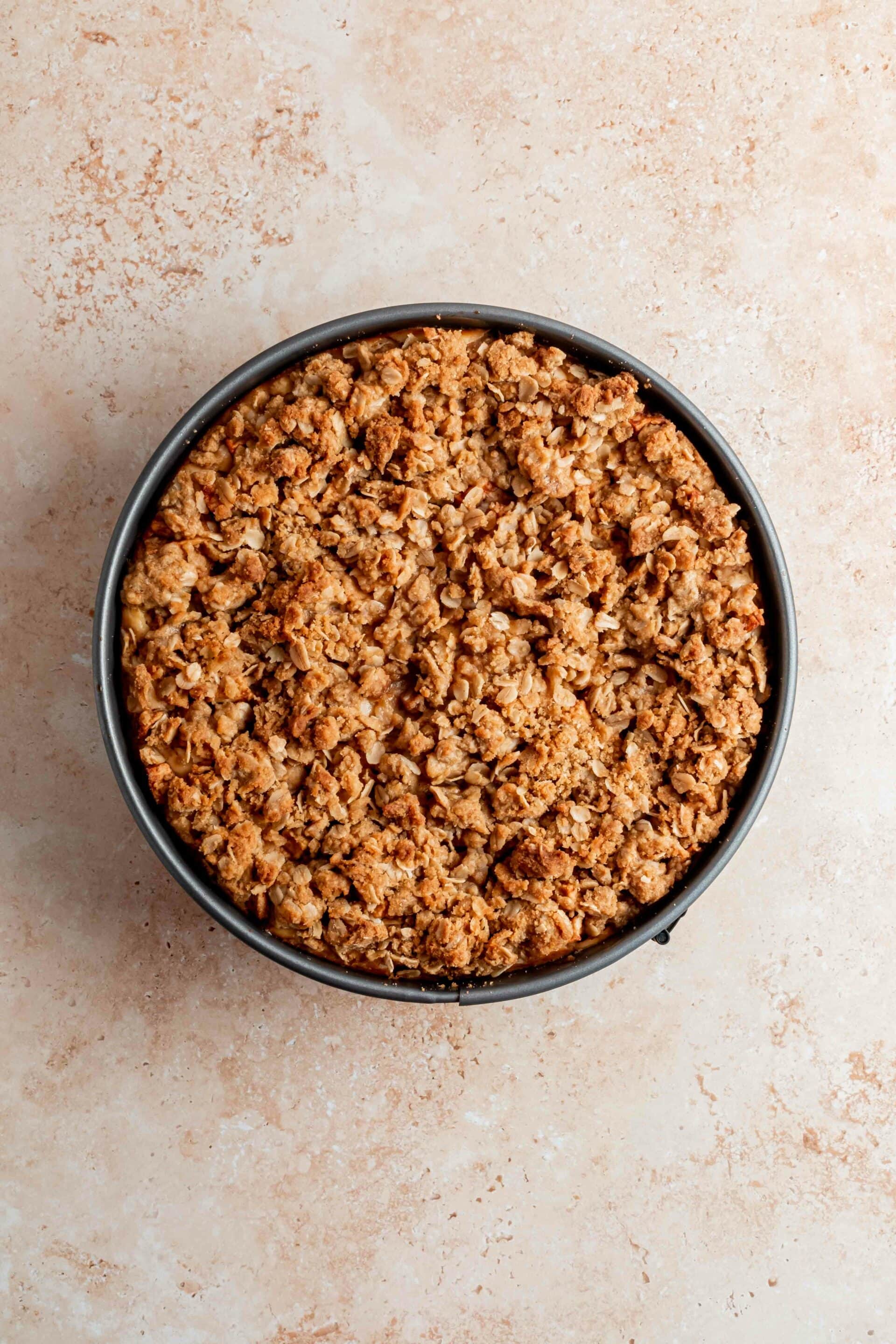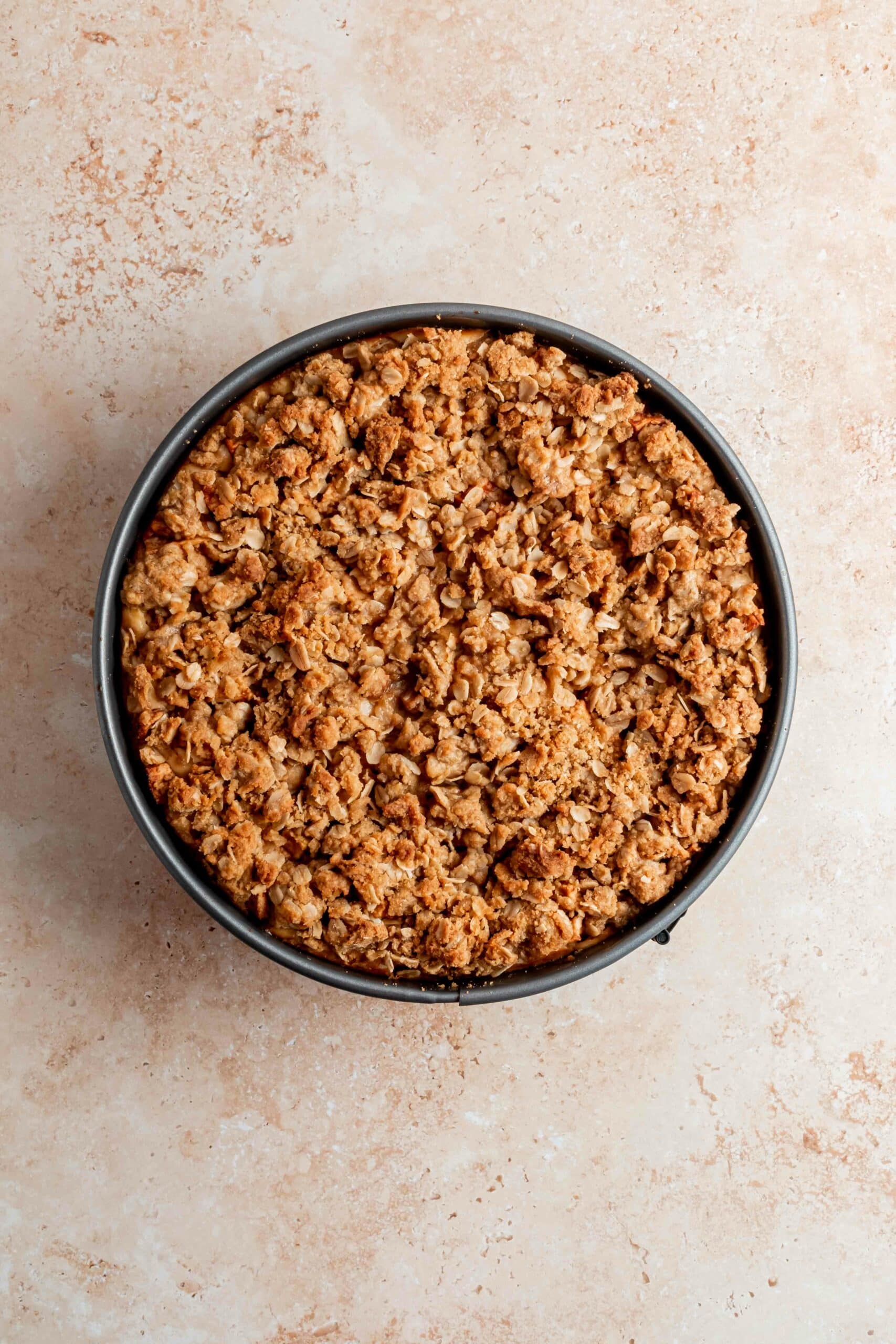 tips for a perfectly creamy cheesecake
It's all about the cream cheese. Use full-fat cream cheese in block form. Spreads or reduced fat cream cheeses just won't hold up in this recipe.
Use room temperature ingredients. Ideally all ingredients should be at room temperature to make blending easier, but this is especially important for the cream cheese. Using cold cream cheese will give your cheesecake a lumpy texture.
Don't overmix the batter. When adding the eggs, make sure to mix until just incorporated. Overmixing the eggs into the batter can add too much air, which may cause the cheesecake to deflate a bit during baking.
Let the cheesecake cool at room temperature before transfering to the refrigerator. Because it will also need an additional six hours in the fridge, this cheesecake is best baked a day in advance.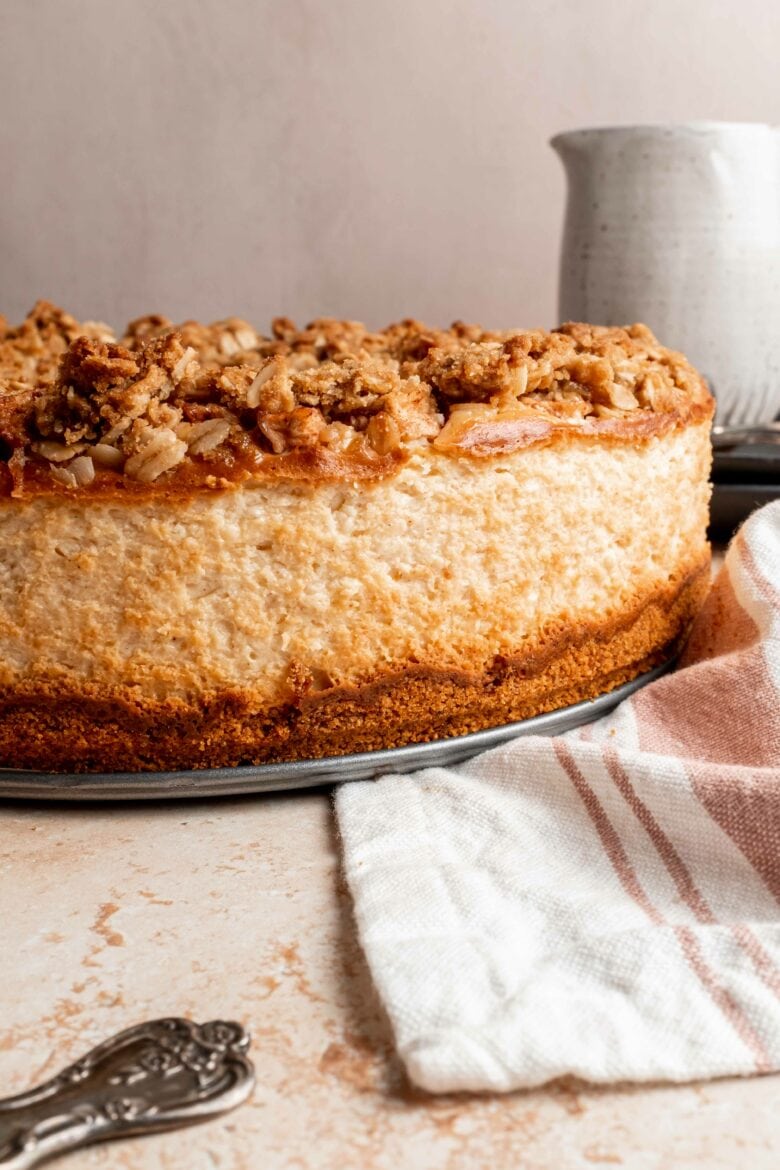 apple crumble cheesecake: FAQs
What apples should I use?
My favorite apples for this recipe are granny smith for their tart flavor. Other great options that hold up well during baking include honeycrisp, gala and golden delicious.
How do I know when the cheesecake is done?
Your cheesecake is ready when the outer edge is set, but the center still jiggles when moved. If you really want to be sure, you can use an instant read thermometer to check the internal temperature. The cheesecake is ready to come out of the oven when it reads about 145-150F (63-65C) at the center.
How should any leftovers be stored?
Leftovers can be kept in an airtight container in the refrigerator for up to 3 days. This cheesecake can also be frozen for several months, but the texture will be slightly changed. To freeze, wrap in a layer of plastic wrap and then a layer of aluminum foil.
For more of our favorite cheesecake recipes, make sure to check out these posts!
Print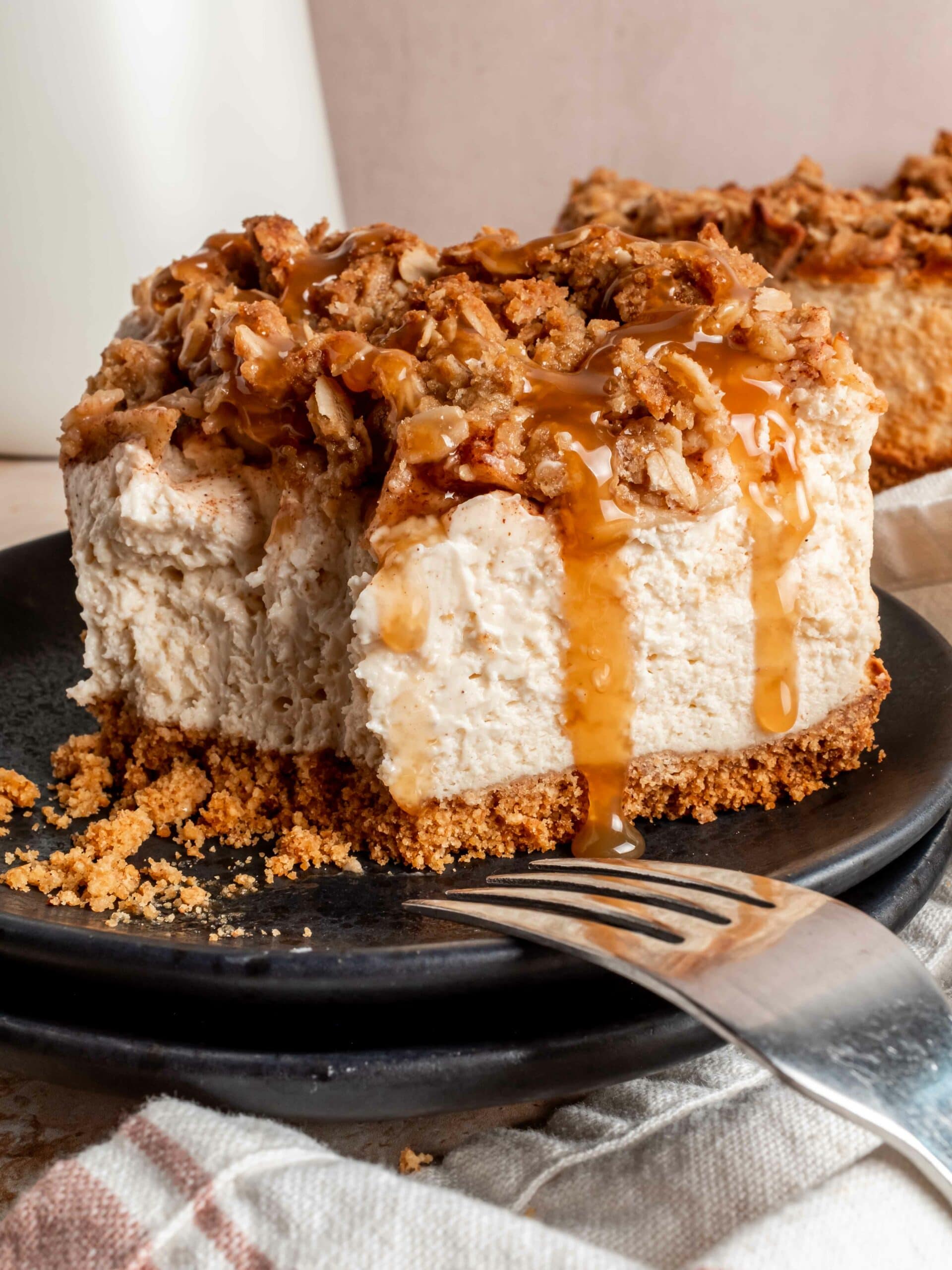 apple crumble cheesecake
---
Author:

Prep Time:

30 minutes

Cook Time:

80 minutes

Total Time:

1 hour 50 minutes

Yield:

12
Description
Creamy cheesecake, tart apples and a crunchy streusel topping, this apple crumble cheesecake is the perfect autumn baking project!
graham cracker crust
graham cracker crumbs

2 c (210 g)

brown sugar

2 tbsp (25 g)

ground cinnamon

½ tsp

melted butter

5 tbsp (70 g)
cheesecake
cream cheese, room temperature

32 oz (900 g)

granulated sugar

1 c (200 g)

all purpose flour

¼ c (30 g)

cinnamon

½ tsp

salt

¼ tsp

sour cream

1 c (240 g)

vanilla extract

2 tsp

eggs

3 large
apple crumble topping
granny smith apples*

2 medium

approximately 2.5 c (300 g) peeled, cored and chopped

maple syrup

2 tbsp

ground cinnamon

1 tsp

cold butter

4 tbsp (55 g)

rolled oats

½ c (50 g)

all purpose flour

½ c (60 g)

brown sugar

⅓ c (70 g)

salt

pinch

caramel sauce (optional)

for serving
---
Instructions
graham cracker crust
In a small bowl combine the finely crushed graham crackers, brown sugar, cinnamon and melted butter and mix until completely coated. Firmly press the mixture into the bottom of the pan to form the crust.

Bake for 10 minutes, then remove and let cool.
cheesecake
Beat the room temperature cream cheese in a mixing bowl until completely smooth.

Add the sugar, flour, cinnamon and salt. Continue beating until smooth.

Mix in the sour cream and vanilla extract.

Add the eggs one at a time, beating after each addition until just combined. Don't overmix here!

Pour the cheesecake batter into the cooled crust.
apple crumble topping
Peel, core and chop the apples into ½ inch (12 mm) pieces. Toss the apples with the maple syrup and cinnamon in a small bowl. Use a slotted spoon to gently place in a single layer on top of the cheesecake. Discard any excess liquid.

Cut the cold butter into small cubes. Place in a small bowl with the oats, flour, brown sugar, and salt. Use a

pastry cutter

or a pair of forks to cut the butter into the oat mixture until clumps form. Alternatively, use your hands to work the mixture together.

Sprinkle the crumble over the cheesecake in an even layer.
assembly
With the oven still at 325 F (160 C), place the cheesecake on the center rack . To safeguard against any batter leaking, you can also place the cheesecake on a foil-lined pan.

Bake for 75-90 minutes. The outer edges should be set, but the center will still jiggle if moved. If you're really unsure, you can always test the cheesecake with an

instant read thermometer

. The center of the cheesecake should be about 145-150 F (63-65 C). Make sure not to overbake to avoid a dry texture.

Let the cheesecake cool at room temperature for 2 hours. Transfer to the refrigerator for at least 6 hours before releasing from the springform pan and serving.

Drizzle with caramel sauce if desired.
Notes
Apple varieties: I tend to use granny smith apples for the topping, but honeycrisp, gala or any apple with a tart flavor would work well in this recipe.
Storing: This cheesecake will keep covered in the fridge for up to 3 days or frozen for several months.
Category:

dessert

Method:

baking

Cuisine:

american
Keywords: apple crumble cheesecake, apple cheesecake, caramel apple cheesecake
This post may contain affiliate links through which we may earn a small commission at no additional cost to you. We only recommend products that we genuinely love and would use ourselves.