Apple cider donuts — the taste of autumn! Spiced with the flavors of fall and coated in cinnamon sugar, these baked donuts are the perfect accompaniment to your morning coffee!
Although we spent last year exploring New England and admiring the beautiful fall foliage, it takes a bit longer for autumn to reach us here in the Ozarks. While the colors have started to change a bit, it often still gets so warm that it feels like we're in the middle of summer. In the absence of the cooler weather I'm used to, I've been baking all things pumpkin and apple to bring a little fall coziness to our home. These baked apple cider donuts are my latest obsession!
reducing the apple cider
Whenever baking with apple cider, I like to reduce it on the stovetop to get a more intense and concentrated apple flavor. This extra step only takes about 15-20 minutes and has a huge effect on the flavor of the donuts!
To reduce the cider for these donuts, start by pouring 1 ¼ cup (300 ml) into a saucepan. Bring the cider to a simmer and cook over medium-low heat until it reduces to about ⅓ cup (80 ml). This will usually take about 20 minutes, but start checking at about 15 minutes to make sure you don't simmer it for too long. Then you'll just need to let it cool for about 10 minutes before adding it to your donut batter!
When I'm making these donuts to serve warm, I like to reduce the cider the night before to make my morning baking super simple!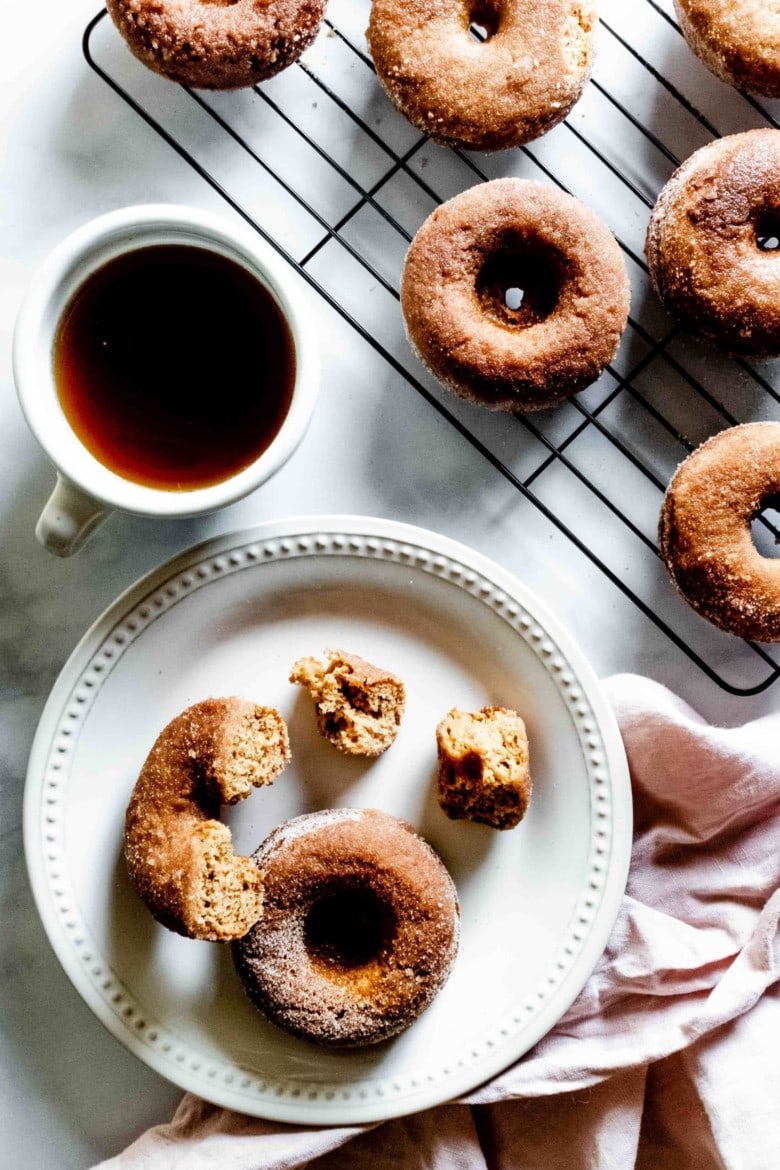 baking apple cider donuts
Baked donuts are one of my favorite morning bakes — they only need about 10 minutes in the oven so they're perfect for a last minute breakfast! I use a donut pan to get the shape, but there are some inventive ways to get around this if you're not ready to invest in one. For example, try baking the batter in regular muffin tins and placing a ball of foil in the center to make the donut holes.
One last tip: it can be a bit messy to spoon the batter into the donut forms so I like to use a piping bag (or a ziplock bag with the corner cut off) to pipe in the dough.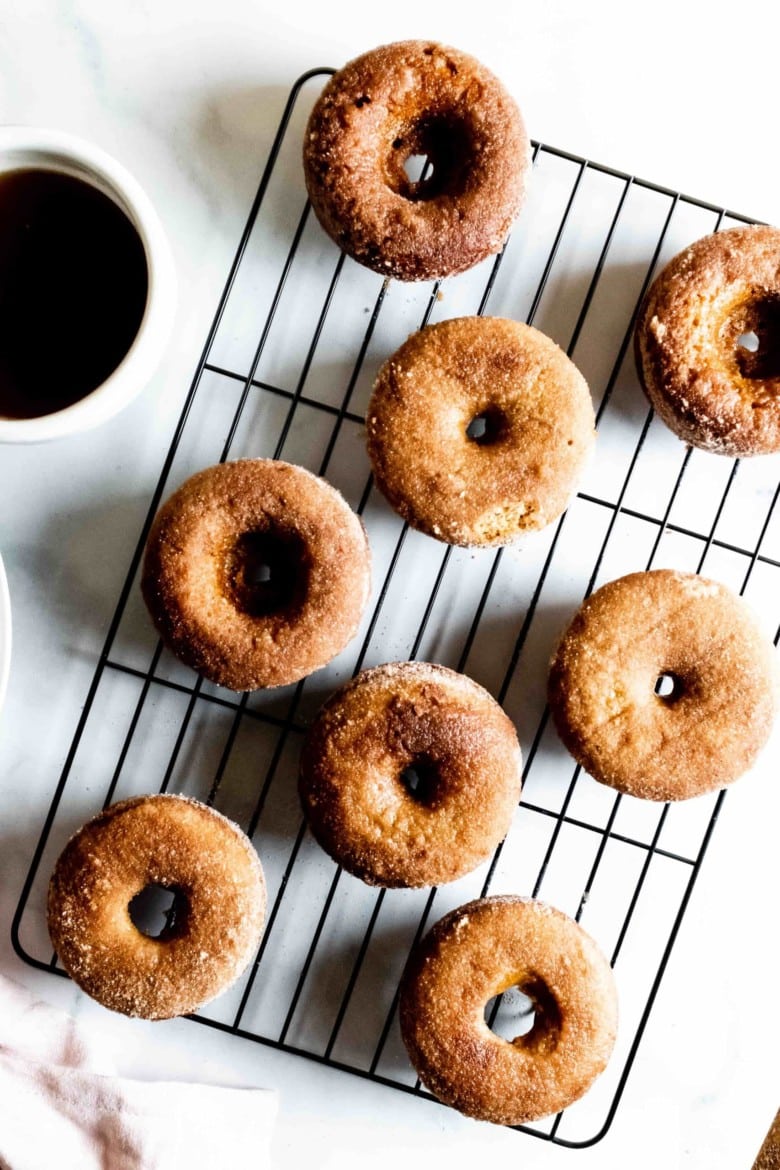 cinnamon sugar coating
The final step — roll your fresh apple cider donuts in some cinnamon sugar goodness!
Start by mixing a bit of cinnamon with granulated sugar. You can also add a bit of brown sugar and a pinch of other autumny spices like nutmeg or ginger if you'd like! Then melt your butter and either dunk your donuts into the butter or brush a bit on top if you don't want to coat the entire donuts (I'm partial to the dunking methodology). And then roll the donuts in the sugary mixture!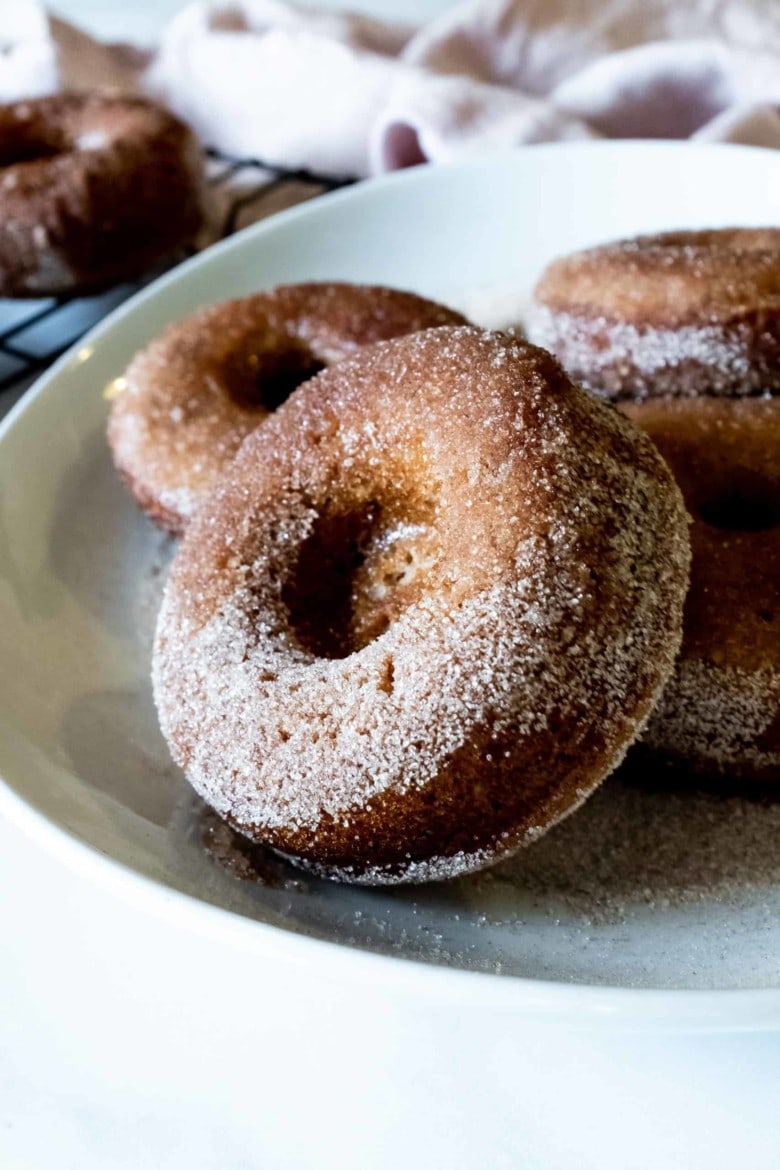 Looking for more ways to use up your apple harvest? Give these a try!
ingredients
apple cider donuts
apple cider

1 ¼ c (300 ml)

flour

1.5 c (180 g)

brown sugar

½ c (100 g)

granulated sugar

¼ c (50 g)

baking powder

1 tsp

baking soda

½ tsp

salt

¼ tsp

cinnamon

1 tsp

nutmeg

¼ tsp

melted butter

2 tbsp (30 g)

egg

1 large

vanilla extract

1 tsp

milk

⅓ c (80 ml)
cinnamon sugar coating
melted butter

5 tbsp (70 g)

granulated sugar

¾ c (150 g)

cinnamon

1 tsp
instructions
In a small saucepan over medium-low heat, simmer the apple cider until it reduces to ⅓ cup (80 ml). It took about 20 minutes for me, but start checking at around 15 minutes.
Preheat oven to 350 F (180 C) and grease a doughnut pan.
In a large bowl, mix together the flour, sugar, baking powder, baking soda, salt, cinnamon and nutmeg.
In a separate bowl, mix together the reduced cider, melted butter, egg, vanilla extract and milk.
Add the wet ingredients to the dry ingredients and stir until just combined.
Evenly distribute the batter into 10-12 doughnut forms. They should be about ¾ full.
Bake for 10-12 minutes or until an inserted toothpick comes out clean.
Allow to cool slightly and then turn out to cool completely on a wire rack.
Mix together the sugar and cinnamon for the coating. Once the donuts have cooled, brush with (or dunk into) melted butter and roll in cinnamon sugar.

Did You Make This Recipe?
This post may contain affiliate links through which we may earn a small commission at no additional cost to you. We only recommend products that we genuinely love and would use ourselves.