Our deliciously creamy baked goat cheese is topped with fresh tomatoes, garlic and basil and served with crusty, garlicky toast! Great for holidays and parties, this goat cheese dip is always a hit!
This goat cheese appetizer is something I used to bring to parties and gatherings all of the time, but I haven't made it in quite awhile. That's probably in large part because parties and gatherings in 2020 have become an almost foreign concept. But with the new year just around the corner, I've been dreaming of the party food of holidays past and this lovely little goat cheese dip popped back into my mind. So I whipped up a batch just for Viktor and myself (which we quickly polished off) and thought I'd share it with you in case you're in need of a small batch holiday appetizer!
baked goat cheese
This baked goat cheese is one of the easiest appetizers to whip up, but it definitely doesn't compromise on flavor and it's requested regularly by anyone who tries it. It's made by mixing together goat cheese, cream cheese, parmesan and a bit of olive oil and then baking the mixture until it's bubbly and golden brown around the edges. Another great thing about this goat cheese dip? You can prepare it ahead of time and then when you're ready to eat, just pop it in the oven for 15-20 minutes!
While this recipe calls for plain goat cheese, I often substitute goat cheese that already has spices and herbs mixed in. Garlic and herb goat cheese is my absolute favorite for this recipe, but really any variety will work well. As long as you're using a soft goat cheese it will be perfect for this recipe.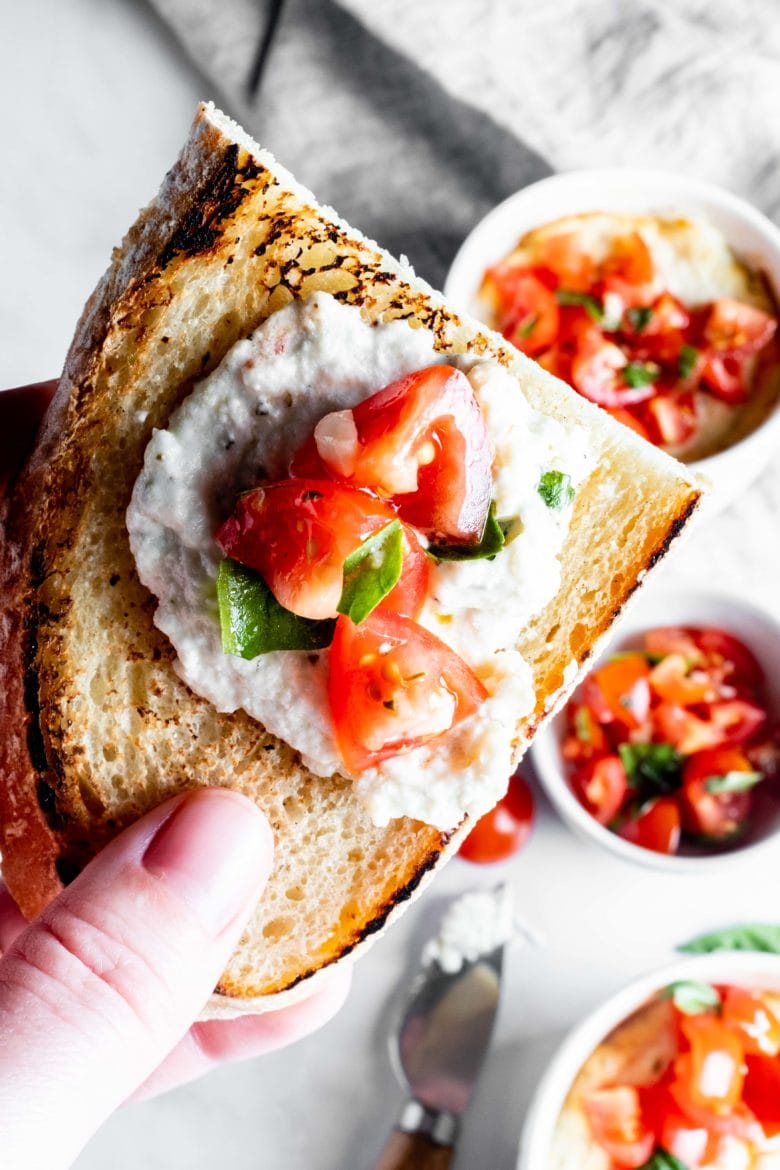 bruschetta
To make the baked goat cheese dip extra special, I like to serve it with bruschetta. While we in the US generally think of bruschetta as the tomato portion of the Italian appetizer, the word actually refers to the crusty bread and how it's prepared! But no worries — this recipe has both a delicious and easy tomato topping as well as garlicky toast!
The tomato topping is made with chopped cherry tomatoes, minced garlic, oregano, fresh basil and a drizzle of olive oil. It brings a bit of lightness to the overall dish and perfectly complements the creamy goat cheese! When it comes to the tomato topping, you have two options. You can spoon it over the goat cheese once it's finished cooking or even add it during the last five minutes of baking to warm it up a bit. Honestly, I can't decide which I like better so it's usually a last minute decision for me!
And that crispy bread — the bruschetta! Start by slicing your bread (I like to use french bread or really any rustic loaf) and toasting it in a dry skillet over medium heat. The bread should be crispy and slightly browned, which should take about a minute or so on each side. Now the most important part: smash a piece of garlic and rub it all over the toasted bread. It's unbelievable how much flavor this little step adds! And to finish off the appetizer, you can either serve the toasts as is or even drizzle them with a bit of olive oil!
what to serve with baked goat cheese
If you need a few more crunchy snacks besides your bruschetta toasts to scoop up this cheesy dip, chips and crackers are always excellent options. And although we most recently enjoyed this as a light dinner, it works beautifully as the centerpiece of a larger charcuterie board! Here are some of our favorite charcuterie picks to accompany the star of the show:
prosciutto or salami
roasted red peppers
olives
fruits (apples, pears and grapes)
more cheese! (maybe some fresh mozzarella)
And if you need a few more appetizers that are sure to impress, give these a try!
ingredients
baked goat cheese
goat cheese

8 oz (220 g)

cream cheese

4 oz (110 g)

grated parmesan

⅓ c (30 g)

oregano

½ tsp

olive oil

2 tbsp

salt

to taste
bruschetta
chopped cherry tomatoes

1 c (200 g)

garlic (divided)

3 cloves

basil

4 leaves

olive oil

1 tbsp

oregano

¼ tsp

salt

to taste

french bread

1 loaf
instructions
Preheat the oven to 400 F (200 C).
In a large bowl, beat together all ingredients for the baked goat cheese until creamy and smooth. Place in a baking dish and bake for 15-20 minutes or until the cheese is bubbling and the edges are beginning to brown.
Make the tomato topping. Mince two cloves of garlic and tear the basil into small pieces. Place the chopped tomatoes, garlic, basil, olive oil, oregano and salt in a small bowl and mix well.
Slice the bread and slightly smash the last clove of garlic. Heat up a skillet over medium heat and toast each slice of bread (about 1-2 minutes on each side). Rub each slice of toasted bread with the garlic.
When the goat cheese is cooked, top with the tomato mixture and serve with crusty bread.

Did You Make This Recipe?
This post may contain affiliate links through which we may earn a small commission at no additional cost to you. We only recommend products that we genuinely love and would use ourselves.