Slow cooked to perfection, this barbacoa beef is tender, juicy and incredibly easy to make! We like to serve our barbacoa as tacos with a squeeze of lime juice, onion and cilantro, but this succulent meat is also great in burritos, quesadillas and rice bowls!
These crowd pleasing barbacoa beef tacos are sure to impress and require just a few minutes of hands on prep! This recipe is great if you need to serve a large group, but we also like to cook up a batch at the beginning of the week to use for lunches all week long. And it's not just tacos every day! Of course you can use it in your traditional Mexican fare, but we also like it on sandwiches, stirred into a big pot of mac and cheese or in a barbacoa hash skillet with potatoes and eggs!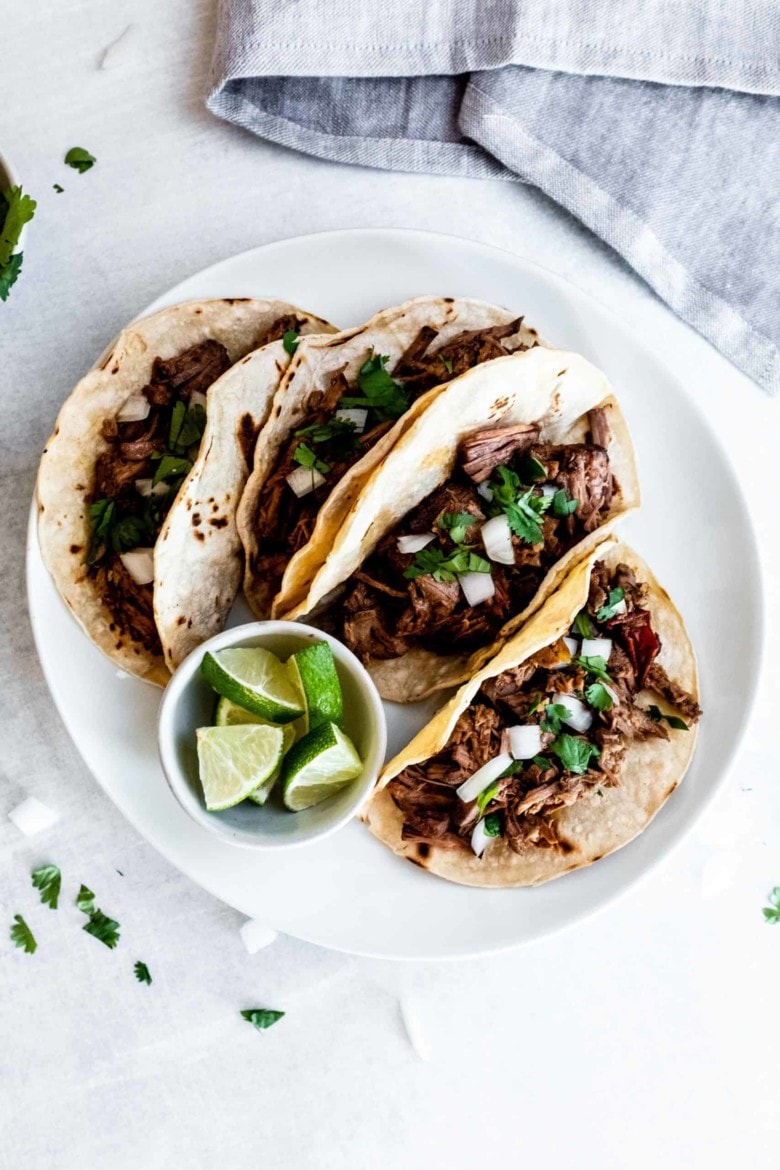 origins of barbacoa
In contemporary Mexico, barbacoa refers to meat that is slow roasted in an underground oven heated with firewood, a method that can be traced back to the Maya! Wrapped in agave leaves, this process also steams the meat until it becomes incredibly tender and juicy.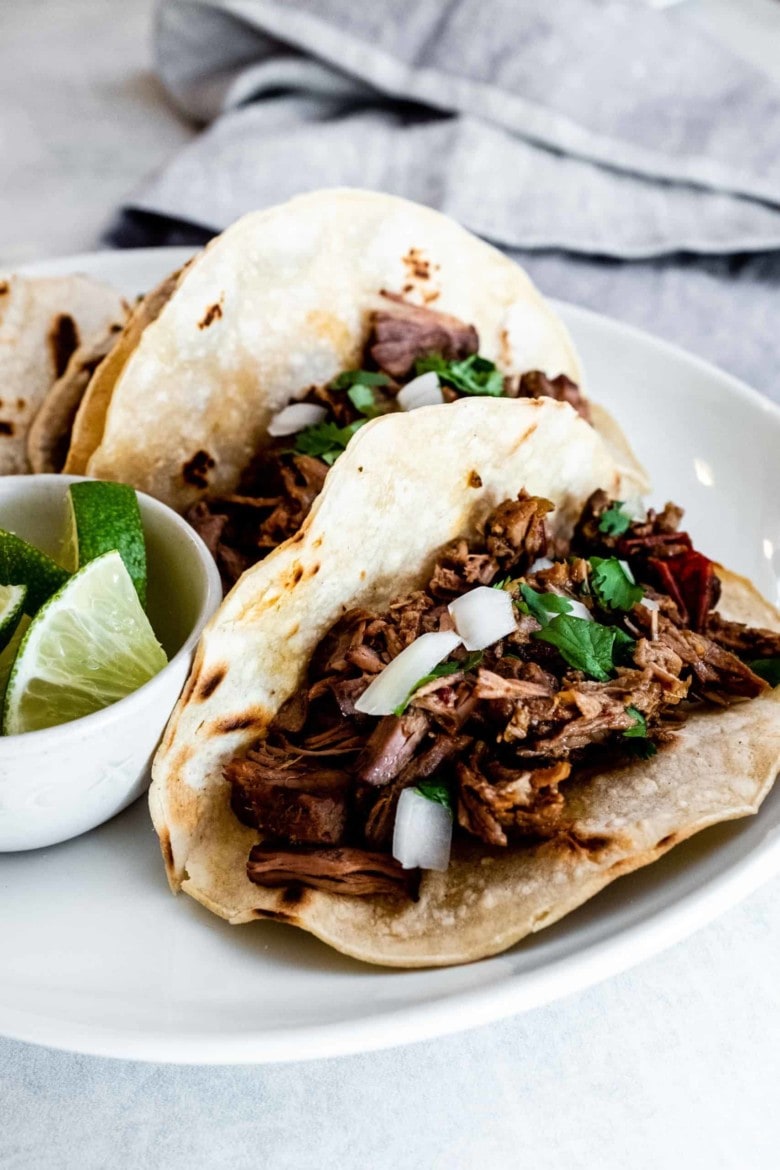 barbacoa tacos at home!
So how can we try and recreate these rich flavors at home? I like to start off with a large chuck roast (you're going to want leftovers!) and then I sear it in a bit of oil so that some of the shredded beef will have a crispy exterior. Then it's just a matter of slow cooking the meat with a bit of beef broth, onion and a few spices. I generally just cook this in a big pot on the stove, but I've also included instructions to use a slow cooker as well!
To get that nice smokiness in lieu of firewood, I also add a few chipotles in adobo to the pot. While some versions of barbacoa may use regional chilies and vegetables for a bit of added flavor, I like to add these smoked jalapenos to give the final product a bit of smoky heat! If you want your barbacoa to be a bit less spicy, try using just one chili or adding them without the seeds.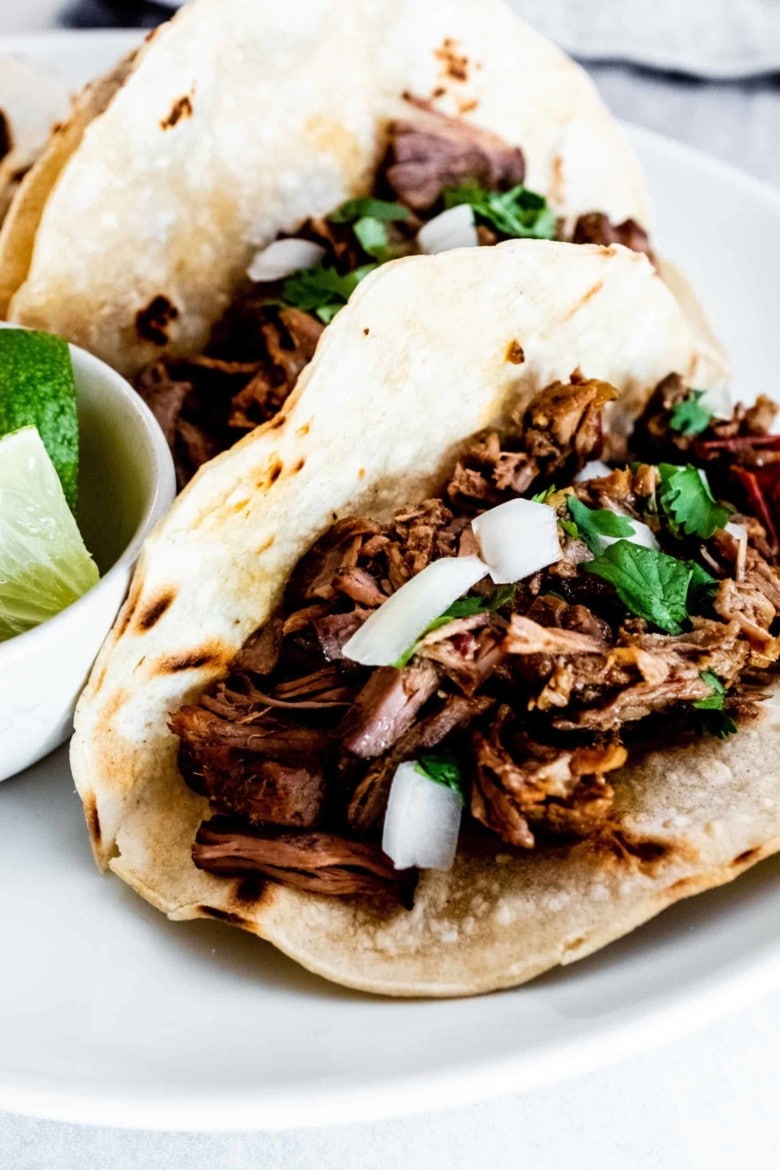 I like to top these barbacoa tacos with squeeze of lime juice and sprinkling of onions and cilantro. But if you're looking for more recipes to add to Mexican night, I definitely recommend this easy guacamole and fresh pico de gallo!
And if you're looking for more main dishes, definitely try our slow cooker carnitas recipe or these fun chicken empanadas!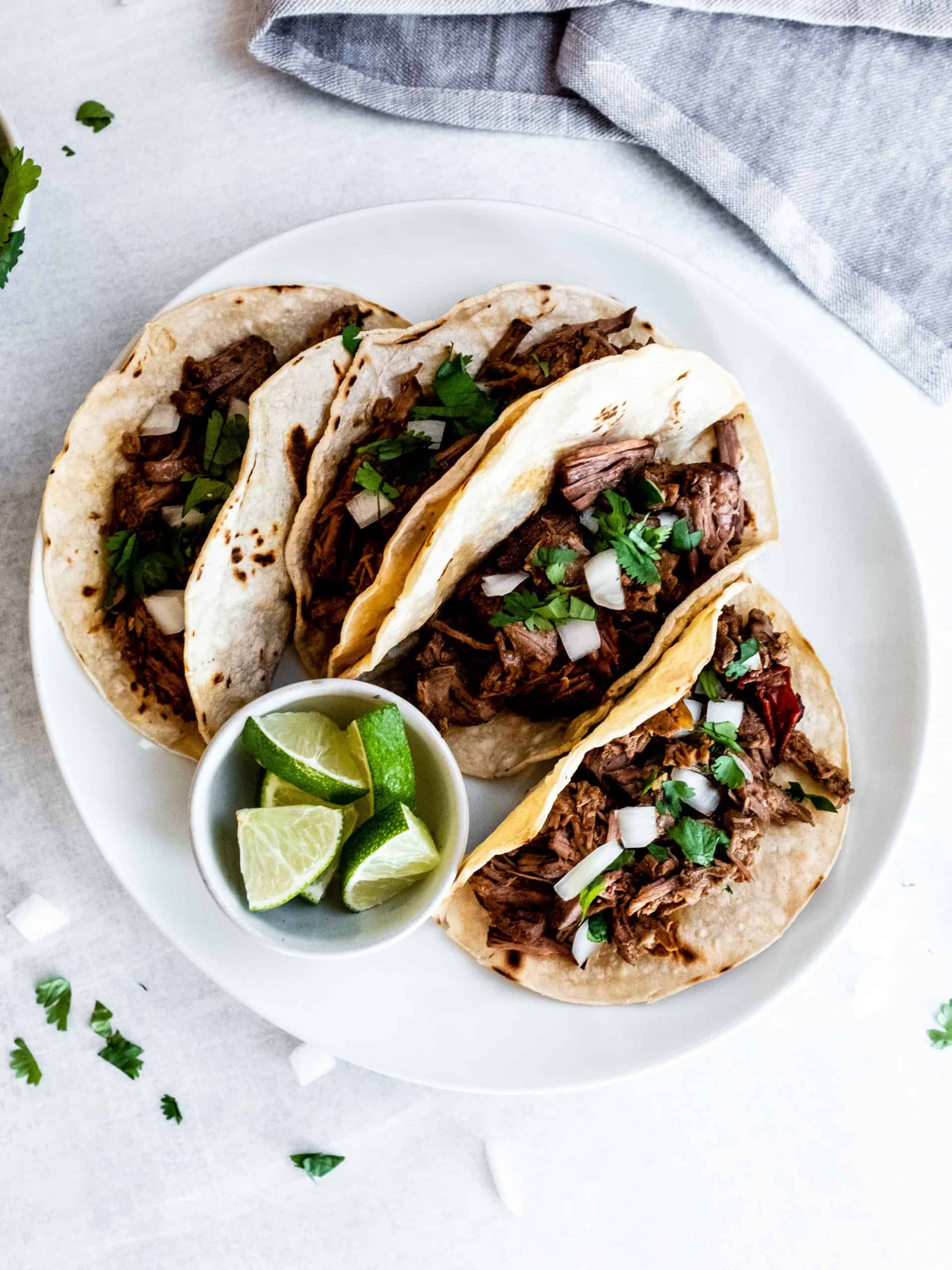 ingredients
barbacoa beef
beef chuck roast

3 lbs (1.5 kg)

salt and pepper

to taste

vegetable oil

1.5 tbsp

beef broth

1.5 c (350 ml)

onion (diced)

1 medium

chipotles in adobo (chopped)

3

bay leaves

2 leaves

cumin

1 tbsp

oregano

1 tbsp
for serving
- tortillas
- lime
- cilantro
- white onion
instructions
Cut the beef into large chunks of about 2 inches (5 cm). Generously season with salt and pepper.
In a large pot over medium heat, add the vegetable oil and sear the beef on all sides.
To make this recipe in the slow cooker, transfer the seared beef to the slow cooker along with the rest of the ingredients. Cook on low heat for about 8 hours or on high for 3-4 hours.
To continue on the stovetop, add a bit of beef broth to the pot and scrape up any brown bits on the bottom. Pour in the rest of the beef broth and the remaining ingredients. Bring to a slight boil, cover and cook over low heat for 2-3 hours.
When the beef is tender and easily falls apart, remove the bay leaves and add salt to taste.
Shred the meat and squeeze lime juice on top. Serve with tortillas, cilantro and onions.

Did You Make This Recipe?
This post may contain affiliate links through which we may earn a small commission at no additional cost to you. We only recommend products that we genuinely love and would use ourselves.