If you love dumplings in the form of ravioli and gyoza, then you have to try this recipe for khinkali! Khinkali are extremely delicious Georgian dumplings and a favorite in our household. This version is filled with ground beef and a rich, savory broth!
Dumplings are perhaps the most universal of foods around the world. And after trying countless piroshki, empanadas, samosas, pelmeni, ravioli, mandu and potstickers, I can say with certainty that the version closest to my heart is khinkali – large dumplings from Georgia (the country, not the state), most commonly filled with meat and a savory broth. Brittney wasn't introduced to Georgian food until we lived in Prague. After tasting this new cuisine, she immediately requested that I learn how to make khinkali at home. My recipe is not traditional – for example, I use a bit of soy sauce in the filling – but these khinkali are fairly simple to make and require just a handful of ingredients.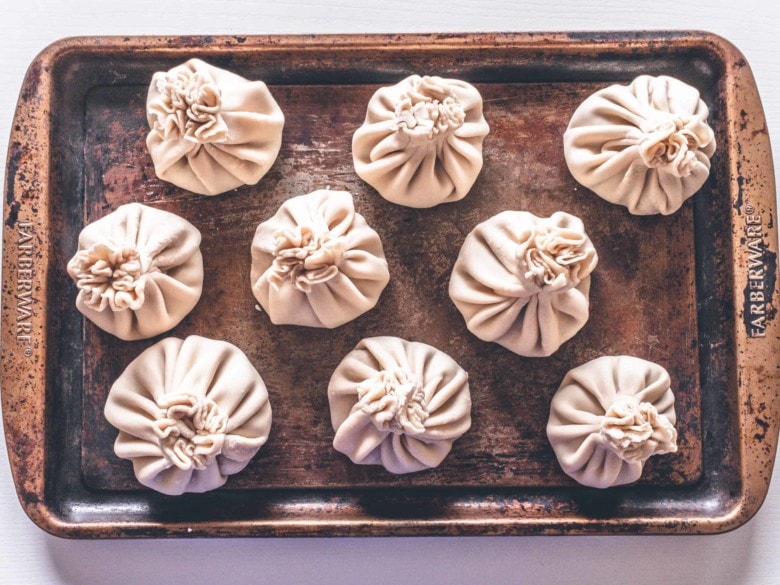 The dough is as straightforward as it gets, with only two necessary ingredients – water and flour. When you're forming the dough, make sure to add water gradually just until the dough becomes elastic. You want to use as little water as possible.
As for the filling, I add a little soy sauce, as I find that it enhances the meaty flavor. I also grate the onion instead of chopping it, since khinkali are quite large and grated onion cooks quicker. You could use a blender to puree your onion instead of grating, if you prefer.
You want the filling to be as wet as possible – the liquids inside the dumpling will become a delicious broth. Usually the filling is wet enough on its own, but if it does turn out on the dry side, you can always add a tablespoon or two of water.
Forming and folding the dumpling is the most critical step. The edges of the dough are folded little by little in a circular pattern. When the khinkali is formed, make sure to properly seal the dough just below the top, so it doesn't open while cooking. You don't want your dumplings to leak out the savory broth. Depending on their size, khinkali can take 10-12 minutes to cook through.
If you've never tried khinkali, it's worth mentioning how they are normally eaten. First of all – let the dumplings cool down a little, as they are filled with hot broth. Next, stick a fork through the top, doughy part and bite a small hole in the khinkali to suck out the broth. Then you can eat the rest, except for the very top bit, which you can discard.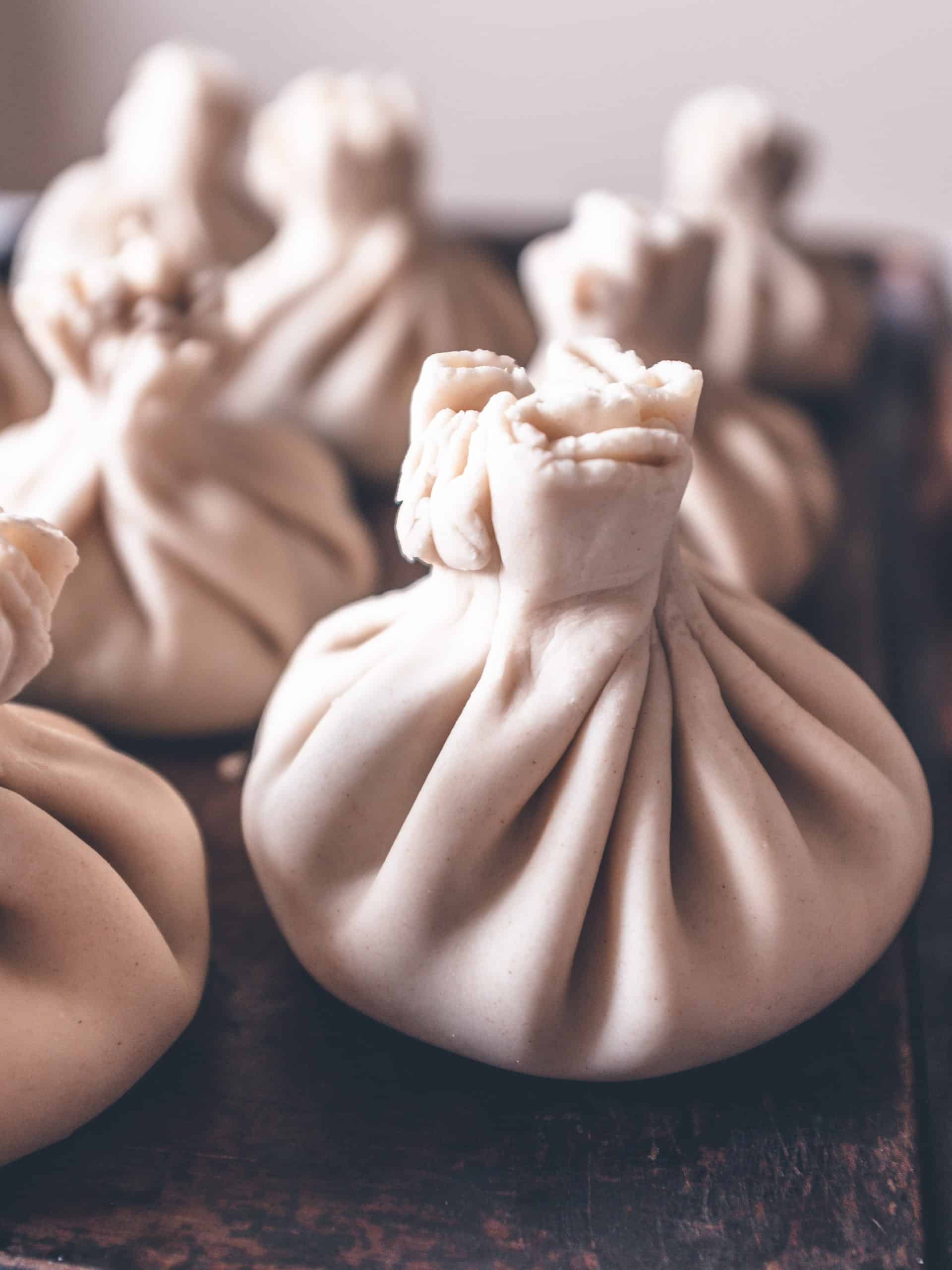 ingredients
dough
flour

400 g (3 c)

salt

1 tsp

hot water

250 ml (1 c)
filling
ground beef

(500 g) 1 lb

cilantro

1 bunch

yellow onion

1 large

soy sauce

1 tbsp

black pepper

½ tsp

salt

1 tsp

water

as needed
instructions
dough
Combine flour and salt in a bowl.
Gradually add water and start forming the dough.
Once the dough is formed, knead for 7-10 minutes until elastic. Wrap in plastic and place in the refrigerator for 30 minutes.
filling
Finely chop cilantro and grate the onion.

Combine ground beef, onion, cilantro, soy sauce, black pepper and salt in a bowl.

Add as much water as possible until the mixture just becomes saturated, approximately 2-4 tablespoons.
assembly
Divide the dough into 12 equal parts (about 45 grams each). 

Roll each part into a thin circle and place the filling in the center.

Form the khinkali by folding the edges together. Seal the top tightly to ensure that the dumplings stay closed when boiled.

In a large pot, bring water to a boil and add salt.

Place the khinkali into the water and cook for 10-12 minutes.

After dumplings are done, remove from the water and let them cool a little - the broth inside will be hot!

Season with pepper to taste.

Did You Make This Recipe?