Polish bigos, often translated as hunter's stew, is full of savory smoked meats and dried mushrooms with hints of sweet and sour from fruits and sauerkraut! All of these flavors simmer together to create a soul warming comfort food impossible to resist!
If I had to choose an official winter stew it would definitely be bigos. Hearty, comforting and packed full of flavor, this Polish hunter's stew is such a treat on a chilly winter evening! While it does take a bit of time to prepare the various veggies and smoked meats, it's that incredible variety of ingredients that gives this stew its characteristic complexity — the perfect balance of sweet, sour and savory.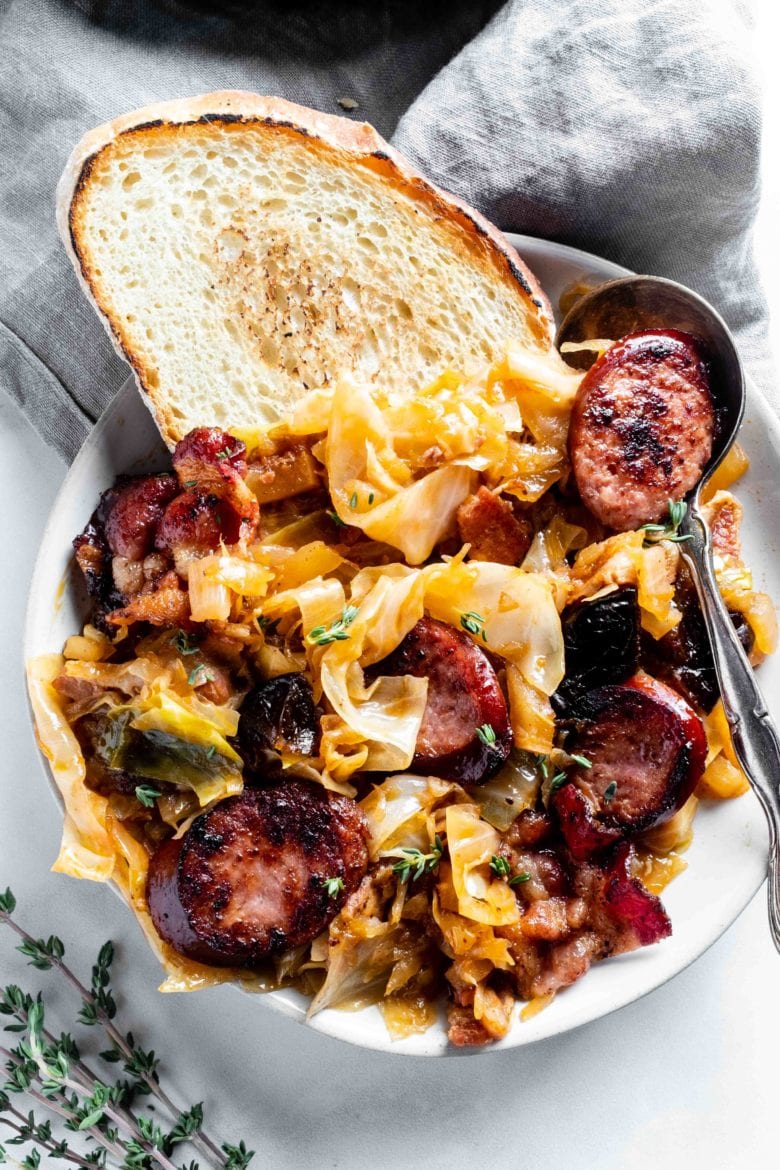 preparing your ingredients
While bigos can be prepared with any number of chopped meats and sausages, I prefer the simple combination of bacon and smoked kielbasa. But don't let that stop you from adding your favorite cuts — this stew is the perfect opportunity to use any leftovers or unused meat taking up space in your freezer!
The smoked meats will definitely give your bigos a salty, savory taste, but I also include dried porcini mushrooms for an extra umami boost. You'll need to soak the mushrooms in warm water for about half an hour to rehydrate before using. And don't throw out the soaking liquid! It has that intense, concentrated mushroom flavor so it's also a great addition to bigos. Just strain out any sediment from the mushrooms and then add it to the stew along with the beef broth.
And, of course, no bigos is complete without the combination of sauerkraut and fresh shredded cabbage. The fermented and fresh cabbage are meant to balance each other out, so the proportions can be adjusted depending on the taste of your sauerkraut. I always try to buy a quality sauerkraut so that I can add the juice along with it, but if you've got something with a little more bite, I would recommend draining and rinsing the sauerkraut before using.
To balance out the savory and sour flavors, bigos also gets some added sweetness from chopped apples and prunes. If you're looking to up the level of sweetness even more, a bit of dry red wine and a handful of raisins would definitely not be out of place!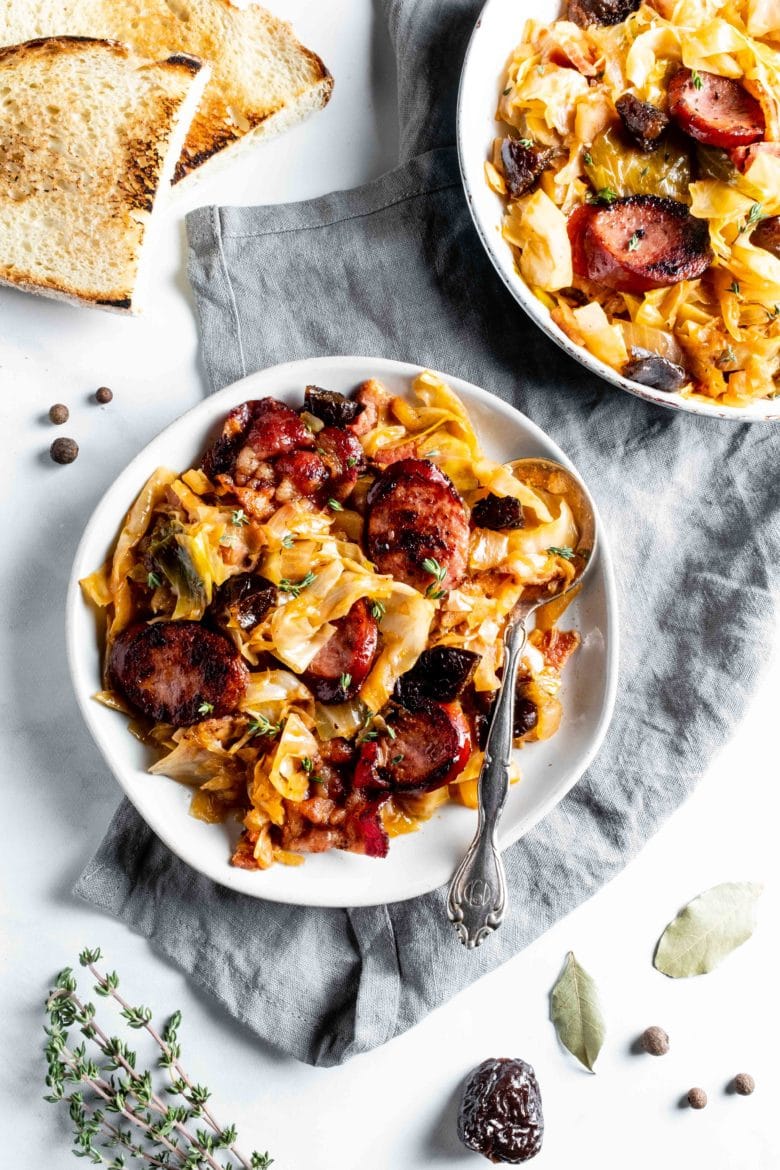 simmer your bigos to perfection
To round out the ingredient list, you'll just need onion, garlic, a bit of tomato paste and a handful of spices. For the spices, I like to use paprika and a pinch of cayenne along with several bay leaves, whole allspice and juniper berries. If you're not overly familiar with juniper berries, they're used in many european cuisines and provide a woodsy, slightly piney flavor. But if you don't have any in your pantry you can definitely leave them out or even add a sprig of rosemary instead.
Now that the veggies are chopped and spices gathered, the rest of the process is pretty hands off while the bigos simmers away for a few hours. About one hour is just enough time for the tart sauerkraut to mellow a bit and blend with all of the other flavors, but bigos can be cooked for much longer and the flavor profile continuously changes. I would recommend about two or three hours for this specific version, but don't worry if that's not an option — I guarantee it will be incredible either way!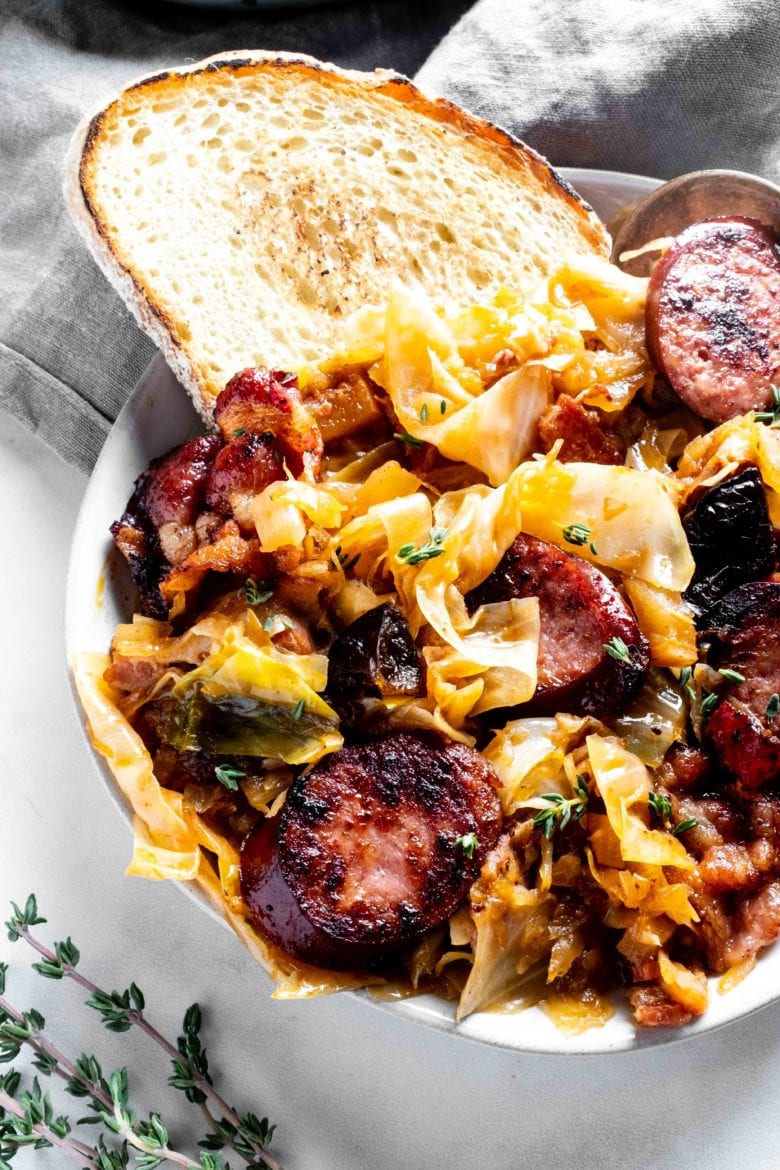 what to serve with bigos
This recipe does make quite a large batch of stew, but we've never let it go to waste! Bigos actually gets better after every time it's reheated so you'll find us happily enjoying the leftovers for a few days. To switch it up, sometimes we'll add a dollop of sour cream for a bit of creaminess or even a spoonful of horseradish for a spicier version.
With meat, veggies and even fruit, bigos is the ultimate one pot meal! But if you're still looking for something to serve on the side I would recommend toasted sourdough bread or mashed potatoes. Or, if you want a little something extra without the hassle, I highly recommend adding a few chopped potatoes right to the pot!
Looking for more warming soups and stews to get you through the winter? Definitely give these a try!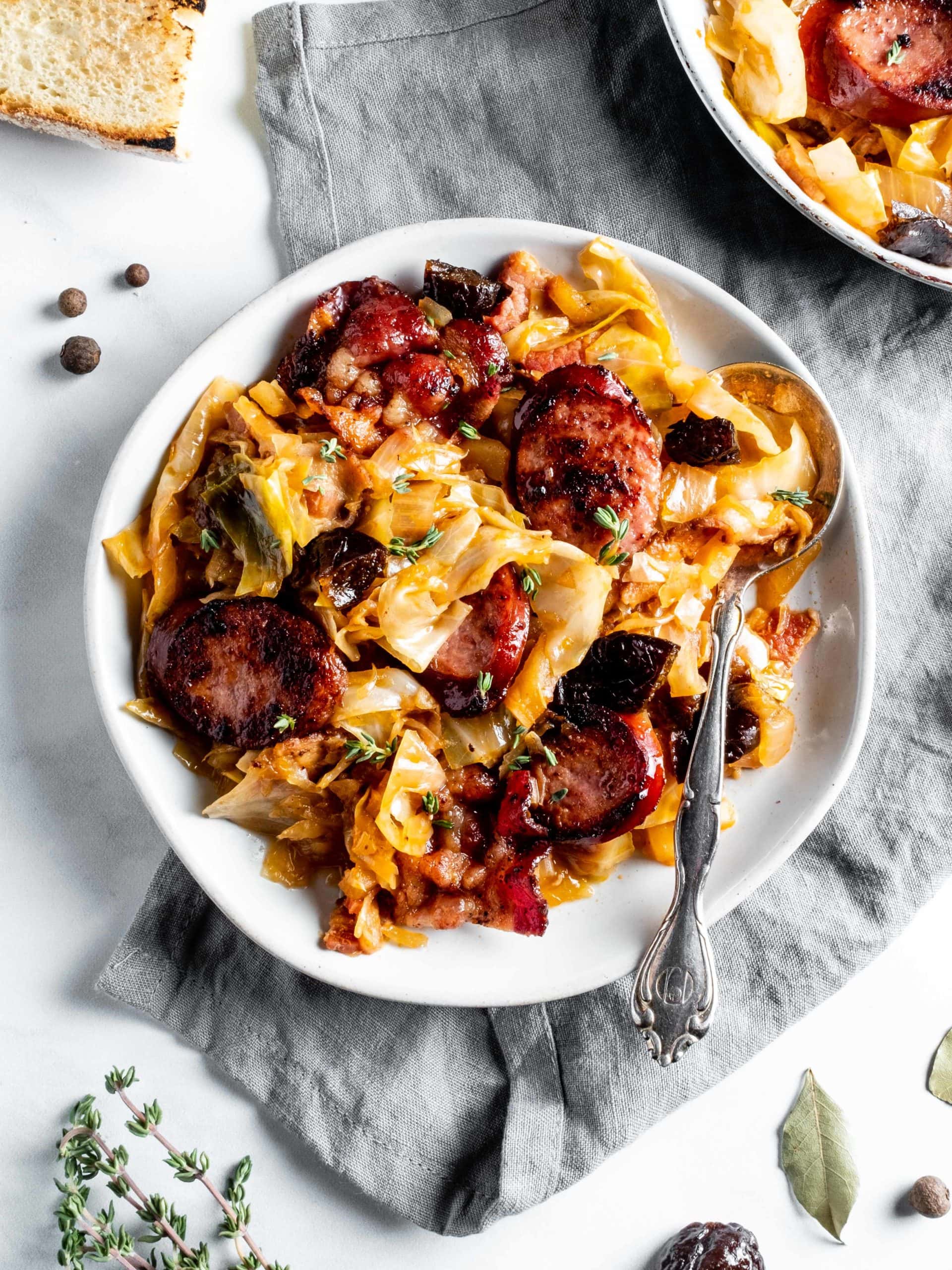 ingredients
dried porcini mushrooms

¼ c (10 g)

warm water

1 c (240 ml)

bacon

1 lb (450 g)

sliced smoked kielbasa

1 lb (450 g)

onion

1 large

garlic

4 cloves

tomato paste

2 tbsp

paprika

½ tbsp

cayenne

¼ tsp

allspice

3 whole

juniper berries

3 whole

bay leaves

2 leaves

cabbage

½ head

sauerkraut

16 oz (450 g)

pitted prunes

8

apple

1 red

beef broth

2 c (480 ml)
instructions
Soak the porcini mushrooms in 1 cup (240 ml) of warm water for 30 minutes or until tender. Strain the liquid to remove any sediment and set aside with the mushrooms.
Dice the onion and mince the garlic. Thinly slice the cabbage, halve the prunes, and core and finely dice the apple.
In a large pot, cook the bacon over medium heat until browned and crispy. Remove to a paper towel lined plate to soak up any excess oil.
Drain all but one tablespoon of fat rendered by the bacon. Add the sliced kielbasa to the pot and cook, stirring occasionally, until browned. Set aside.
Add the diced onion to the pot and cook until soft and translucent.
Add the garlic and cook an additional minute.
Stir in the tomato paste. Add the paprika, cayenne, allspice and juniper berries. Cook for one minute.
Crumble the bacon into the pot. Add the bay leaves, mushrooms, cabbage, sauerkraut along with its juice, prunes and apple.
Pour in the beef broth and reserved mushroom liquid. Bring the mixture to a slight boil. Reduce heat to low, cover and simmer for at least one hour and up to three. Make sure to stir the bigos every 30 minutes.
Return the kielbasa to the pot for the last 30 minutes and season with salt and pepper to taste.

Did You Make This Recipe?
This post may contain affiliate links through which we may earn a small commission at no additional cost to you. We only recommend products that we genuinely love and would use ourselves.