This smoked sausage and black bean soup is flavored with spicy dried chiles and perfect for feeding a crowd! Top your hearty soup with crumbled cotija and serve it alongside rice, crusty bread or even tortilla chips!
Black bean soup is one of our favorite meals when we're craving something deeply satisfying. And while we sometimes love a simple soup made with just black beans and a few spices, this is the version we turn to when we need a little something extra. It ticks all of our boxes for a great comfort food: it's hearty, slightly spicy and topped with a generous handful of cheese!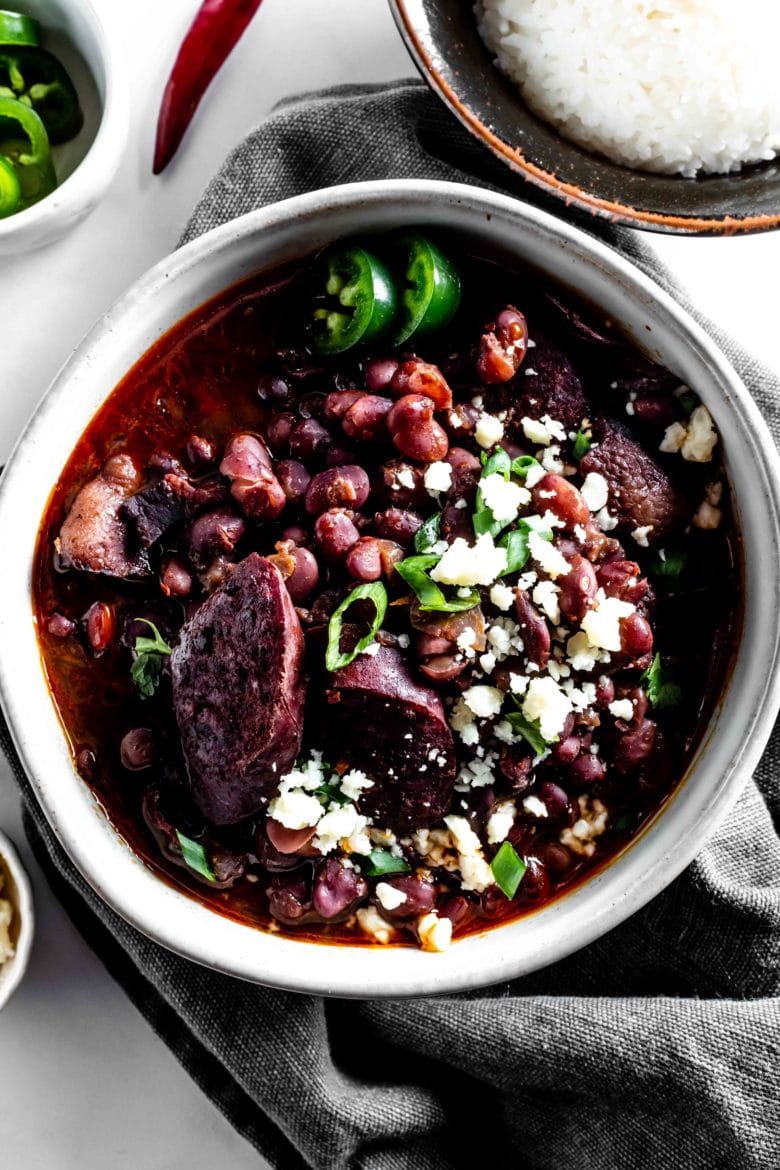 preparing the ingredients
This recipe calls for dried black beans, which means you'll need to soak them in water overnight before they're ready to use. While we're also a big fan of using canned black beans for a quick soup, this version is best with dried beans which are much better at soaking up the flavors of the soup. And with the smoked sausages and dried chiles, there's a lot of flavor we want to infuse!
To give a little spiciness to the soup, we also added a few varieties of dried chiles: guajillo and chiles de arbol. The guajillo chiles aren't incredibly spicy, but add wonderful fruity notes to the soup. The chiles de arbol are the peppers that pack a bit of heat and while two was the perfect amount to add a hint of spiciness, feel free to add more or less to taste. To prepare the chiles for the soup, first remove the seeds and stems (using gloves!) and then toast in a dry saucepan until fragrant. Add a few cups of water, bring to a boil and remove from heat. Cover and let steep for 30 minutes to rehydrate the chiles. Then just transfer the mixture to a blender and puree into a delicious chile sauce!
And the last step before tossing everything into a pot and letting it simmer away is to get the meats ready for the soup. We used a few strips of bacon and a good amount of smoked sausage. Chorizo and andouille are both great options if you want to get a bit of spiciness from your sausage, but really any smoked sausage will work well! To prepare the meats, just saute the bacon in your soup pot and then fry the sliced sausage in the fat rendered by the bacon until browned.
making the black bean soup
Now that all of the ingredients are ready, you can start adding everything to the pot! Begin by sauteing onions and garlic and then pour in the pureed chiles and scrape up any browned bits on the bottom. Then add in your black beans (soaked, rinsed and drained) and three cups of water. Return the bacon and sausage to the pot and bring the mixture to a boil. Reduce heat, cover and cook for two hours or until the black beans are tender.
One tip regarding the sausages: if you'd like your smoked sausages to remain a bit crispy, you can return them to the pot for the last 15 minutes of cooking. I usually add about half for the full amount of time to really infuse the soup with that smoky flavor and add the last half right at the end just until heated through!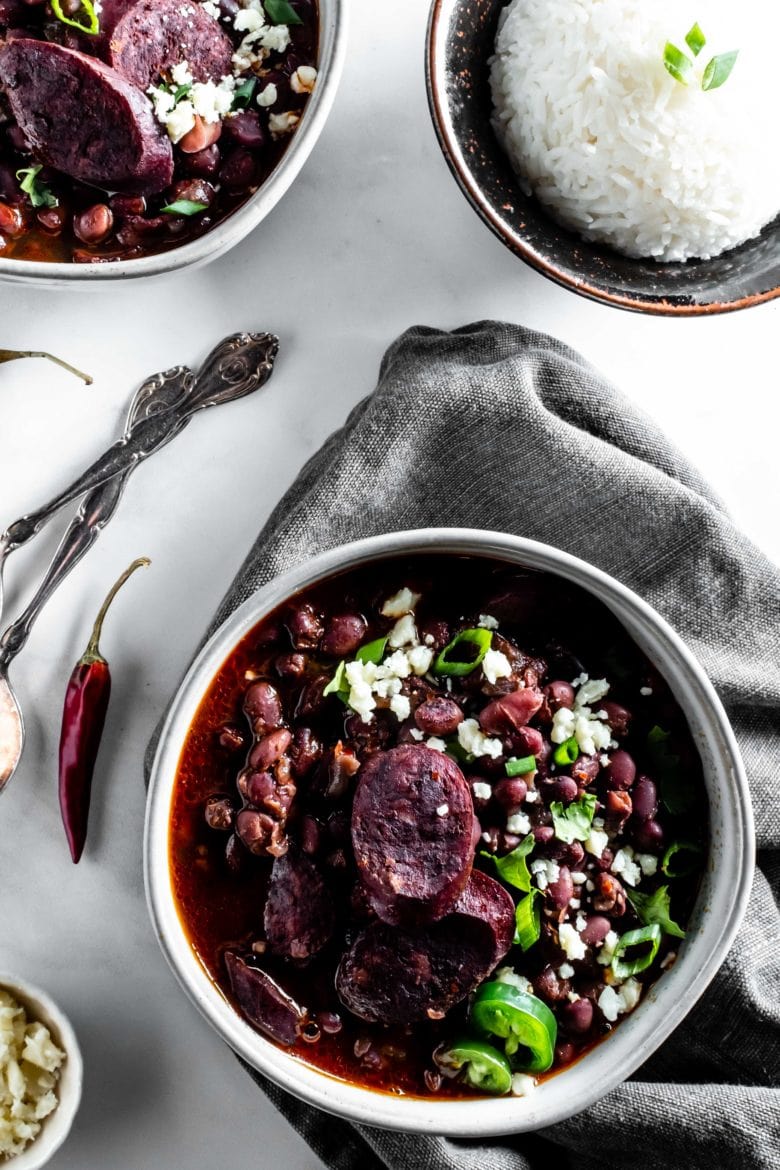 the garnishes
As this is quite a hearty soup, I like to add a few fresh garnishes to lighten it up a bit. Green onions and cilantro are always a great addition, but fresh jalapenos or slices of avocado would also work quite well here.
And one of my favorite ways to serve this black bean soup is with a few heaping spoonfuls of crumbled cotija cheese! If you don't have cotija on hand, a bit of feta, queso fresco or even a dollop of sour cream would add a bit of light creaminess.
While you can definitely eat this soup as-is, we often like to enjoy it with a side of rice to soak up the deliciously savory broth. If you're looking for more side dish ideas, crusty bread and tortillas chips would also be wonderful with this soup!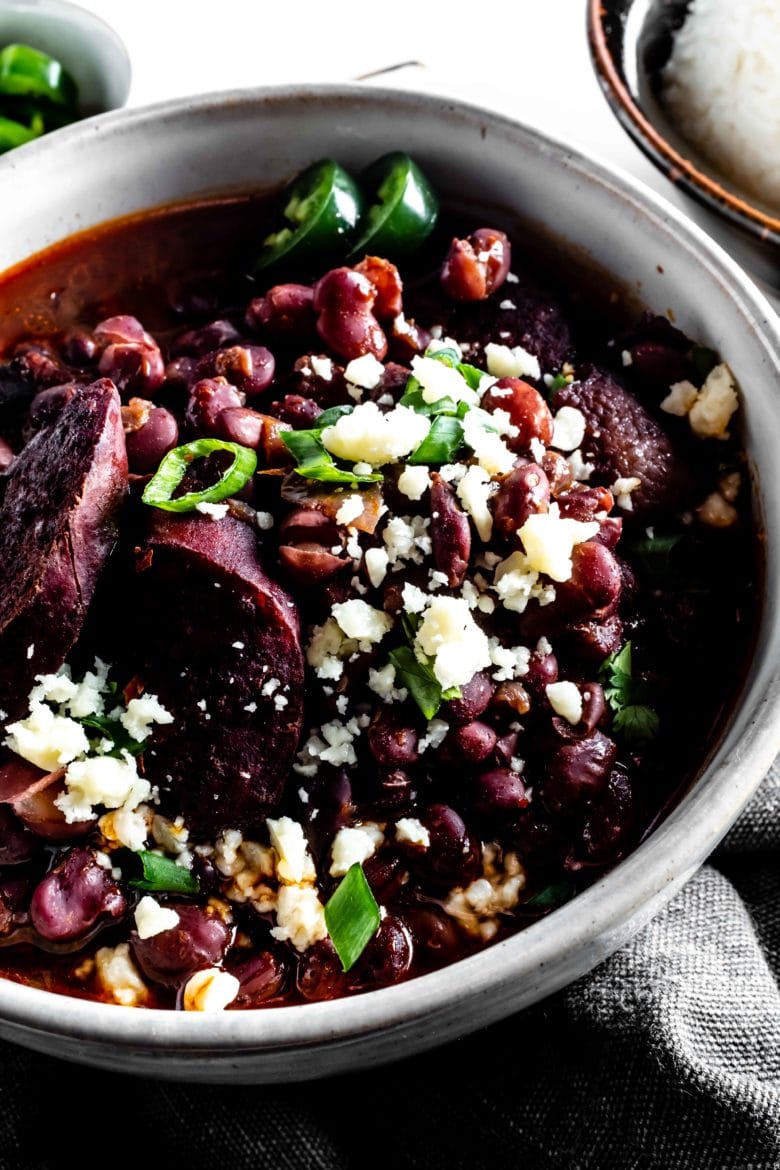 For more delicious and hearty soups and stews, check out these recipes:
Print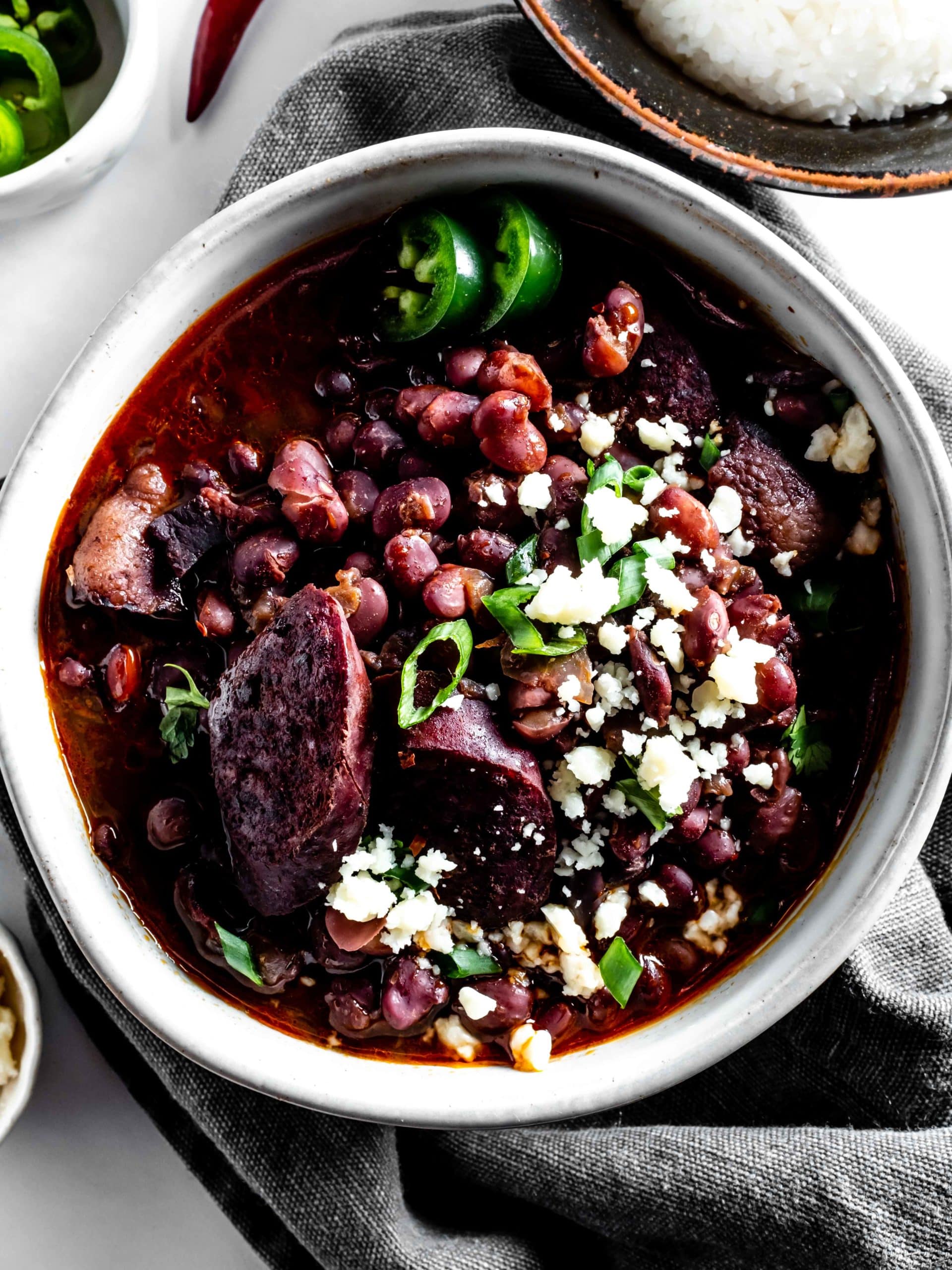 spicy smoked sausage and black bean soup
---
Author:

Brit Kapustina

Total Time:

32 hours 30 minutes

Yield:

4

Prep Time:

30 hours

Cook Time:

2 hours 30 minutes

Category:

Dinner

Method:

Soup

Cuisine:

Mexican
1

pounds (450 grams) dried black beans

4

slices thick-cut bacon

12 ounces

(350 grams) smoked sausage, sliced

1

yellow onion, diced

4

cloves garlic, minced

5 cups

(1.2 liters) water, divided

kosher salt

to taste

cotija cheese, green onions and cilantro to garnish
---
Instructions
Cover the black beans with water in a large bowl and soak overnight.
Remove the seeds and stems from the chiles. Heat a small saucepan over medium heat and toast the chiles until just fragrant (1 minute). Pour in two cups (500 ml) of water. Bring to a boil, remove from heat and cover. Let the mixture steep for 30 minutes. Transfer the mixture to a blender and puree until smooth.
Roughly chop the bacon and fry in a large pot over medium heat until golden. Remove and set aside.
Drain the pot of all but one tablespoon of fat rendered from the bacon.
Working in batches if necessary, add the sliced sausage and cook until browned on both sides. Remove and set aside.
Add the diced onion to the pot and cook until tender and golden (approximately 10 minutes). You can add a bit of oil if necessary.
Add the garlic and cook for an additional minute.
Pour the pureed chiles into the pot. Use your spatula to scoop up any browned bits on the bottom.
Rinse and drain the black beans and add to the pot along with the remaining 3 cups (700 ml) of water and a pinch of salt. Return the bacon and sausage to the pot. Alternatively, if you want to keep the sausage crispy, you can add it back at the very end.
Bring the mixture to a boil. Reduce heat, cover and cook for 2 hours or until the black beans are tender. Season with salt to taste. Garnish with cotija, green onions and cilantro if desired.
Keywords: black bean soup, spicy black bean soup
This post may contain affiliate links through which we may earn a small commission at no additional cost to you. We only recommend products that we genuinely love and would use ourselves.