These light and fluffy muffins are bursting with blueberries and finished with an easy oat and pecan streusel topping! Enjoy our homemade blueberry streusel muffins as a delicious breakfast or as a quick snack on the go!
After a snowstorm knocked out our electricity and caused issues with our water, we spent a few days melting snow before retreating to my parents' house in Nebraska for a good week. Luckily everything is now in working order and we're back in the Ozarks where the weather is warming up and we're excited to start baking some spring-inspired recipes! But before we get to those, today I'm sharing with you an easy little blueberry muffin recipe that has fueled our hectic mornings in the past weeks. They're made with kefir and topped with an incredible oat and pecan streusel!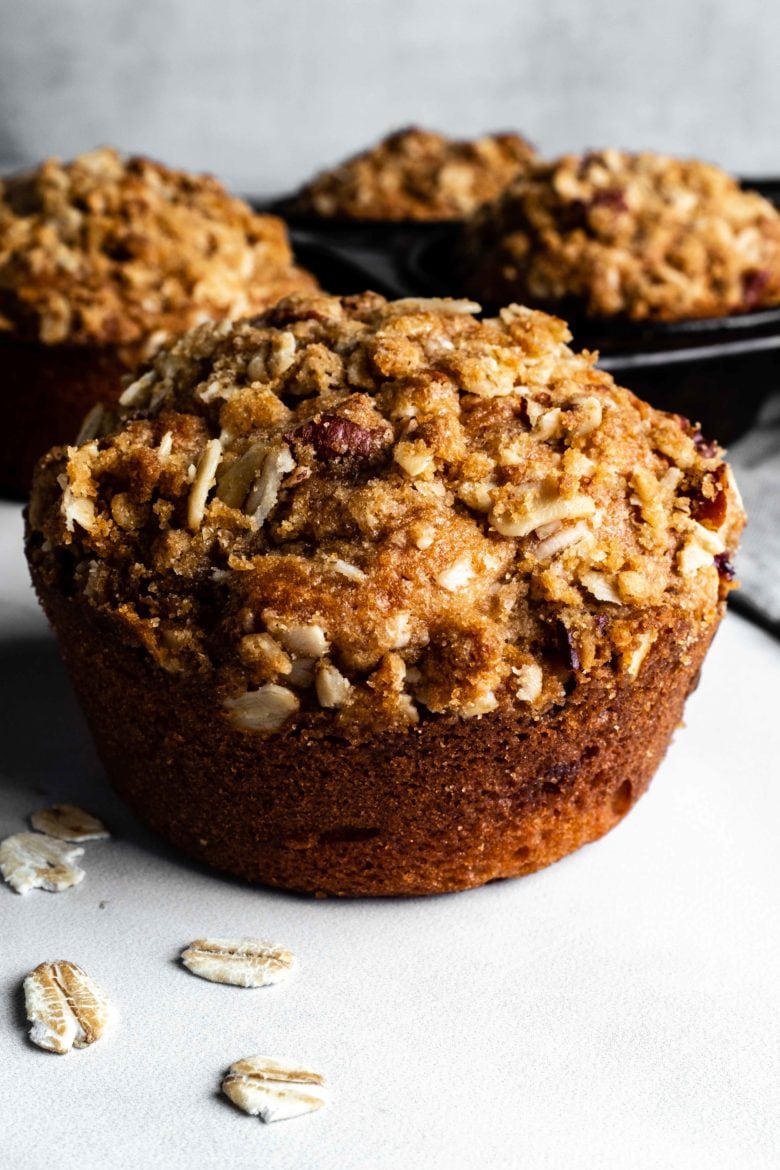 blueberry muffins
These blueberry muffins are so light and fluffy and such a treat for breakfast! Plus, they're made with ingredients we almost always have on hand so we can whip them up at a moment's notice. While most of the ingredients are pantry items, you'll also find blueberries (of course) and kefir in our lineup. Frozen blueberries are a staple in our house and can be added directly to the batter without thawing. And kefir is something we always have stocked — the sour, tangy milk product is incredibly versatile and great for baking. But if you don't have kefir on hand you can definitely substitute buttermilk in equal proportions.
A few tips to make your muffins a success: make sure to avoid mixing the batter too much, which can result in a tougher texture. And second, be careful not to let your muffins overbake. If an inserted toothpick comes out with just a few moist crumbs, they're most likely ready and letting them go any longer can result in dry muffins.
oat and pecan streusel topping
I love the little bit of crunch that the streusel topping adds to these muffins, but it's definitely optional. If you do decide to make it, you'll need cold butter, flour, brown sugar, old-fashioned rolled oats and chopped pecans (or your favorite nuts). Just place all ingredients in a bowl and use a pastry cutter (or two forks) to work the butter evenly into the mixture. Alternatively, you can use your hands to incorporate the butter. The streusel is ready when the mixture resembles coarse crumbs.
One tip: I like to make the streusel topping first so that it's ready to sprinkle over the muffins as soon as I'm done filling the muffin tins with the batter.
Looking for more great breakfast options? Check out these recipes!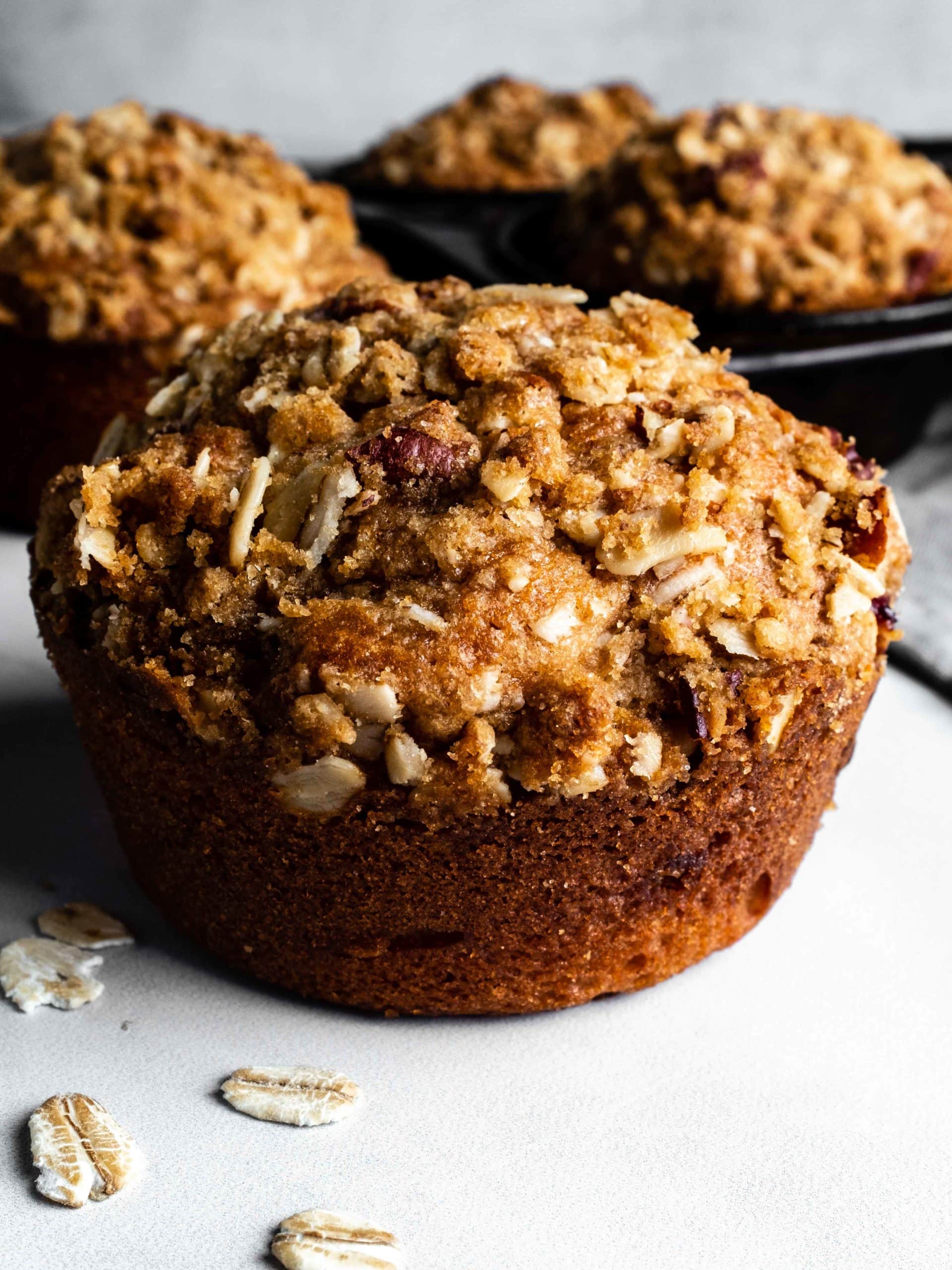 ingredients
blueberry muffins
softened butter

½ c (110 g)

sugar

½ c (100 g)

brown sugar

¼ c (50 g)

eggs

2 large

kefir*

¾ c (180 ml)

vanilla extract

1 tsp

flour

2 c (240 g)

baking powder

1.5 tsp

baking soda

¼ tsp

salt

½ tsp

frozen blueberries

1 ¼ c (200 g)
streusel topping
butter

¼ c (55 g)

flour

¼ c (30 g)

brown sugar

¼ c (50 g)

old-fashioned rolled oats

⅓ c (30 g)

chopped pecans

3 tbsp (20 g)

salt

pinch
instructions
streusel topping
In a small bowl, combine the flour, oats, brown sugar, pecans and salt. Cut the butter into small pieces and add to the flour mixture. Use a pastry cutter (or two forks) to incorporate the butter until the mixture resembles coarse crumbs.
blueberry muffins
Preheat oven to 400 F (200 C). Grease or line a tin for 12 muffins.
Cream the butter, granulated sugar and brown sugar together until light and fluffy.
Add the eggs one at a time, beating between each addition.
Mix in the kefir and vanilla extract until just combined.
In a separate bowl, mix together the flour, baking powder, baking soda and salt.
Gradually add the dry ingredients to the wet and mix until fully incorporated.
Carefully fold in the blueberries.
Scoop the batter into the prepared muffin tin and top with streusel.
Bake for 25 minutes or until golden brown. Allow the muffins to sit in the tin for 10 minutes and then remove to a wire rack to cool completely.
notes
Kefir: I actually used blueberry kefir for a little extra flavor in these muffins, but plain kefir works just as well. And if you don't have any kefir on hand, buttermilk is an excellent substitute.

Did You Make This Recipe?
This post may contain affiliate links through which we may earn a small commission at no additional cost to you. We only recommend products that we genuinely love and would use ourselves.