Elegant and delicious, these brandy snap baskets with mascarpone whipped cream will elevate any holiday party!
Every holiday season there are at least a few occasions where I'm tasked with bringing dessert. I always want to bake something to impress, but the holiday festivities leave me with little time. This generally means I have to cut back on my culinary ambitions and settle for something a little less elegant. That is until I discovered brandy snaps! These delicate treats are decadent, visually striking and easy to make!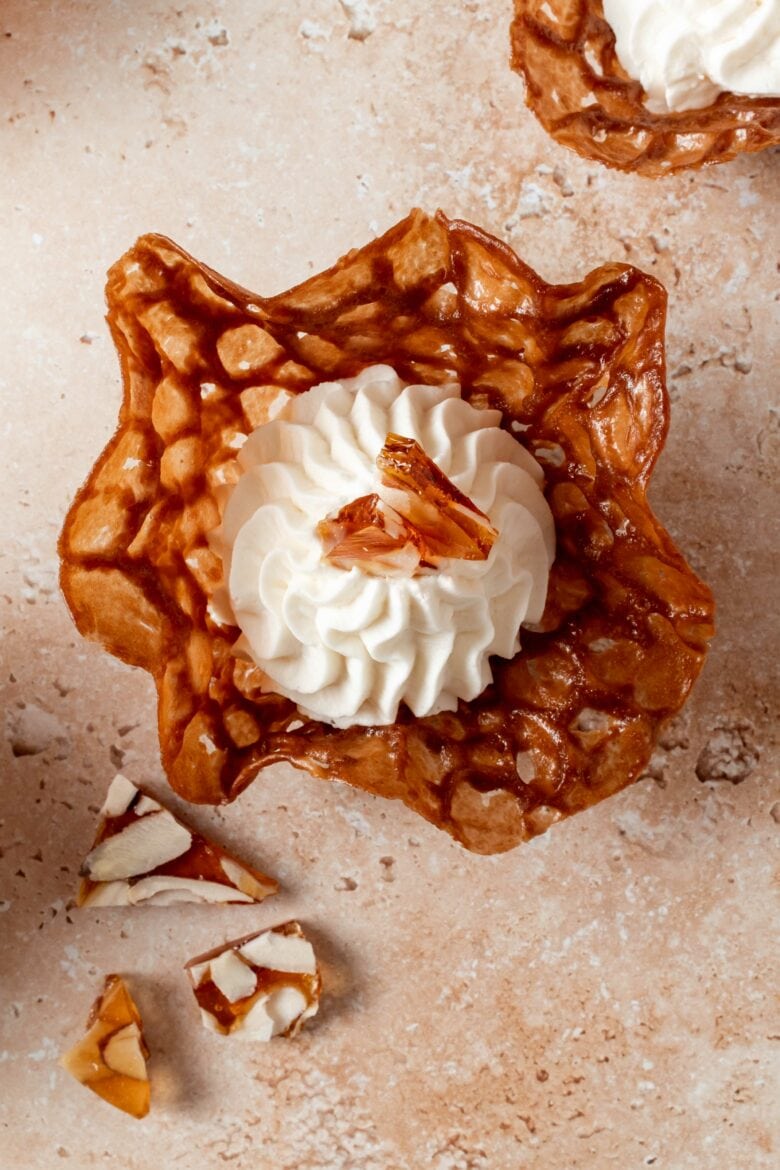 brandy snap ingredients
Brandy snaps are most commonly made using equal proportions of sugar, syrup, butter and flour. This recipe is no exception!
Sugar: This recipe calls for brown sugar as it adds a deeper and more complex flavor due to the added molasses.
Corn Syrup: British recipes tend to use golden syrup, known for its sweetness and caramel flavor. It's a great option if you have access to it. Here in the US, however, it is much easier to find corn syrup which also produces great results. Light corn syrup does contain more water, but did not seem to have any noticeable effects on the recipe.
Flour: this recipe calls for all purpose flour. You can use bread flour if you have it on hand — it will absorb some of the extra water from corn syrup, but it did not make any difference in my testing.
Butter: I use regular unsalted butter. Salted butter could work, but it is harder to control the amount of salt. While I did not test butter alternatives, it might be possible to substitute butter for margarine or vegan butter.
Salt: I add a pinch of salt as I find it helps to develop the flavors. It can also tone down any bitterness if you slightly overcook your brandy snaps.
Ginger: A common addition to flavor brandy snaps — and rightly so! You can absolutely skip it or even substitute it for other spices. I personally enjoy using cinnamon, although it tends to dominate other flavors and overshadow the filling.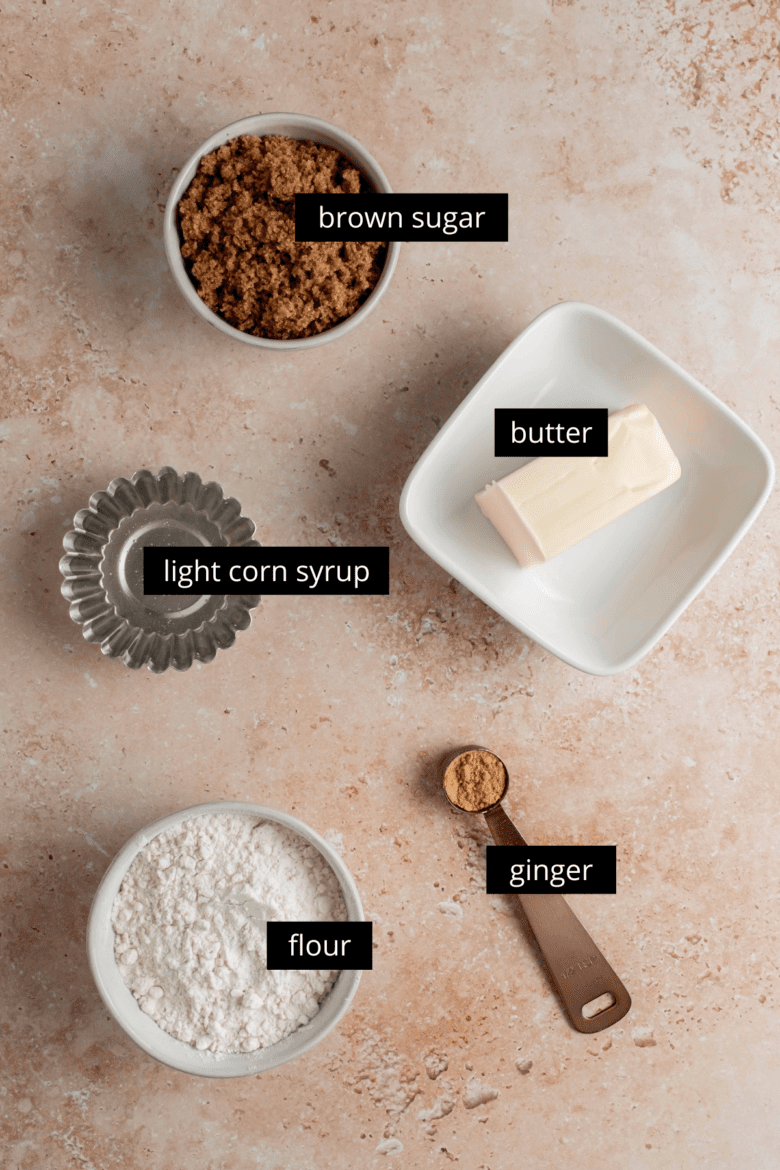 brandy snap batter
Brandy snap batter can be made in two easy steps!
Heat the butter, sugar and corn syrup in a saucepan over medium heat until the sugar dissolves.
Stir in the flour, salt and ginger.
If you'd rather, you can also make the batter in the microwave. First, melt the butter. Then mix in the sugar and corn syrup, followed by the rest of the ingredients. Heat the batter in the microwave in short intervals until it resembles liquid caramel.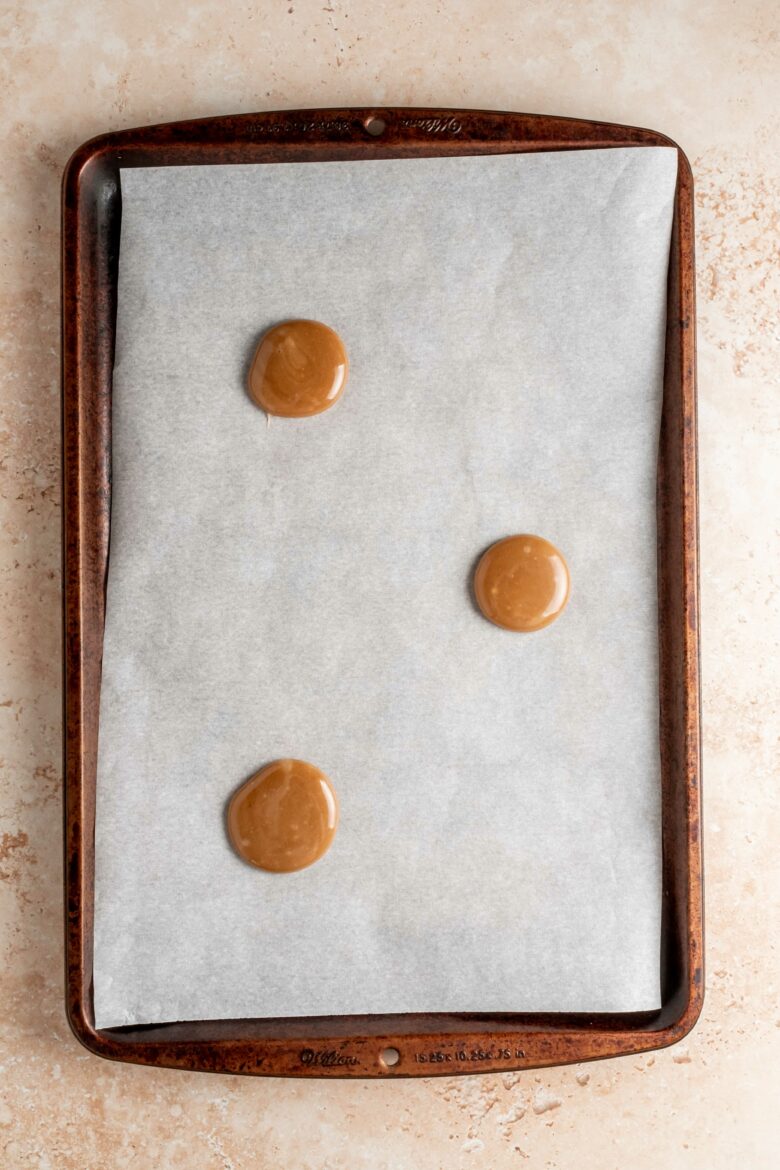 baking and molding the baskets
To bake, drop tablespoons of batter on a baking sheet lined with parchment paper. It will spread out, so leave a lot of space between brandy snaps. If the unused batter becomes solid, just reheat it slightly on the stovetop or in the microwave.
I would recommend making no more than three or four brandy snaps at a time. They harden quickly after coming out of the oven, which means you'll need to work quickly to form the baskets.
After baking for 8-10 minutes, let the brandy snaps cool for 30-60 seconds. Then use a spatula or knife to lift them up and place them over your bowl molds, which can be anything from espresso cups and shot glasses to mandarin oranges! Once your brandy snaps are on the mold you can shape them into a basket by fluting the edges.
And one extra tip: I like to flip the brandy snap after baking so the bottom faces outward. But this is just a preference for how it looks and really either way will work!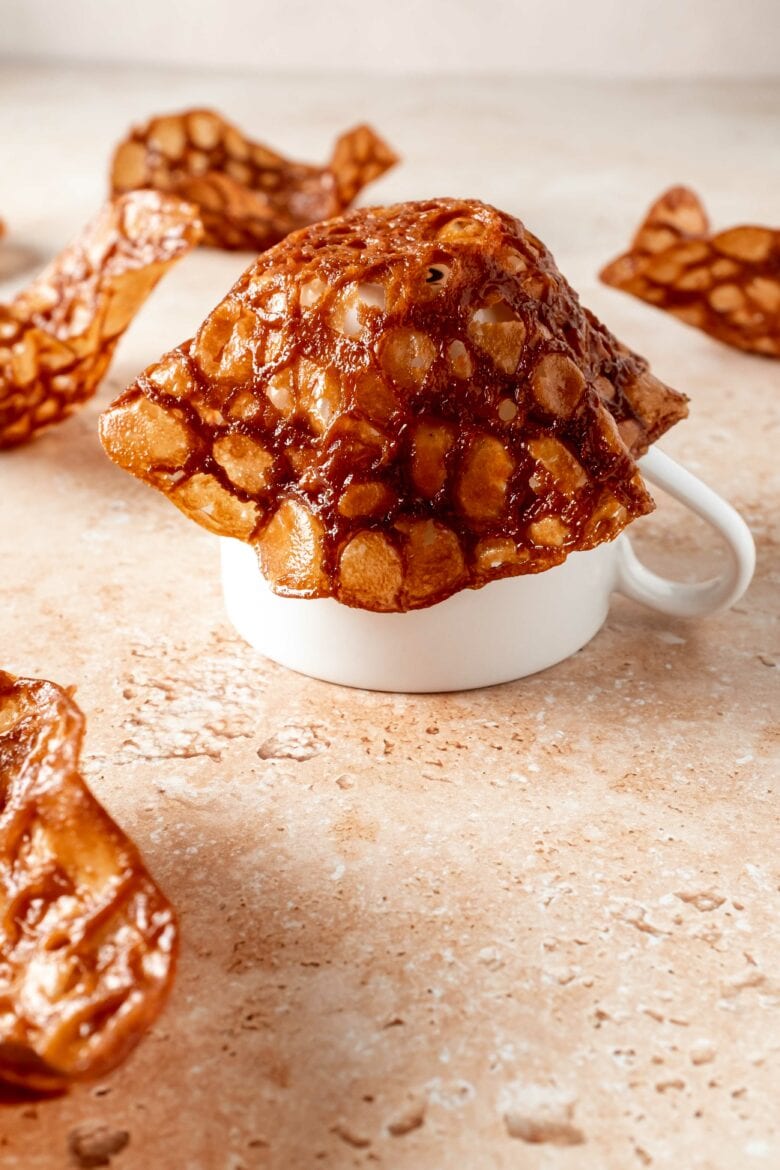 brandy snap baskets: FAQs
What can I use as a basket mold?
I suggest espresso cups, shot glasses or even mandarin oranges.
What if the brandy snaps harden before I can mold them into baskets?
No worries! Just place them back in the oven for about a minute to soften again. Brandy snaps harden fast so you should be able to remove the baskets from the molds after just a minute.
Can I make them ahead of time?
You can make the baskets a day or two ahead of time. Keep them uncovered in the refrigerator. It is best to fill the baskets shortly before serving. If you are using regular whipped cream you can fill them a couple of hours before serving. When filling brandy snap baskets with mascarpone whipped cream or another stabilized whipped cream, they may keep in the fridge overnight or longer, but the baskets may soften.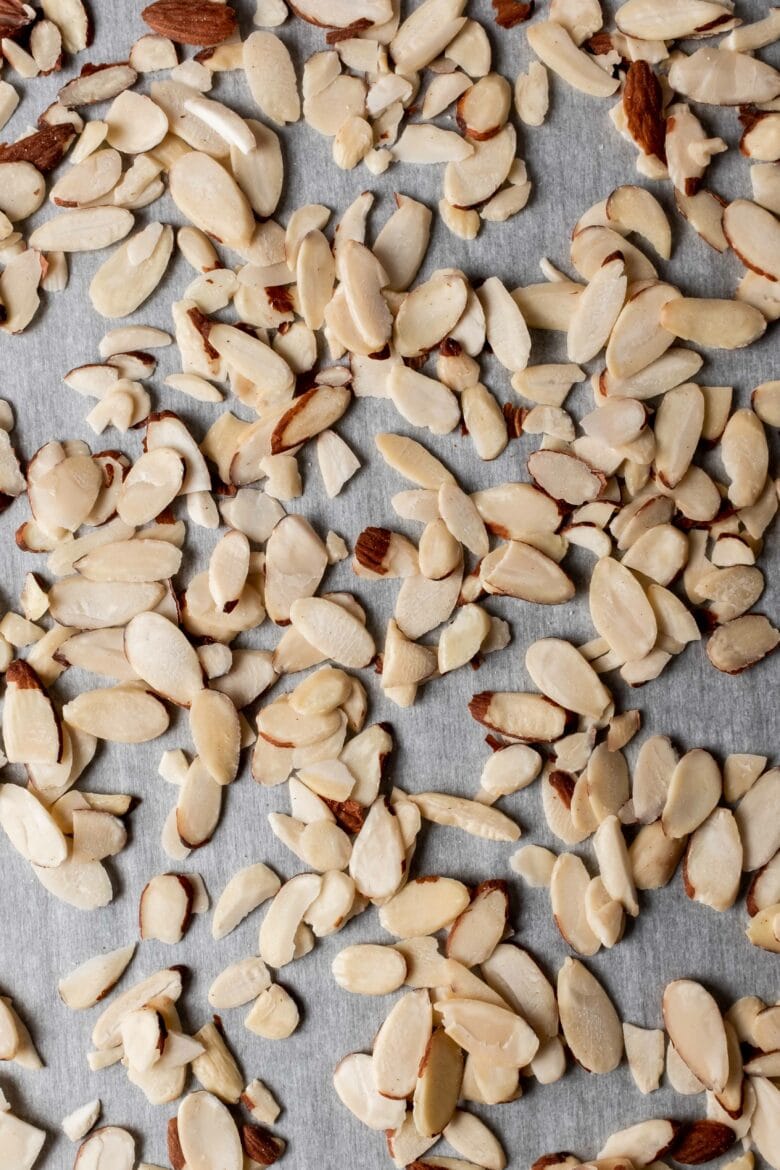 mascarpone whipped cream
Now that your brandy snaps are shaped, they are ready to be filled! Looking for a quick and easy option? I'd go for whipped cream and berries.
But if you have a bit more time, I highly recommend using our recipe for mascarpone whipped cream. The mascarpone here serves two purposes: it lends a rich flavor to the whipped cream and also helps to stabilize it. The sugar in the brandy snaps will draw moisture from the whipped cream which can cause it to lose its crunch or even melt. Stabilized cream will hold water much better and the brandy snaps will keep their texture longer.
With mascarpone whipped cream, these baskets held up well overnight when stored uncovered in the fridge. But for best results I would recommend filling them shortly before serving. This is especially the case when using regular whipped cream.
And for something a little extra, I've also included a quick recipe for almond praline. It adds sweetness, crunchiness and becomes a crowning jewel on this already elegant dessert!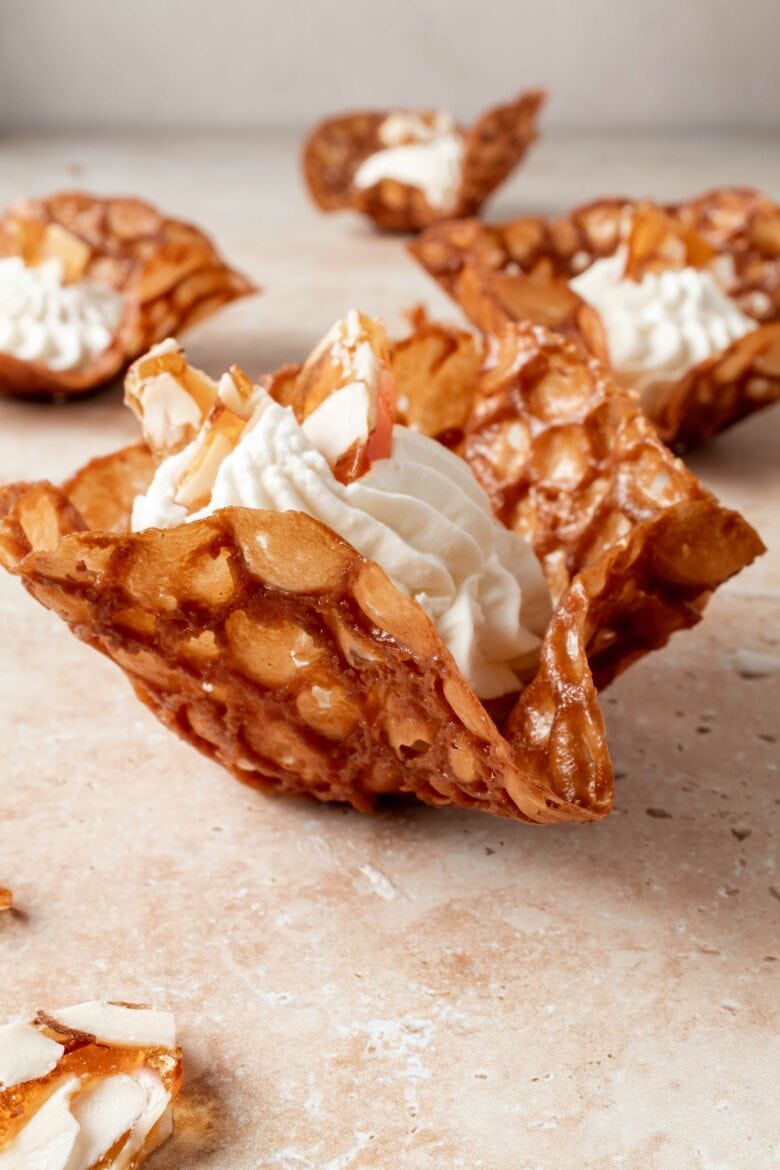 Looking to try more recipes with sugar work? Then you might like these!
Print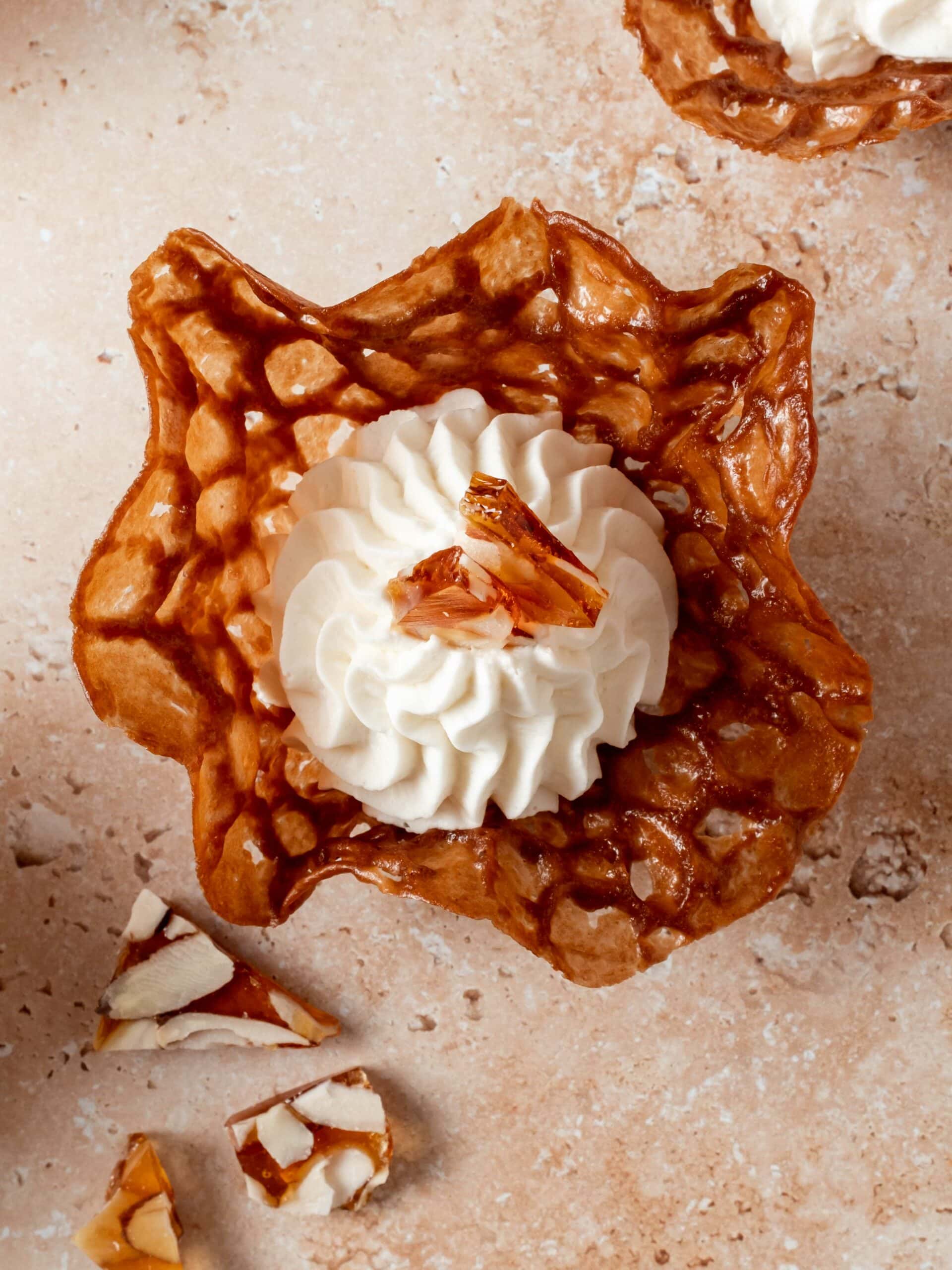 brandy snap baskets with mascarpone whipped cream
---
Author:

Viktor

Total Time:

55 minutes

Yield:

12

Prep Time:

10 minutes

Cook Time:

45 minutes

Category:

dessert

Method:

sugar work, baking

Cuisine:

british
brandy snap baskets
¼ cup

(

55 grams

) unsalted butter

¼ cup

(

55 grams

) brown sugar

3 tablespoons

(

55 grams

) light corn syrup

½ cup

(

55 grams

) all purpose flour

½ teaspoon

ground ginger (optional)
pinch of kosher salt
almond praline
4 ounces

(

110 grams

) almond slivers

1 cup

(

200 grams

) granulated sugar

2 tablespoons

water
mascarpone whipped cream
4 ounces

(

100 grams

) mascarpone, room temperature

2 tablespoons

granulated sugar

½ teaspoon

vanilla extract

¾ cup

(

180

ml) heavy cream
---
Instructions
brandy snap baskets
Preheat oven to 350 F (180 C). Line a baking sheet with parchment paper. Prepare the molds*.
Combine the butter, brown sugar and corn syrup in a saucepan. Place over medium-low heat until the sugar is fully dissolved. 
Add the flour, salt and ginger and stir well.
Drop 1 tablespoon of the mixture onto the prepared baking sheet 6 inches (15 cm) apart. Make 3-4 brandy snaps at a time.
Bake 8-10 minutes or until spread out, golden brown and lacy. Start checking at 8 minutes to prevent burning.
This step is time-sensitive. Carefully remove the brandy snaps from the oven and let them cool for about 30 seconds. Transfer the brandy snap onto a mold by sliding a palette knife underneath and lifting up (I prefer to flip it onto the mold). Shape them into baskets by fluting the edges with your fingers – be careful as brandy snaps may still be hot. If the brandy snaps harden before they can be molded, return them to the oven for 30-60 seconds to soften.
Repeat with the remaining batter. While the next batch is cooking, remove the hardened baskets from the molds.
Store the baskets in the refrigerator uncovered until ready to fill.
almond praline
Place a baking sheet on a heat resistant surface and line it with parchment paper.
Spread almond slivers on the prepared baking sheet.
In a saucepan combine the sugar and water. Heat over medium heat, swirling occasionally, until the mixture turns an amber color and is just above 320 F (160 C).
Pour the caramel evenly over the almonds.
Let cool for 20-30 minutes. After it is cool enough to be handled, break into pieces.
mascarpone whipped cream
Beat the mascarpone, sugar and vanilla extract together until light and fluffy.
In a separate bowl, beat the heavy cream until stiff peaks form.
Fold the cream into the mascarpone mixture and store in the refrigerator.
assembly
Pipe mascarpone whipped cream into the formed and cooled baskets.
Top with shards of almond praline.
Notes
Molds: To mold the baskets, you can use shot glasses, espresso cups or mandarin oranges.
Keywords: brandy snaps, christmas dessert, whipped cream, caramel
This post may contain affiliate links through which we may earn a small commission at no additional cost to you. We only recommend products that we genuinely love and would use ourselves.