These brown butter snickerdoodles are soft, chewy and flavored with a delicious blend of warming spices! Perfect with a hot cup of tea, these autumn inspired cookies make for a cozy and comforting snack at home!
Snickerdoodles have always been one of my favorite cookies, but this version has really taken them to a whole new level. From browning the butter to the generous addition of warming spices, this recipe is all about bold autumn flavors! Almost like a chewy gingersnap but with that signature snickerdoodle tanginess, these spiced brown butter snickerdoodles are pure bliss!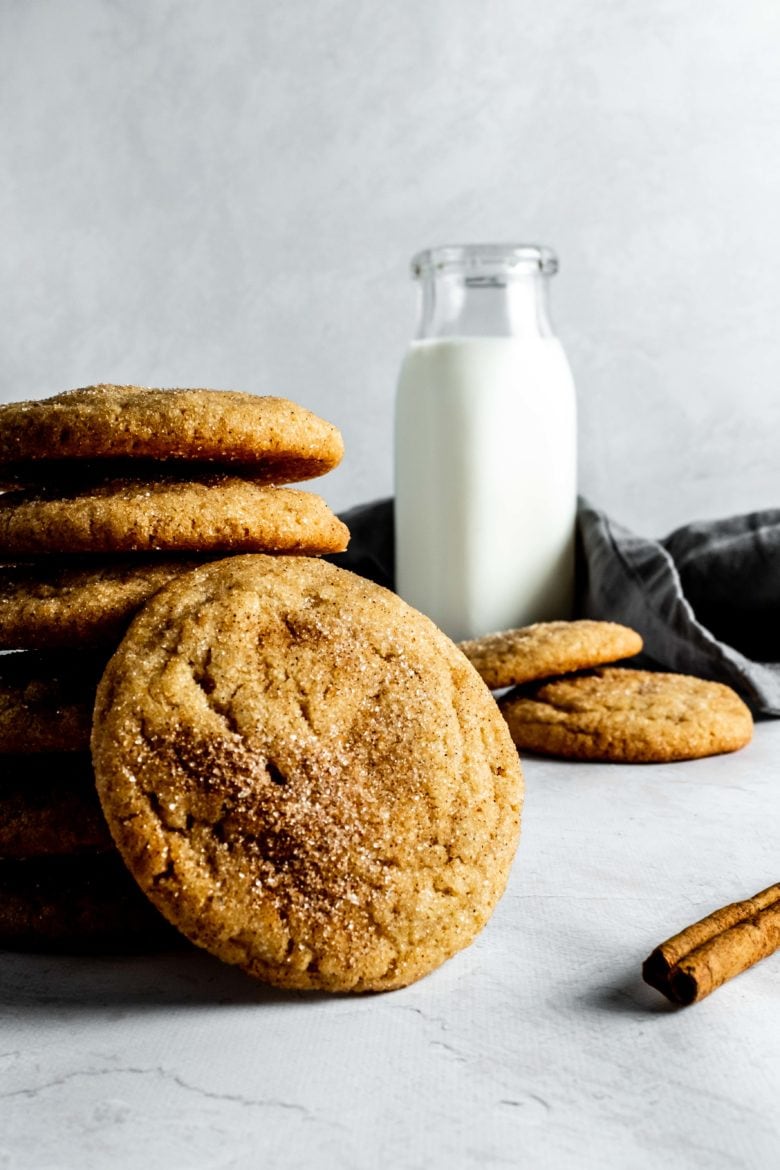 browning the butter
These cookies get an extra flavor boost from the richness of brown butter. If you've never browned your butter, it's an incredibly easy method that entails cooking butter over medium heat until it begins to foam and turn golden brown. It usually takes about eight minutes or a bit less and the toasted, nutty aroma of the brown butter adds an incredible depth of flavor perfect for these autumn cookies!
To make sure your brown butter is a success, here are a few quick tips:
Make sure to use a lighter colored pot so that you can easily tell when the butter has browned.
Stir the mixture (or swirl the pot) often to ensure even cooking and prevent burning.
Don't leave your pot unattended — the butter can go from brown to burnt incredibly quickly so you'll need to keep an eye on it.
spiced snickerdoodles!
Once your brown butter has cooled a bit, you can finish making the cookie dough. Start by beating the brown butter with granulated and brown sugar, then add eggs and a bit of vanilla extract. In a separate bowl combine the flour, salt, baking powder, cream of tartar and all of your favorite autumn spices. Gradually mix the dry ingredients into the wet until combined and your cookie dough is ready!
Before we move onto the next step, let's talk quickly about the spices and substitutions. First up, cream of tartar — technically not a spice, but rather an acidic byproduct of wine in powder form. It prevents sugar from crystallizing (making these cookies soft and chewy) and provides the tangy flavor characteristic of snickerdoodles. I highly recommend using cream of tartar to get the perfect balance of flavor. If you must omit it, make sure to also leave out the baking soda and use 1-2 teaspoons of baking powder instead.
As for the remaining ingredients, I like to use a generous amount of ground spices to really give these cookies warming and cozy autumn vibes. The following blend is my favorite, but you can decide to just use a few or even add additional spices.
1 teaspoon cinnamon
½ teaspoon ginger
½ teaspoon cloves
¼ teaspoon allspice
¼ teaspoon cardamom
If mixing it up, I would just recommend adjusting the amounts so that you use about 2-2.5 teaspoons total.
chilling + baking
Before baking, you'll need to cover the dough and chill it in the refrigerator for one hour. This gives the cookies a richer, more concentrated flavor. It also ensures that your cookies don't spread too thin so we're able to get that nice and chewy texture!
After chilling, portion out your snickerdoodles into small balls (about 2 tablespoons of dough each) and roll through a mixture of cinnamon and sugar. I like to use a ratio of ¼ cup (50 g) sugar to 1 teaspoon cinnamon, but you can adjust to taste.
Now just place on a baking sheet lined with parchment paper and bake for 10-12 minutes. No need to press down, they'll flatten as they bake! If in doubt about cooking time, I recommend erring on the side of underbaking for these cookies to really ensure that soft texture. 
For more delicious cookie recipes, make sure to give these a try!
Print
spiced brown butter snickerdoodles
---
Author:

Prep Time:

40 minutes

Chill Time:

1 hour

Cook Time:

10 minutes

Total Time:

1 hour 50 minutes

Yield:

24
Description
These brown butter snickerdoodles are soft, chewy and flavored with a delicious blend of warming spices!
---
spiced brown butter snickerdoodles
butter, softened

1 c (230 g)

granulated sugar

1 c (200 g)

brown sugar

⅓ c (65 g)

eggs

2 large

vanilla extract

1 tsp

all purpose flour

2.5 c (310 g)

(spooned and leveled*)
cream of tartar

2 tsp (7 g)

baking soda

1 tsp (5 g)

ground cinnamon

1 tsp

ground ginger

½ tsp

ground cloves

½ tsp

ground allspice

¼ tsp

ground cardamom

¼ tsp

salt

½ tsp
cinnamon sugar topping
sugar

¼ c (50 g)

ground cinnamon

1 tsp
---
Instructions
Melt the butter in a small pot over medium heat. Cook, stirring often, until the butter turns brown and foamy (about 8 minutes). Pour the butter into a large heatproof bowl and let it cool to room temperature (20-30 minutes).
Once the butter has cooled, add the granulated sugar and brown sugar and beat with an electric mixer for about one minute.
Add the eggs and vanilla extract and continue beating until smooth.
In a separate bowl combine the flour, cream of tartar, baking soda, spices (cinnamon, ginger, cloves, allspice and cardamom) and salt.
Gradually add the flour mixture to the wet mixture and mix until combined.
Cover and place in the refrigerator for 1 hour.
Preheat the oven to 375 F (190 C) and line several baking sheets with parchment paper. Make the cinnamon sugar topping by mixing the cinnamon and sugar together in a small dish.
Using a cookie scoop or spoon, portion the dough out into balls (approximately 2 tablespoons of dough each). Roll the dough through the cinnamon sugar mixture and place them on the prepared baking sheets 2 inches (5 cm) apart. They will flatten as they cook.
Bake for 10 minutes or until lightly golden around the edges. Let the cookies rest on the baking sheet for 10 minutes and then remove to a wire rack to cool completely.
Notes
Spooned and leveled: Scooping a measuring cup into a flour container can result in much more flour than intended, which can affect the success of your cookies. To get a more accurate measurement, use a spoon to lightly scoop flour into the measuring cup until it's completely full. Then run the back of a knife over the cup to gently scrape off any excess.
Category:

dessert

Method:

baking

Cuisine:

american
Keywords: snickerdoodles, chai spiced snickerdoodles, brown butter snickerdoodles
This post may contain affiliate links through which we may earn a small commission at no additional cost to you. We only recommend products that we genuinely love and would use ourselves.