With a boost of flavor from crumbled bacon, these sauteed brussels sprouts are tender on the inside while maintaining a delightfully crispy exterior! This easy vegetable side dish requires just a few minutes of prep, making it perfect for the holidays!
Seared and caramelized brussels sprouts are incredible in their own right, but why stop there when you can cook them alongside a few strips of bacon for an added boost of deliciousness? These brussels sprouts with bacon are one of my all time favorite sides and although they're insanely easy to make, they're just special enough to serve at your holiday gatherings!
how to cut brussels sprouts
To prep your brussels sprouts, you'll first need to trim off the dried portion of the stem and then remove any wilted or discolored leaves. Then just slice them in half lengthwise and you're good to go. Some leaves will fall off and that's okay, I like to add them to the pan anyway as they get incredibly crispy and delicious!
If your brussels sprouts happen to vary widely in size, you may have to cut them in differing proportions so you have uniform pieces. If I have a few super small sprouts, I generally just leave them whole so they'll cook evenly. And if you get a few large ones in the mix, you can quarter them instead of halving.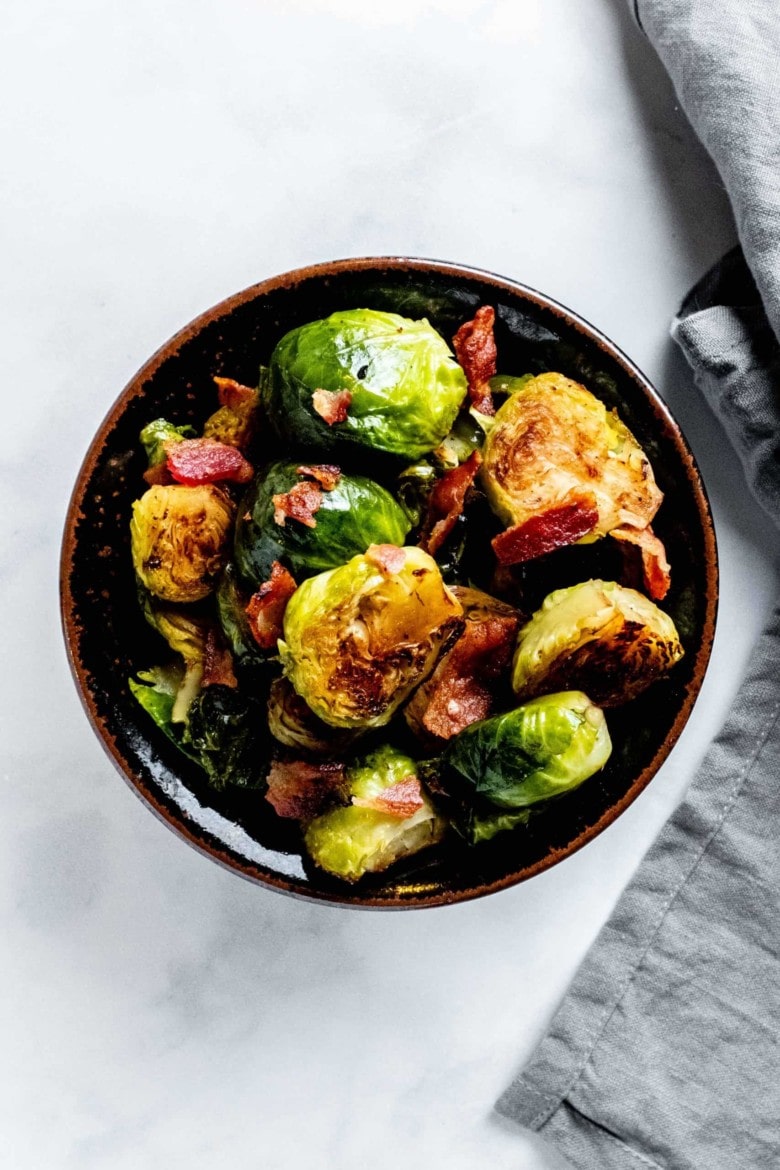 tender and crispy sauteed brussels sprouts with bacon
When brussels sprouts are cooked properly, they're one of my absolute favorite veggie sides! And in my opinion, a well-cooked brussels sprout is one that is soft and tender on the inside with a crispy exterior. To get that elusive combination, you need just two steps! First, briefly sear the sprouts in a bit of fat rendered from the bacon to develop the crispy outside. And second, add a splash of chicken broth, cover and steam the brussels sprouts to perfect tenderness!
We make this version of brussels sprouts often both with and without bacon. To make this recipe without bacon, just skip the first step and add a bit of olive oil or butter to the pan instead. And if you don't have chicken broth, you can use whatever type of liquid you have on hand. I've used water, vegetable broth and even beef broth in a pinch!
Looking for more vegetable side dishes? Try these!
ingredients
bacon

5 slices

brussels sprouts

16 oz (450 g)

chicken broth

⅓ c (80 ml)

salt

to taste
instructions
In a large pan, fry the bacon and then set aside on a paper towel lined plate. Pour out all but about one tablespoon of the fat rendered from the pan.
Trim the dried portion of the stems and cut the brussels sprouts in half lengthwise.
Add the brussels sprouts cut side down and cook on medium-high heat without stirring for about five minutes or until they've developed a golden sear.
Reduce heat to medium-low, add a pinch of salt and the chicken broth. Stir the brussels sprouts, cover and cook for about 10 minutes or until tender.
Uncover and continue cooking for a few minutes or until the broth has completely cooked out. Season with salt to taste.
Crumble the bacon over the brussels sprouts and enjoy!

Did You Make This Recipe?
This post may contain affiliate links through which we may earn a small commission at no additional cost to you. We only recommend products that we genuinely love and would use ourselves.