Torta di grano saraceno pairs rich and nutty buckwheat cake with tart lingonberry jam to make an incredibly flavorful gluten-free dessert! This jam-filled buckwheat cake is a rustic showstopper!
Recently I stumbled upon a recipe for buckwheat cake with lingonberry filling — a combination of two ingredients so beloved in my home country that I would have guessed it was Russian! So I was rather surprised to learn that the rustic cake hails from a mountainous region in northern Italy and is often referred to by both its Italian and German names: torta di grano saraceno and schwarzplententorte.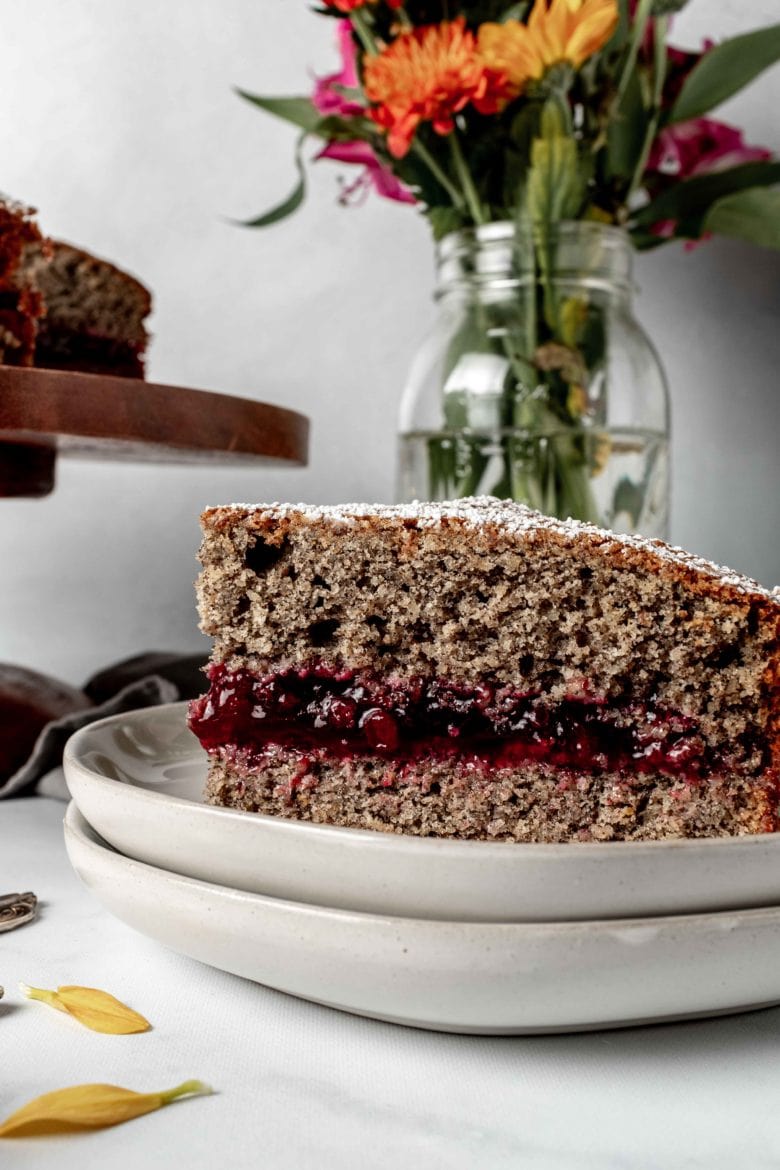 buckwheat cake
The base for this cake is a mixture of buckwheat flour and almond flour. If you are not familiar with buckwheat, it is a grain-like seed that has a deep nutty aroma, especially when toasted or baked. And despite wheat being in the name, it's actually gluten-free!
One of the main challenges when working with buckwheat flour in cakes is that it can create a dense and dry texture. And that is exactly what happened on my first try! Fortunately there are quite a few options to get a more open texture and delicate crumb. First, we need to add a bit more moisture. I opted to mix in both grated apple and a bit of olive oil to help with this.
The other part of getting the right texture comes down to technique, namely properly creaming the butter and adding whipped egg whites. The creamed butter will help produce a delicate crumb and add some aeration to the dough, while the egg whites will contribute to the structure. Getting these two steps right will go a long way to producing a light and crumbly cake. Read on to find out exactly how!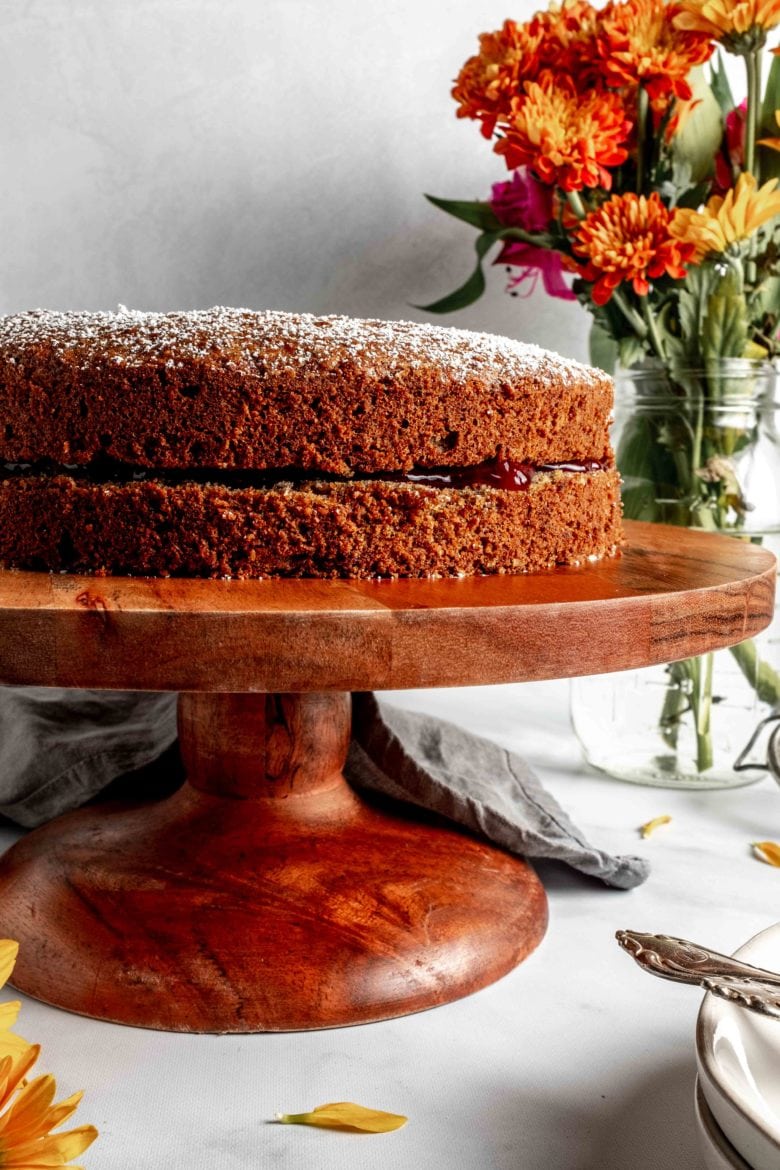 creamed butter
Creaming butter requires beating butter with sugar to aerate it. For aeration to happen, the butter has to be sufficiently solid and it should stay cold enough to keep the bubbles of air. When recipes instruct you to start with room-temperature butter, it often becomes too soft to properly aerate. For this reason, I opt to start with cold butter.
Of course cold butter will not cream, so first cut the butter into small chunks and then beat them with an electric mixer for several minutes. The pressure from the mixer warms the butter just enough to start the process. Next, add the sugar and continue beating the butter for five minutes, occasionally scraping the sides. When the mixture is light and fluffy, add the egg yolks (reserving the whites for later) and the remaining ingredients.
whipped egg whites
While whipping egg whites is straightforward, there are a lot of variables that can adversely affect your meringue. Make sure to start with a clean bowl with no traces of yolk in your egg whites. I also add a bit of acidity (in the form of cream of tartar) and salt to help the process along. Although I should note that the merits of adding salt to make whipping egg whites easier has been debated.
Start by beating the egg whites, cream of tartar and salt on medium speed until foamy. Increase the speed to high while gradually adding the sugar. Then just continue beating until stiff peaks form! Now you can fold the egg whites into the batter and you're ready to bake!
One note: because the batter is thick, it can be difficult to fold in the egg whites. To make the process easier, I add two heaping spoonfuls of the whipped egg whites to the batter and mix well. This adds moisture and makes it a bit easier to carefully fold the remaining egg whites into the batter.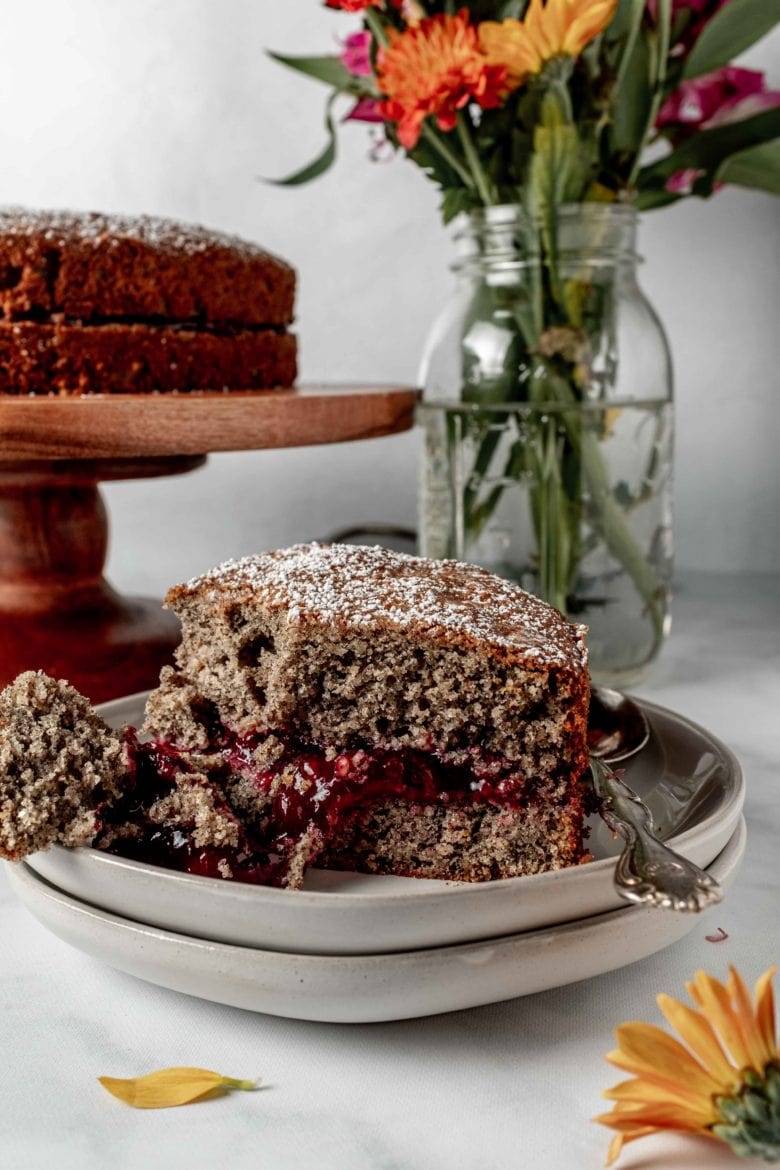 lingonberry jam
I've wanted to bake something with lingonberry for a long time, but it's not the easiest ingredient to find in the US. And when I do come across something like lingonberry jam in stores, it tends to be quite expensive. More affordable jars of lingonberry jam can be found at World Market or IKEA (after all they are famous for their meatballs with lingonberry sauce). We also sometimes find the jam at our local Russian market (look for брусничное варенье).
Another option would be to substitute lingonberry jam for another sour berry jam (such as cranberry, red currant or rowanberry). This recipe calls for a whole jar of jam, but you can adjust to taste depending on the sugar content. If I have a particularly sweet lingonberry jam I tend to add a bit less.
Looking for other cozy desserts to accompany your coffee or tea? Try these!
Print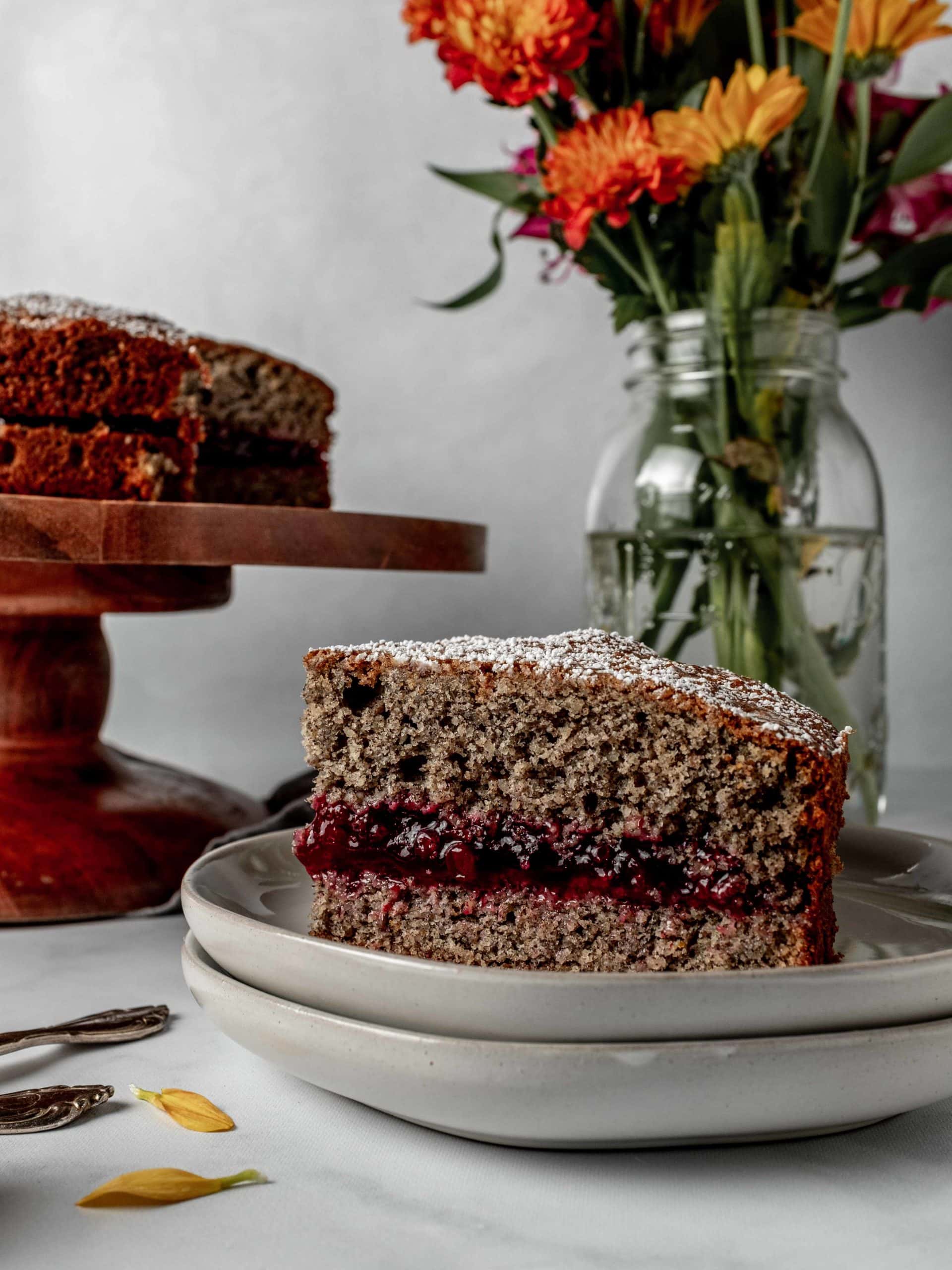 buckwheat jam cake
---
Author:

Viktor

Total Time:

1 hour 15 minutes

Yield:

10

Diet:

Gluten Free

Prep Time:

30 minutes

Cook Time:

45 minutes

Category:

baking and desserts

Cuisine:

italian
3

large eggs (

160 g

)

9 tablespoons

(

125 grams

) unsalted butter, cold and cut into cubes

⅔ cup

(

130 grams

) granulated sugar, divided

1 teaspoon

vanilla extract

1 cup

(

125 grams

) buckwheat flour

1 ¼ cup

(

125 grams

) almond flour

1 tbsp

(

8 grams

) baking powder

2 tablespoons

olive oil

1

small apple (about

90 grams

), peeled, cored and grated

1 tablespoon

orange zest

½ teaspoon

kosher salt

¼ teaspoon

cream of tartar (or substitute

½ teaspoon

lemon juice)

14 ounces

(

400 grams

) lingonberry jam
powdered sugar for dusting (optional)
---
Instructions
Preheat oven to 350 F (180 C) and grease an 8 inch (20 cm) round cake tin.

Separate the egg yolks and whites.

Beat the cold cubed butter with an electric mixer until just softened (around 2 minutes). Add vanilla extract and half of the sugar (⅓ c or 65 g). Beat for five minutes, occasionally scraping the sides of the bowl.

Add the yolks one at a time, beating the mixture for 30 second after each addition.

Add the buckwheat flour, almond flour, and baking powder to the butter mixture and mix gently.

Add the olive oil, grated apple and orange zest. Mix until fully incorporated.

In a separate bowl combine the egg whites, salt and cream of tartar. Beat with clean whisks on medium speed until foamy.

Increase the speed to high and gradually add the remaining sugar (⅓ c or 65 g). Continue beating until stiff peaks form (about 5 to 10 minutes).

Add a few tablespoons of egg whites into the dough and mix well.* Carefully fold in the rest of the whipped egg whites.

Pour the batter into the prepared tin and spread evenly. Bake for 40-45 minutes or until an inserted toothpick comes out clean.

Let the cake cool for 10 minutes then turn out onto a wire rack to cool completely.

Slice the cake in half horizontally. Spread a layer of jam on the bottom half of the cake and place the other half on top. Dust with powdered sugar if desired.
Notes
Folding egg whites into the batter: Mixing a few tablespoons of egg whites into the batter before folding in the rest will make the process easier.
Keywords: gluten free baking, jam cake, rustic cake, gluten free cake, buckwheat cake