This calzone recipe features crispy homemade dough brushed with garlic butter and a filling comprised of pepperoni, mushrooms, italian sausage and cheesy goodness! Stuff your calzone with the ingredients we love or mix in your own favorite pizza toppings!
Yes, pizza is always wonderful, but when I'm craving something cheesy and filling, I often go for its less popular relative — the calzone! The baked pocket of pizza dough allows more room for delicious ingredients and provides an additional layer of buttery crust to enjoy dipped in marinara sauce!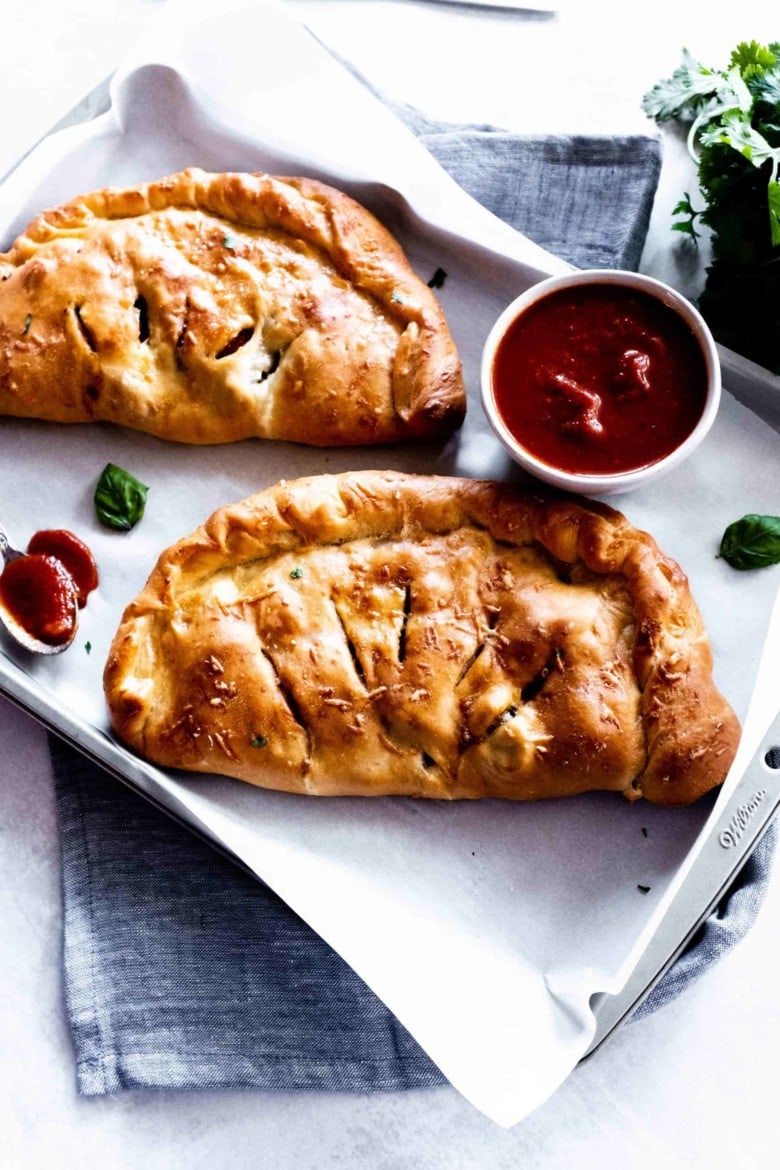 the filling!
My favorite three ingredients for calzones, aside from cheese of course, are pepperoni, mushrooms and spicy italian sausage! To make the filling, I first brown the italian sausage and then cook the mushrooms in the same skillet, using a bit of the fat rendered from the sausage. If you don't have any italian sausage on hand, you can also use hamburger or even leave it out completely. If you do decide to leave it out, it's still important to saute the mushrooms before adding them to the filling, as they'll release too much liquid if you add them directly to the calzone.
Short on time? Just add fillings that don't need any preparation! Pepperoni, ham, artichokes and olives are all great options! Or try making a quattro formaggi (four cheese) calzone with a mixture of parmesan, mozzarella, ricotta and provolone!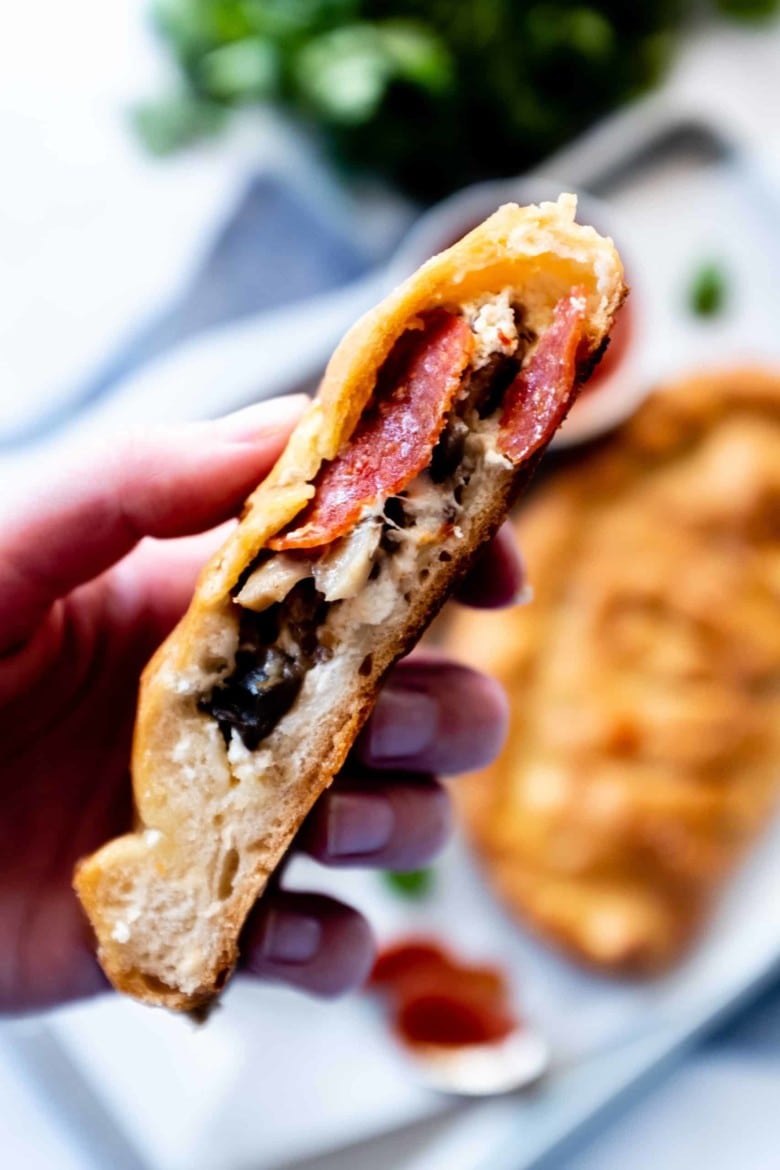 assembly + cooking
Before you can cut into that golden crust to reveal your favorite fillings wrapped in cheesy goodness, we have to make the dough! While the recipe is pretty simple, you do have to factor in about an hour and a half of time for the dough to rise. But I promise you that these calzones will be well worth the wait!
To assemble your calzones, separate the dough into four equal pieces and roll each out into a thin circle. Top one half of the circle with your cheese and toppings and then fold in half and pinch to seal. I like to play with the edges of the dough a bit to make a nice pattern, but that's completely optional!
Finely it's time for the little extras that take this dish to the next level! Before baking your calzones, you can brush on a quick egg wash to get a nice golden color. I'll be honest, I generally skip this step if I'm making these just for me and Viktor! But the next step  —  brushing the calzones with garlic butter as soon as they come out of the oven — is one I never miss! The garlicky buttery crust dipped in marinara sauce is heavenly!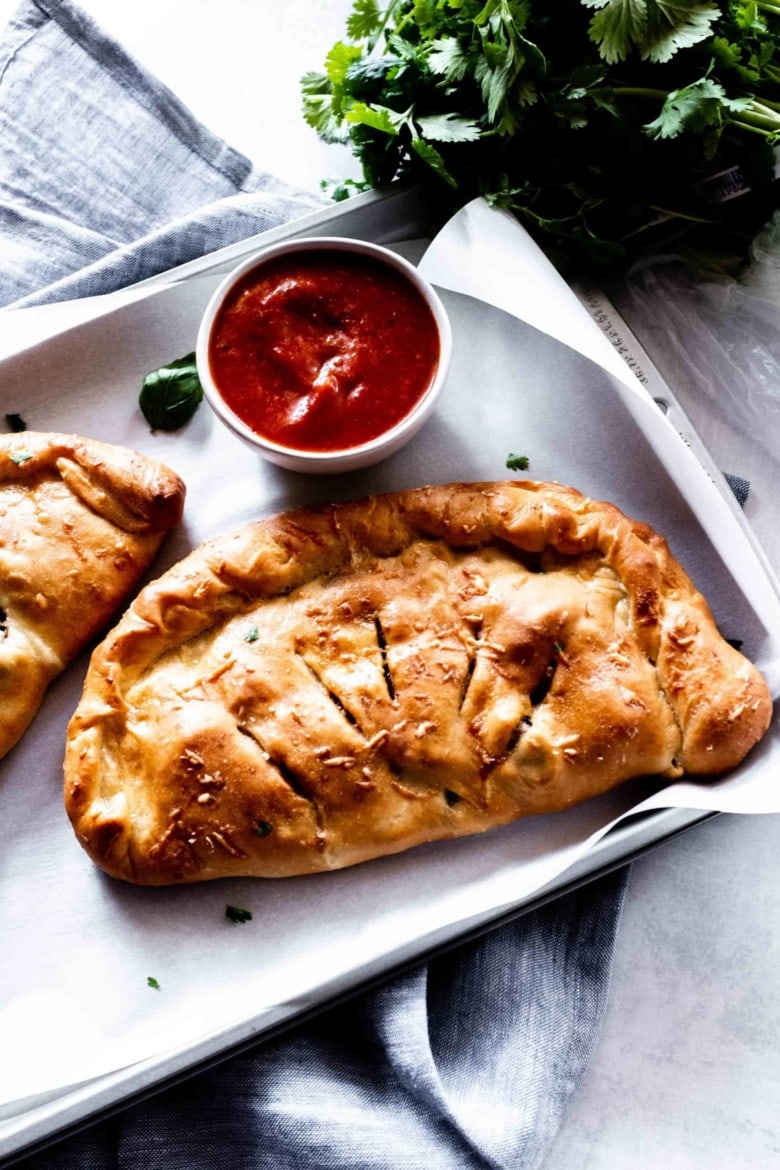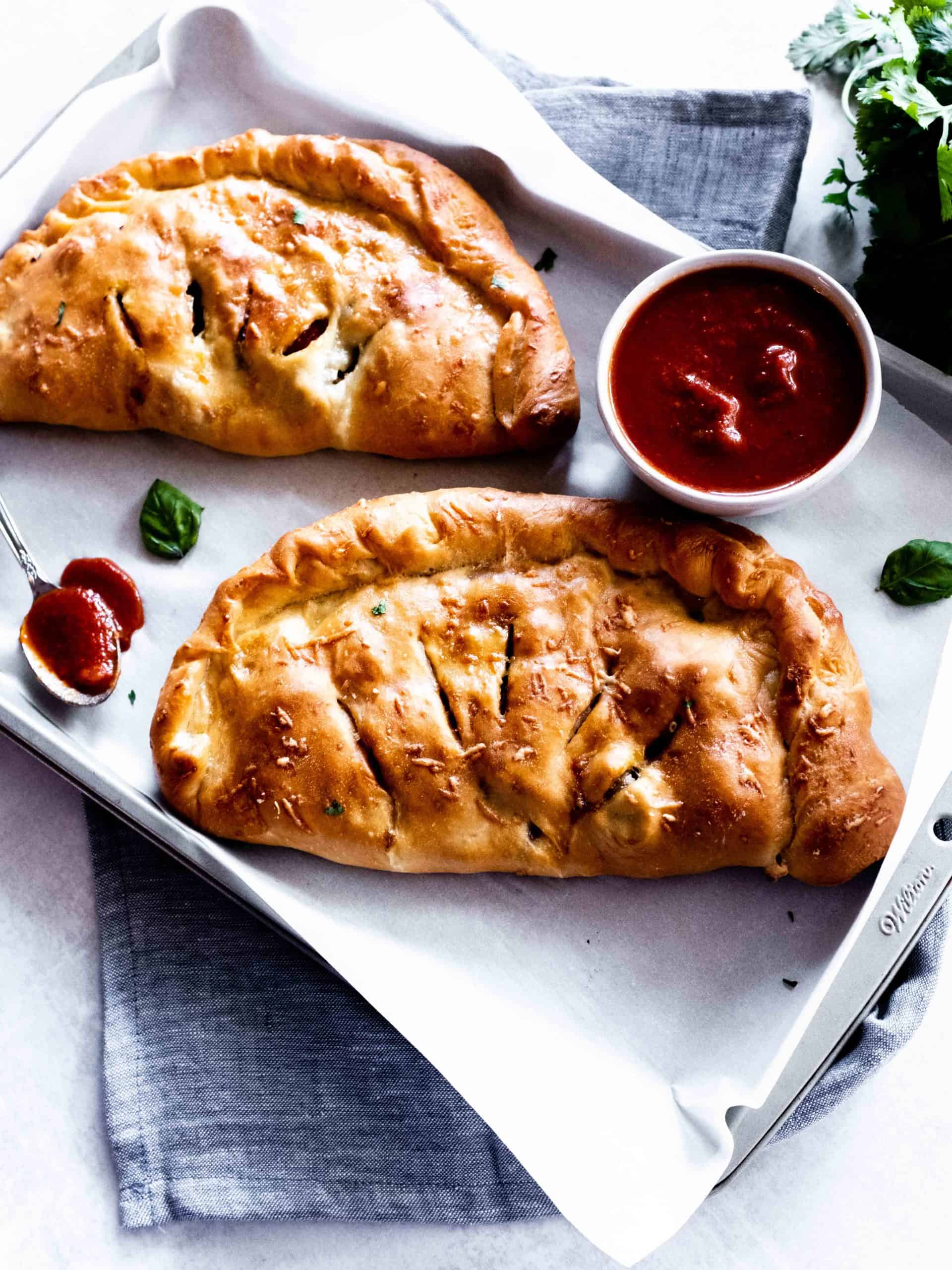 ingredients
dough
milk

¾ c (180 ml)

water

¾ c (180 ml)

sugar

2 tsp

active dry yeast

1.5 tsp

flour

3 ⅓ c (400 g)

salt

1 tsp

vegetable oil

2 tbsp
filling
italian sausage

½ lb (230 g)

sliced mushrooms

8 oz (230 g)

pepperoni

2 oz (15 slices)

mozzarella

8 oz (230 g)

ricotta

1 c (250 g)
assembly
egg

1 large

butter

2 tbsp

garlic

1 clove

marinara sauce

for serving
instructions
dough
Mix together the water and milk and heat until slightly warm. Add the active dry yeast and sugar to the mixture and let stand for 10 minutes or until foamy.
Mix together the flour and salt in a separate bowl.
Pour the milk mixture over the dry ingredients and knead the dough until it begins to form.
Add the vegetable oil and continue kneading until elastic. Add a few more tablespoons of flour if needed, but it's okay if the dough is a bit sticky!
Shape the dough into a ball and place in a greased bowl. Cover and set aside in a warm space for about one hour or until the dough doubles in size.
Once the dough has doubled in size, push down the dough several times with your hands. Cover and set aside for an additional 30 minutes.
filling
To make the filling, brown the italian sausage in a skillet. Remove to a large bowl.
Add the sliced mushrooms to the skillet and cook for 10 minutes. There should be enough rendered fat from the italian sausage to cook the mushrooms. If there's excess fat, you can pour out all but about one tablespoon and if there's not enough, just add a bit of olive oil.
Add the mushrooms, pepperoni, mozzarella and ricotta to the bowl with sausage and mix together.
assembly + cooking
Preheat oven to 400 F (200 C).
Separate the dough into four equal portions.
Roll out the first portion of dough into a large circle. Place ¼ of the filling on half of the circle. Fold the dough in half to form the calzone. Pinch the edges together to seal. Cut 5 slits in the calzone to allow steam to escape and transfer to a sheet pan lined with parchment paper. Repeat this process with the other three portions of dough.
Beat the egg with one tablespoon of water in a small bowl. Brush the top of each calzone with the egg wash.
Cook for 20-25 minutes.
While the calzones are baking, chop the garlic clove and mix together with melted butter.
Brush the calzones with garlic butter when they come out of the oven and serve with marinara sauce for dipping.

Did You Make This Recipe?