These soft, fluffy muffins are packed with chocolate chips and spiced with a hint of warming cardamom. The perfect on-the-go breakfast, this easy chocolate chip muffin recipe is ready in just 30 minutes!
When I visited a friend in Denmark last winter, we spent the days walking around Copenhagen exploring the Christmas markets and beautiful canals. We also stopped about every hour or so to grab a hot cup of coffee and escape the cold breezes. With what seems like a cozy little bakery on every corner, each cup of coffee or tea was of course accompanied by a pastry, bun or croissant! While every freshly baked treat was unbelievably delicious, I absolutely fell in love with the addition of cardamom to baked goods!
cardamom
Growing up, I don't recall my parents ever baking or cooking with cardamom and I only added it to my kitchen cupboard in recent years to flavor Indian curries. This muffin recipe was my first attempt at adding the warming spice to something sweet and it did not disappoint! It complements the sweetness of the chocolate chips and gives the muffins a more complex, enticing flavor!
If you don't have any cardamom on hand or you're just not a fan, you can replace it with a teaspoon of cinnamon!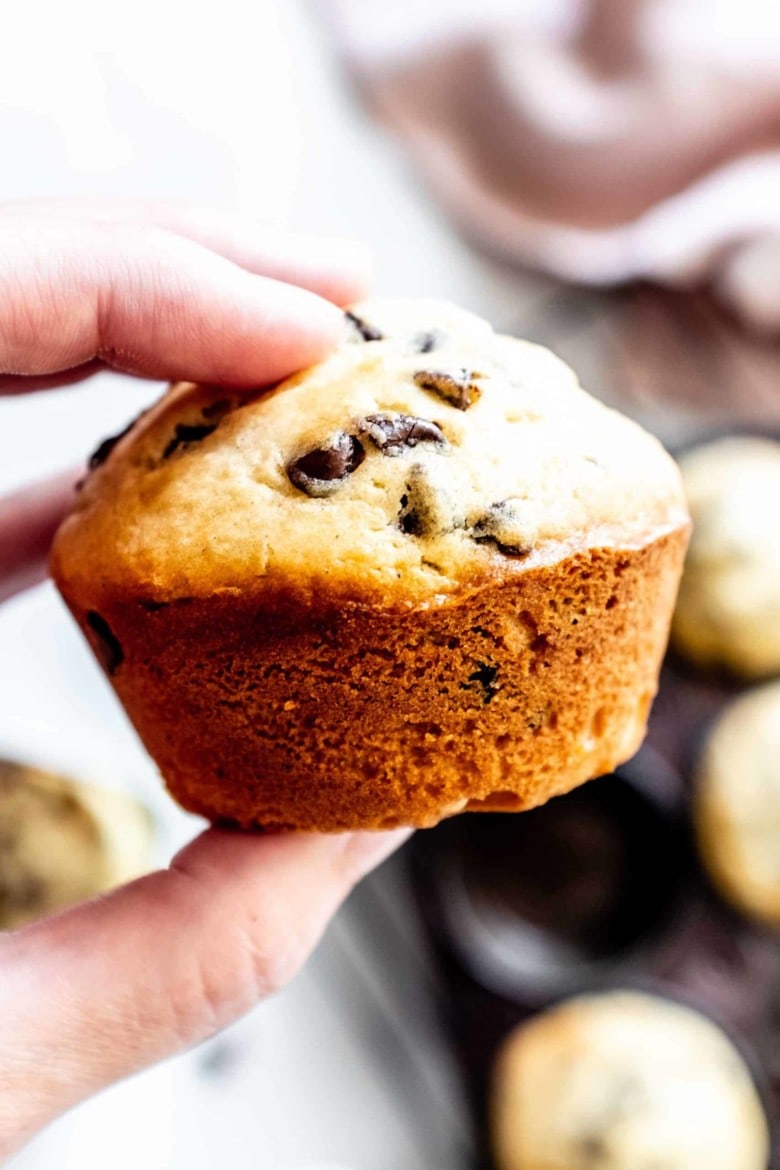 chocolate chip muffins
The rest of this muffin recipe is incredibly straightforward and doesn't require much time or effort — exactly what I'm looking for when I need to whip up breakfast in a hurry!
Just a few notes: the ingredients list is pretty customary, but does call for both baking powder and baking soda to make sure the muffins have a nice dome shape. And I also add a bit of sour cream to keep the muffins extra moist!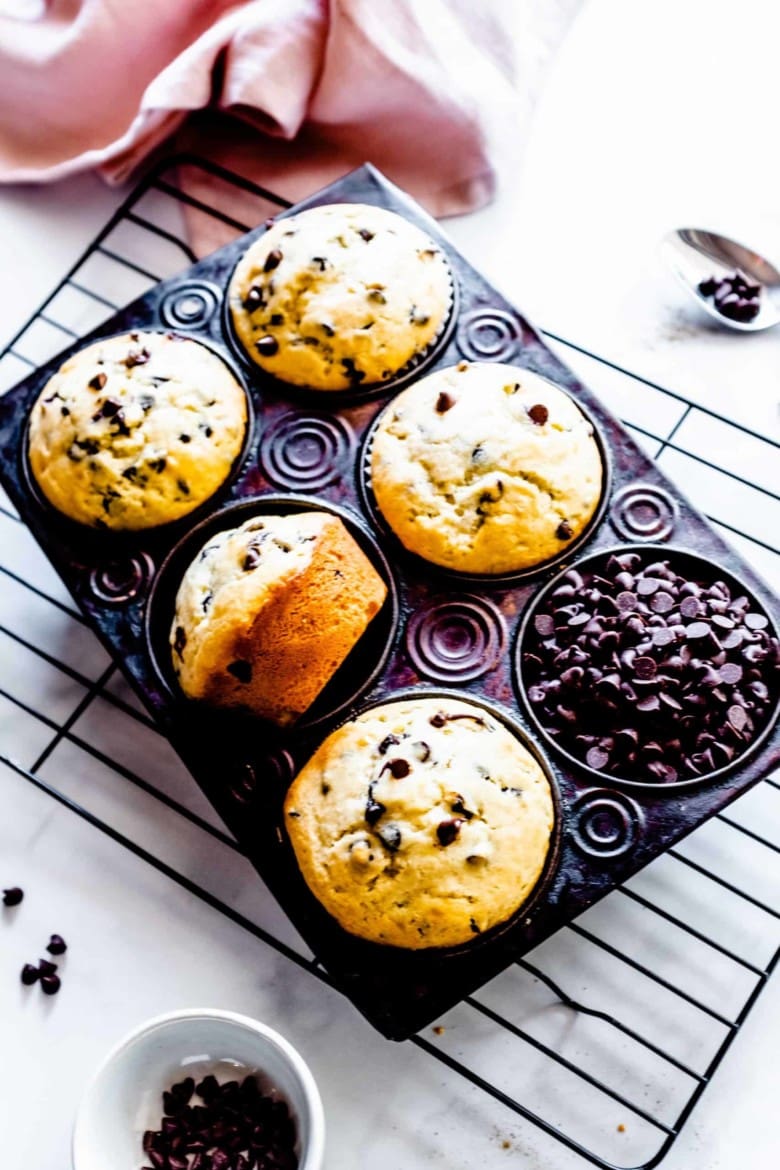 If you love these chocolate chip muffins, you should definitely try these delicious treats for breakfast: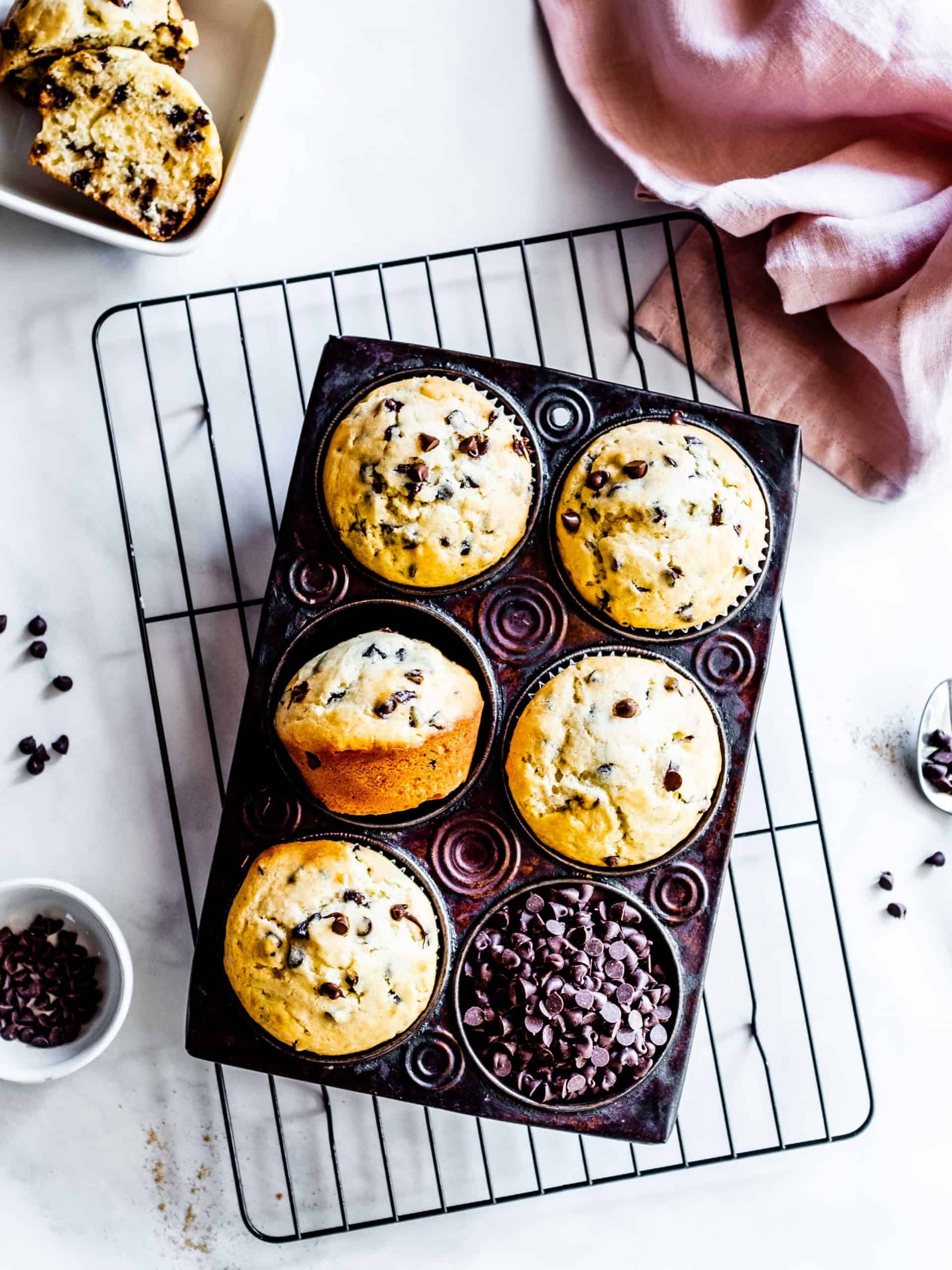 ingredients
flour

2.5 c (300 g)

baking powder

2 tsp

baking soda

½ tsp

ground cardamom

1 tsp

salt

¼ tsp

sugar

¾ c (150 g)

softened butter

6 tbsp (85 g)

eggs

2 large

vanilla extract

1 tsp

sour cream

½ c (120 g)

milk

¾ c (180 ml)

mini chocolate chips

1 c (170 g)
instructions
Preheat the oven to 350 F (180 C) and grease or line a muffin tin for 12 muffins.
In a large bowl, whisk together the flour, baking powder, baking soda, cardamom and salt.
In a separate bowl, beat the butter and sugar together until soft and fluffy.
Add the eggs and vanilla and mix well until combined.
Mix in the sour cream and milk.
Gradually pour in the flour mixture and mix by hand until just combined. Be careful not to overwork the batter here. 
Fold in the chocolate chips.
Divide the batter evenly among the muffin tins. Bake for 20-23 minutes or until the muffins are golden brown.
Allow the muffins to rest for five minutes and then remove to a wire rack to cool completely.

Did You Make This Recipe?
This post may contain affiliate links through which we may earn a small commission at no additional cost to you. We only recommend products that we genuinely love and would use ourselves.