These traditional Czech dumplings (кarlovarský knedlík) are the perfect accompaniment to slow roasted meats, savory goulash and flavorful stews. Ideal for soaking up delicious sauces, our knedliky are light, fluffy and easy to make!
Recently we've been craving some of our favorite meals from the years we lived in Prague and namely svíčková, which is beef sirloin cooked with a seriously delicious vegetable cream sauce! It was in recreating this dish at home that I decided it just wouldn't be complete without the knedliky that are so often served on the side of any saucy dish in Czechia.
While knedliky can come in many forms, I settled on a batch of these mosaic-style carlsbad dumplings (karlovarský knedlík) for my feast. Named after the beautiful spa town Carlsbad (or Karlovy Vary in Czech), these pretty little knedliky are one of the easiest versions to make and incredibly filling!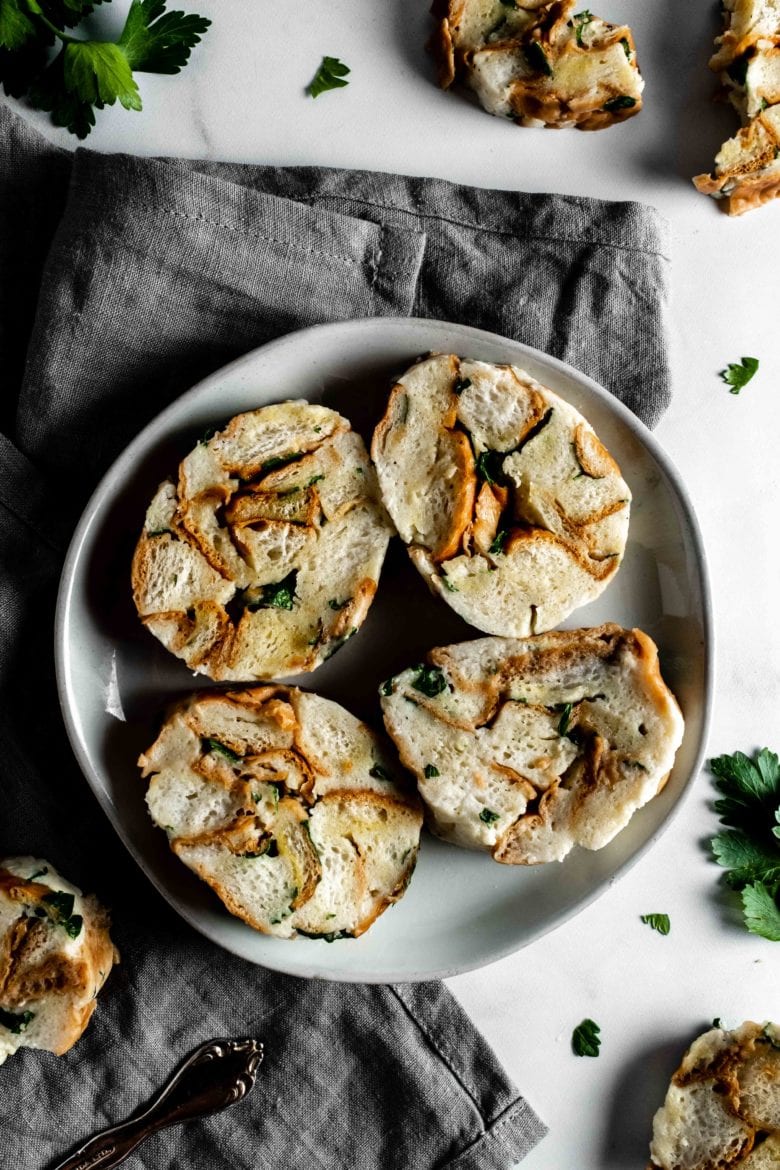 how to make carlsbad dumplings
Knedliky come in various forms from sweet to savory and they can be made from a variety of ingredients including flour, potatoes or even bread like today's version! But to be honest, there are only two reasons I tend to make these carlsbad dumplings. The first is if I have old bread on my hands — making knedliky is a wonderful way to repurpose stale bread! And the second is when I'm making something like stew and I want a side that can soak up any extra sauce. That's all to say that these dumplings aren't something I would make to just snack on by themselves. They're best when they take on the flavor of whatever delicious dish you're serving them alongside!
But making these dumplings really is quite simple. It's just cubed bread (I generally use a baguette) seasoned with parsley, a bit of salt and nutmeg and held together with a combination of milk, butter and whipped egg whites. After you've combined everything, you'll need to roll them into little logs (I usually make about three) and boil them for about half an hour. Sometimes people will roll the logs in plastic wrap or aluminum foil, but to avoid letting anything contaminate the food I tend to use a thin cotton towel tied off with cooking twine to give the knedliky their shape.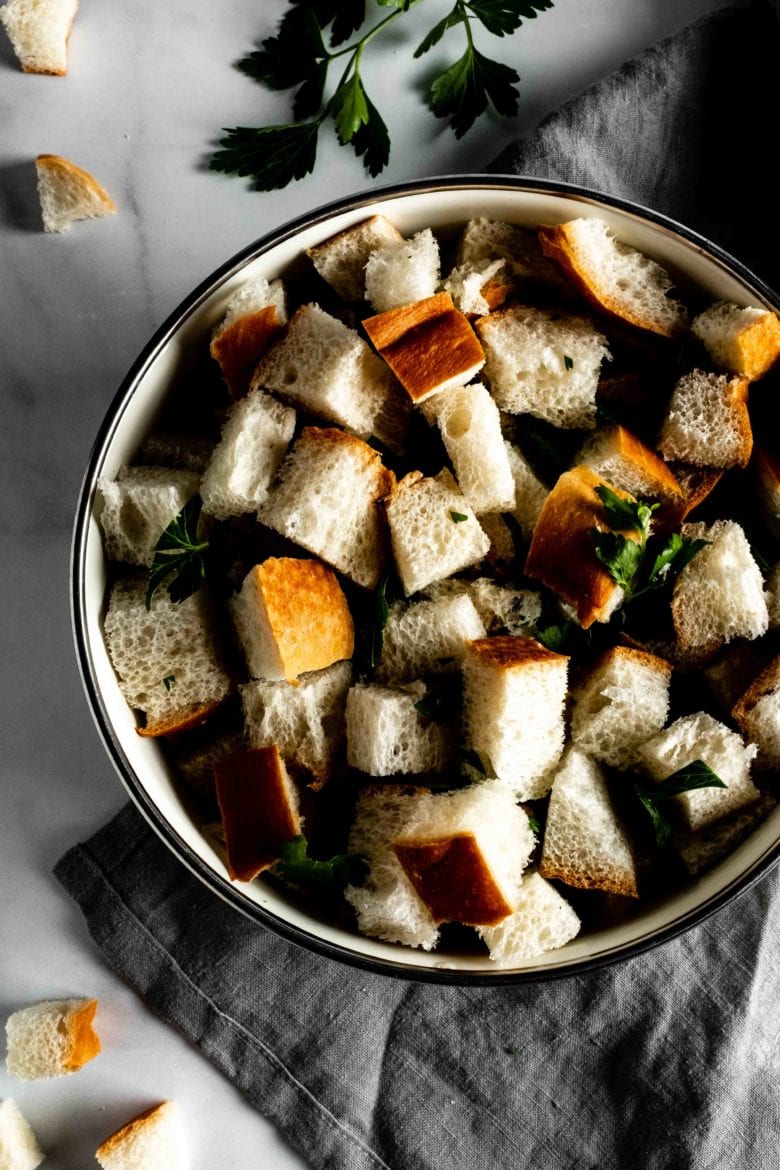 what to serve with knedliky
We whipped up a batch of these carlsbad knedliky specifically to enjoy with svíčková, but they're great served alongside anything saucy: soups, stews or even gravy. One of my favorite dishes to eat with knedliky is goulash and while we don't currently have a recipe posted for Czech guláš, they would be equally as amazing with our favorite Polish-style gulasz!
Another great thing about dumplings? They freeze really well and are a great option when you find yourself in need of a quick side dish!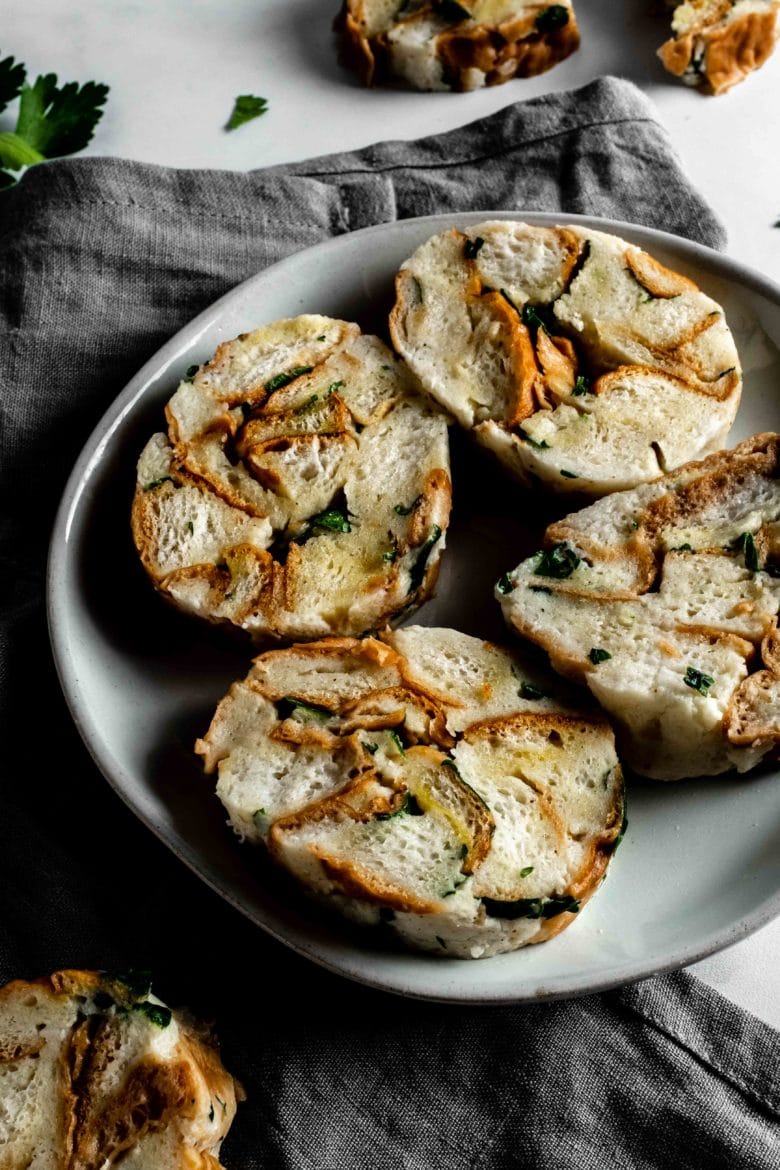 For more Czech-inspired recipes, make sure to check out these posts: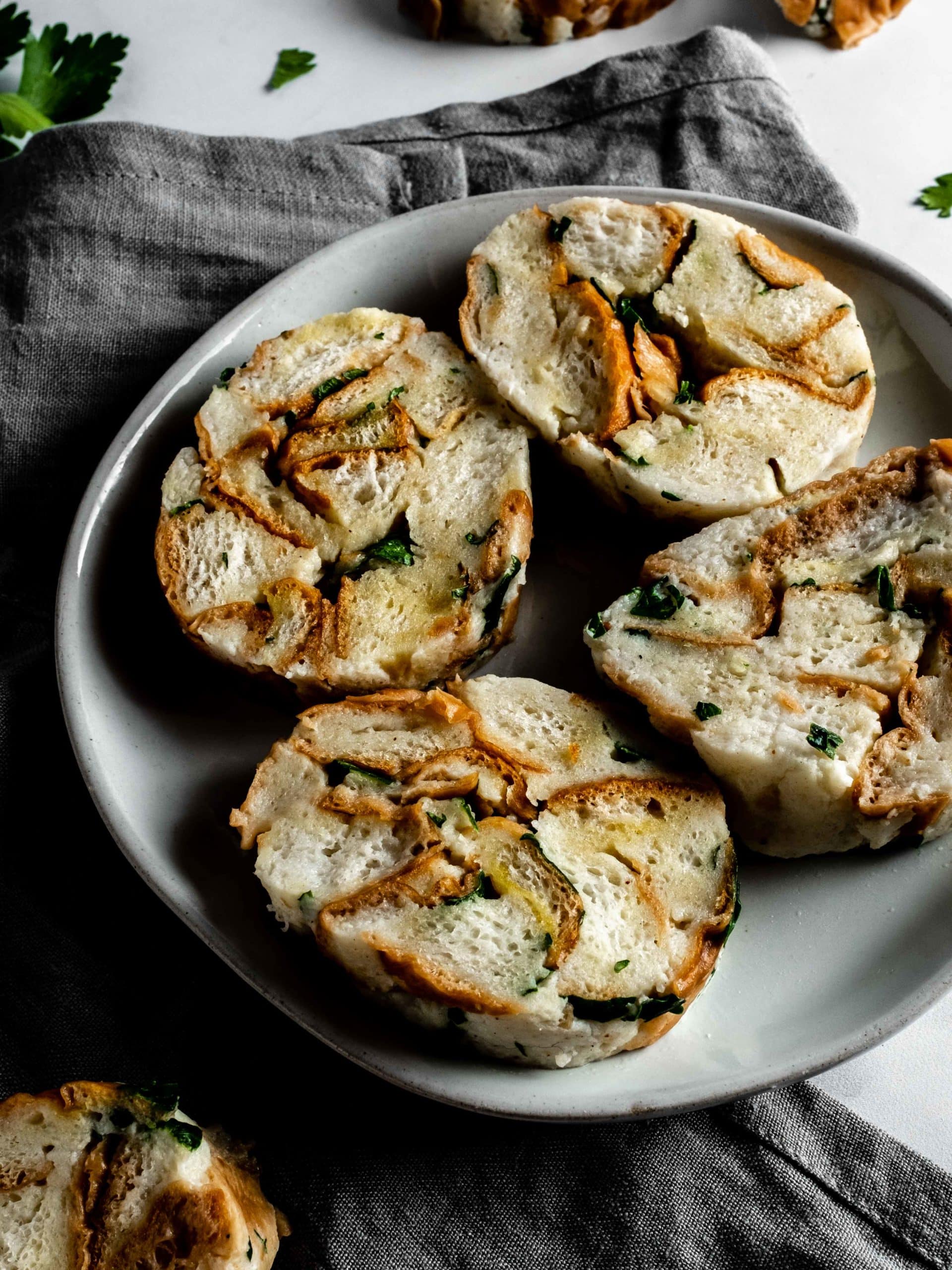 ingredients
baguette

1 large (400 g)

parsley

½ bunch

salt

½ tsp

nutmeg

¼ tsp

milk

1 c (240 ml)

melted butter

½ c (115 g)

eggs (separated)

4 large
instructions
Cut the bread into ½ inch (12 mm) cubes and roughly chop the parsley.
Place the bread and parsley in a large bowl along with the nutmeg and salt. Pour in the milk and melted butter and mix.
Separate the eggs and add the yolks directly to the bread mixture. In a separate bowl, beat the egg whites until stiff peaks form.
Fold the egg whites into the bread mixture until fully incorporated.
Using a thin dish towel, form the mixture into a log and use cooking twine to tie off the ends. I made three separate logs to make them easier to cook and slice.
Bring a large pot of salted water to boil. Reduce heat and keep at a low boil. Place the knedliky in the pot and cook for approximately 25 minutes, turning every so often to ensure the dumplings cook evenly.
Remove from the water and allow to cool slightly. Unwrap, slice into 1 inch (2.5 cm) rounds and serve warm.

Did You Make This Recipe?
This post may contain affiliate links through which we may earn a small commission at no additional cost to you. We only recommend products that we genuinely love and would use ourselves.