Get ready to transform pizza night with this cast iron pizza recipe! Whether you're firing up the grill or using your home oven, this recipe will give you a perfectly crispy crust and melty, bubbling top!
Looking to get the perfect homemade pizza without investing in a baking steel or pizza stone? Look no further than your trusty cast iron skillet and this cast iron pizza recipe! Cast iron skillets heat up quickly and retain heat well. Cast iron is also able to transfer heat even more efficiently to the dough than a baking stone or steel. This results in a faster baking time and a crispy, evenly cooked crust!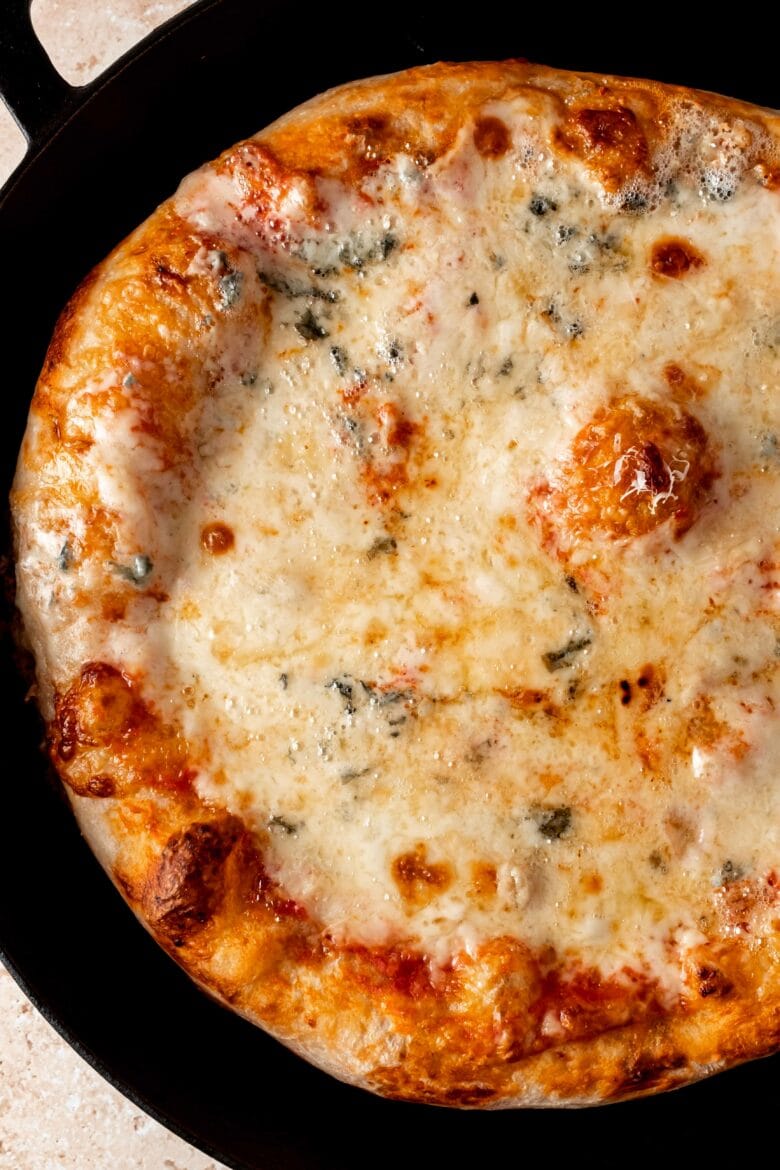 Why make pizza in a cast iron skillet?
High heat: Cast iron skillets retain and transfer heat well, creating an evenly-cooked and perfectly crispy crust.
Texture: Cast iron pizza has a golden-brown exterior with a slightly charred and crunchy bottom. The interior of the crust is tender and airy, with just the right amount of chewiness!
Versatility: Cast iron pizza can be made in your oven for a cozy meal on a chilly day. And during the warmer months? Place your skillet directly on the grill for an easy dinner that keeps the heat out of your kitchen.
Easy cleanup: Making pizza is actually good for maintaining your cast iron skillet! Greasing the pan with a generous amount of olive oil and cooking the pizza at a high heat seasons the pan. Which just means that it creates a non-stick layer that protects the skillet. Plus, the pizza slides right out making for easy cleanup!
And if you're looking to invest in a new cast iron skillet, make sure to check out this article for a good overview of your options.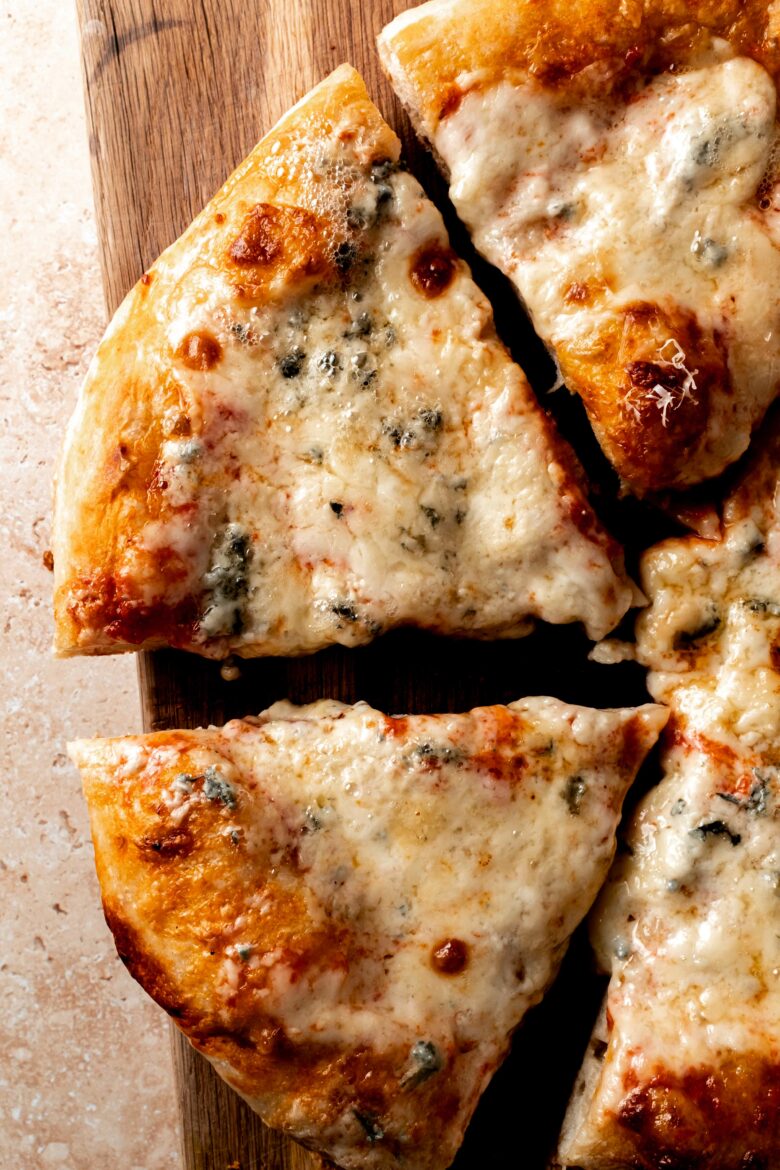 Recipe Ingredients
You just need a few ingredients for this cast iron pizza:
Olive oil to grease the pan
Pizza dough
Pizza sauce
Your favorite toppings!
The Best Dough For Pan Pizza
While you can definitely use your favorite dough for this recipe, we always opt for our easy poolish pizza dough. If you want to know more about the how and the why of using poolish (a pre-ferment), check out this post. Just looking for a quick overview? We've got you covered:
Poolish pizza dough is made using an easy pre-ferment, which adds a ton of flavor in a relatively little amount of time.
It is a 70% hydration dough, which means the dough is quite wet. This is great for your home oven or grill, which can't get as hot as a pizza oven. The additional water in the dough ensures that it bakes all the way through before burning on the outside.
The quick fermentation of the dough contributes to a lighter, more airy crumb while the heat transfer from the cast iron skillet helps the crust to puff up quickly. The perfect combination!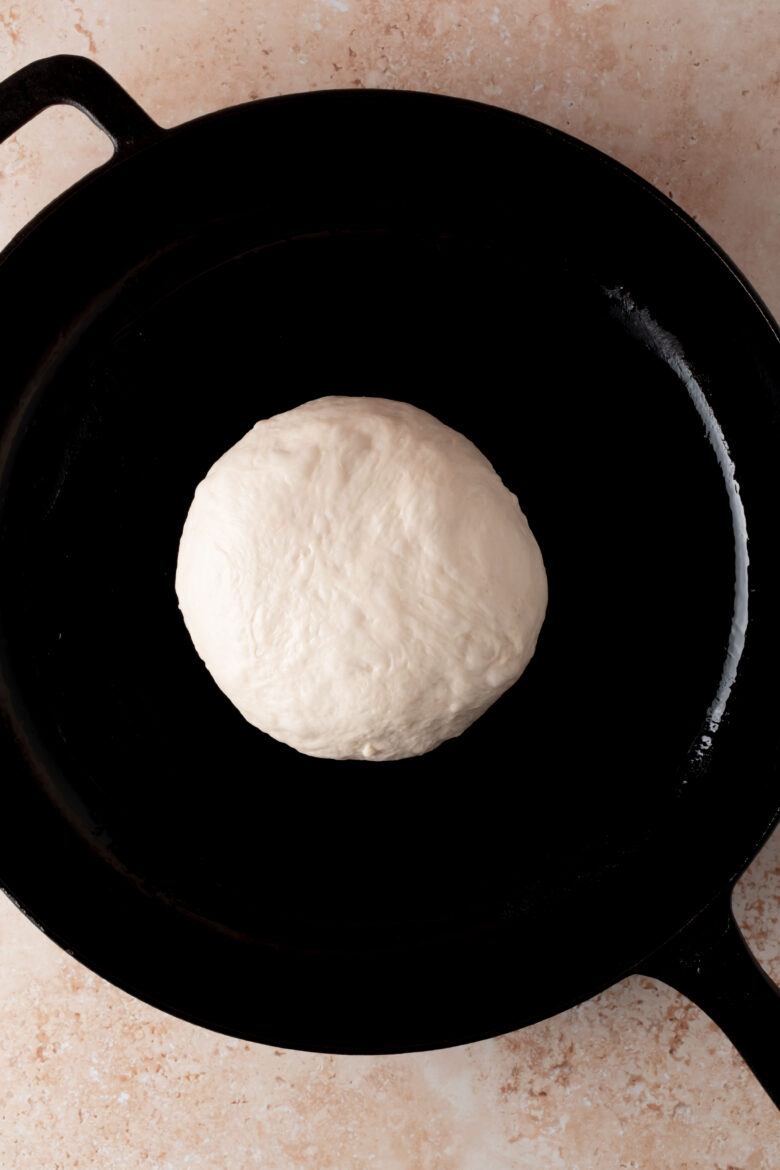 Sauce and Toppings
Now it's time to customize your cast iron pizza! Let's start with the sauce. My go-to is a simple 3-ingredient tomato sauce that beats out any store-bought alternative I've tasted. To make it, just blend or crush a can of whole peeled tomatoes along with olive oil and salt. For extra flavor, you can throw in some garlic and herbs. 
If you're not in the mood for a tomato-based sauce, a spoonful of pesto or drizzle of olive oil also make delicious options!
And the toppings? That's completely up to you! If you need a little inspiration, here are a few of our favorite pizzas to make:
Margherita: tomato sauce, mozzarella, sliced cherry tomatoes, and basil (added after baking)
Quattro formaggi: tomato sauce or a drizzle of olive oil, low-moisture mozzarella, gorgonzola, fontina, and parmesan (or substitute your favorite cheeses!)
Prosciutto and arugula: tomato sauce, mozzarella, slices of prosciutto, and arugula (added in last minutes of baking)
Gorgonzola and pears: olive oil, mozzarella, gorgonzola, pear slices, walnuts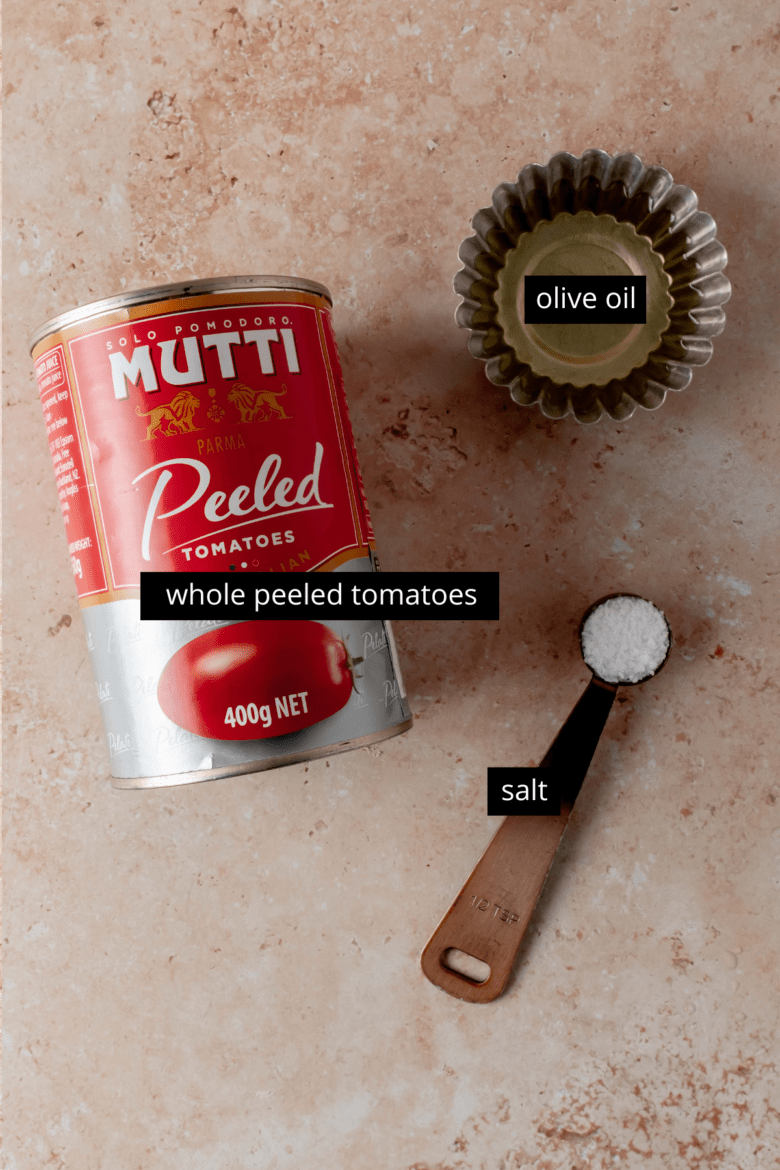 How to Make Cast Iron Pizza
Home Oven
This recipe is proof that you can make a very good pizza in a home oven. Start by preheating the oven to 500°F (260°C). The high temperature is essential to helping the dough puff up quickly, giving the crust a more open, puffier texture.
Build your pizza directly in the cold skillet and then place your cast iron skillet in the oven for 12-18 minutes. Make sure to check often as the time will heavily depend on the thickness and hydration of your dough.
And if you want it extra crispy and charred, try finishing your pizza under the broiler for the last few minutes of cooking.
Pizza on the Grill
This is our preferred method for cast iron pizza, especially in the summer. You can cook at higher temperatures and you don't have to worry about heating up the kitchen or setting off any smoke alarms!
Make sure your grill is preheated to at least 550-600°F (288-315°C). Then just place your skillet pizza directly over the flame and close the lid. You'll need about 10-15 minutes until the cheese is bubbling and the crust is crispy and golden brown!
One note: you'll definitely want to invest in a pair of silicone oven mitts if you're making this recipe on the grill. They're more heat resistant and offer a better grip than regular oven mitts, which is important when working with a heavy cast iron at high temperatures.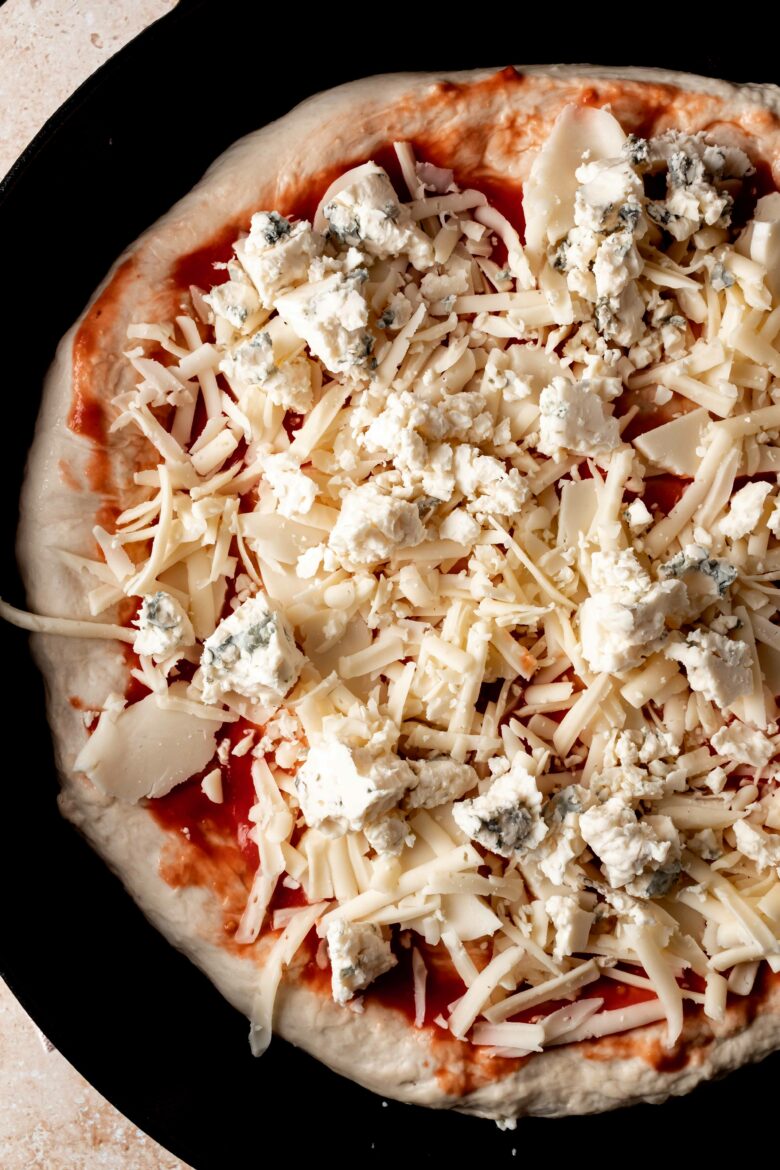 Cast Iron Pizza: FAQs
What size cast iron skillet should I use?
One pound (450 g) of dough is generally the perfect amount for one pizza baked in a 12-inch (30 cm) cast iron skillet.

If using our poolish pizza dough recipe, you'll have enough dough for two 12-inch (30 cm) pizzas or about three 10-inch (25 cm) pizzas.
Do I need to preheat the cast iron skillet before adding the pizza dough?
Nope! We've tested this recipe both ways and actually preferred the pizza built in a cold pan. It's chewier and gets a better rise. Plus, transfering pizza dough and building your pizza in a hot skillet seems like a recipe for disaster.
Can I use any dough to make cast iron skillet pizza?
We've included a link to a recipe for our favorite pizza dough, but you can use your preferred dough or even something store-bought. Just note that the baking time will vary depending on the thickness and hydration level of your dough.
Can I use store bought sauce?
Yes! Your favorite store bought pizza sauce will work great in this recipe.
How can I keep my oven from smoking when I bake the pizzas at such a high temperature?
Start by making sure your oven is clean of any leftover food spills or residue. Also note that we use olive oil to grease the pan as it infuses the crust with a beautiful flavor. Olive oil has a low smoke point, meaning it starts to burn and smoke at a relatively low temperature. Try using an oil with a higher smoke point, such as sunflower or avocado oil.
How do you keep pizza from sticking to a cast iron skillet?
Make sure to lightly grease your pan with olive oil to ensure that your pizza will easily slide out of the cast iron pan.
Expert Tips & Tricks
Make sure to oil the cast iron pan. This will keep the pizza dough from sticking to the pan.
If the dough isn't stretching well, let it rest. Ensure the dough is at room temperature and if you're still having trouble, let it rest for 15-20 minutes. This allows the gluten to relax, making it easier to stretch.
Don't overload your pizza with toppings. While this is a pretty sturdy pizza dough and you can be pretty generous with your toppings, make sure not to get too carried away or your crust can be a bit soggy.
Let your pizza rest for a few minutes before slicing. This gives the toppings a chance to set and makes it easier to cut.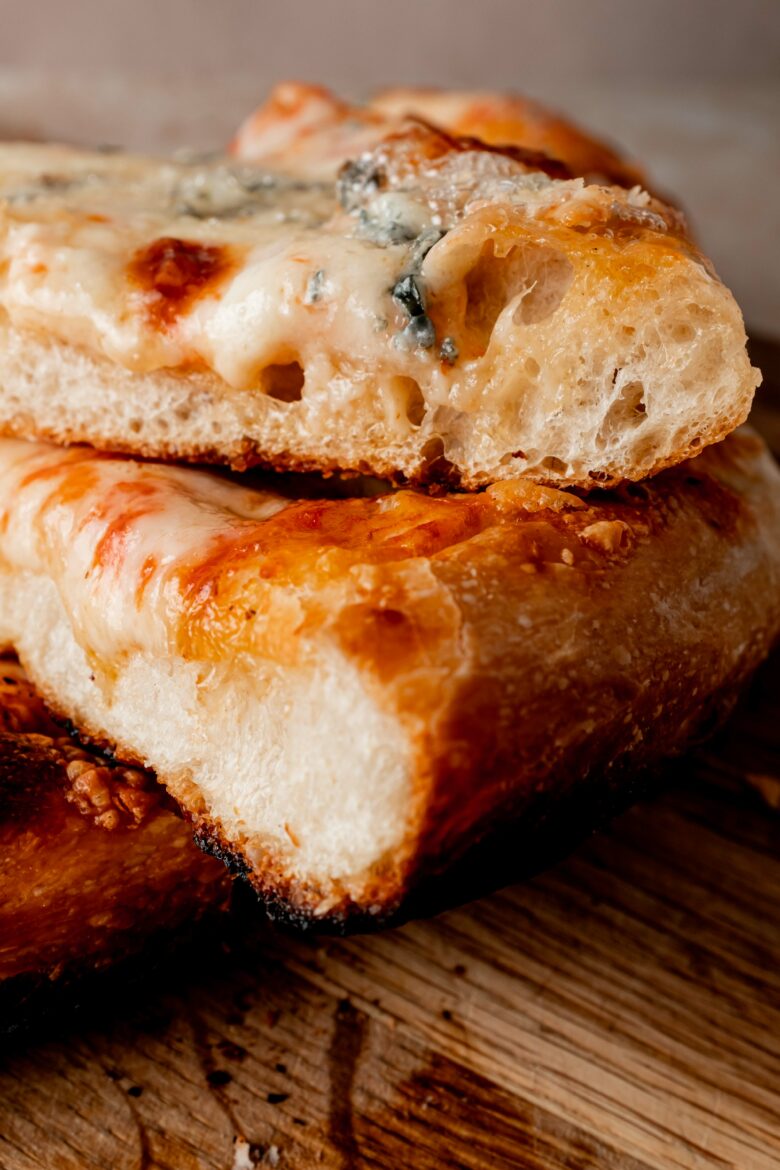 Looking for more ways to use your cast iron pan? Here are some of our favorite recipes:
Print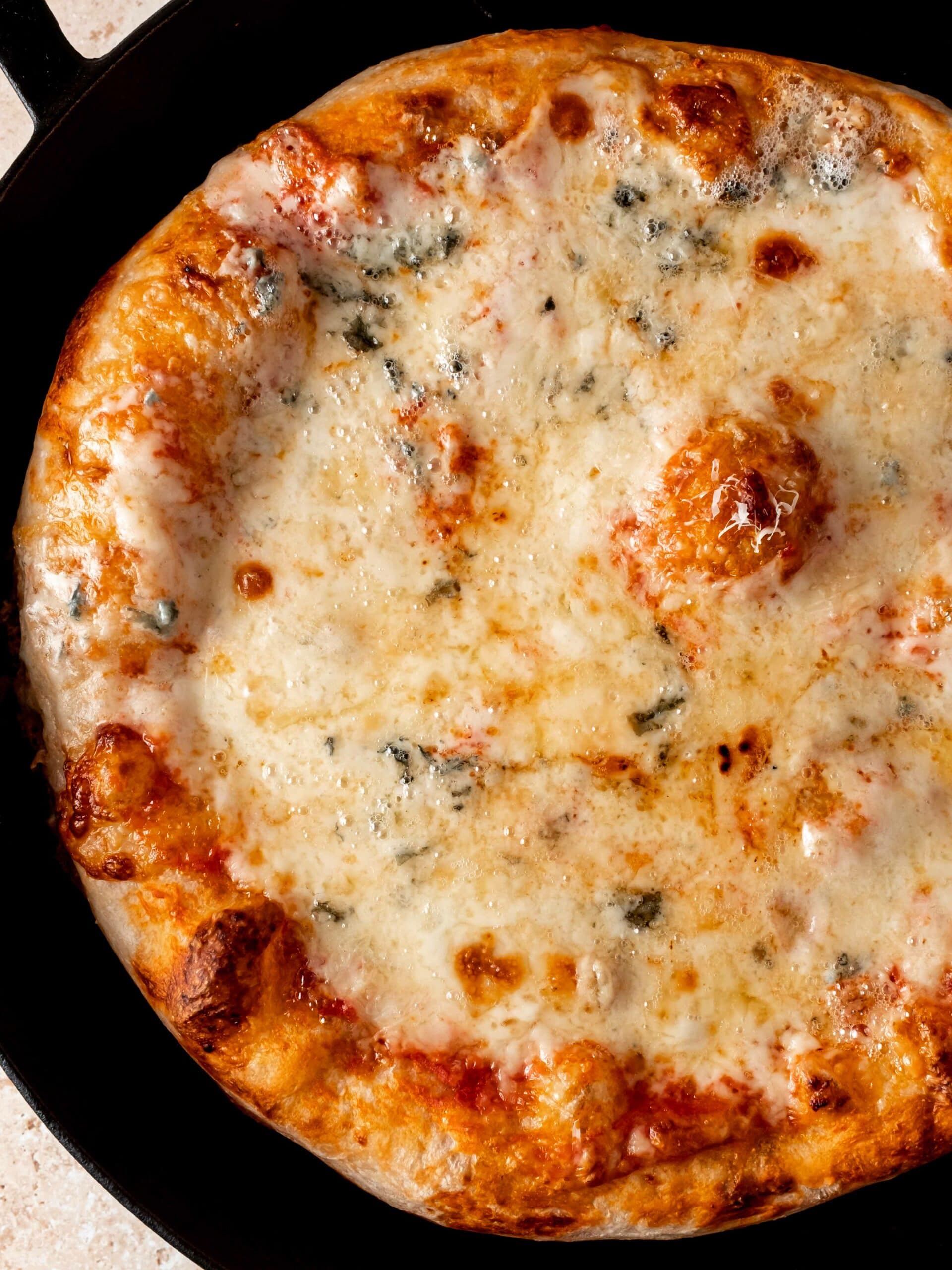 Cast Iron Pizza Recipe
---
Author:

Brittney

Total Time:

30 minutes

Yield:

12-inch pizza

Prep Time:

20 minutes

Cook Time:

10 minutes

Category:

dinner

Method:

baking

Cuisine:

italian
1

pound (450 grams) pizza dough*

14.5 ounce

(

400 gram

) can whole peeled tomatoes

1 tablespoon

olive oil + additional to coat pan

½ teaspoon

kosher salt
toppings as desired
---
Instructions
Build the Pizza
Make the pizza sauce. Combine the whole peeled tomatoes, olive oil and salt in a blender. Pulse until smooth and set aside.
Generously coat a 12-inch (30 cm) cast iron skillet with olive oil (about 2 tablespoons).
Flatten the pizza dough into a disc and place in the center of the skillet. Use your fingertips to gently press the dough down and outwards, starting from the center and moving towards the outer edges until you fill the pan. Leave ½ inch (1.5 cm) of dough untouched around the edges. See recipe notes for more tips on shaping the dough.
Spoon some of the pizza sauce (I like about ¼ cup or 60 ml) onto the crust. Use the back of a spoon to spread it evenly around the dough.
Add your favorite toppings.
Baking Instructions
Preheat oven to 500°F (260°C).
Transfer the cast iron skillet to the oven and bake for 12-18 minutes, or until the bottom of the crust is golden brown (you can use a spatula to gently lift up the edge to check).
Carefully transfer to a cutting board, slice and serve.
Grilling Instructions
Preheat grill to 550-600°F (288-315°C).
Transfer the skillet to the grill directly over the flame and close the lid. Cook for 10-15 minutes, or until the bottom of the crust is golden brown (you can use a spatula to gently lift up the edge to check).
Carefully remove the cast iron skillet from the grill using a pair of silicone oven mitts. Transfer to a cutting board, slice and serve.
Notes
Pizza dough: Use our easy poolish pizza dough for optimal results. This recipe makes two pizzas if using a 12-inch (30 cm) cast iron skillet.
Shaping the pizza: If your dough is springing back, cover it with a kitchen towel and let it rest for 5-10 minutes before trying again. If necessary, repeat this process multiple times. The rest period will help the gluten to relax, making the dough easier to stretch. Use olive oil to grease your fingertips if the dough is sticking to your hands.
Second pizza: If you're making two pizzas and have only one cast iron skillet, it's okay to start your second pizza in the hot skillet. In this case, we recommend shaping and building your pizza on a flat surface (such as a pizza peel) and carefully sliding it into the hot cast iron skillet.
Keywords: cast iron pizza, pan pizza, cast iron skillet pizza
This post may contain affiliate links through which we may earn a small commission at no additional cost to you. We only recommend products that we genuinely love and would use ourselves.