Thin, crispy pastry filled with juicy ground beef, these homemade chebureki are perfect as an appetizer, on-the-go snack or even main dish! The bubbly fried dough comes together quickly, is incredibly easy to work with and can be used with our deliciously seasoned beef or your favorite filling!
Chebureki (чебуреки) are delicious Crimean Tatar pastries that are incredibly popular throughout many countries in Eastern Europe and Central Asia. In Russia, for example, chebureki are often sold as a street food and can be found on almost every corner. Today we're sharing our homemade version of the crispy beef-filled pockets — they're super easy to whip up and always a hit among family and friends!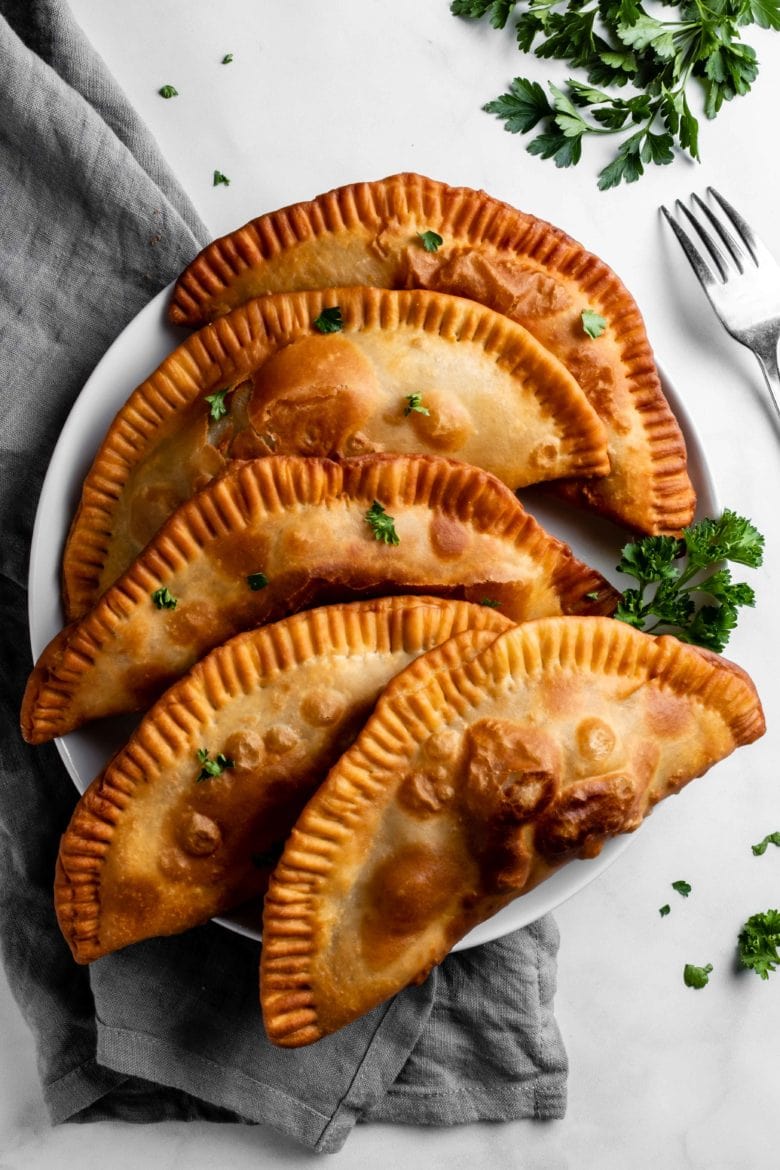 chebureki dough
To make the dough, start by mixing together your flour with a bit of salt. Then add the hot water (it needs to be quite hot, as in almost boiling) and mix until coarse crumbs form. Next, mix together the melted butter and egg in a separate bowl and gradually whisk into the flour mixture.
I've also included a tablespoon of vodka in the list of ingredients, but it's completely optional! When frying the dough, the vodka ensures a super crispy crust and also helps the chebureki to develop more of their characteristic bubbles. I always add it if we have vodka on hand, but it doesn't really affect the overall taste so I wouldn't rush to the liquor store just for this recipe.
Once the dough begins to form, turn it out onto your counter and knead until it becomes smooth and elastic. This could take anywhere from five to 10 minutes. Now, just let the dough rest for 30 minutes while you prepare the beef filling!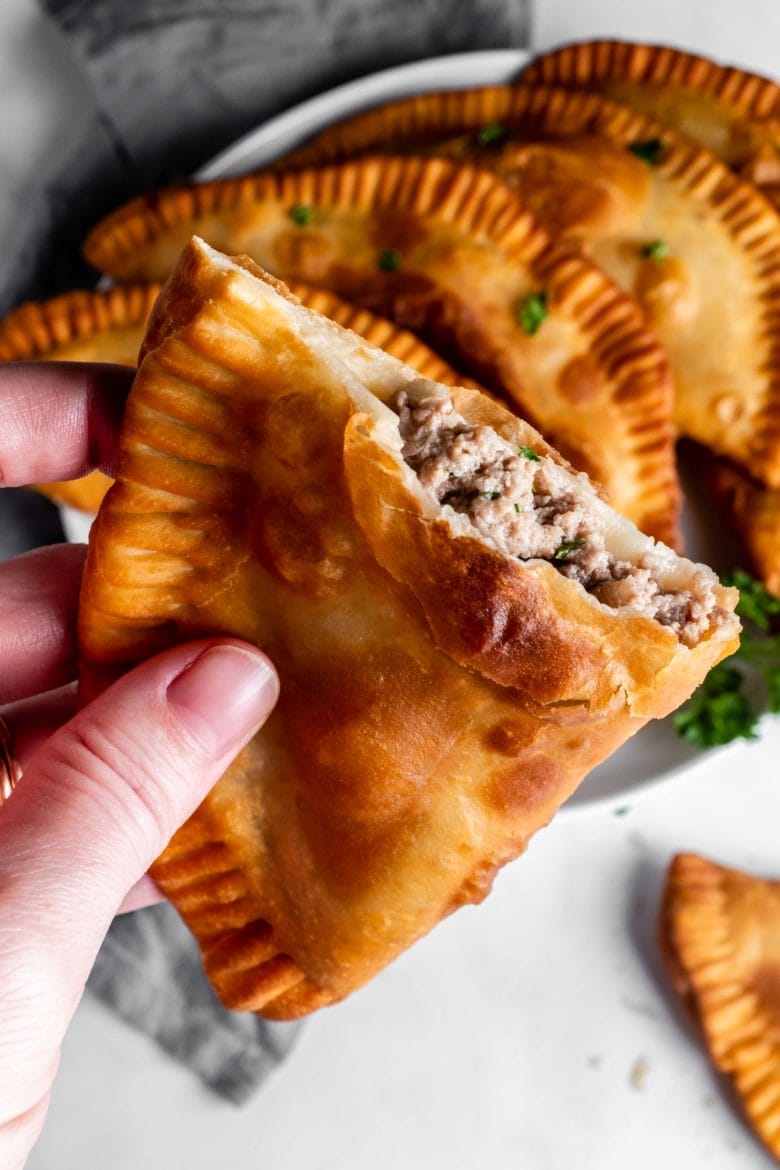 ground beef filling
One of the best parts about chebureki is the incredibly juicy filling made with just ground meat and a handful of seasonings. While I used ground beef, you can definitely substitute your favorite ground meat or use a combination of meats. The rest of the flavor comes from grated onion, a handful of parsley, garlic powder, salt and pepper. I also always add a tablespoon of soy sauce for a bit more flavor, but that's an optional addition!
And lastly, you'll want to add half a cup (120 ml) of broth or water to the beef mixture. I tend to use whatever broth we have on hand — vegetable, chicken and beef broth are all great options. But water will also work in a pinch. This is what makes the mixture so juicy so don't skip this step! The liquid tends to pool at the bottom of the bowl, so just make sure to give the mixture a good stir right before you're ready to add it to the dough.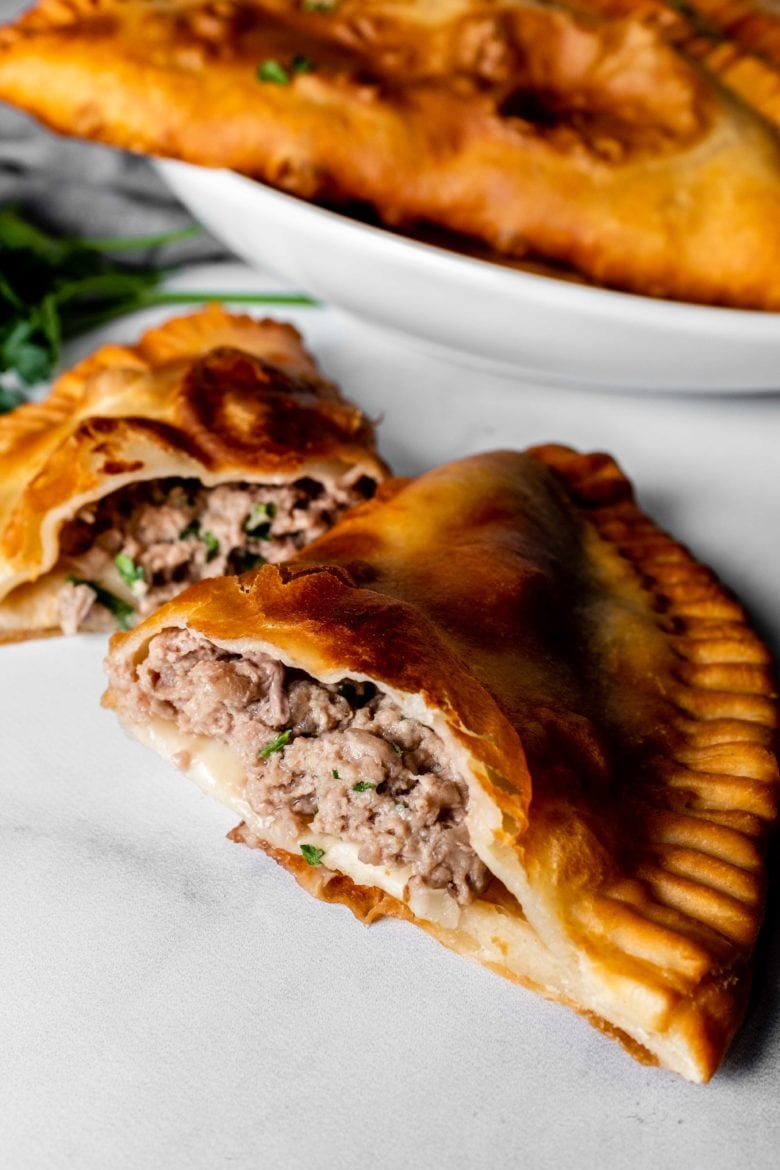 forming and frying chebureki
I am happy to report that chebureki dough is one of the easiest doughs I've ever had the pleasure of working with! To start, divide the dough into 12 pieces (or 10-11 pieces if you want them to be a bit bigger). And make sure to keep the dough covered when you're not using it. This will keep it from drying out and make it more pliable. Roll out each piece of dough into a circle, add a thin layer of the meat mixture on one side and then fold in half. Use a fork to seal the edges. And actually, it's also a good idea to reseal the edges with a fork right before frying to prevent the chebureki from opening during the process.
To fry the chebureki, heat about an inch (2.5 cm) of oil in a large skillet over medium-high heat. We used a large saute pan just big enough to fit two chebureki. Then fry the chebureki for one or two minutes on each side until golden brown. They'll puff up quite a bit while frying, so make sure you're using a pan that's deep enough to avoid any oil splattering.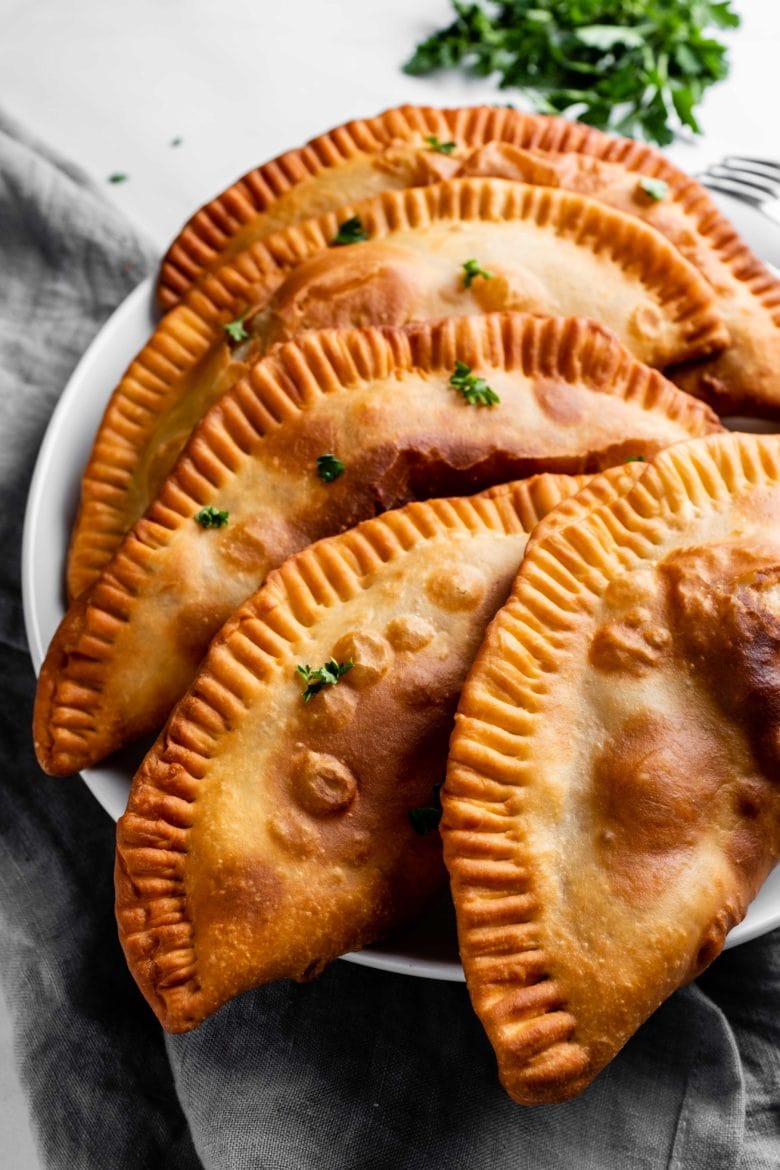 Make sure to check out some of our other favorite hand pies and dumplings!
Print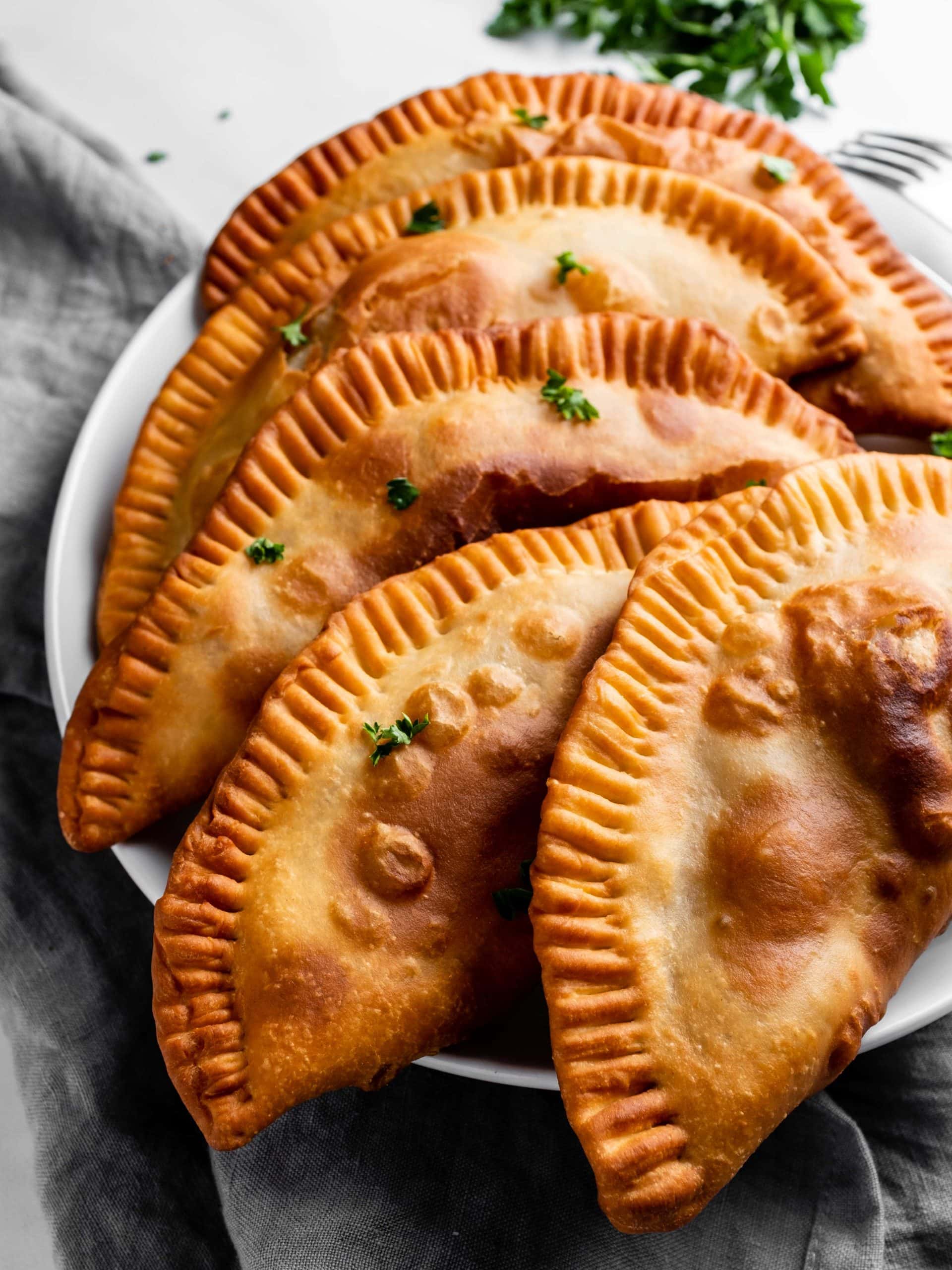 Chebureki – Fried Beef Pockets
---
Author:

Brit Kapustina

Total Time:

1 hour 20 minutes

Yield:

12

Prep Time:

1 hour

Cook Time:

20 minutes

Category:

Dinner

Method:

Frying

Cuisine:

Russian
Chebureki Dough
4 cups

(480 grams) all purpose flour

1 teaspoon

kosher salt

1 cup

(240 ml) water, just boiled

6 tablespoons

(85 grams) unsalted butter, melted

1

large egg

1 tablespoon

vodka (optional)

vegetable oil

for frying
Beef Filling
1

pound (450 grams) ground beef

1

small yellow onion

¼

bunch parsley

½ cup

(120 ml) water or broth

½ teaspoon

garlic powder

1 tablespoon

soy sauce
kosher salt to taste
---
Instructions
Mix the flour and salt in a large bowl. Add the hot water and mix until large coarse crumbs form.
In a separate bowl, mix together the melted butter, egg and vodka. Pour into the flour mixture and whisk together until the dough begins to form.
Turn the dough out onto your counter and knead until smooth and elastic (about five minutes).
Place the dough in a bowl, cover with a kitchen towel and let rest for 30 minutes.
While the dough is resting, make the filling. Chop the parsley and grate (or very finely dice) the onion. Combine all ingredients for the filling in a large bowl and mix well.
Separate the dough into 12 pieces. Make sure to keep the dough covered when not using so it doesn't dry out.
Roll out each piece into a circle approximately 7 inches (18 cm) in diameter or about 2 mm thick. Cover half of the circle with a layer of the meat mixture and then fold in half. If you want, use a pizza cutter to trim any uneven edges. Press the edges down with a fork to seal.
Heat about 1 inch (2.5 cm) of oil in a large saute pan over medium-high heat. Fry the chebureki for 1-2 minutes on each side or until golden brown and cooked through. Remove to a paper towel lined plate to absorb any excess oil.
This post may contain affiliate links through which we may earn a small commission at no additional cost to you. We only recommend products that we genuinely love and would use ourselves.