These savory cheddar chive drop biscuits are incredibly delicious and perfect for feeding a crowd! Our easy drop biscuits can be mixed up and ready to bake in under 15 minutes!
originally published 6.24.2020
These easy drop biscuits have always been a favorite among friends and they're super simple to whip up, which makes them perfect for everything from potluck parties to holiday gatherings! Plus, they're extremely versatile. They're wonderful on their own with a pat of butter, but can also be made into delicious breakfast sandwiches and are excellent for dipping into your favorite soups and stews!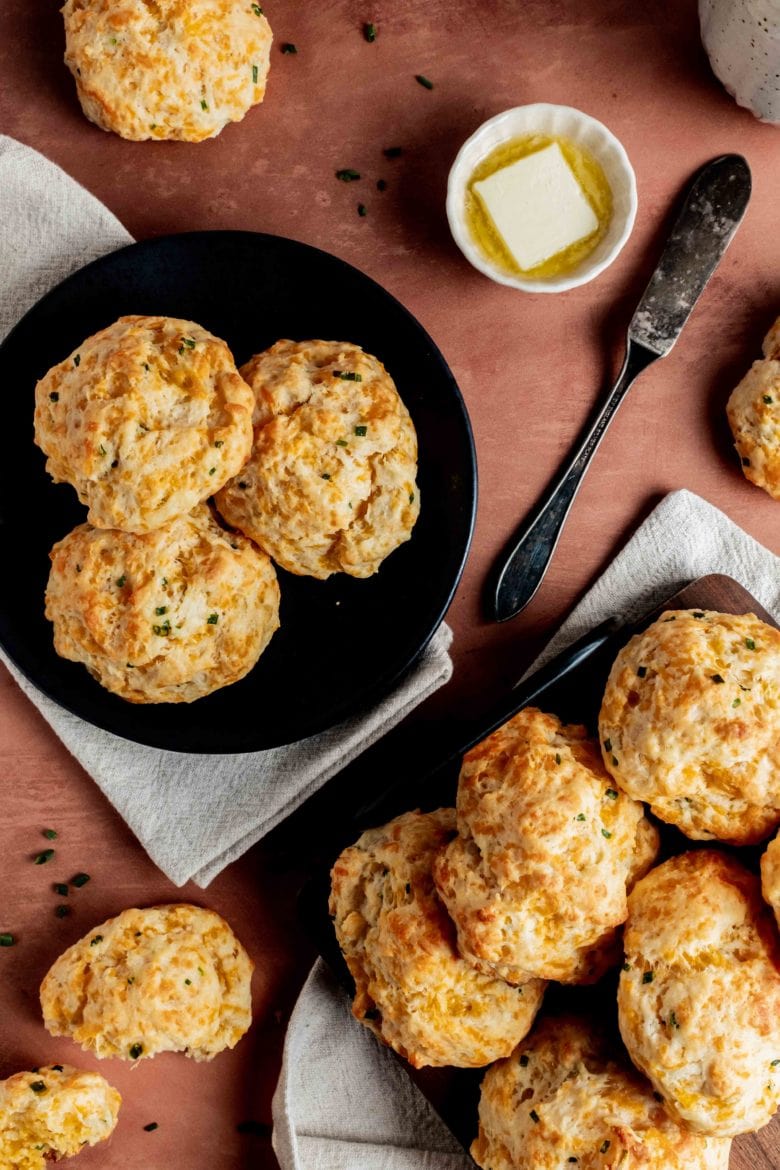 ingredients for easy drop biscuits
To make these easy drop biscuits you'll need the following ingredients:
Flour: All-purpose flour provides the structure for our biscuits. If not using a kitchen scale, make sure to use the spoon and level technique to avoid over-measuring. U

se a spoon to lightly scoop flour into the measuring cup until it's completely full. Then run the back of a knife over the cup to gently scrape off any excess.

Baking powder: This will give the biscuits their rise and beautifully light and airy texture. Because we're using a whole tablespoon of baking powder, make sure to buy an aluminum-free baking powder to avoid any metallic taste in your biscuits.
Sugar: A little bit of sugar will add flavor, as well as give your dough a more tender texture and crispier outside.
Salt: Just a half teaspoon is perfect for these biscuits!
Garlic powder: I love a bit of garlic flavor in my biscuits, but you can leave this ingredient out if desired.
Butter: No need to cut cold butter into your biscuits — we use melted butter in this recipe!
Buttermilk or kefir: Both buttermilk and kefir work well for the liquid in these easy drop biscuits.
Shredded cheddar: I like to use sharp cheddar, but great substitutes include white cheddar, colby and gouda.
Chopped chives: And a few tablespoons of freshly chopped chives finishes off our ingredient list!
making easy drop biscuits
These easy drop biscuits come together in under 15 minutes! Here are the steps:
Combine the dry ingredients: flour, baking powder, sugar, salt and garlic powder.
Mix together the melted butter and cold buttermilk (or kefir). The mixture will look clumpy and as if it has curdled quite a bit — this is exactly what we're going for! Those little clumps of butter will give our biscuits a beautiful texture! Combine the buttermilk mixture with the dry ingredients, but make sure not to overwork the dough.
Fold in the cheddar and chopped chives. Now just fold in your shredded cheddar and chopped chives and your biscuit dough is ready!
Bake! There's no rolling out and cutting dough in this recipe – we simply drop spoonfuls of dough onto a pan and they come out light and fluffy. Then just bake for 12-14 minutes!
For more delicious and cheesy dishes, make sure to check out these recipes!
Print
cheddar chive drop biscuits
---
Author:

Prep Time:

15 minutes

Cook Time:

12 minutes

Total Time:

27 minutes

Yield:

15
flour

2 c (250 g)

(spooned and leveled*)

baking powder

1 tbsp

sugar

2 tsp

salt

½ tsp

garlic powder

½ tsp

butter

½ c (115 g)

buttermilk, cold

1 c (240 ml)

(can substitute kefir)

shredded cheddar

1.5 c (160 g)

chopped chives

2 tbsp
---
Instructions
Preheat oven to 450 F (230 C) and line a baking sheet with parchment paper.

Melt the butter completely and let cool for several minutes.

In a separate bowl, combine flour, baking powder, sugar, salt and garlic powder.

When the butter has slightly cooled, whisk it together with the cold buttermilk.

Pour the buttermilk mixture over the dry ingredients and stir until just combined.

Fold in the cheese and the chopped chives, making sure not to overmix the dough.

Drop heaping spoonfuls of the dough onto the prepared baking sheet.

Bake for 12-14 minutes or until golden brown.
Notes
Spooned and leveled: Scooping a measuring cup into a flour container can result in much more flour than intended, which can affect the success of your biscuits. To get a more accurate measurement, use a spoon to lightly scoop flour into the measuring cup until it's completely full. Then run the back of a knife over the cup to gently scrape off any excess.
Keywords: cheddar chive drop biscuits, easy drop biscuits, cheddar chive biscuits
This post may contain affiliate links through which we may earn a small commission at no additional cost to you. We only recommend products that we genuinely love and would use ourselves.