These savory cheddar chive drop biscuits are incredibly delicious and perfect for feeding a crowd! There's no need to roll out or cut your dough — simply mix everything up in one bowl, drop on your pan and bake!
These cheddar chive drop biscuits have always been a favorite among friends and they're so easy to whip up — perfect for holiday gatherings! So when we attended a thanksgiving celebration with over 30 guests this past year, you can be sure these biscuits were on the menu! While I tend to make this recipe more in the winter, I've recently found that these flaky buttermilk biscuits are perfect for summer as well and are always a hit at picnics and grill outs!
There's no rolling out and cutting dough in this recipe – we just drop spoonfuls of dough onto a pan and they come out light and fluffy! The key to good drop biscuits is to not overwork the dough. Other than that, just mix everything together quickly and you're all set! I use cheddar cheese here, but you could try using other shredded cheeses or a mix of your favorites.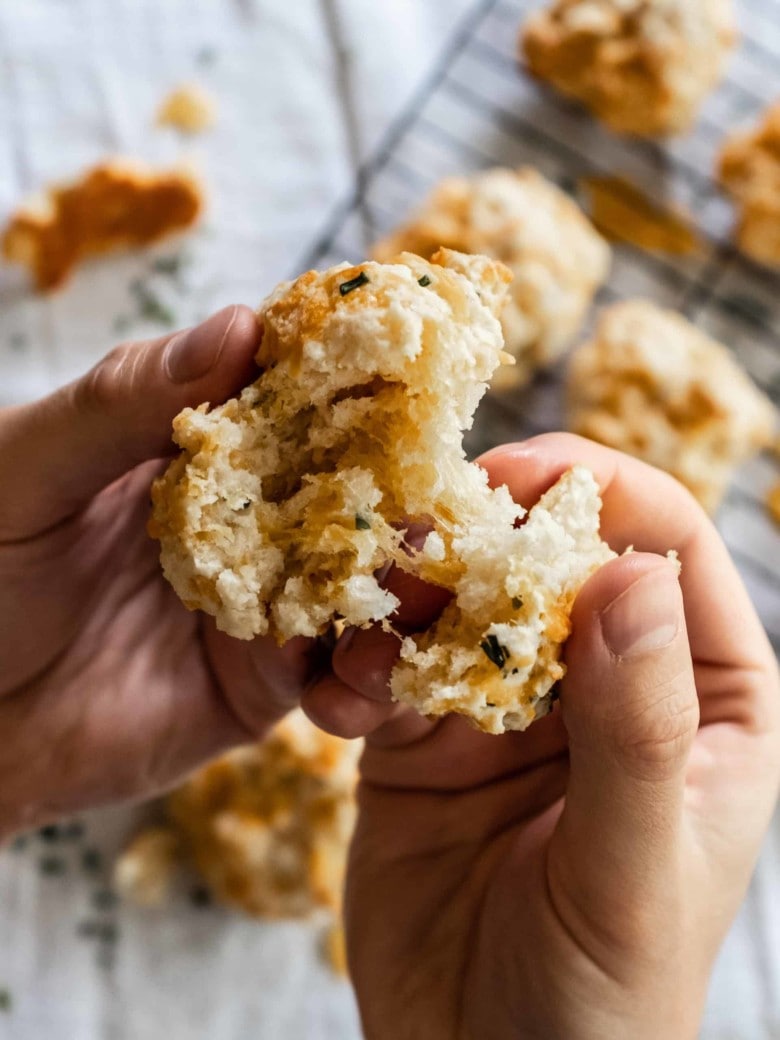 The next time you're craving tomato soup and grilled cheese, try dipping these cheesy biscuits into this easy version of delicious tomato soup!
ingredients
flour

250 g (2 c)

baking powder

1 tbsp

sugar

2 tsp

salt

½ tsp

garlic powder

½ tsp

butter

110 g (1 stick)

buttermilk (cold)

240 ml (1 c)

shredded cheddar

160 g (1.5 c)

chopped chives

2 tbsp
instructions
Preheat oven to 450 F (230 C) and line a baking sheet with parchment paper.

Melt the butter completely and let cool for 5 minutes.

In a separate bowl, combine flour, baking powder, sugar, salt and garlic powder.

When the butter has slightly cooled, whisk it together with the cold buttermilk.

Pour the buttermilk mixture over the dry ingredients and stir.

Fold in the cheese and the chopped chives.

Drop heaping spoonfuls of the dough onto the prepared baking sheet.

Bake for 10-12 minutes or until golden brown.

Did You Make This Recipe?