Inspired by the French Alpine dish Tartiflette, these cheesy scalloped potatoes are layered with bacon and onions and topped with creamy wedges of camembert cheese! This hearty dish is rich, decadent and perfect comfort food for a cold day!
This cozy cheesy scalloped potatoes recipe is what dreams are made of! The potatoes are baked in a creamy sauce with sauteed onions and bacon. There's also a healthy pour of white wine and a good amount of shredded gruyere mixed in.
And what makes this potato bake extra special? It's topped with wedges of creamy camembert cheese to create a beautifully golden crust that is irresistible!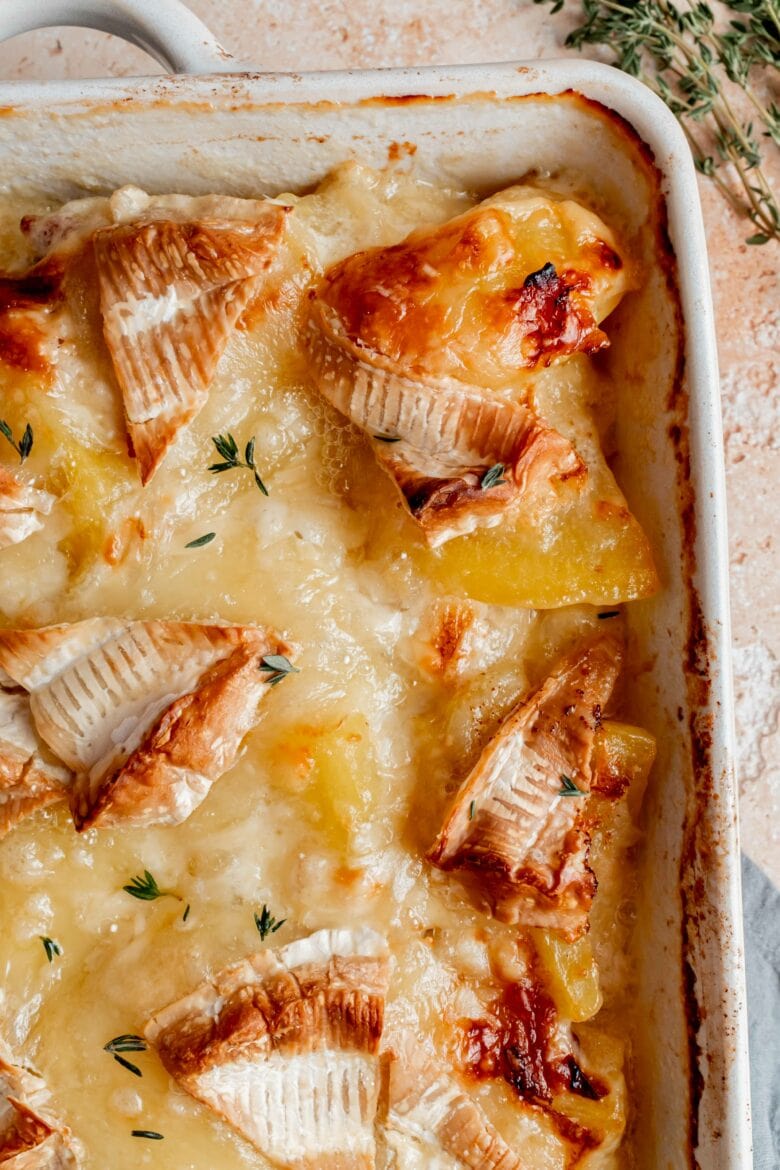 Ingredients & Substitutions
Potatoes: Yukon gold potatoes are our preferred variety for these cheesy scalloped potatoes, but any waxy potato will work well. Stay away from russet potatoes, which won't hold their form as well.
Bacon: We use thick-cut bacon cut into small strips.
Onions: Yellow onions are the best option for this dish, although white onions would work in a pinch.
White wine: A healthy pour of white wine adds flavor, but you can always substitute it for a bit of broth instead.
Heavy cream: Simply poured over the potato, onion and bacon mixture, the heavy cream gives this dish a rich and creamy texture.
Camembert cheese: Wedges of camembert cheese add an extra layer of creaminess and make for a visually appealing topping, but something like brie would be a great substitute.
Gruyere cheese: Shredded gruyere adds a nutty, complex flavor to this classic side dish.
Salt: While the bacon and cheese add a bit of salt, you'll still want to generously salt your water when boiling the potatoes and add additional salt to taste.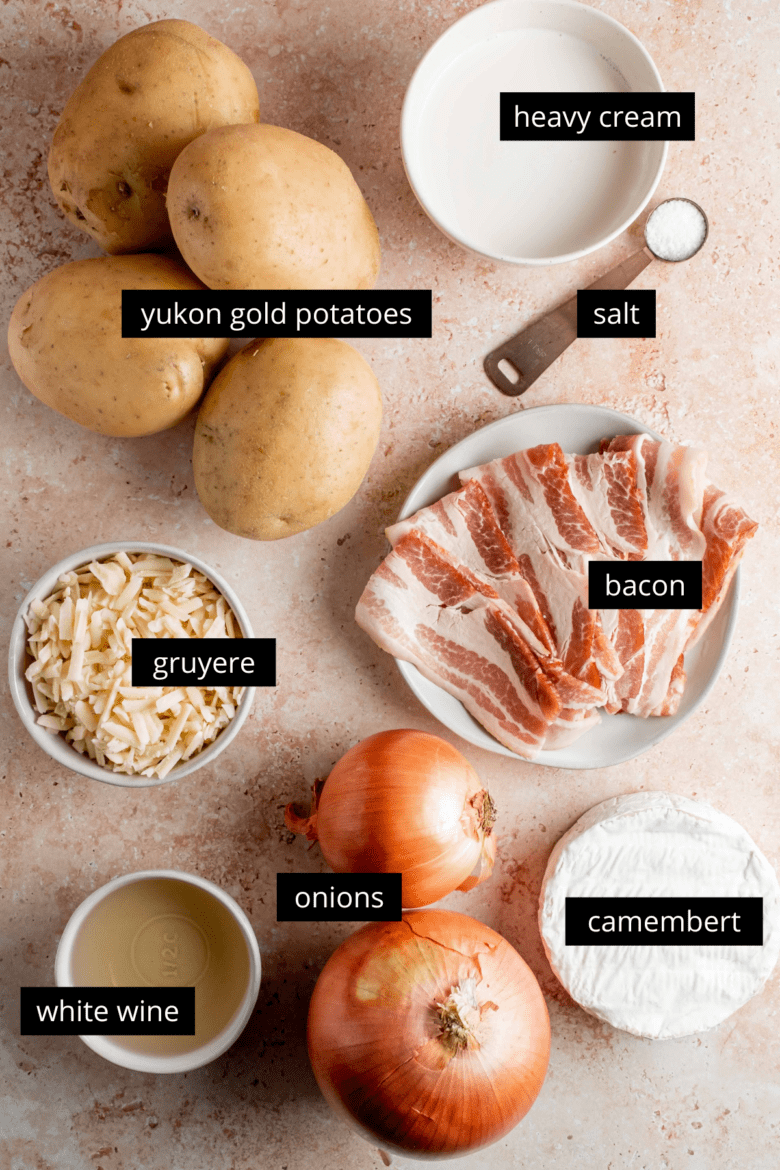 Making Cheesy Scalloped Potatoes
Making these cheesy scalloped potatoes can be broken down into four easy steps:
Prep the potatoes. Parboil the potatoes by cooking them in boiling water until barely tender. Make sure not to boil them too long as they'll finish cooking in the oven. Peel and slice.
Saute the bacon and onions. Add a bit of white wine if you'd like and then mix together with the potatoes.
Add the cream and cheese. Combine your potatoes, bacon and onions in a baking dish and pour the heavy cream over the top. Sprinkle with shredded gruyere and top with wedges of camembert.
Bake! About 40 minutes in the oven is the perfect amount of time to finish cooking the potatoes and create a deliciously bubbly crust of camembert!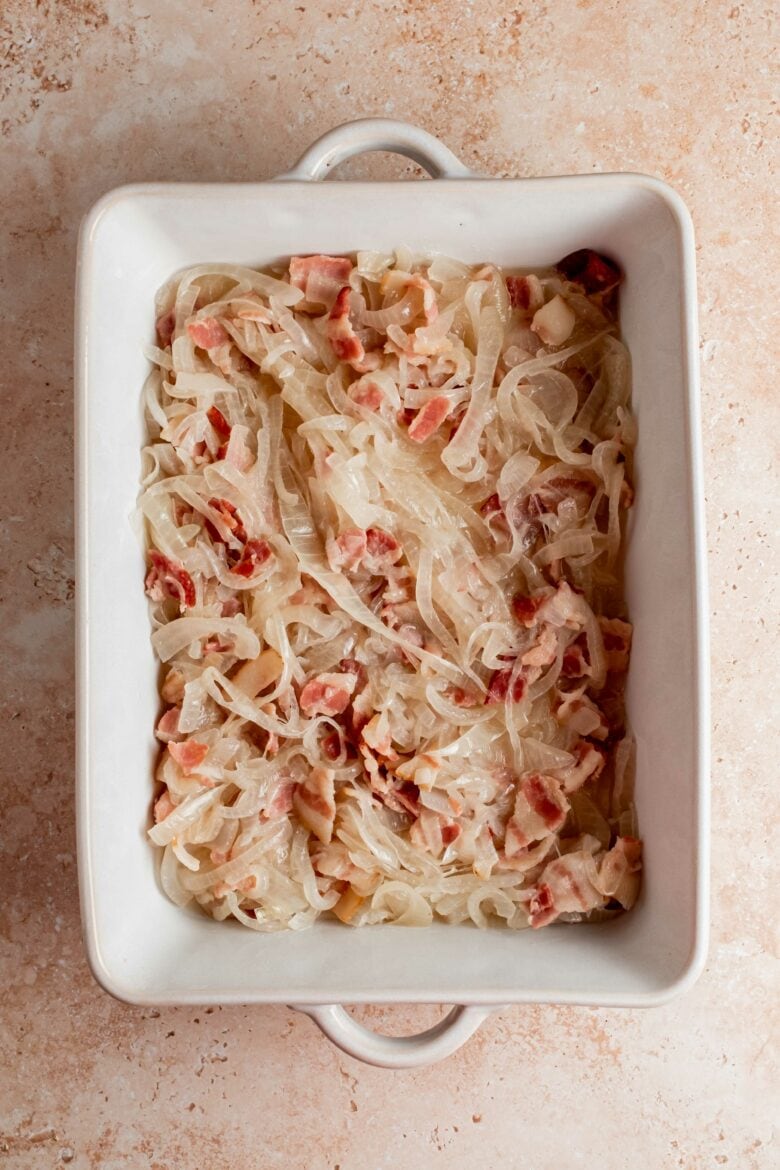 FAQs
What potatoes work best for this recipe?
Yukon gold potatoes are our favorite variety for this recipe, but any waxy potato should work well. Avoid russet potatoes as they won't hold their shape as well.
What's the difference between scalloped and au gratin potatoes?
Scalloped potatoes consist of thinly sliced potatoes layered with a creamy sauce. Au gratin potatoes include cheese in addition to the cream sauce, creating a cheesy crust. So technically? Cheesy scalloped potatoes are the same thing as potatoes au gratin.
Do I need to boil the potatoes beforehand?
Yes, parboiling the potatoes ensures that the potatoes cook evenly and become tender after baking.
How thin should I slice my potatoes?
Slice the potatoes into 1/4-inch (3/4-cm) rounds to ensure even cooking.
How do I know when my scalloped potatoes are done?
The scalloped potatoes should be tender when pierced with a fork and the top of the dish will be golden brown.
Expert Tips & Tricks
Use the right potatoes. For these cheesy scalloped potatoes, we prefer waxy potatoes such as Yukon Gold.
Slice the potatoes uniformly. This ensures the dish will cook evenly and that the potatoes will be cooked through and tender at the same time.
Cover with foil to prevent too much browning. If your cheesy topping seems to be browning too quickly, try covering with foil and baking. Remove the foil for the last few minutes to ensure a crispy crust.
Storage & Reheating Instructions
To store leftover cheesy scalloped potatoes, cool to room temperature and then cover tightly with plastic wrap or foil. Refrigerate for 2-3 days.
To reheat leftovers, cover the scalloped potatoes with foil and bake in an oven preheated to 350°F (180°C) for about 30 minutes or until heated through. If the potatoes seem dry, you can add a splash of broth or cream.
Serving Instructions
Let the scalloped potatoes rest for 5-10 minutes before serving. The creamy cheese sauce will thicken slightly as it cools creating an ultra creamy texture! And for a pop of color, try garnishing your cozy potatoes and cheese dish with fresh thyme.
This cheesy scalloped potatoes recipe is incredibly rich and decadent, so we love serving it with main courses such as roasted chicken or grilled steak.
If you loved this cheesy scalloped potatoes recipe, make sure to check out these posts for more cheesy goodness:
Print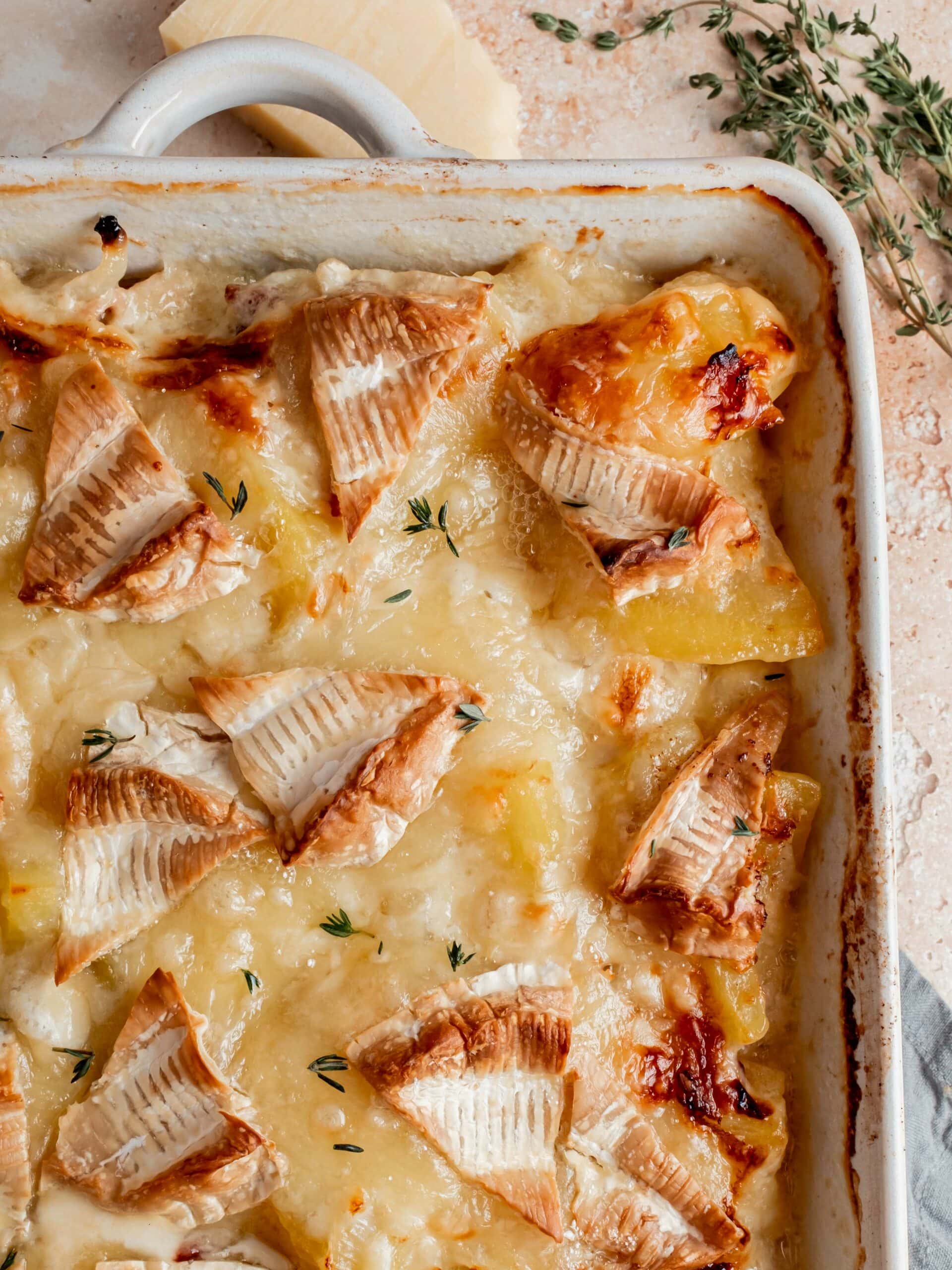 Cheesy Scalloped Potatoes Recipe
---
Author:

Brittney

Total Time:

1 hour 20 minutes

Yield:

10

Prep Time:

45 minutes

Cook Time:

35 minutes

Category:

side

Method:

baking

Cuisine:

french
2.75 pounds (1.25 kg) yukon gold potatoes

8 ounces (230 grams) thick-cut bacon

2 medium yellow onions, thinly sliced

½ cup (120 ml) white wine

⅔ cup (160 ml) heavy cream

kosher salt to taste

4 ounces (110 grams) gruyere cheese, shredded (about 1 cup)

8 ounces (230 grams) camembert cheese wheel
---
Instructions
Preheat oven to 400°F (200°C).

Add the potatoes to a large pot and cover with water. Bring to a boil over medium-high heat. Season generously with salt and cook until just barely tender (about 10-15 minutes). Drain and let cool. The potatoes will continue to cook in the oven so make sure not to overcook.

Peel and slice the potatoes into ¼ inch (¾ cm) rounds, cutting any larger rounds in half. Set aside.

Roughly chop the bacon and saute in a large skillet over medium heat until the bacon is cooked but not crispy (about 5 minutes).

Add the thinly sliced onion to the pan with the bacon and rendered bacon fat (if you have more than 3 tablespoons of bacon fat you can drain the excess). Cook until the onions are soft and lightly golden (about 15 minutes), stirring occasionally.

Add the white wine and cook an additional 3 minutes or until mostly cooked off.

Season with salt and pour into a baking dish (at least 11×8 inches or 28×20 cm).

Mix in the potatoes and pour the heavy cream over the top. Sprinkle the gruyere on top.

Cut the camembert in half horizontally. Then cut each half into eight wedges. Arrange the camembert pieces on top of the potatoes rind side up.

Bake for 35-40 minutes or until golden and bubbling. Let sit for 5-10 minutes before serving.
Notes
Storage: Store leftover cheesy scalloped potatoes covered tightly in the refrigerator for 2-3 days.
Keywords: cheesy scalloped potatoes, cheesy scalloped potatoes recipe
This post may contain affiliate links through which we may earn a small commission at no additional cost to you. We only recommend products that we genuinely love and would use ourselves.