Stuffed with chicken and cheese, these flaky empanadas are great to have on hand for those times when you need a snack on the go or a quick lunch! With an easy to work with empanada dough, these delicious baked treats will easily become a household favorite!
Empanadas, popular throughout South America, are one of my favorite recipes to make! They're extremely versatile – great as a snack on the go or even served as an entree. And you can stuff them with just about anything – seafood, taco meat, cheese and beans – so many options! This week we opted for chicken or empanadas de pollo. The filling is made up of cooked and shredded chicken, cream cheese, cheddar cheese, jalapeno and cumin. We cooked up some chicken especially for these empanadas, but this recipe could also be a fantastic way to use some leftover rotisserie chicken!
Don't let making the dough intimidate you! It's a very simple recipe and doesn't require much kneading at all. In fact, you should make sure not to overwork the dough. And if you do find that your dough isn't coming together nicely, just add a few more tablespoons of water!
The empanadas we made were about 5 inches (12 cm) in diameter and we had enough dough to get 15. If you made them smaller, you could probably get around 20-25 empanadas! You can use a round form to cut out perfect circles or just roll out a small ball of the dough into a rough circle. We tried both ways and couldn't really tell the difference after they were cooked!
There a few things you can do to make sure your empanadas turn out beautifully. First, let the filled and sealed empanadas sit in the refrigerator 30 minutes before baking. This will keep the filling cold and make it less likely to spill out when baking. Second, just before popping them into the oven, brush the tops of the empanadas with a beaten egg. This will give them a nice golden brown color!
We served our empanadas with pico de gallo, but they would also be great with guacamole or on their own!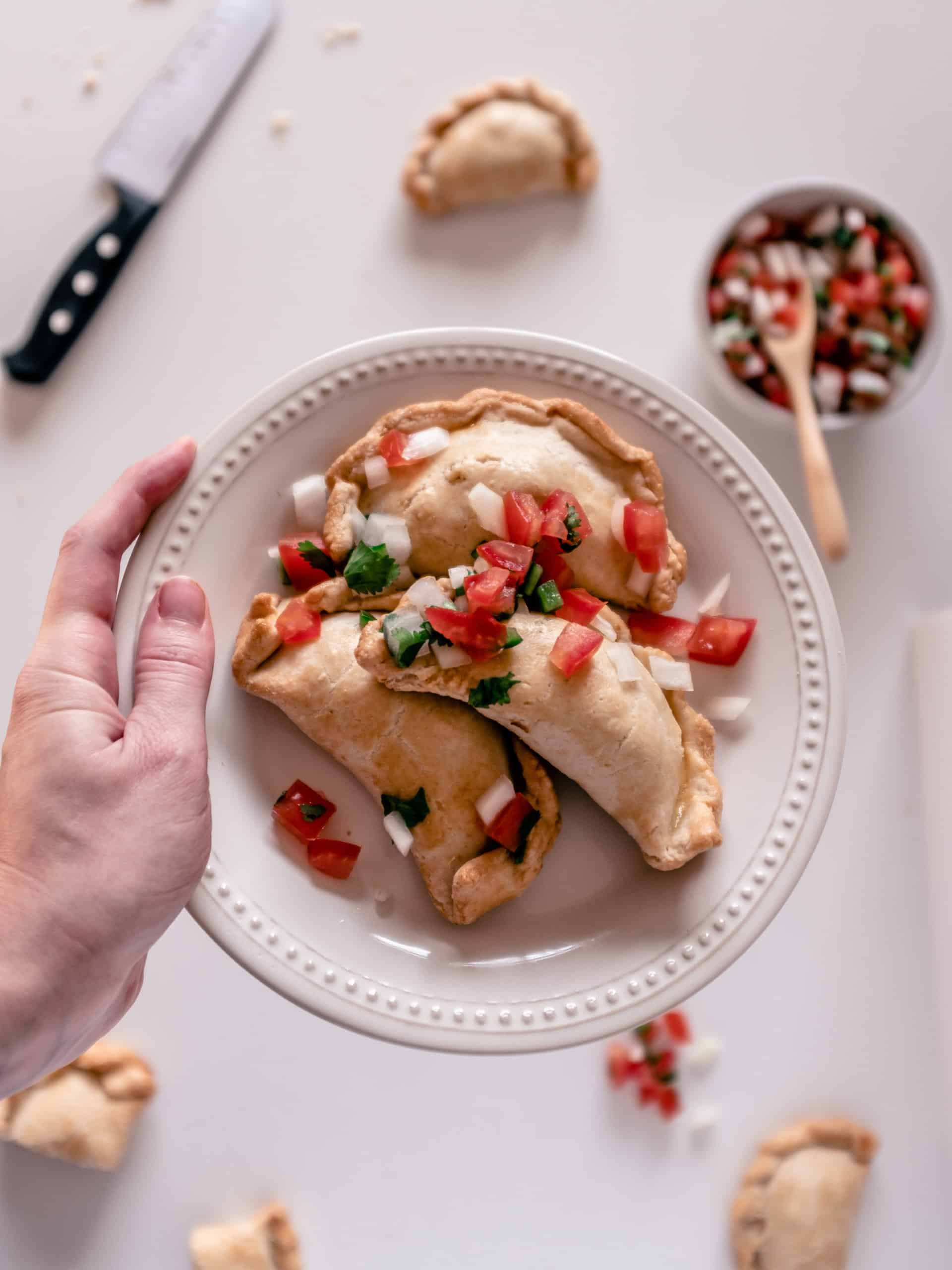 ingredients
dough
flour

 

380 g (3 c)

salt

½ tsp

butter

170 g (1.5 sticks)

egg

1 large

water

80 ml (⅓ c)
chicken filling
chicken

200 g (2.5 c)

cooked and shredded

cream cheese

115 g (4 oz)

shredded cheddar

100 g (1 c)

jalapeno

1 medium

cumin

½ tbsp

salt

1 tsp

pepper

½ tsp
assembly
instructions
dough
To make the dough, add the flour and salt to a food processor and mix.*
Cut the butter into chunks and add to food processor. Pulse.
Add the egg and pulse for a few seconds.
Gradually add the water and continue pulsing until small clumps form.*
Knead the dough into a ball, making sure not to overwork.
chicken filling
Seed and dice the jalapeno. In a bowl, mix together chicken, cream cheese, shredded cheddar and jalapeno.

Add cumin, salt and pepper and mix well.*
assembly
Preheat the oven to 400 F (200 C).

Roll out the dough on a lightly floured surface until approximately 1/4-inch thick.

Cut the dough in 5-inch (12 cm) circles. You should have enough dough to make about 15 empanadas.

Spoon 1-2 tablespoons of filling onto each circle, leaving enough room around the edges to easily fold in half.

If needed, brush the edges with water to help the dough stick together and then fold the circle in half over the filling. Firmly press the edges together. If desired, press the edges together with a fork to form ridges.

Place the empanadas in the refrigerator to chill for 30 minutes.

In a small bowl, beat one egg and then brush over the empanadas.

Bake for 20-25 minutes or until golden brown.
notes
food processor: you can also make the dough by hand, just make sure to fully incorporate the butter water: you can add more water, one tablespoon at a time, if needed - the dough is ready to knead when it starts to form small clumps salt and pepper: if your cooked chicken is already seasoned, you can leave out the salt and pepper

Did You Make This Recipe?