Tender, juicy beef stewed in a deliciously rich chili sauce — this chili colorado is spicy, slightly smoky and bursting with flavor! Serve your chili alongside rice and tortillas for a hearty dinner perfect for a cold day!
I have to admit that I wasn't the biggest fan of chili growing up. To be fair, that chili was usually served for school lunch and consisted of ground beef and beans swimming in some sort of unidentifiable sauce with a few dashes of chili powder. But this chili colorado — colorado from the spanish meaning colored red and not the state of Colorado — has completely reversed my opinion of the popular dish!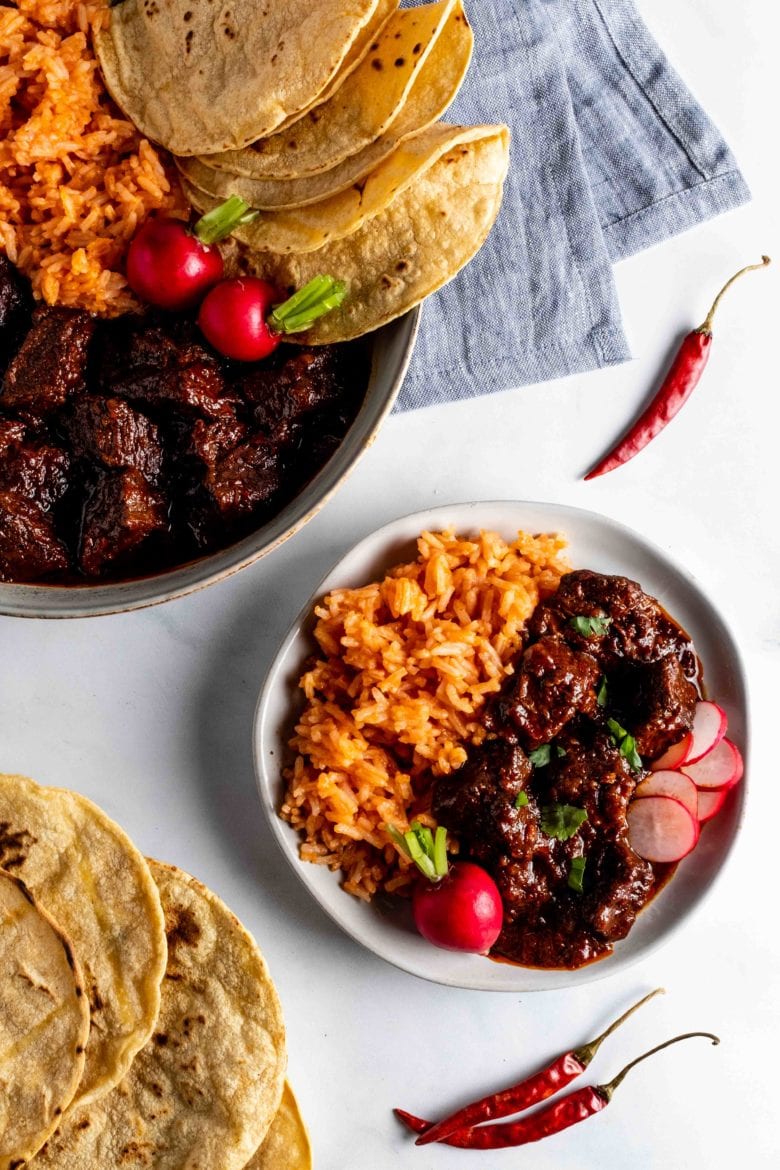 using dried chiles
Put away your chili powder because we're making our own sauce with dried chiles! While it might sound intimidating, it's actually quite easy. The trickiest part, in my opinion, is picking the right combination of chiles to get us the perfect sauce: deeply savory, a little bit smoky and just spicy enough to get a good kick, but not overwhelm the entire dish. Here's the lineup that works for us, but definitely feel free to make any substitutions and adjustments as you see fit:
Ancho peppers: Ancho peppers are dried poblano peppers. They give the chili a kind of smoky, earthy flavor, but don't add a ton of heat. They're quite mild and, to be honest, their smell is reminiscent of raisins or prunes!
Guajillo peppers: Guajillo peppers, on the other hand, are dried mirasol peppers. They have fruity notes and are medium spicy. I find them to be similar to jalapenos in terms of heat.
Chiles de arbol: These little chiles are what gives our stew its kick! Chiles de arbol are similar to cayenne peppers in terms of spiciness so make sure to adjust them to taste. I like to add three to our chili, but if you're a bit more spice averse one will keep your chili quite mild.
To prepare the chiles, you'll first need to remove the stems and seeds. Make sure to wear gloves for this step — especially when working with the chiles de arbol! Then you'll need to rehydrate the tough, dried skins so that they can be pureed into a smooth sauce. To rehydrate chiles, just soak them in warm liquid for half an hour. For this chili colorado, I like to steep the chiles in a few cups of hot beef broth and then transfer the mixture to a blender to puree into the delicious chilli sauce.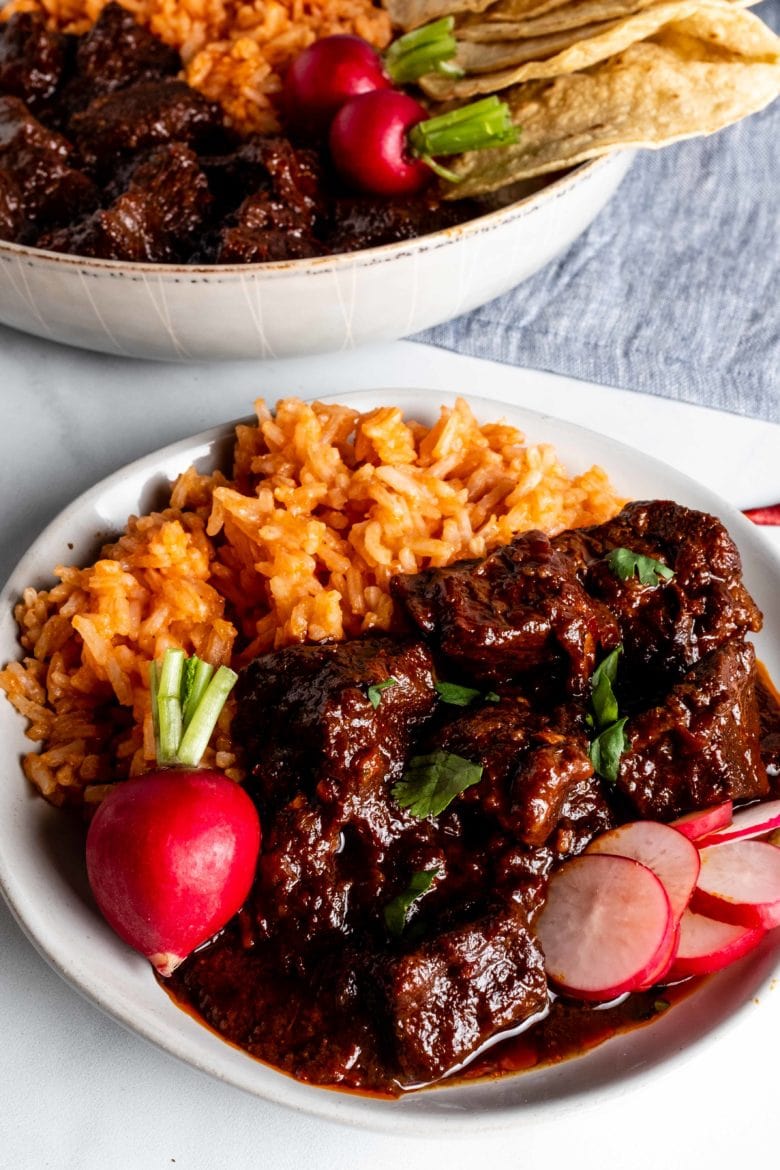 the best chili ever!
Now that the sauce is prepared, we can get started on the chili! While it does take awhile, most of the process is hands off while the beef stews in the delicious sauce.
But before we can get to the point where you're relaxing on the couch and dreaming of dinner time, you'll need to cut your beef into bite-sized chunks and sear each piece in a bit of oil. This step caramelizes the meat and adds an incredible depth of flavor to the stew! Then just add your diced onion and minced garlic, stir for a few minutes and you're already ready to pour in the pureed chiles. Along with the sauce, I also like to add a little extra beef broth, a dash of cumin and oregano and a few bay leaves.
Now it's time let the beef simmer to tender, juicy perfection for several hours. Leave the chili covered for the first hour to hour and a half or until the beef is just about ready. Then remove the lid and turn up the heat for half an hour. This will thicken the chili into a deliciously rich stew perfect for scooping up with tortillas!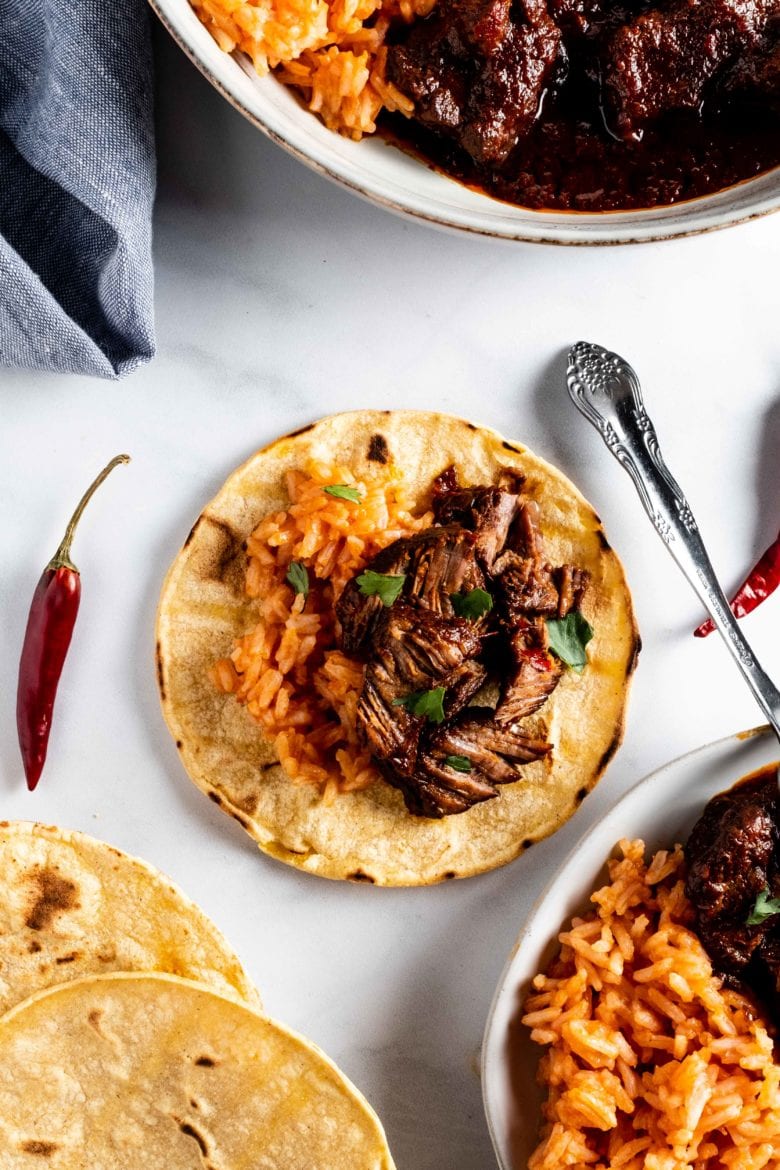 what to serve with chili colorado
While I could definitely eat chili colorado straight from the pot, I usually like to serve it with a side of mexican rice and toasted corn tortillas. But really this dish is so versatile — you can use it for burritos, quesadillas, rice bowls or even nachos!
And if you're looking to add a few more veggies to the table, try cutting up a few fresh radishes or avocados for a quick and easy addition. Or make this chili colorado the star dish of taco night and serve it alongside our favorite homemade guacamole and pico de gallo!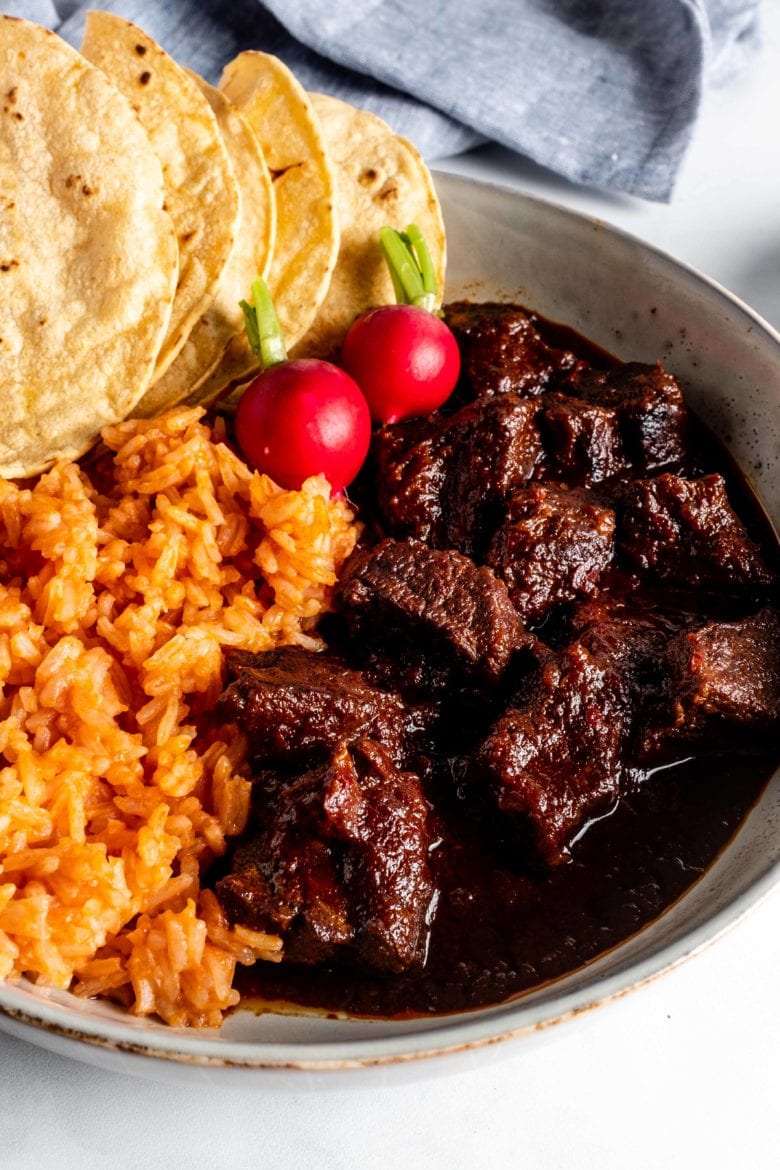 Need a few more options for taco tuesday? Check these out!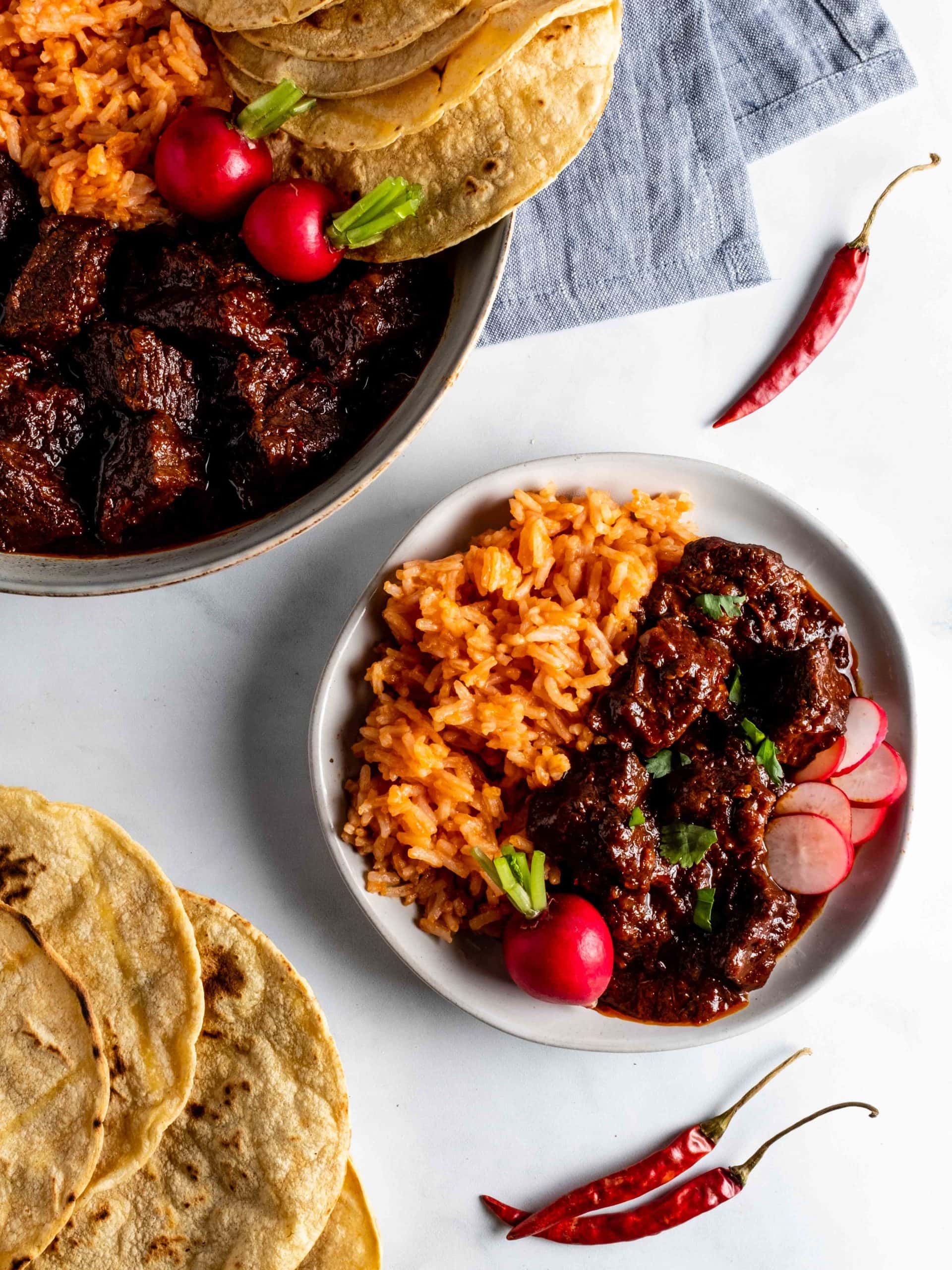 ingredients
chili sauce
dried guajillo chiles

4 chiles

dried ancho chiles

3 chiles

dried chiles de arbol

3 chiles

beef broth

2 c (480 ml)
chili
beef chuck

2.5 lbs (1 kg)

vegetable oil

2 tbsp

salt and pepper

to taste

diced onion

1 small

minced garlic

4 cloves

beef broth

2 c (480 ml)

bay leaves

2 leaves

cumin

1 tsp

oregano

1 tsp
instructions
Remove the seeds and stems from the chiles. 
In a small pot, add the chiles with two cups of beef broth. Bring to a boil, remove from heat and cover. Let the mixture sit for 30 minutes or until the chiles are tender. Transfer the mixture to a blender and puree until smooth.
Heat the oil in a large pot or dutch oven over medium heat.
Chop the beef into 1-inch  (2.5 cm) chunks and generously season with salt and pepper. Working in batches, brown the beef on all sides.
Return all of the beef to the pot, add the diced onion and garlic and continue to cook for an additional two minutes. You can add additional oil if needed.
Pour in the pureed chili mixture and the two additional cups of beef broth. Stir in the bay leaves, cumin, oregano and salt to taste.
Bring the mixture to a boil, reduce heat and cover. Let the chili simmer for one hour or until the beef is tender.
Uncover the chili and slightly increase the heat. Let the chili cook uncovered for an additional 30 minutes or until the sauce has thickened.

Did You Make This Recipe?
This post may contain affiliate links through which we may earn a small commission at no additional cost to you. We only recommend products that we genuinely love and would use ourselves.