Looking for an easy (and healthy!) weeknight dinner that can be made with pantry ingredients? These vegan jackfruit quesadillas are the perfect solution — quick to whip up, extremely satisfying and incredibly delicious!
We were a little late to the jackfruit train, but we have definitely arrived! Our latest experiments with the tropical fruit resulted in these super easy chipotle quesadillas. The shredded jackfruit filling is made with just a few pantry ingredients and it comes together incredibly quickly — the perfect meal for a busy day!
And for a visual tutorial, make sure to check out our recipe video for these jackfruit quesadillas!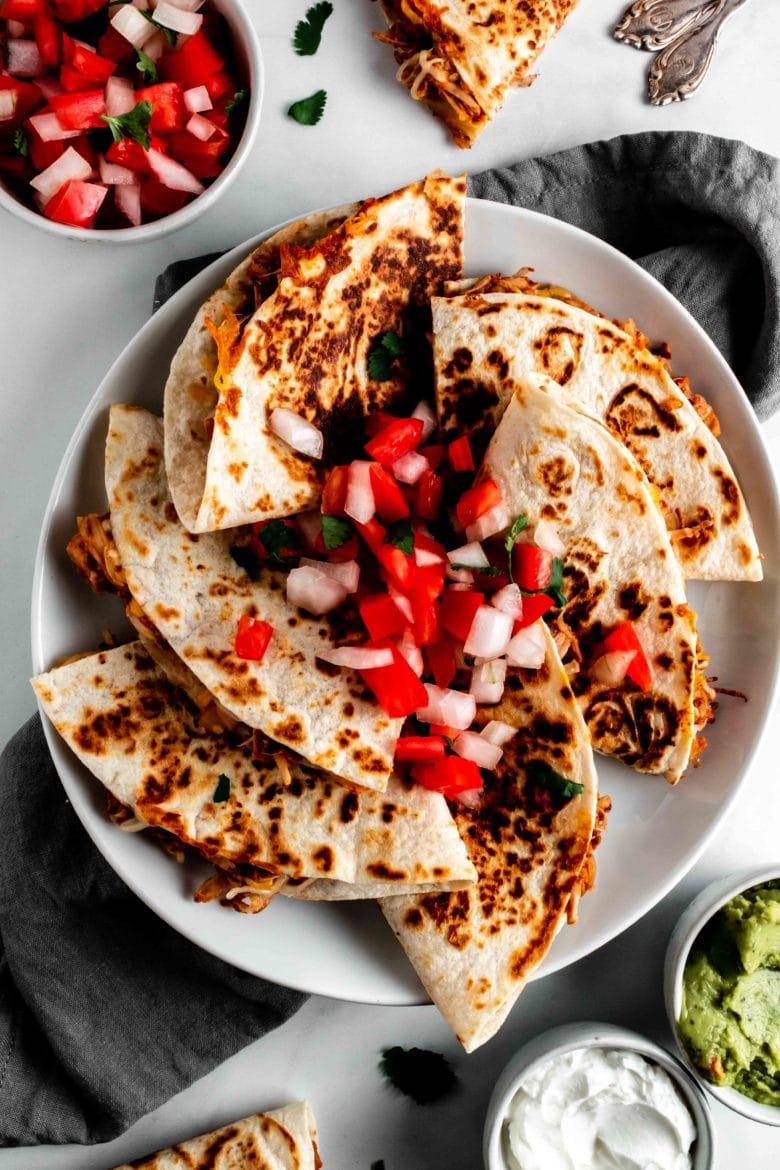 making shredded jackfruit
Young jackfruit has an almost meaty texture and little flavor which makes it the perfect vegetarian substitute for dishes where we might normally use shredded pork or chicken. I bought my jackfruit at Trader Joe's, but you can easily find it online and I've also started it seeing it on the shelves of many larger supermarkets.
Working with jackfruit is actually quite easy and you just need to follow a few simple steps to prepare it:
Drain the jackfruit of the brine and use your hands to roughly break it apart so it has a shredded texture. You don't need to be too thorough here — once it's cooking you can also use your spatula to break apart any larger pieces. Shredding it beforehand just makes it easier to get out more of the excess water.
Now you'll want to thoroughly rinse the jackfruit with water. A little acidity actually works quite well in this filling so if the jackfruit still has a bit of briney flavor it definitely won't hurt the recipe!
And the last step is to wring out the jackfruit with a kitchen towel. You can also just use your hands if you want, but the jackfruit will probably retain a bit more water with that method. That just means you'll need to cook the jackfruit on the stovetop for slightly longer (until the water evaporates) before adding the sauce.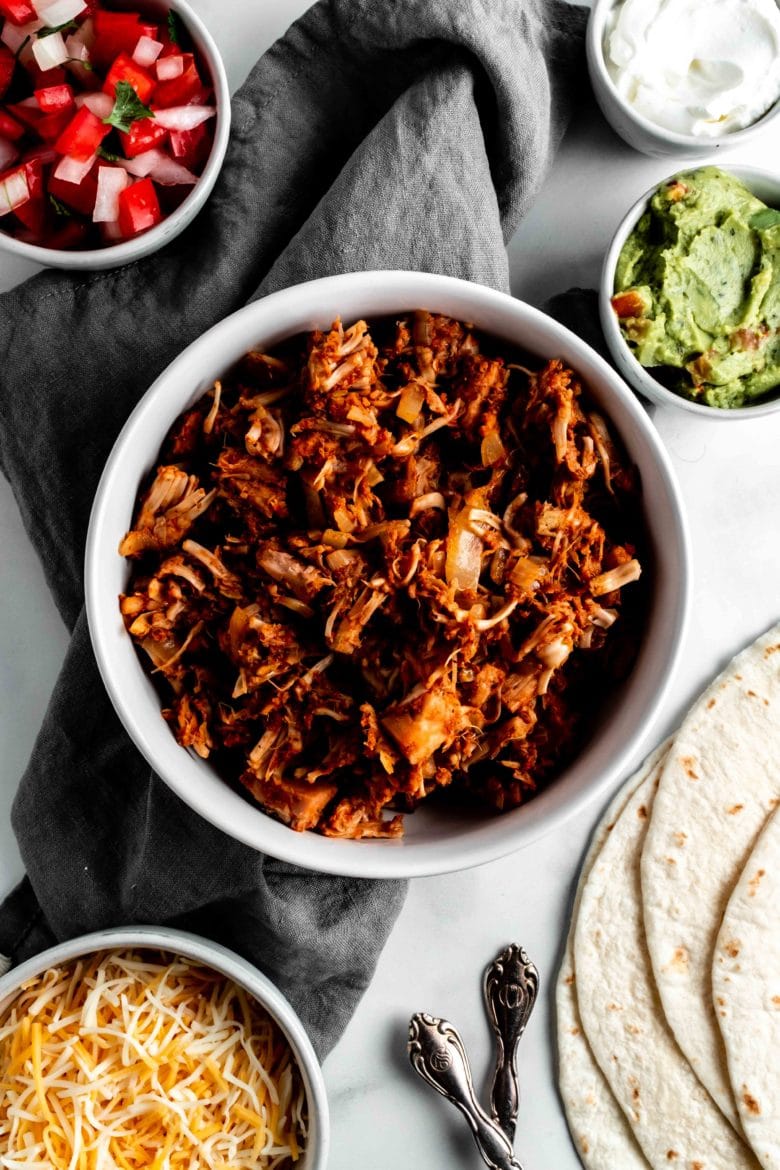 chipotle jackfruit quesadillas
Now that the jackfruit is ready, preparing the filling is super simple! Start by making our easy chipotle pantry sauce. You'll need just five ingredients: a can of fire roasted tomatoes, two chipotles in adobo sauce, garlic powder, cumin and oregano. Put everything in a blender and pulse until smooth — that's it! Your sauce is ready!
Next saute a bit of onion until golden and then add the jackfruit. Once any excess water from the jackfruit has evaporated, stir in the sauce and cook until it thickens slightly. I also like to give my jackfruit a bit more time so that it develops a bit of crispiness, but that's optional!
And we're already ready for assembly! Brush your skillet with a bit of vegetable oil (you don't need much at all), place a tortilla on the skillet and cover one side with jackfruit and cheese. Carefully fold the tortilla in half over the filling and cook until it gets nice and toasty. Then flip to the other side and repeat with the remaining tortillas!
what to serve with jackfruit quesadillas
One of the best parts about quesadillas? The toppings! Here's a list of some of our favorites:
If you want something a bit heartier to serve alongside your quesadillas, rice and refried beans would also make excellent side dishes!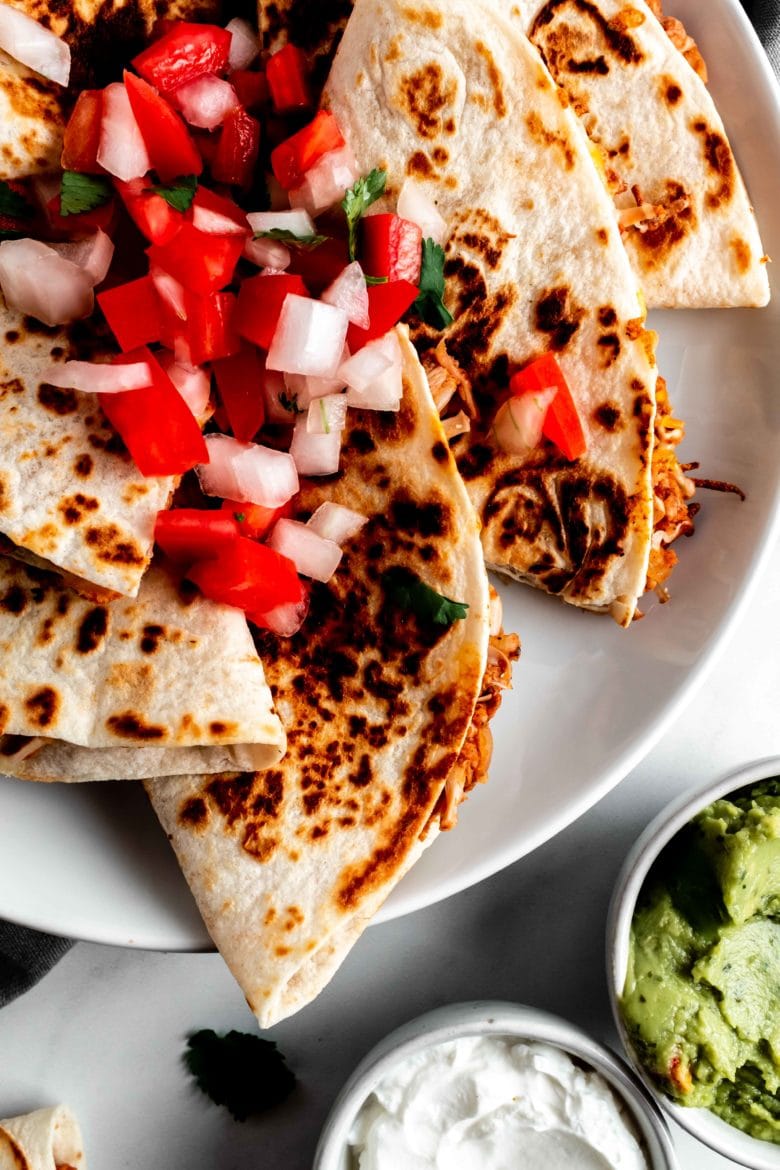 For more easy weeknight meals, give these recipes a try!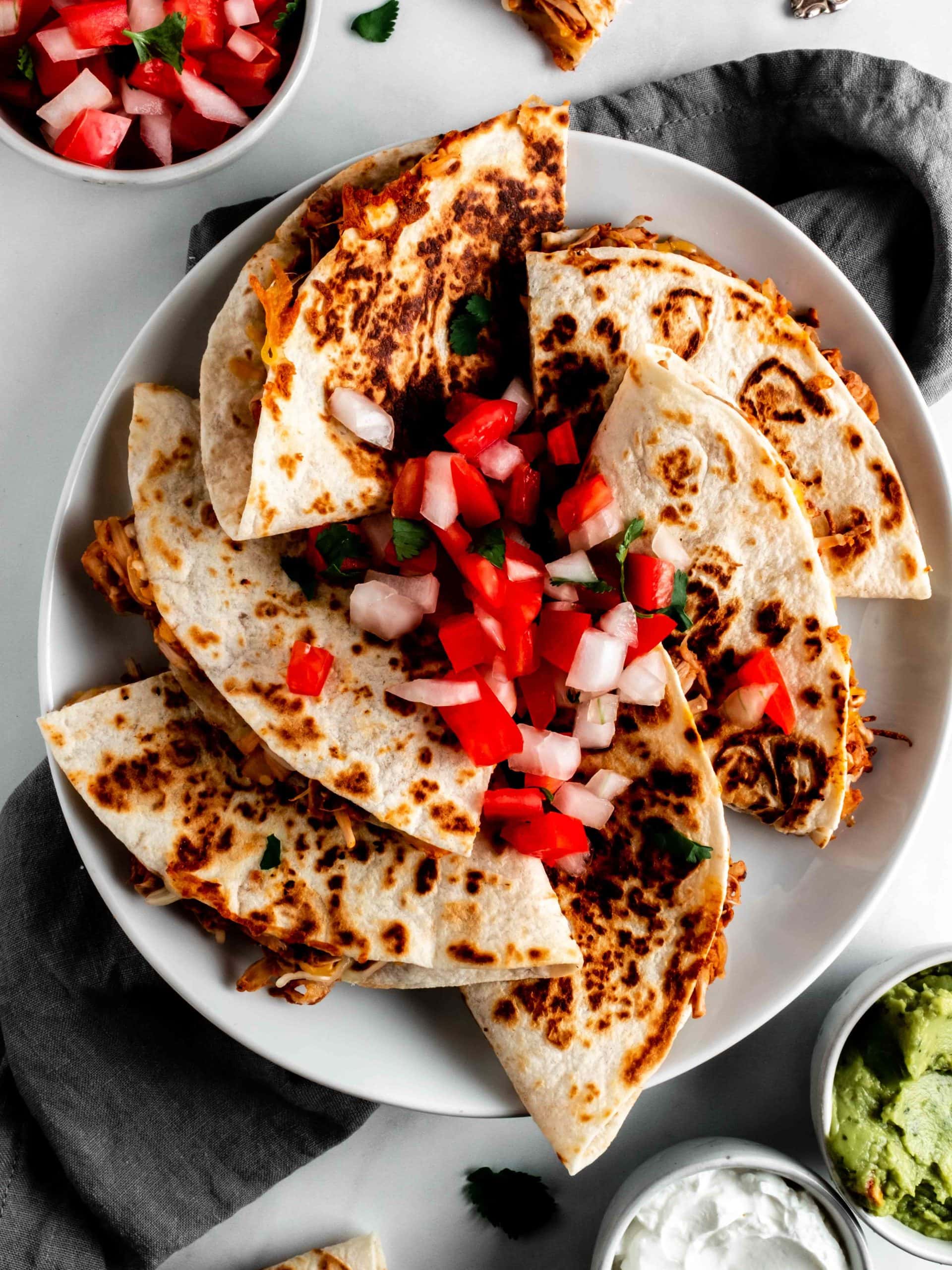 ingredients
chipotle shredded jackfruit
vegetable oil

1 tbsp

diced onion

1 medium

jackfruit

2 (14 oz) cans

(use young or green jackfruit in brine)

fire roasted tomatoes

1 (14 oz) can

chipotles in adobo

2 peppers

(+ 1 tbsp sauce from can)

cumin

1 tsp

garlic powder

1 tsp

oregano

1 tsp

salt

to taste
assembly
flour tortillas

6 medium

shredded cheddar

1.5 c (180 g)

(can sub vegan cheese)

vegetable oil

1-2 tbsp
instructions
chipotle jackfruit filling
Add the fire roasted tomatoes, chipotles and 1 tbsp of adobo sauce, cumin, garlic powder and oregano to a blender. Pulse until mostly smooth.
Drain the jackfruit and roughly break apart with your hands into smaller "shredded" pieces. Thoroughly rinse the jackfruit and use a kitchen towel (or your hands) to wring out any excess liquid.
Heat the oil in a large skillet over medium-low heat. Add the onion and cook until golden brown (15 minutes).
Add the jackfruit and cook for 1-2 minutes or until the pan is mostly dry (to make sure we've gotten most of the water out of the jackfruit).
Add the sauce and salt to taste and increase the heat to medium. Cook for approximately 5-8 minutes (not stirring too often) until some of the jackfruit becomes slightly crispy. Break apart any larger pieces with a spatula.
assembly
Heat a skillet over medium heat and brush with a bit of oil (about ½ tbsp).
Place the tortilla on the skillet. Cover one side of the tortilla with jackfruit filling and cheese. Carefully fold in half. Cook until golden brown and then flip and cook on the other side. Reduce heat to medium-low if they brown too quickly.
Add more oil to the pan as necessary and repeat with the remaining tortillas.

Did You Make This Recipe?
This post may contain affiliate links through which we may earn a small commission at no additional cost to you. We only recommend products that we genuinely love and would use ourselves.