Smooth and creamy chocolate truffles with a dash of amaretto are the perfect addition to your holiday baking list! These rich and chocolatey bites of joy can be rolled in cocoa powder, chopped nuts or sprinkles for an unforgettably indulgent treat!
There's something about a good chocolate truffle that seems so elegant and luxurious. Maybe it's the smooth, velvety ganache or the addition of sweet amaretto, but these truffles are pure bliss. While they're the perfect bite-sized after dinner snack, these chocolate amaretto truffles also make for a gift anyone would love to receive!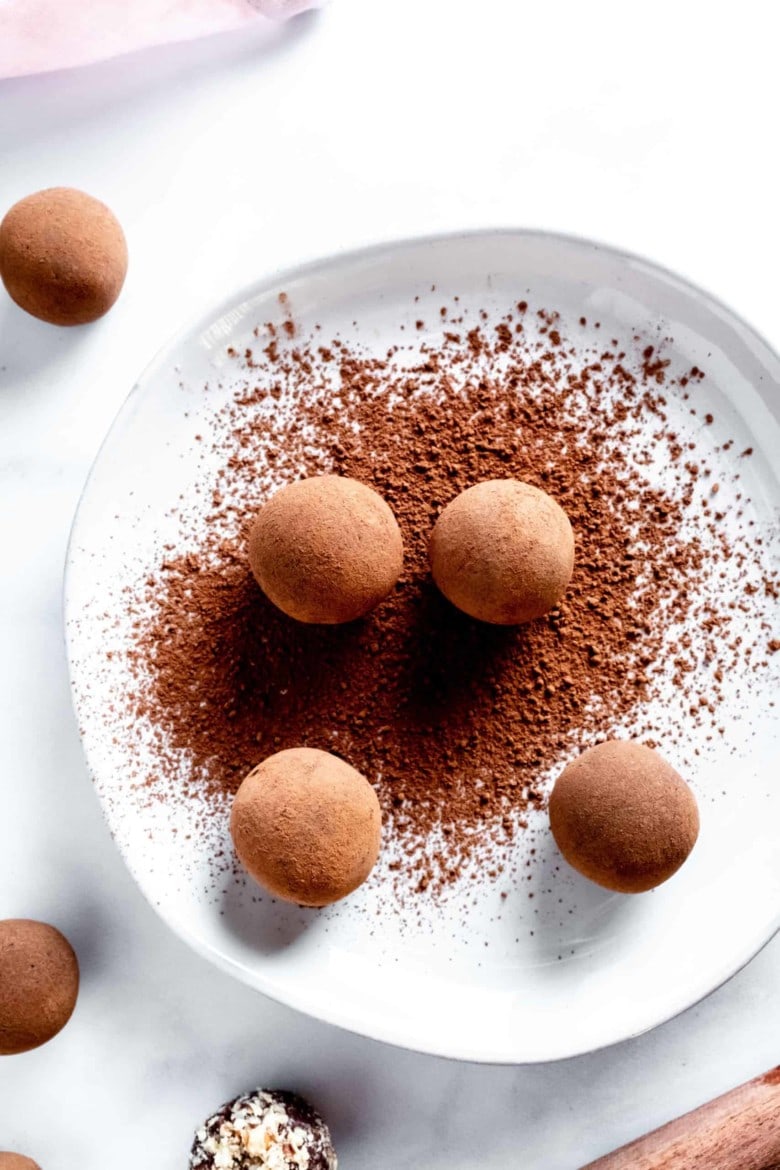 how to make chocolate amaretto truffles
You need just four ingredients to make these truffles: chocolate, heavy cream, a pat of butter and a few spoonfuls of amaretto! Because chocolate is the main ingredient, it's important to use something that's a bit higher quality. I generally buy a few bars of semisweet baking chocolate for this recipe, but bittersweet chocolate would also work well. Just don't use chocolate chips, as they won't melt into the smooth texture characteristic of a good truffle!
To make the truffles, finely chop the chocolate and place it in a heatproof bowl. The smaller you chop the chocolate, the easier it will be to melt and stir the mixture together. Next heat the heavy cream in a saucepan until it's simmering, pour it over the chocolate and let it stand for three minutes untouched. Then just add in the room temperature butter and amaretto and stir until smooth. Now just place the chocolatey goodness in the refrigerator to cool before rolling it into truffles!
If your truffle mixture doesn't melt completely, don't worry! It probably just means you didn't get your heavy cream warm enough. You can fix this by placing the mixture in the microwave and heating it in 10 second increments, stirring in between.
tips for forming the chocolate into truffles
While your ganache should be cool enough to form intro truffles after a few hours in the refrigerator, I often make them a day in advance and roll them into balls the next day. Forming the truffles can be a bit messy and it's easier if they are thoroughly chilled!
Here are a few tips to make sure forming the truffles go smoothly:
If you want your ganache to chill quickly, place it in a wide, shallow dish before placing it in the refrigerator.
Make sure to keep your hands cold! I like to run my hands under cool water after every five or so truffles.
If you're finding it hard to make the truffles into balls, I suggest forming them in stages. First, place truffle-sized lumps of the ganache on a parchment paper lined pan and then put them back in the refrigerator for half an hour. Shaping them into balls after the second chill session will be less sticky!
the toppings!
And now the fun part — rolling the truffles into your favorite toppings! For these truffles, I covered half in unsweetened cocoa powder and half in chopped walnuts. While I loved the texture of the chopped nuts, it was a bit difficult to get them to stick to the truffles evenly and they turned out a bit lumpier since I really had to press the nuts into the chocolate. The cocoa powder proved to be much easier to work with. And one additional advantage of using cocoa powder? You can also use it to coat your hands, which makes forming the truffles less messy!
Other great coating options include coconut, fun sprinkles or even crushed peppermint for a festive touch!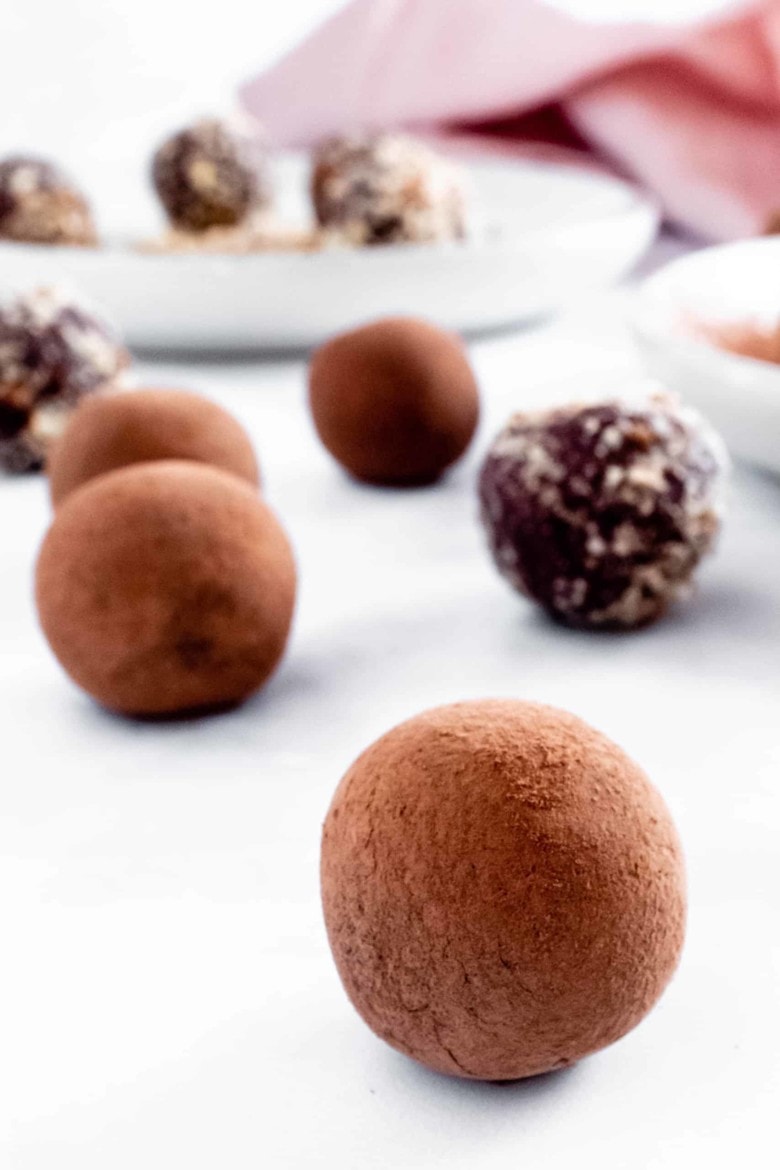 If you're looking for other chocolatey recipes to add to your baking list, try these!
ingredients
chocolate amaretto truffles
semi-sweet chocolate

8 oz (230 g)

heavy cream

½ c (120 ml)

butter (room temp)

1 tbsp (15 g)

amaretto liqueur

2 tbsp
toppings
- unsweetened cocoa powder
- chopped nuts
instructions
Finely chop the chocolate and place in a heat safe bowl.
Heat the heavy cream in a small saucepan over medium heat and bring to a simmer.
Pour the heavy cream over the chopped chocolate and allow to sit for three minutes untouched.
Whisk until the chocolate has melted.
Add the amaretto and butter. Whisk until smooth.
Cover the bowl with plastic wrap and refrigerate for two hours or up to overnight.
While the chocolate is refrigerating, prepare your toppings on a shallow plate.
Scoop out about one tablespoon of chocolate at a time and roll into balls.
Roll into your favorite toppings and refrigerate for up to two weeks.

Did You Make This Recipe?
This post may contain affiliate links through which we may earn a small commission at no additional cost to you. We only recommend products that we genuinely love and would use ourselves.