These classic brown butter chocolate chip cookies get a festive twist with the addition of sweet marzipan! Slightly crispy around the edges with a deliciously chewy center, our chocolate chip marzipan cookies are sure to satisfy any sweet tooth!
I actually didn't encounter marzipan (a sweet dough-like mixture made of almonds) until I spent a weekend in Salzburg: the home of Mozart. Of course, I definitely couldn't leave the beautiful city without trying the famous Mozartkugel — an irresistible nougat and pistachio marzipan candy covered in chocolate. Immediately hooked, I spent the years after trying every marzipan candy, cookie and pastry that I came across at shops and bakeries! Finally, I've started to add the ingredient to my own baking repertoire and these chocolate chip marzipan cookies are my love letter to the delicious almond confection.
brown butter cookies
We like to brown butter for a lot of our recipes and these cookies are no exception! If you're not familiar with brown butter, it's an incredibly easy method that entails cooking butter over medium heat until it begins to foam and turn golden brown. It usually takes about 10 minutes and the toasted, nutty aroma of the brown butter adds so much additional flavor that we never whip up a batch of chocolate chip cookies without it!
To ensure your brown butter is a success, here are a few quick tips:
Make sure to use a lighter colored pot so that you can easily tell when the butter has browned.
Stir the mixture (or swirl the pot) occasionally to help it cook evenly and prevent burning.
Don't leave your pot unattended — the butter can go from brown to burnt incredibly quickly so you'll need to keep an eye on it.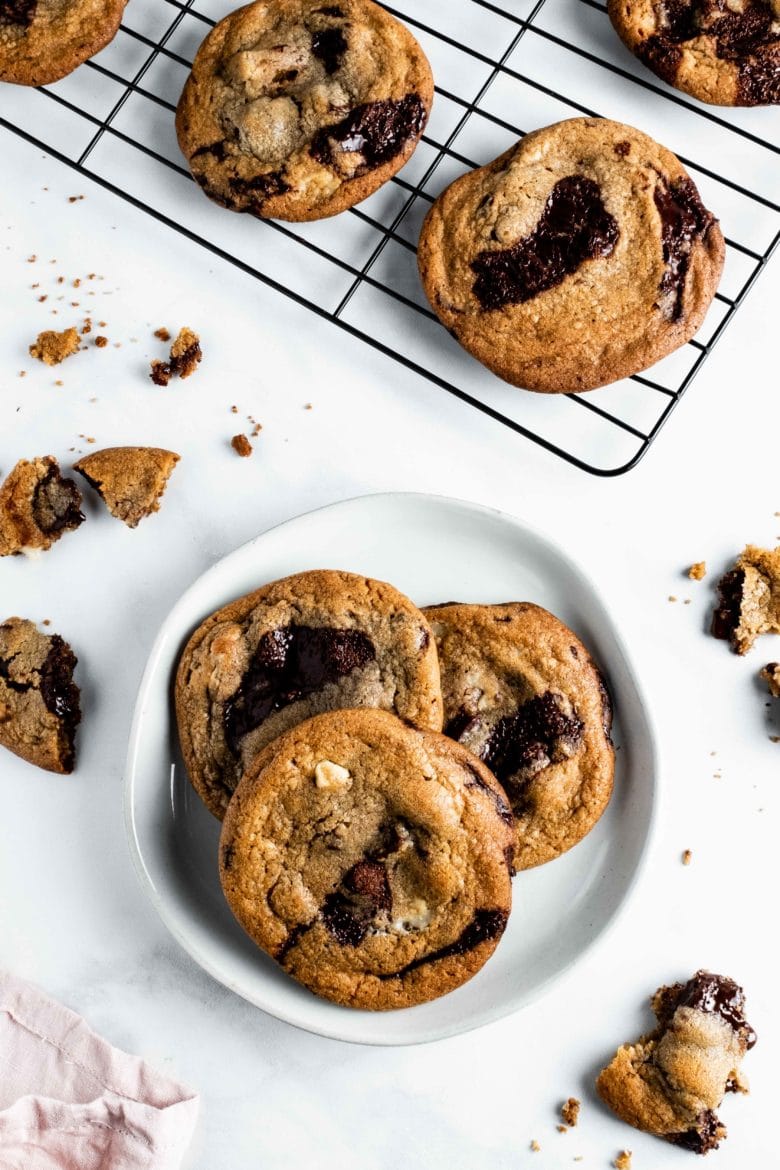 chocolate chips, marzipan and walnuts!
And now let's talk about our mix-ins! I used a combination of chocolate chunks, marzipan and walnuts. We love the added crunch from the walnuts, but they're definitely optional. If you don't have any walnuts on hand you can just leave them out or even add a bit more chocolate or marzipan to the mixture.
As for the chocolate, I used a combination of dark chocolate and semisweet chocolate that I chopped into chunks. I normally choose one or the other, but we had lots of scrap chocolate that I wanted to use up so these cookies got a mix of the two! You can also use chocolate chips for this recipe, but keep in mind that you won't get the beautiful melted puddles of chocolate that you get from chopped chocolate.
Adding the marzipan can be a little tricky as it sometimes wants to stick together and we want it to be evenly distributed throughout the dough. I've found that the easiest way to add it to the mixture is to separate it into three pieces. Then roll each piece into a long rope and use kitchen shears to cut off pea-sized pieces directly into the dough. Stir the dough and repeat with the remaining ropes.
baking tips
These chocolate chip marzipan cookies don't take a lot of effort to whip up, but you'll need to factor in about an hour of down time. First, it's important to let the brown butter cool down to room temperature (or a bit warmer) before using it and this takes about 20-30 minutes. And then after your cookie dough is ready, it's best to let it sit for an additional half an hour. This gives the flour time to hydrate, intensifies the flavor and ensures an even bake. Both of these steps are important so make sure not to skip them!
When it comes time to form your cookies, you can use a cookie scoop or spoon to form them into balls and place them on a baking sheet lined with parchment paper. I like to use about two tablespoons of dough per cookie and leave approximately 2 inches (5 cm) between each cookie. There's no need to press the cookies down — they'll flatten as they bake.
The cookies only need about 10 minutes in the oven. You'll know they're done when they're brown around the edges. When they come out of the oven, make sure you leave them on the pan for an additional 10 minutes before removing them to a wire rack to cool completely.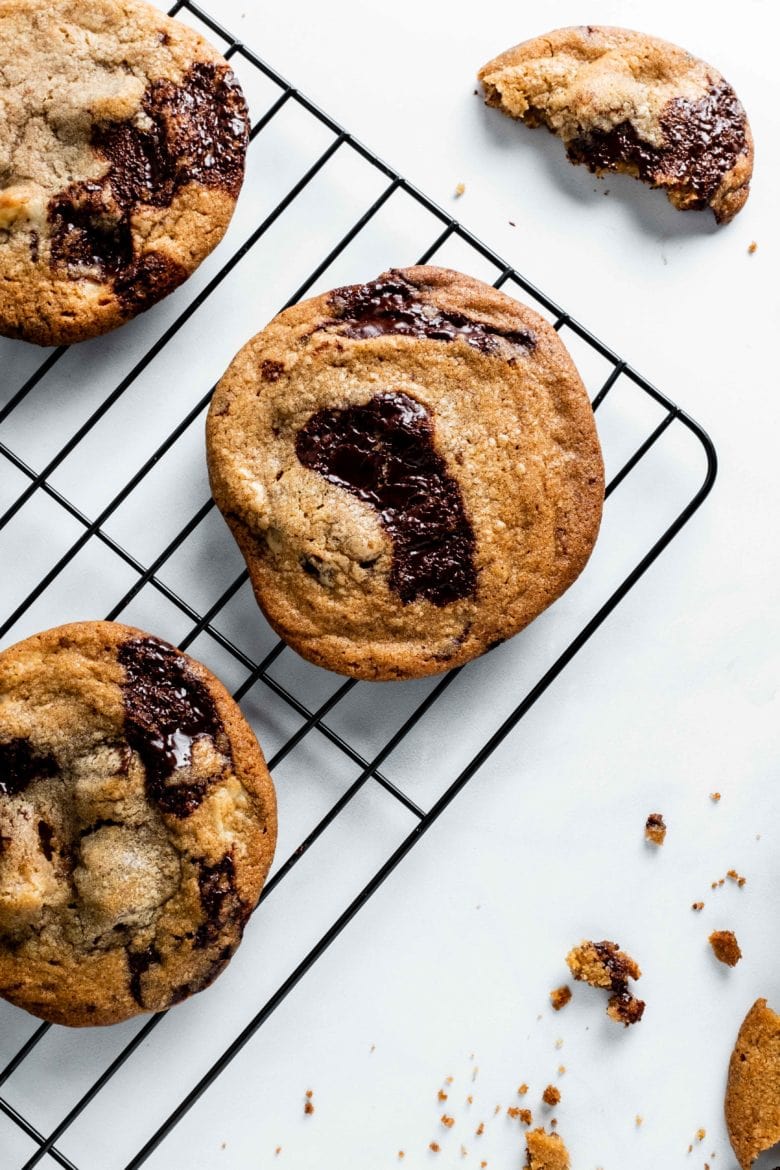 If you're looking for more cookies to add to your baking list, here are some of our all-time favorites!
Print
chocolate chip marzipan cookies
---
Author:

Prep Time:

30 minutes

Rest Time:

1 hour

Cook Time:

10 minutes

Total Time:

1 hour 40 minutes

Yield:

28 cookies
butter

1 c (230 g)

brown sugar

1 c (200 g)

granulated sugar

¼ c (50 g)

eggs

2 large

vanilla extract

1 tsp

flour

2 ¼ c (270 g)

(spooned and leveled*)

baking soda

1 tsp

salt

½ tsp

marzipan

4 oz (100 g)

chopped chocolate

7 oz (200 g)

chopped walnuts

½ c (60 g)
---
Instructions
Melt the butter in a small pot over medium heat. Cook, stirring often, until the butter turns brown and foamy (about 8-10 minutes). Pour the butter into a large heatproof bowl and let it cool until just warm (20-30 minutes).
Add the granulated sugar and brown sugar and beat with an electric mixer until combined.
Add the eggs and vanilla extract and continue beating until smooth.
In a separate bowl combine the flour, baking soda and salt.
Gradually add the flour mixture to the wet mixture and mix until combined.
Add the marzipan to the batter in small chunks. To do this, separate the marzipan into 3 pieces. Roll each piece into a long rope and use kitchen scissors to cut off pea-sized chunks directly into the dough. Mix the dough to evenly distribute the marzipan and repeat with the remaining 2 pieces of marzipan.
Fold in the chopped chocolate and walnuts.
Let the dough sit for 30 minutes at room temperature.
Preheat the oven to 375 F (190 C) and line several baking sheets with parchment paper.
Using a cookie scoop or spoon, portion the dough out into balls (approximately 2 tablespoons of dough each) and place them on the prepared baking sheets 2 inches (5 cm) apart. They will flatten as they cook.
Bake for 10 minutes or until golden brown around the edges. Let the cookies rest on the baking sheet for 10 minutes and then remove to a wire rack to cool completely.
Notes
Spooned and leveled: Scooping a measuring cup into a flour container can result in much more flour than intended, which can affect the look and taste of your cookies. To get a more accurate measurement, use a spoon to scoop flour into the measuring cup until it's completely full. Then run the back of a knife over the cup to gently scrape off any excess.
Keywords: chocolate chip cookies, marzipan cookies, chocolate marzipan cookies
This post may contain affiliate links through which we may earn a small commission at no additional cost to you. We only recommend products that we genuinely love and would use ourselves.