The perfect companion to your morning cup of coffee, these almond biscotti are incredibly crunchy on the outside yet remain slightly soft on the inside! Dip your biscotti in chocolate and sprinkle them with chopped almonds for an elegant finish!
These chocolate-dipped almond biscotti are one of my favorite treats to whip up when we have friends over for breakfast or brunch! They also keep really well, so it's nice to make a batch on the weekend to have a stock of these delicious cookies for the entire week! Unfortunately, they usually don't last that long in our house!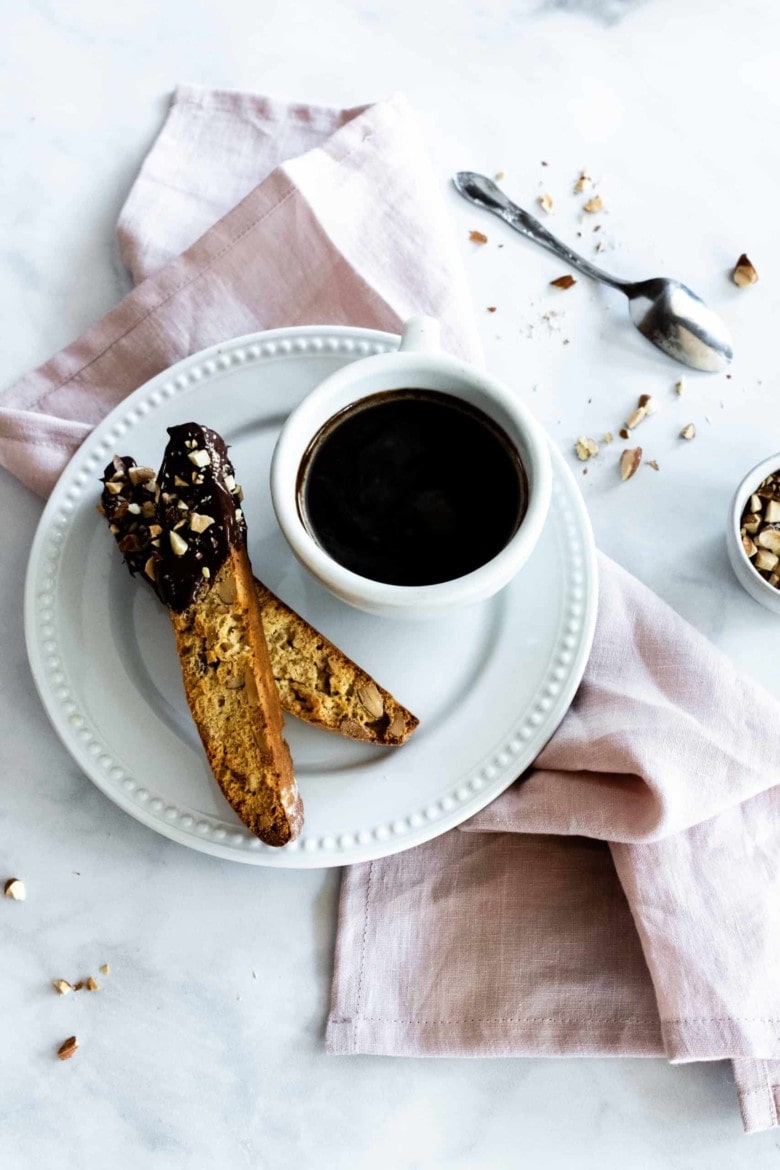 I enjoy biscotti with coffee (and with tea… oh and also with hot chocolate!) so much that I'm surprised I don't make them more often. But I think this oversight will soon be rectified. I already have plans for orange biscotti dipped in chocolate, cardamom flavored biscotti and maybe even peppermint chocolate biscotti for the holiday season!
the dough!
While biscotti in Italian refers to various cookies, we Americans reserve the word specifically for these twice-baked treats! The dough is first formed into a log and baked, then sliced and baked again to give the cookies their characteristic crispiness.
Because I prefer my biscotti to be slightly softer in the middle (but still crunchy enough throughout to enjoy dunked in coffee!), I add a bit of butter to my dough. The resulting dough can be quite sticky, so I generally drop it onto the baking sheet with a spoon and then use well-floured hands to shape it into a log. The texture of the finished biscotti is heavenly — incredibly crispy and crunchy on the outside and ever so slightly moist on the inside!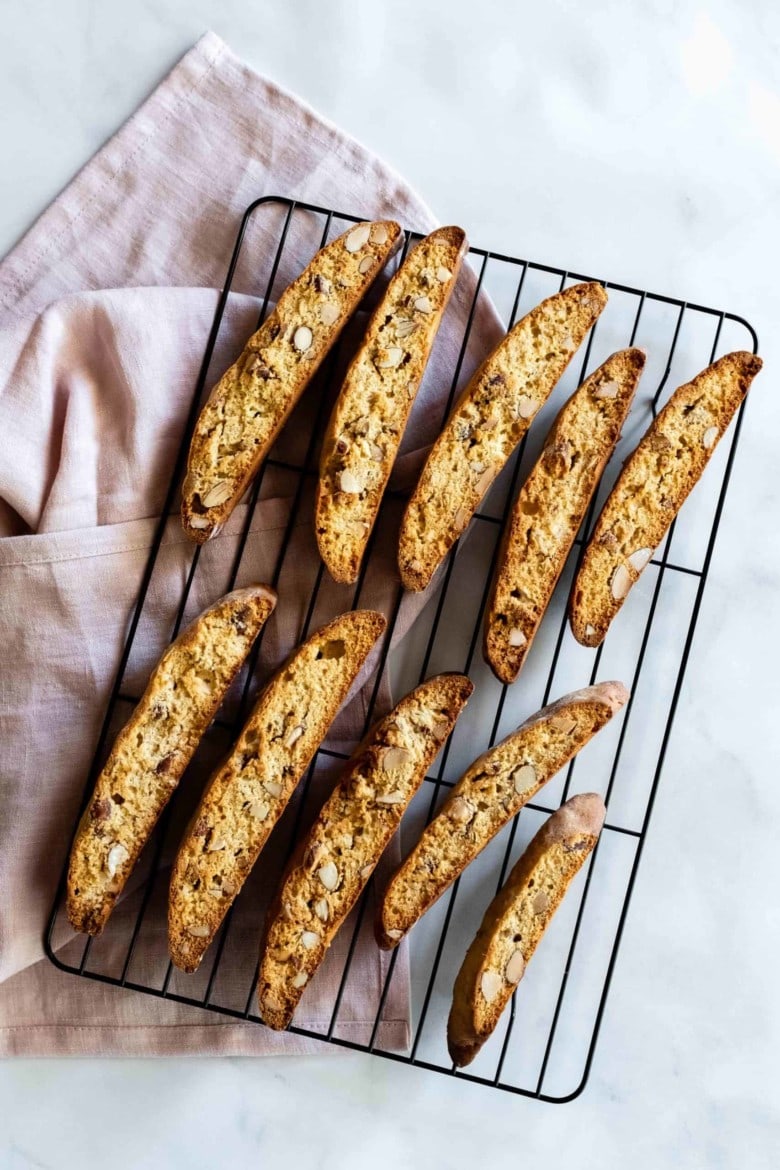 chocolate-dipped
It's not mandatory to dip your biscotti in chocolate, but I like to add a few frills when I'm baking for guests or giving away a batch as a gift! To make the chocolate dip, simply melt chocolate chips in the microwave in 15 second increments and stir until smooth. Then you can either dunk your biscotti into the chocolate or use a spoon to drizzle the chocolate over top. Sprinkle a handful of chopped almonds on top for a bakery-style finish!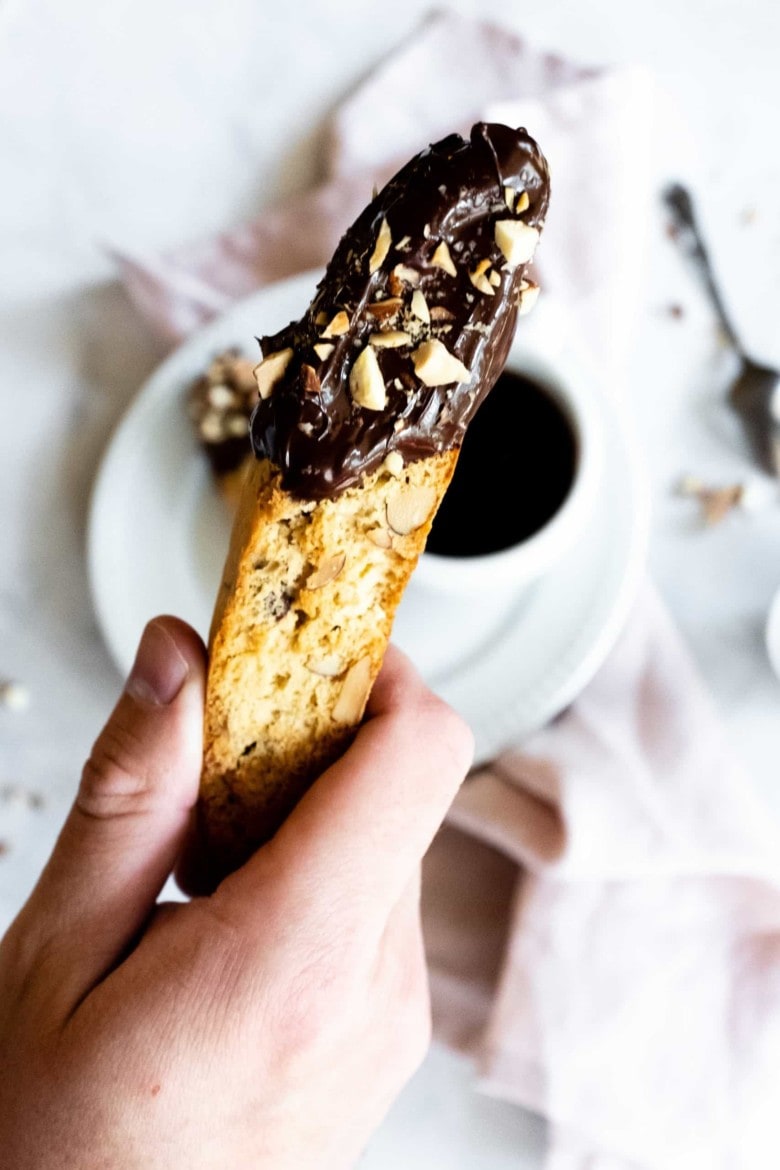 Looking for more sweets that can double as breakfast? We've got you covered!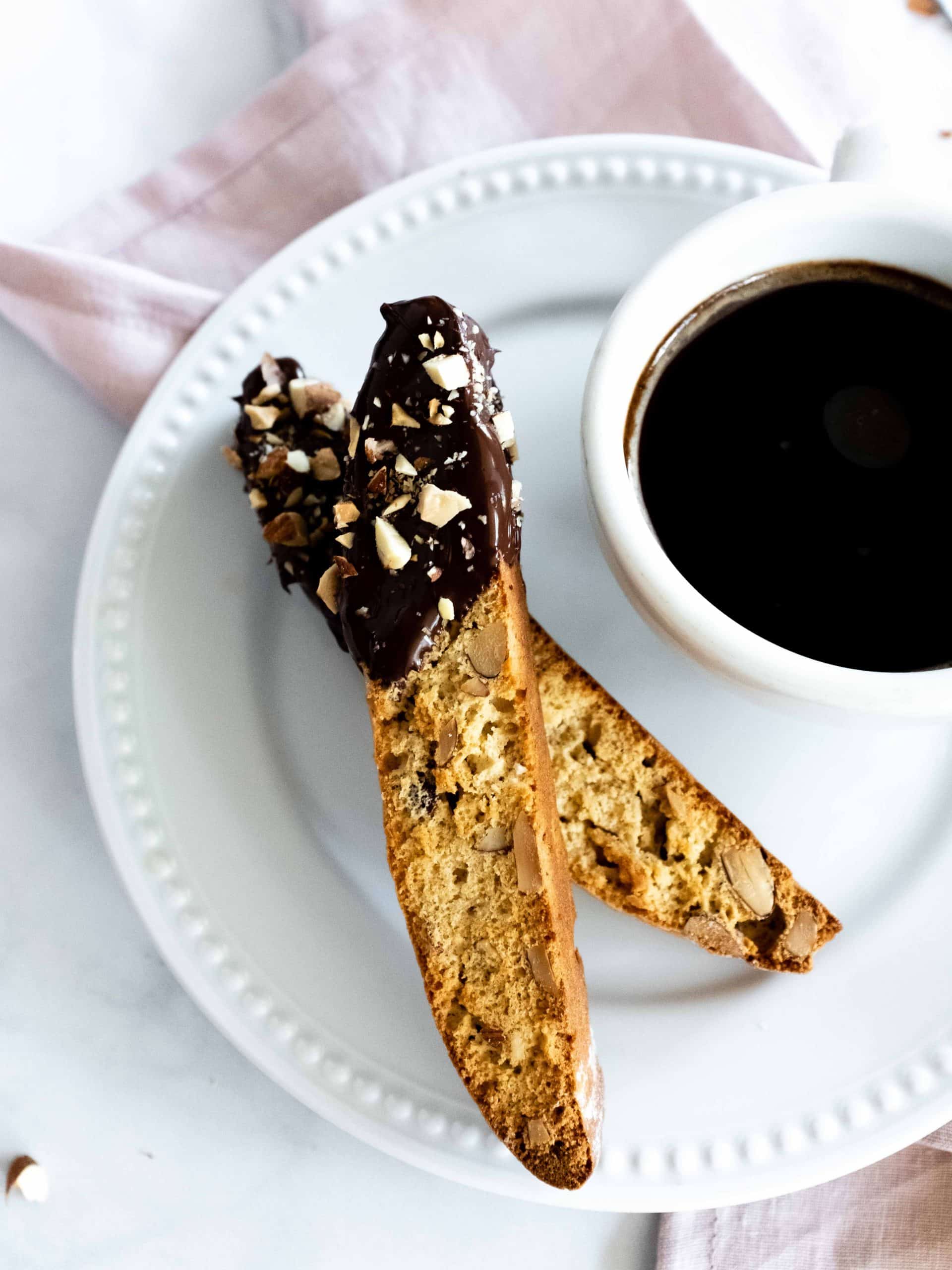 ingredients
almond biscotti
almonds

1 c (140 g)

brown sugar

¾ c (150 g)

butter

5 tbsp (70 g)

eggs

3 large

almond extract

½ tsp

flour

2 c (240 g)

baking powder

1 tsp

salt

½ tsp
chocolate garnish (optional)
chocolate chips

6 oz (180 g)

almonds

¼ c (40 g)
instructions
almond biscotti
Preheat the oven to 350 F (180 C).
First, toast the almonds. If you want to use additional almonds to garnish, make sure to add more than the 1 cup needed for the biscotti. Place the almonds on a baking sheet in a single layer and place in the oven for about 8-10 minutes, stirring halfway through. Watch carefully as they can burn quickly!
Let the almonds cool slightly and then roughly chop.
Using an electric mixer, cream the softened butter and sugar until fluffy.
Add the eggs one at a time and mix well.
Mix in the almond extract.
In a separate bowl, whisk together the flour, baking powder and salt. Gradually add the flour mixture to the wet mixture and combine until smooth.
Fold in the chopped almonds. If you toasted extra almonds to garnish the biscotti, make sure to set them aside!
Drop spoonfuls of the dough onto a baking sheet lined with parchment paper. It will be quite sticky! Using well-floured hands, form the dough into a log approximately ½ inch (1.3 cm) tall.
Bake for 20-25 minutes or until slightly brown. Remove from the oven (but don't turn off the oven).
Allow the log to cool for 10 minutes. Remove to a cutting board and cut into slices at an angle (approximately 1 inch or 2.5 cm thick).
Return the slices to the baking sheet, cut-side down. Bake an additional 7 minutes, flip over and bake for 7 minutes on the other side.
Allow the biscotti to sit for 10 minutes then remove to a wire rack to cool completely.
chocolate garnish
Pour the chocolate chips into a microwave safe bowl. Microwave the chocolate chips in 15 second increments. Once they begin to melt (it should take between 30-45 seconds), stir until the mixture becomes smooth.
When the biscotti have cooled, dip them in chocolate and sprinkle chopped almonds on top.

Did You Make This Recipe?