Our kahlua macarons feature a light and crispy chocolate shell filled with a deliciously creamy kahlua buttercream! These boozy little macarons are easier to make than you might think and the resulting cookies are pure bliss!
Everytime I look into the oven and see that my macarons have risen to perfection, l get a little giddy. By now, I've made enough that I'm not exactly surprised that they're turning out, but there's just something extremely satisfying at watching the tiny little blobs of batter form into delicate macarons. I figured the only way to pack even more joy into these little cookies was to add a boozy twist: kahlua buttercream.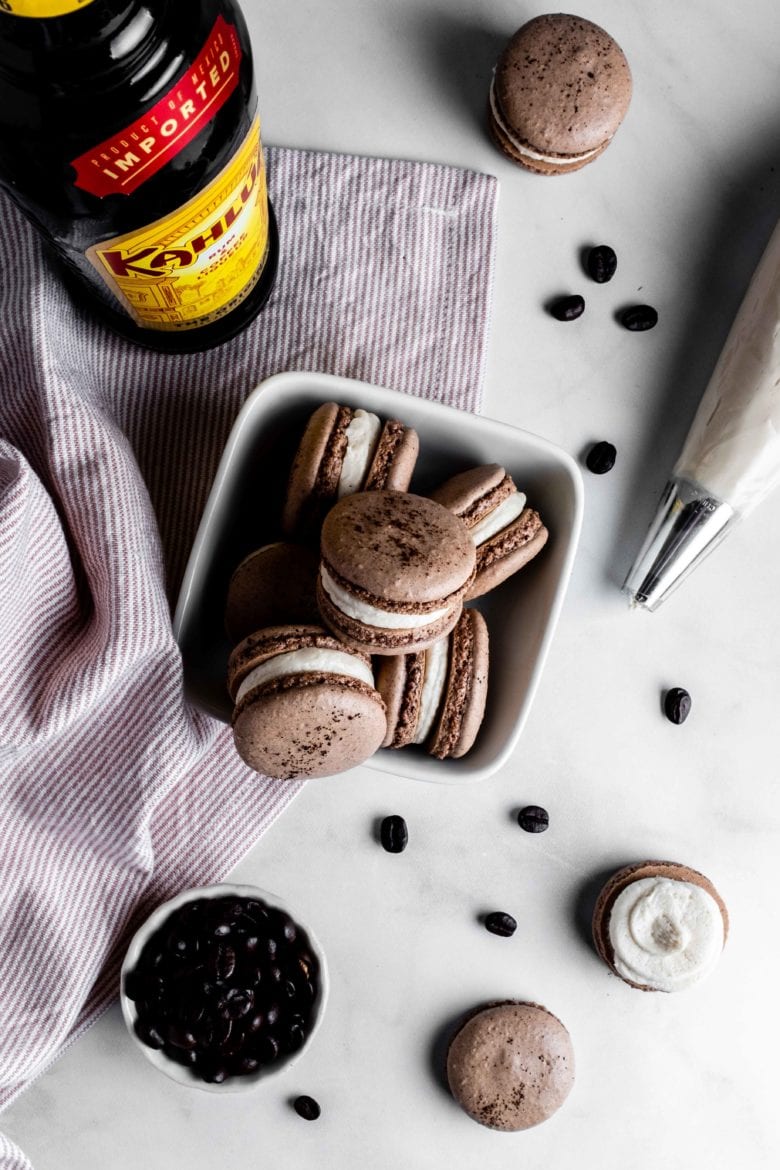 tips for making the perfect macarons
Before we get to the kahlua filling, here's a brief reminder of some of the most important tips for making macarons. If you'd like a more in depth guide, you can check out my post on peppermint mocha macarons.
Prepare everything you'll need before you get started. Line a baking sheet with parchment paper and decide whether you want to freehand the macaron shells, use a macaron template, or make your own template by tracing 1.5 inch (4 cm) circles onto parchment paper. I always go with the last option! Also make sure to fit a piping bag with a medium-sized round tip so you're ready to pipe the mixture as soon as it's done.
Always use a kitchen scale to weigh your ingredients. There's not much room for error when making macarons!
To get the smoothest shells, pulse your almond flour in the food processor and then sift it along with the powdered sugar and cocoa powder several times through a fine mesh sieve. Even super-fine almond flours generally need this treatment to come out looking super smooth.
And lastly, be patient! Make sure that your egg whites have been whipped into a meringue with stiff peaks before moving onto the next step. You should be able to turn the bowl upside down without the meringue falling out. And when adding the almond flour mixture to the meringue, make sure to work in batches and fold it together carefully and gently.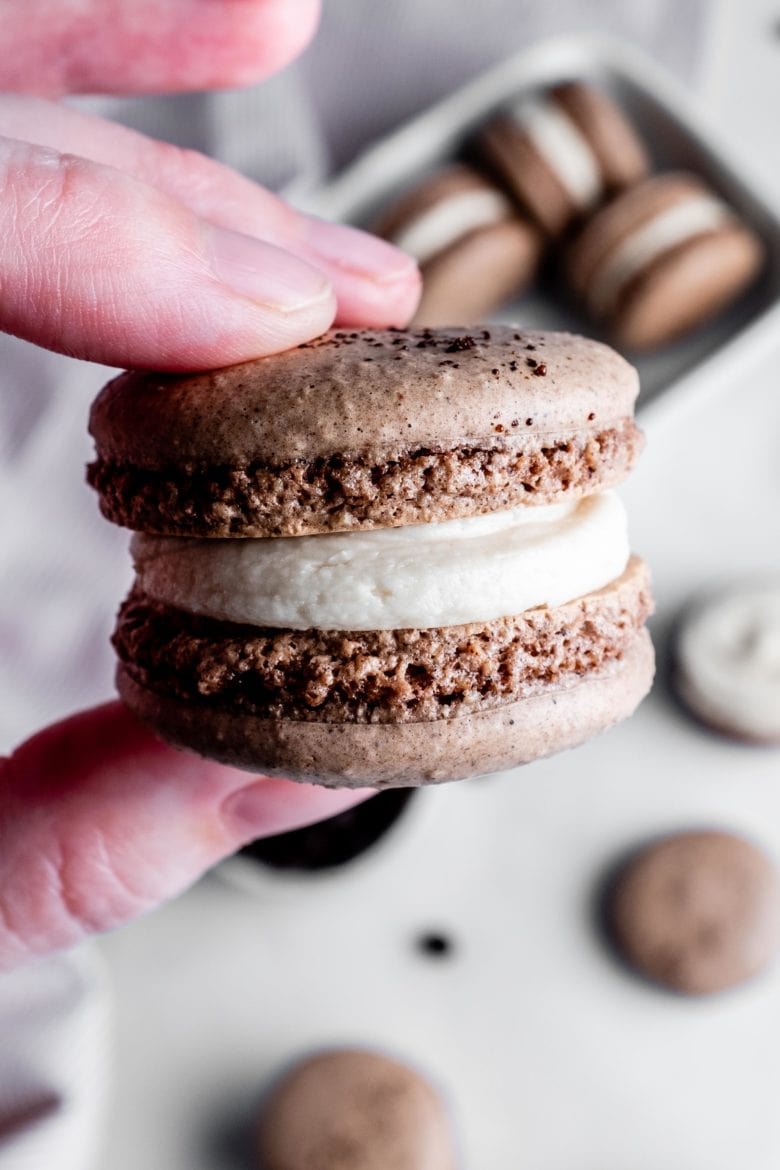 chocolate macaron shells
Now that I've given you a few tips to ensure the success of your macaron shells, let's talk presentation. The cocoa powder adds a bit of color to the macaron shells, but you can definitely add brown food coloring if you want a deeper color and more contrast with the creamy white filling. Just make sure to use gel food coloring and add it once the meringue and almond mixture are just about incorporated. This will make it easier to determine the amount needed and ensure that you don't overmix the batter.
This recipe also calls for the optional addition of instant espresso. The instant espresso is just sprinkled over half of the shells and is definitely more for decoration than taste, so feel free to skip this step if you'd like. Other great options for decorating the top shells include adding a chocolate drizzle, a few sprinkles, or even leaving them undecorated — they're already pretty enough!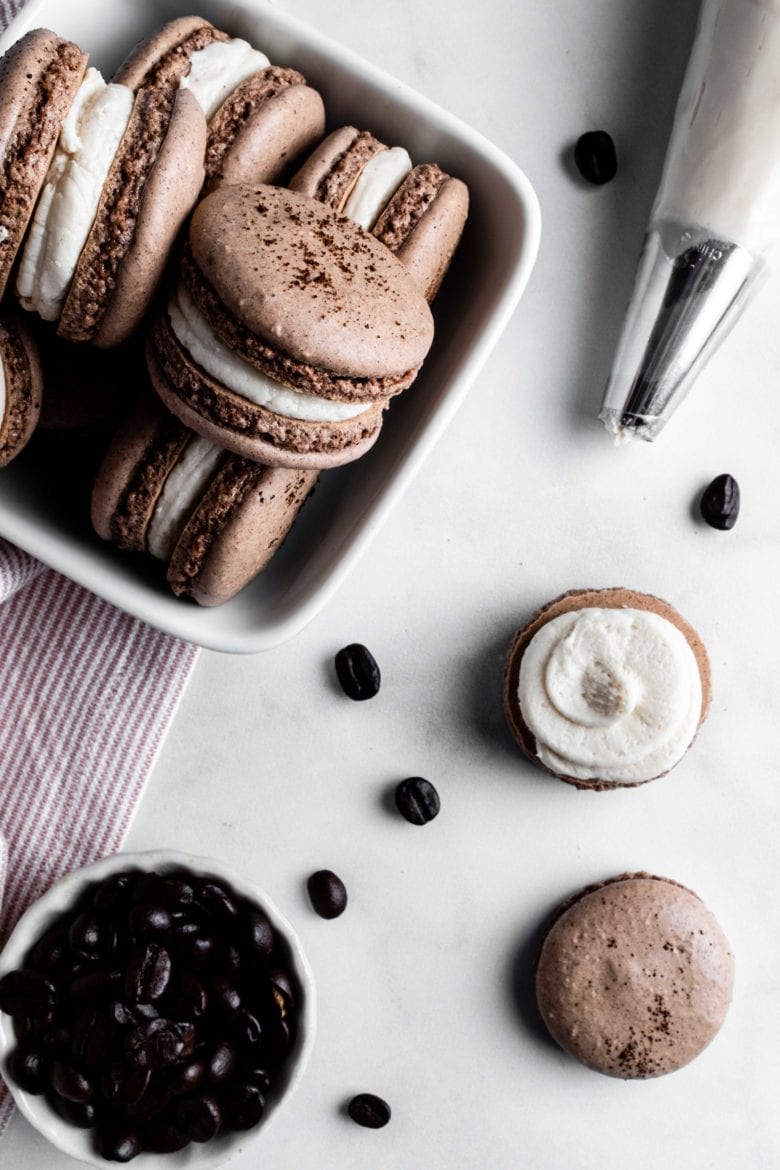 kahlua buttercream
And now for our favorite boozy buttercream! This recipe is a simple buttercream (just butter and powdered sugar) flavored with kahlua — a delicious rum and coffee liqueur. I used three tablespoons of kahlua, but I would recommend adding one tablespoon at a time until you find your perfect consistency and booziness!
Once the macaron shells have completely cooled, simply pipe your buttercream onto half of the shells and top with another shell. For the piping, I like to fit a piping bag with the same medium-sized round tip that I use to form the macarons, but you can definitely get a bit fancier by using a star tip for a swirly look!
And if you're looking for a coffee-fueled buttercream without the alcohol, you can substitute the kahlua for an equal amount of strong coffee.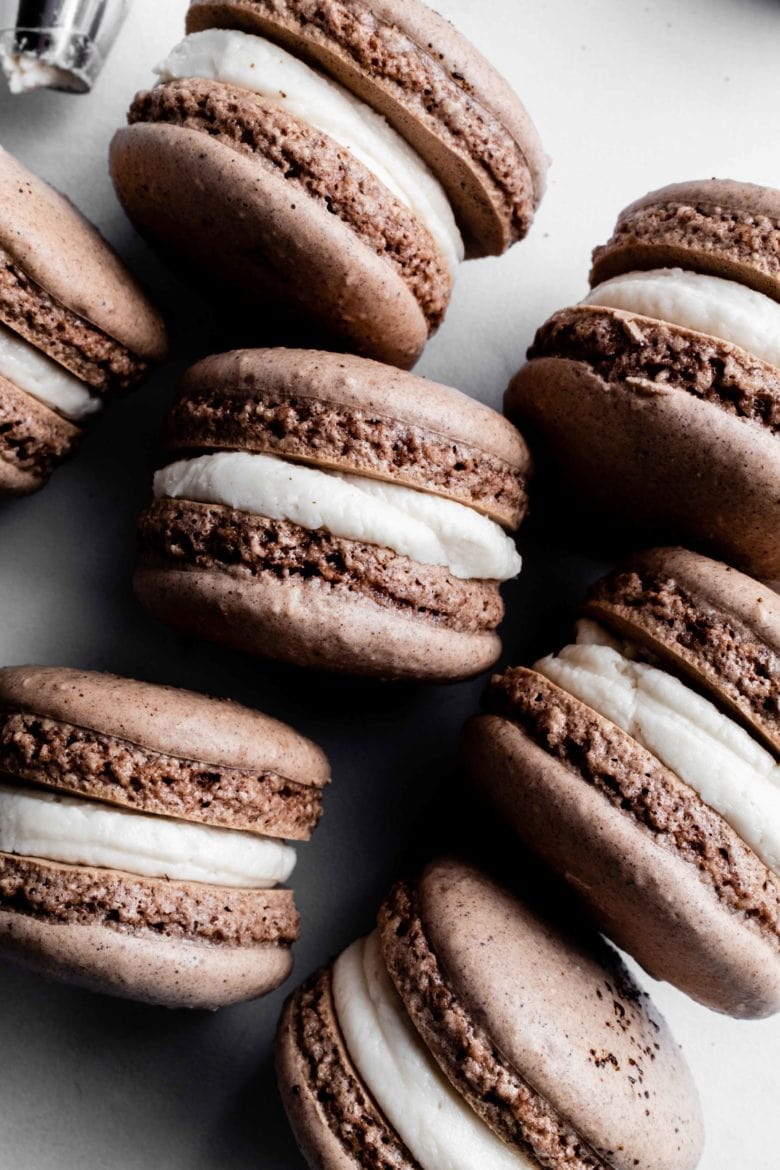 And don't forget to check out some of our other favorite cookie recipes!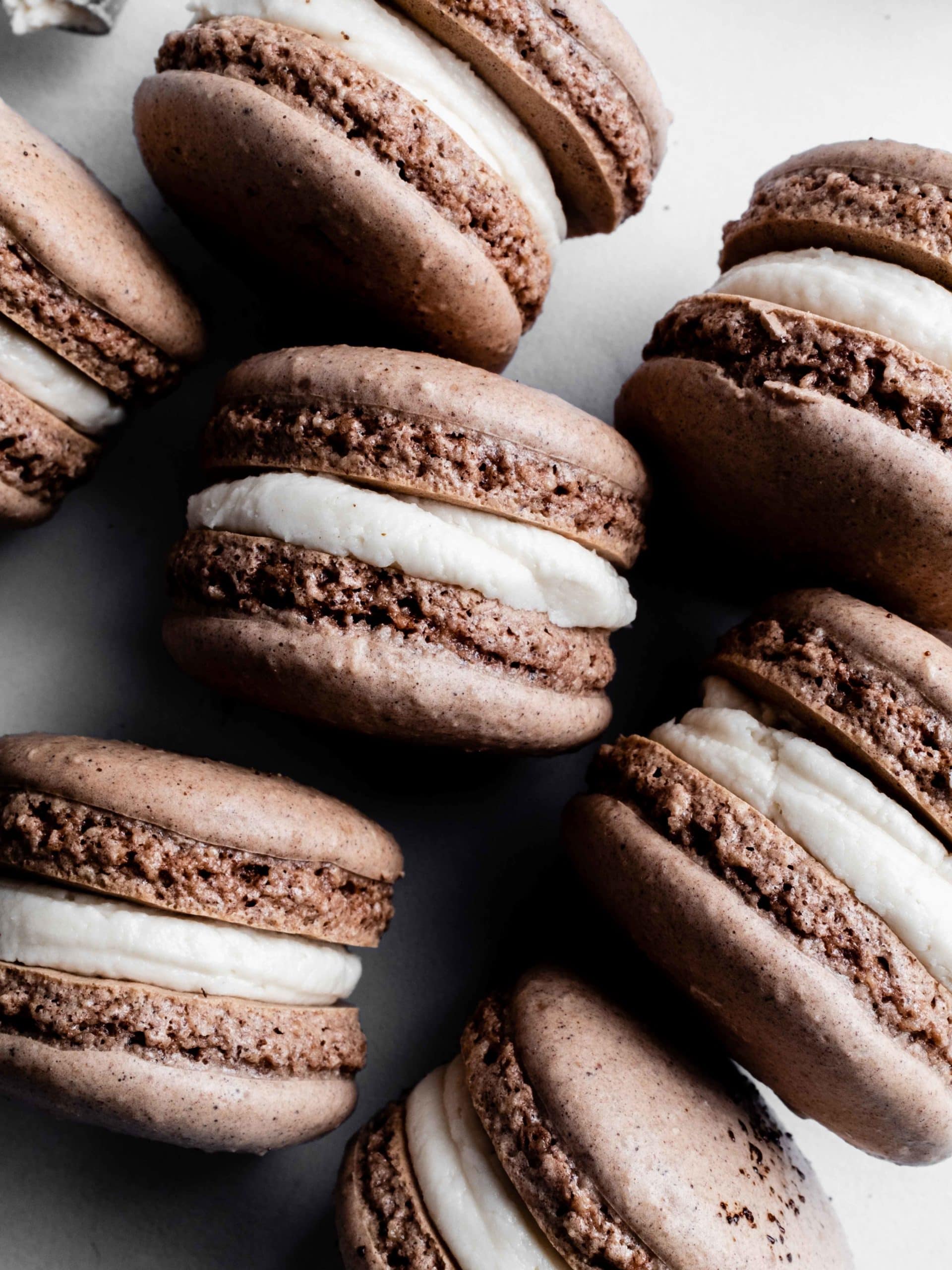 ingredients
chocolate macarons
super-fine almond flour

120 g

powdered sugar

120 g

cocoa powder

15 g

egg whites

100 g

(room temperature)

granulated sugar

100 g

vanilla extract

½ tsp

salt

pinch

instant espresso (optional)

for dusting
kahlua buttercream
butter

½ c (115 g)

powdered sugar

2.5 c (300 g)

kahlua

3 tbsp
instructions
Prepare everything you'll need to make the macarons. Line several baking sheets with parchment paper and fit a piping bag with a medium-sized round tip.
Mix together the almond flour, powdered sugar and cocoa powder. Sift the mixture twice, discarding any larger pieces, and set aside.
Beat the egg whites with a pinch of salt until frothy and white.
Begin adding the granulated sugar gradually and keep beating until stiff peaks form. This can take anywhere from 5-10 minutes.
Beat in the vanilla extract.
Gently fold the dry ingredients into the meringue. Start with ⅓ of the almond mixture and then gradually add the rest until all of the mixture is fully incorporated. You'll know the batter is the right consistency when it can stream from the spatula into a figure-eight without breaking.
Use a piping bag fitted with a medium-sized round tip to pipe the macarons onto the prepared baking sheet. The macarons should be approximately 1.5 inch (4 cm) in diameter and you'll need to leave about 1 inch (2.5 cm) between each macaron.
Tap the baking sheet against the counter several times to eliminate any air bubbles.
Optional: Sprinkle a tiny bit of instant espresso on top of half of the shells for decoration (these will be your top shells).
Let the macarons rest at room temperature for 40 minutes until dry to the touch. This step is very important so don't skip it!
Preheat the oven to 300 F (150 C) and bake the macarons for 15-17 minutes.
Let the macarons rest for 15 minutes on the pan and then transfer to a wire rack to cool completely.
To make the filling, beat the butter until light and fluffy. Mix in the powdered sugar and add the kahlua one tablespoon at a time until you reach your desired consistency. I used three tablespoons for these macarons.
Pipe the buttercream filling onto half of the macaron shells and top with another macaron shell.

Did You Make This Recipe?
This post may contain affiliate links through which we may earn a small commission at no additional cost to you. We only recommend products that we genuinely love and would use ourselves.