Enjoy the warmth of cinnamon and cardamom with these Scandinavian style cinnamon rolls! Swirls of cinnamon and sugar mixed into a light and soft dough make these rolls not only a great breakfast or dessert, but also a treat for the eyes!
People in Scandinavia take their cinnamon rolls very seriously. So seriously in fact that Sweden even celebrates a cinnamon roll day! And after spending several winters in Norway, I also find that the warmth of cinnamon and cardamom are particularly good at lifting your spirits on cold northern evenings.
After I moved to the US I often craved the same cinnamon rolls that always seemed to brighten my mood in Norway. But while in Scandinavia these cinnamon treats come in a multitude of forms (buns, rolls, swirls and knots) and are only sometimes sprinkled with sugar, their US relatives are predominantly shaped as rolls and are often drowning in glaze. I don't mind an occasional sugary treat, but this Scandinavian style version allows me to enjoy cinnamon rolls far more often!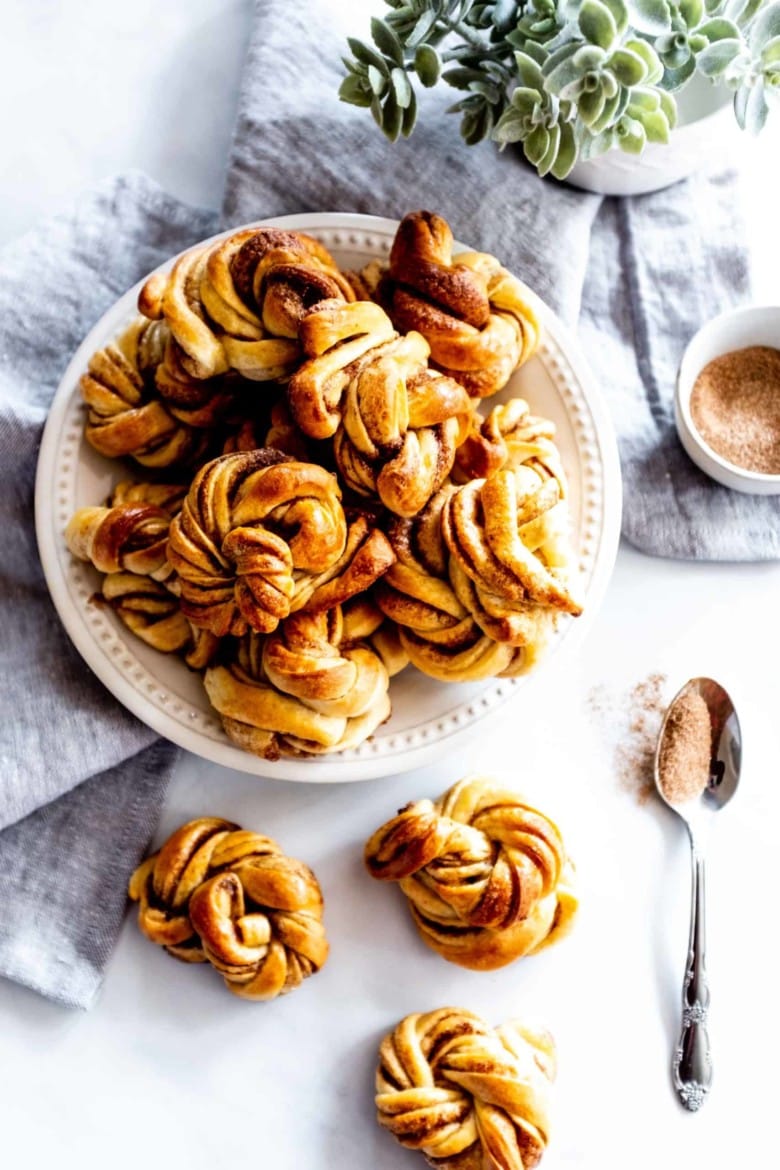 enriched dough
The dough for these cinnamon rolls includes eggs, milk and butter. These ingredients increase the fat content in the dough, which helps to achieve a light and fluffy texture. But to support this light and airy texture, the dough has to develop gluten. You will notice that in this recipe you first form the dough and then add butter. It's done in this order because fat inhibits the formation of gluten — gluten needs water to form, but water and fat don't play well with each other. If you add all of the butter right away it will coat the flour and prevent it from absorbing water. For this reason you first knead the dough to form the gluten and then add butter.
Adding softened butter to the dough might seem tricky when you knead it by hand. The dough can become slippery and will start to separate into layers. To make it easier, I recommend enclosing chunks of softened butter in the center of the dough and then kneading it. Repeat this process until all of the butter is incorporated — it usually takes about five minutes. When the dough is not slippery anymore you can leave it to rise. Enriched dough takes longer to rise — I generally give it about an hour and a half. While it increases in size considerably, it does not usually reach double its original size.
shaping cinnamon rolls
My favorite way to shape the cinnamon rolls is to make swirls and then tie them up a bit like knots. I start by rolling out the dough into a 12×16 inch (30×40 cm) rectangle and spreading softened butter over the surface, leaving a bit of space around the edges. Then I generously cover the butter in a cinnamon and sugar mixture and fold the short sides of the dough in thirds like a letter. After that I roll the dough into a 6×24 inch (15×60 cm) rectangle.
Now comes the cutting! Cut the dough into 1 inch (2.5 cm) thick ribbons crosswise. Then make a partial cut through the center of each ribbon leaving a bit of the dough uncut on one side. Next plait the two strips by putting them one over the other. Then just twist the dough and form it into a small bun or tie it into a knot.
baking cinnamon rolls
After letting the formed cinnamon rolls rise for another 30 minutes it's time to bake! It usually takes around 20 minutes at 350 F (180 C). With enriched dough, you can't use a toothpick to check if for doneness, so I would recommend using an instant read thermometer (I use one like this) to check the internal temperature. These cinnamon rolls should reach 190 F (90 C).
And don't forget the final touches! About five minutes before the cinnamon rolls are done baking I like to brush them with an egg wash and sprinkle a little sugar on top.
Are you hungry for more spiced treats? Try these!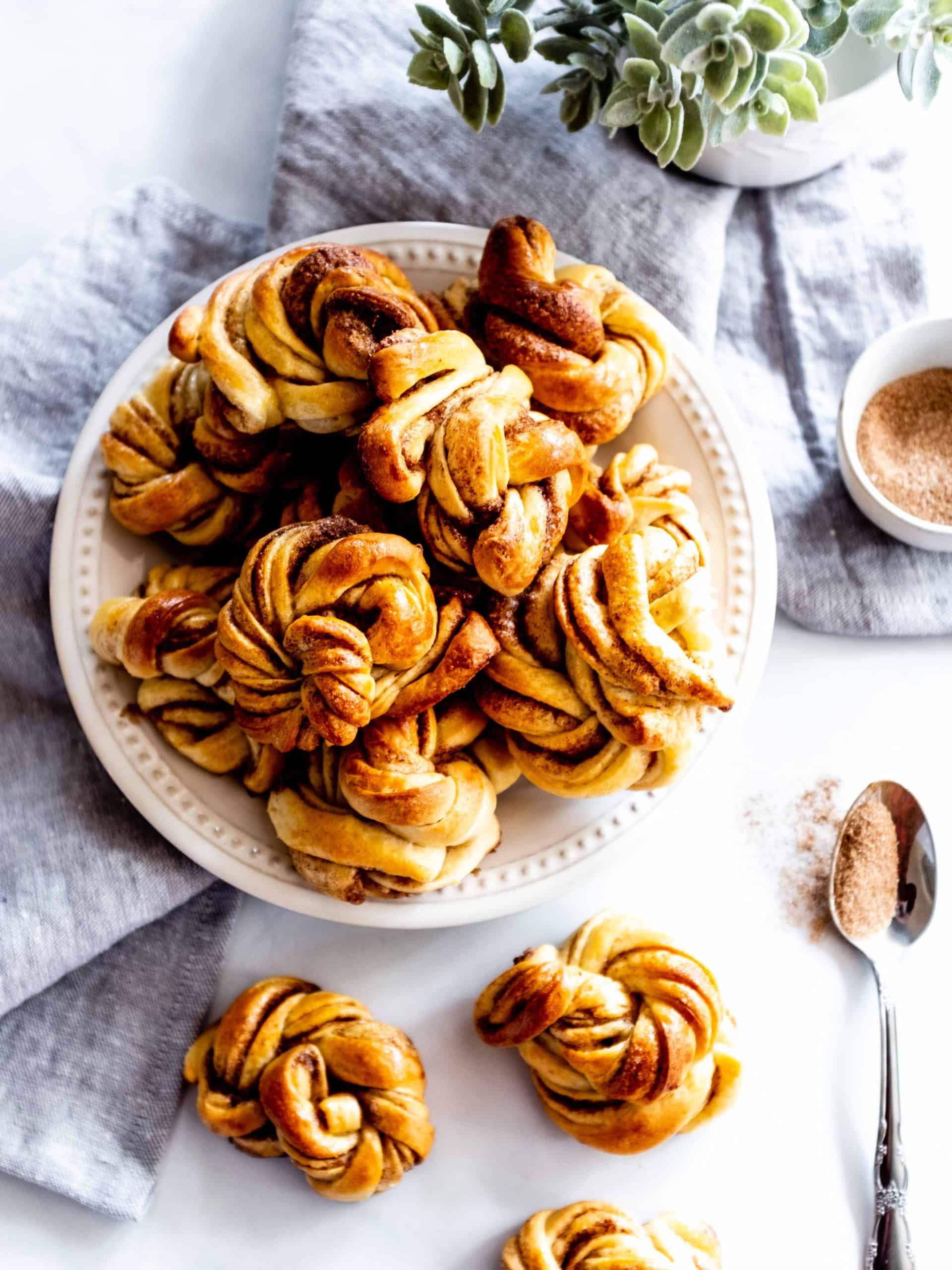 ingredients
dough
active dry yeast

2 ¼ tsp (1 packet)

flour

3¼ c (400 g)

sugar

¼ c (50 g)

cardamom

1 tsp

salt

½ tsp

milk

⅔ c (150 ml)

egg

1 large

softened butter

5 tbsp (75 g)
filling
softened butter

4 tbsp (60 g)

sugar

⅓ c (60 g)

cinnamon

1 tbsp
for baking (optional)
egg yolk

1 large

milk

4 tbsp

sugar

for sprinkling
instructions
Dissolve yeast and 2 tsp sugar in lukewarm milk. Set aside for 5-7 minutes or until foamy.
Mix flour, sugar, cardamom and salt in a bowl.
Add the egg and half of the milk with the yeast. Start mixing the ingredients until the dough forms. Add the rest of the milk as necessary.
Knead the dough for 10 minutes.
Place the dough in a large bowl. Add the softened butter in chunks and incorporate it into the dough by kneading. Once you've added all of the butter knead the dough until it is no longer slippery.*
Leave the dough in the bowl, cover and let rise for an hour and a half in a warm place. It should rise considerably (although it may not exactly double in size).
Prepare two baking sheets lined with parchment paper.
Roll out the dough into a rectangle 12x16 inch (30x40 cm).
Add the filling. Spread the softened butter over the dough reserving about ⅓ of an inch (10 mm) around the edges. Mix cinnamon and sugar and spread evenly over the butter.
Fold the dough like a letter. To do so first fold the top third into the center, followed by the bottom third.
Roll out the dough into a 6x24 inch (15x60 cm) rectangle.
Cut the dough crosswise into 24 ribbons (1 inch/2.5 cm wide). Make a partial cut in each ribbon lengthwise through the center, keeping one side intact.
Plait each ribbon by twisting the two strips. Then lightly stretch, twist and form into swirls. Place on the prepared baking sheets.
Lightly cover the rolls with a kitchen towel and let them rise for 30 minutes.
Preheat the oven to 350 F (180 C).
Bake for 20 minutes or until internal temperature reaches 190 F (90 C). Optionally, 5 minutes before taking out of the oven brush with a mixture of egg yolk and milk and sprinkle with sugar.
notes
adding butter: to make this process easier I recommend enclosing chunks of softened butter in the center of the dough and then kneading it. Repeat this process until all of the butter is incorporated. I would not recommend adding the butter before kneading the dough - it will result in much longer kneading time.

Did You Make This Recipe?
This post may contain affiliate links through which we may earn a small commission at no additional cost to you. We only recommend products that we genuinely love and would use ourselves.