This vegan panna cotta recipe is made with just four ingredients: coconut milk, vanilla bean, maple syrup and agar agar! Serve your coconut panna cotta with our deliciously tart raspberry coulis for a perfect afternoon snack or elegant dessert!
Panna cotta is a creamy dessert traditionally made with dairy, sugar and gelatin. It's silky smooth in texture and absolutely wonderful enjoyed on a warm day with a heaping spoonful of tart berries. Today we're sharing one of our favorite versions of the classic Italian dish: vanilla bean coconut panna cotta. It's lactose free, vegan and astonishingly delicious!
ingredients for vegan panna cotta
Our vegan panna cotta is made with just four ingredients:
Coconut milk: You'll just need one 14 oz (400 g) can of full fat coconut milk for this recipe. Make sure not to use anything lighter or you'll need more agar agar to get the right consistency.
Agar agar powder: In place of gelatin, this recipe uses agar agar to thicken and stabilize the panna cotta. It's a vegan product made from red algae that is activated when boiled. I tested this recipe with several different amounts of agar agar powder and found that ½ teaspoon (1 gram) resulted in the perfect consistency: not too firm and with a nice jiggle!
Vanilla bean: For an easy flavor boost and pretty speckled pattern, I like to add the seeds of one vanilla bean to the panna cotta! If you don't have vanilla beans on hand, you can either leave them out or add a teaspoon of vanilla extract after simmering the mixture.
Maple syrup: And to sweeten the mixture, I add just two tablespoons of maple syrup. Feel free to add a bit more or less depending on how sweet you'd like your dessert!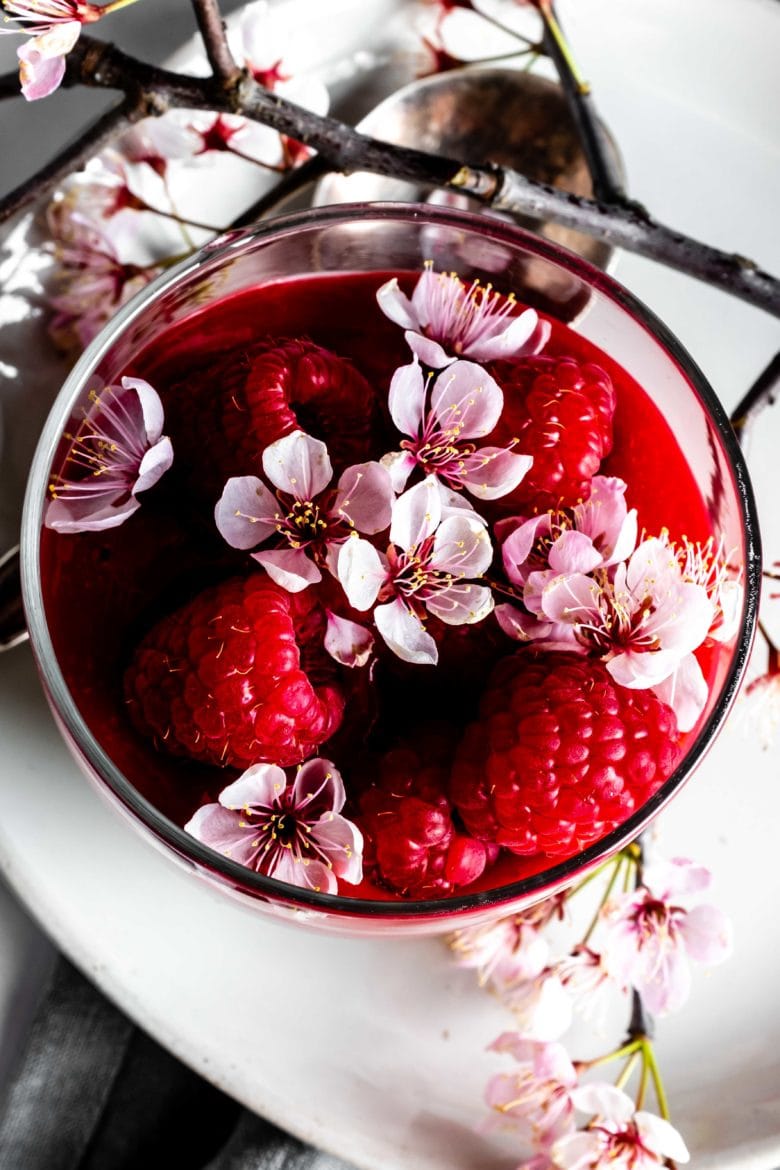 how to make vegan panna cotta
Once you have all of the ingredients, making this panna cotta is super easy! Just add everything to a small saucepan and bring to a simmer over medium heat. Let the mixture simmer for about 5 minutes, stirring frequently — don't let the coconut milk fully boil, as it will separate. Then pour the mixture into your serving glasses or ramekins to set. I like to let the panna cotta come to room temperature and then I typically place it in the fridge for 2-3 hours before serving.
To get the diagonal layer of the panna cotta like I made, lean your glasses against something so that they tilt at a slight angle. I put a kitchen towel inside a cake pan and then leaned the glasses against the rim of the pan. The towel helps to keep them secure when moving them to the fridge.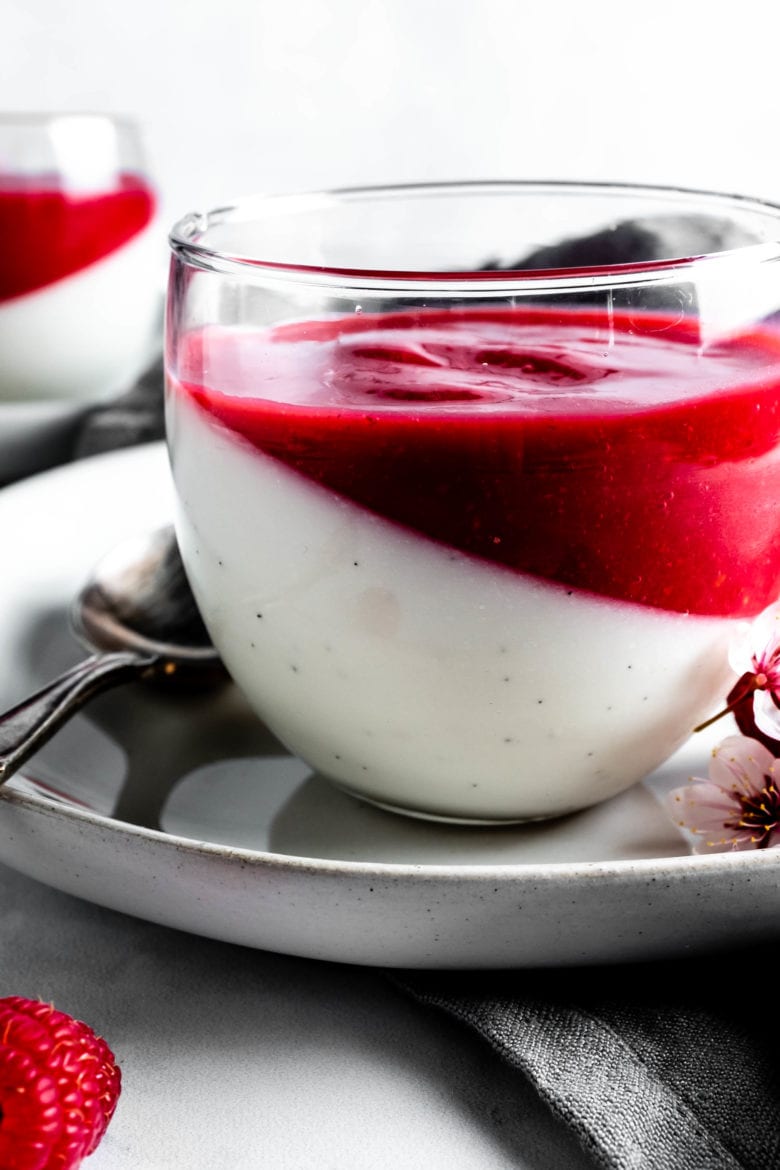 raspberry coulis
While you can top your coconut panna cotta with whatever you'd like, our favorite option is a three-ingredient raspberry coulis. Fruit coulis (sauces that are made with pureed and strained fruits) are wonderfully easy to make and the perfect complement to creamy panna cotta. To make this version, just heat your raspberries with a bit of powdered sugar and lemon juice until they begin to break down, puree until smooth and then strain through a fine mesh sieve to remove the seeds! Simple and delicious!
For more sweet treats, give these recipes a try!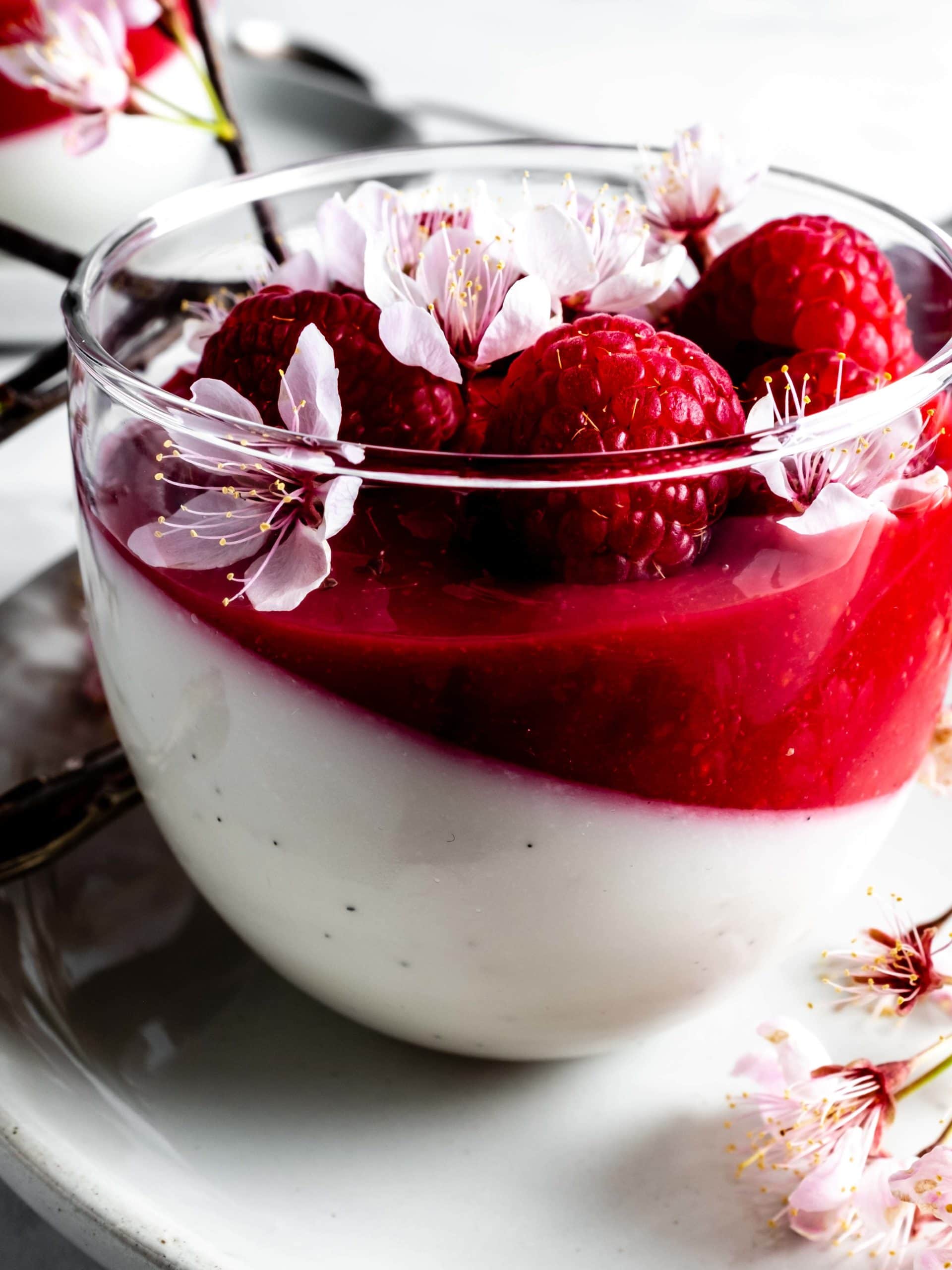 ingredients
vanilla bean coconut panna cotta
coconut milk

1 can (14 oz | 400 g)

(full fat)

maple syrup

2 tbsp (40 g)

vanilla bean

1 pod

agar agar

½ tsp (1 g)
raspberry coulis
raspberries

12 oz (350 g)

powdered sugar

¼ c (30 g)

lemon juice

1 tsp
instructions
vanilla bean coconut panna cotta
Cut the vanilla bean in half lengthwise and scrape out the seeds with a knife. Add the seeds, coconut milk, maple syrup and agar agar to a small saucepan.
Bring the mixture to a light simmer over medium heat, stirring often, and let simmer for 5 minutes. Don't let the mixture come to a full boil - we're looking for light bubbling. Reduce heat as necessary.
Remove from heat and pour the mixture into 4-6 individual glasses or ramekins. If you want to serve the panna cotta out of the ramekins, make sure to grease with coconut oil or non-stick spray.
Let cool to room temperature and then refrigerate until firm and set (approximately 2-3 hours).
Once set, serve the panna cotta in the glasses or ramekins or turn out onto individual plates. Top with raspberry coulis.
raspberry coulis
Combine raspberries, sugar and lemon juice in a small saucepan over medium heat. Cook, stirring often, until the berries begin to break down (about 3-4 minutes).
Puree the mixture in a blender until smooth.
Strain through a fine mesh sieve and discard the seeds. Store in the refrigerator.

Did You Make This Recipe?
This post may contain affiliate links through which we may earn a small commission at no additional cost to you. We only recommend products that we genuinely love and would use ourselves.