Our summer corn and seafood stew features mussels, scallops and shrimp swimming in a spicy broth with sweet undertones from flavorful homemade corn stock! Served with crusty bread for dipping, this easy one pot meal is always a crowd pleaser!
During the summer we like to repurpose bare corn cobs to make a wonderfully delicious homemade corn stock that can be used as a base for everything from chowders to risottos. But our favorite use for the delicious golden broth is to make this summer corn and seafood stew — it's slightly spicy and incredibly satisfying! While regular vegetable broth will still yield excellent results, we definitely recommend trying corn stock for an extra burst of summer freshness if you have the time (it only takes five ingredients!).
spicy sweet corn broth
The base for this seafood stew is our homemade corn stock, which is made with just bare corn cobs, onion, garlic, thyme and bay leaves. It's a great way to use up leftover cobs and it's super simple to make — just add everything to a pot and let it simmer away for an hour and a half! You can find the recipe here. And if you don't have the time to whip up a batch of corn stock, you can definitely substitute regular vegetable broth. The stew won't have those sweet notes to it, but it will still be savory and delicious!
Now that you've chosen your broth or stock, it's time to make the stew! Start by sauteing onion, garlic and a few chopped tomatoes in a bit of butter. Next add the spices — paprika, oregano and cayenne — and pour in a bit of white wine and let it cook until reduced by half. Then just add your corn stock or vegetable broth! At this point you'll toss in your favorite seafood (more on that in the next section) and simmer the stew until everything is just cooked through.
And for the finishing touches, I like to add in a few splashes of heavy cream and a bit of fresh thyme, but these extras are both optional!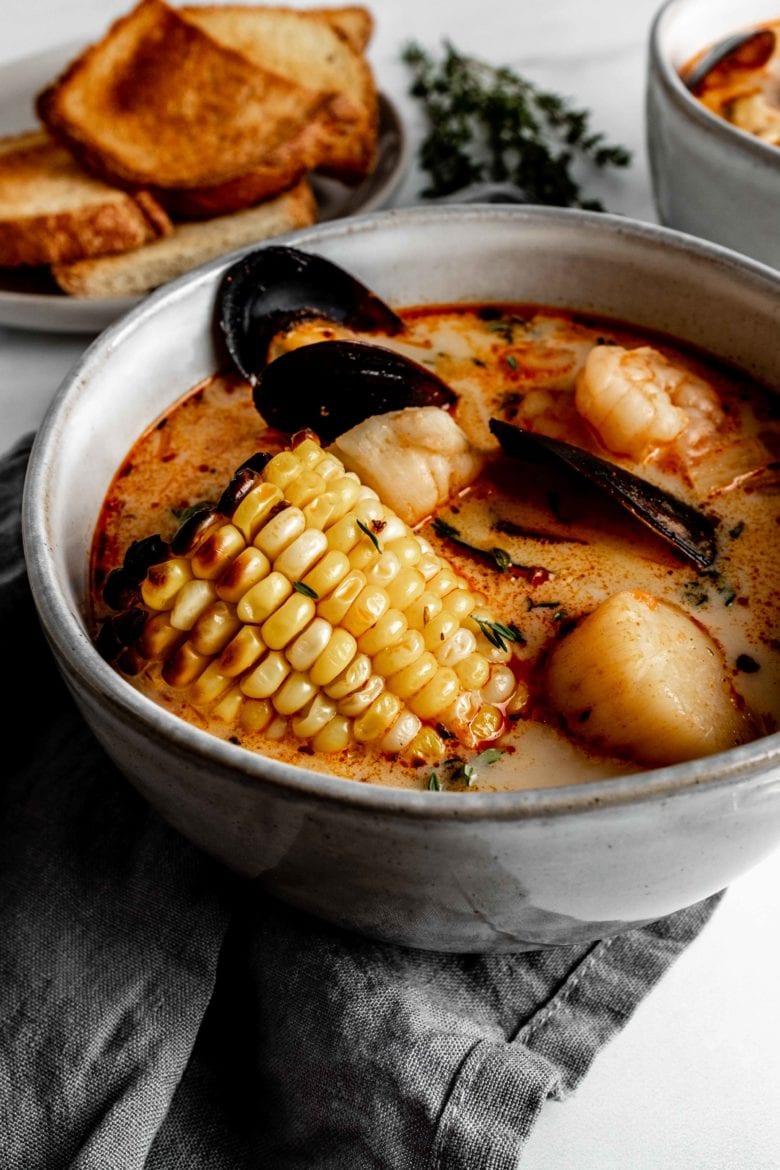 the seafood
For this seafood stew we like to use a combination of mussels, scallops and shrimp, but really you can use any of your favorite fish and shellfish. Just make sure to adjust the cooking time as necessary and add any longer-cooking ingredients to the stew earlier so that nothing overcooks.
If you're using frozen and mostly prepared seafood you can just add everything straight to the pot without evening thawing (just add a bit of extra time for cooking). And if using fresh seafood, here a few tips for cleaning and prep:
Mussels: If using fresh mussels, make sure to start by discarding any with cracked or damaged shells. When you find mussels with open shells, tap them lightly against your counter. If the shell closes, it means the mussel is alive and okay to use. If the shell remains open, discard as the mussel may have gone bad. Some mussels may have already been debearded — if not, you'll need to pull out the beards yourself (they look like a small mass of tiny hair-like fibers). You can easily remove the beard by pulling it directly away from the mussel.
Sea scallops: When using fresh scallops, remember to remove the side muscle if it's still attached. These little pieces are tough to chew and easy to peel off, so it's definitely worth taking the time to remove the small rectangular piece on the side of each scallop.
Shrimp: We generally use large or extra-large raw shrimp (tail-off, peeled and deveined).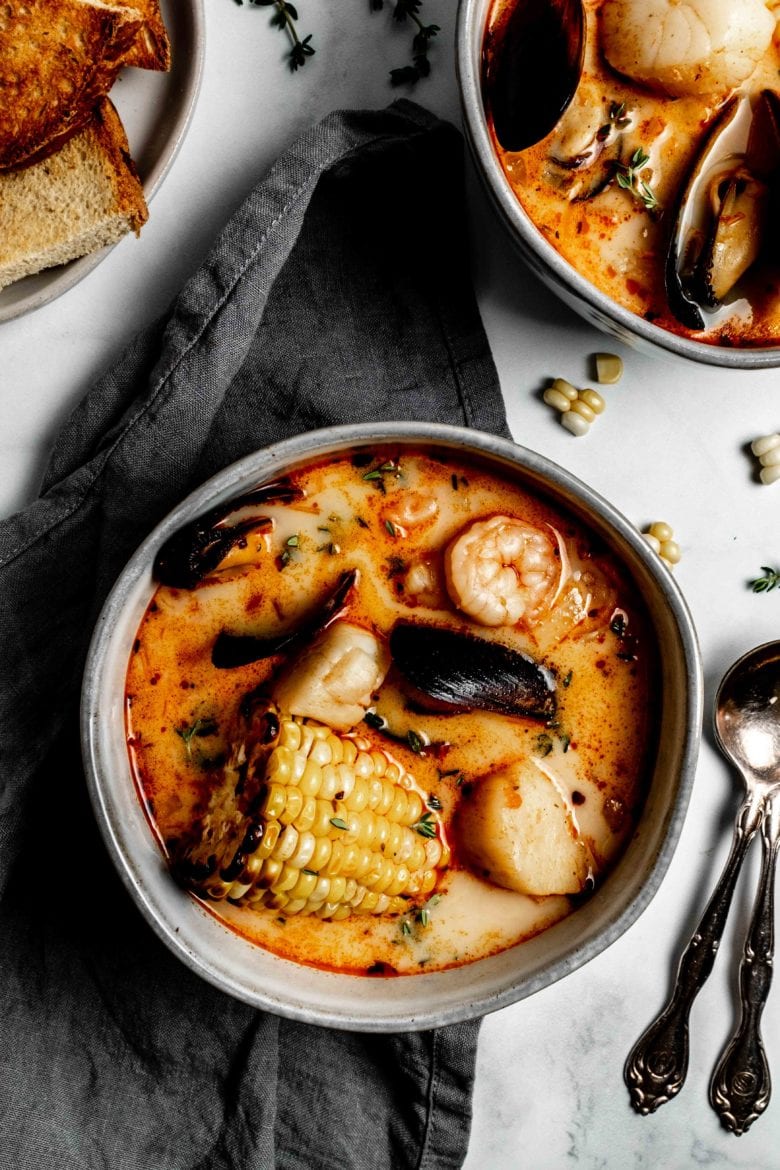 what to serve with summer corn and seafood stew
In addition to using corn stock as the base for this stew, we also always add a piece of fresh corn on the cob to each bowl. You'll just need two ears of corn for four people. Cut each ear in half and cook them directly in the stew, in a separate pot of boiling water or even on the grill for some extra flavor!
And then to round out the meal, we always like to serve something to soak up that delicious broth. While crusty bread is our favorite option, other great sides could be rice or maybe even more corn — think cornbread or polenta!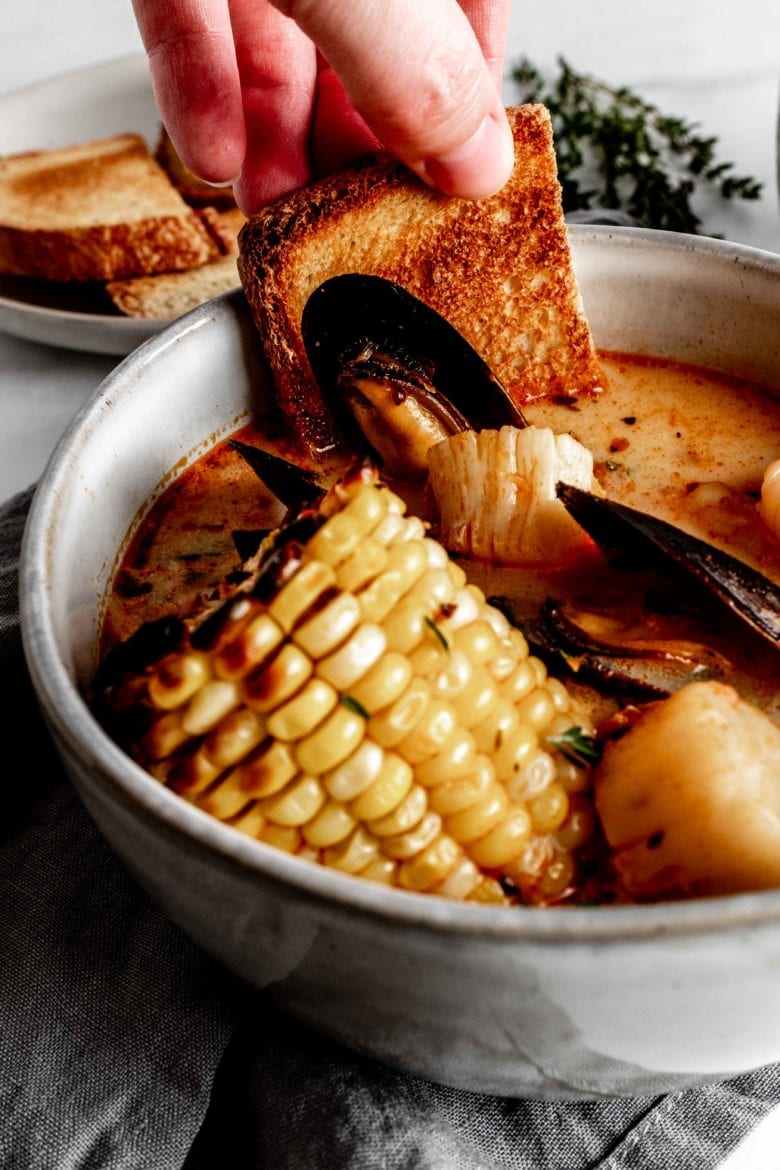 For more soups and stews, check out these recipes:
Print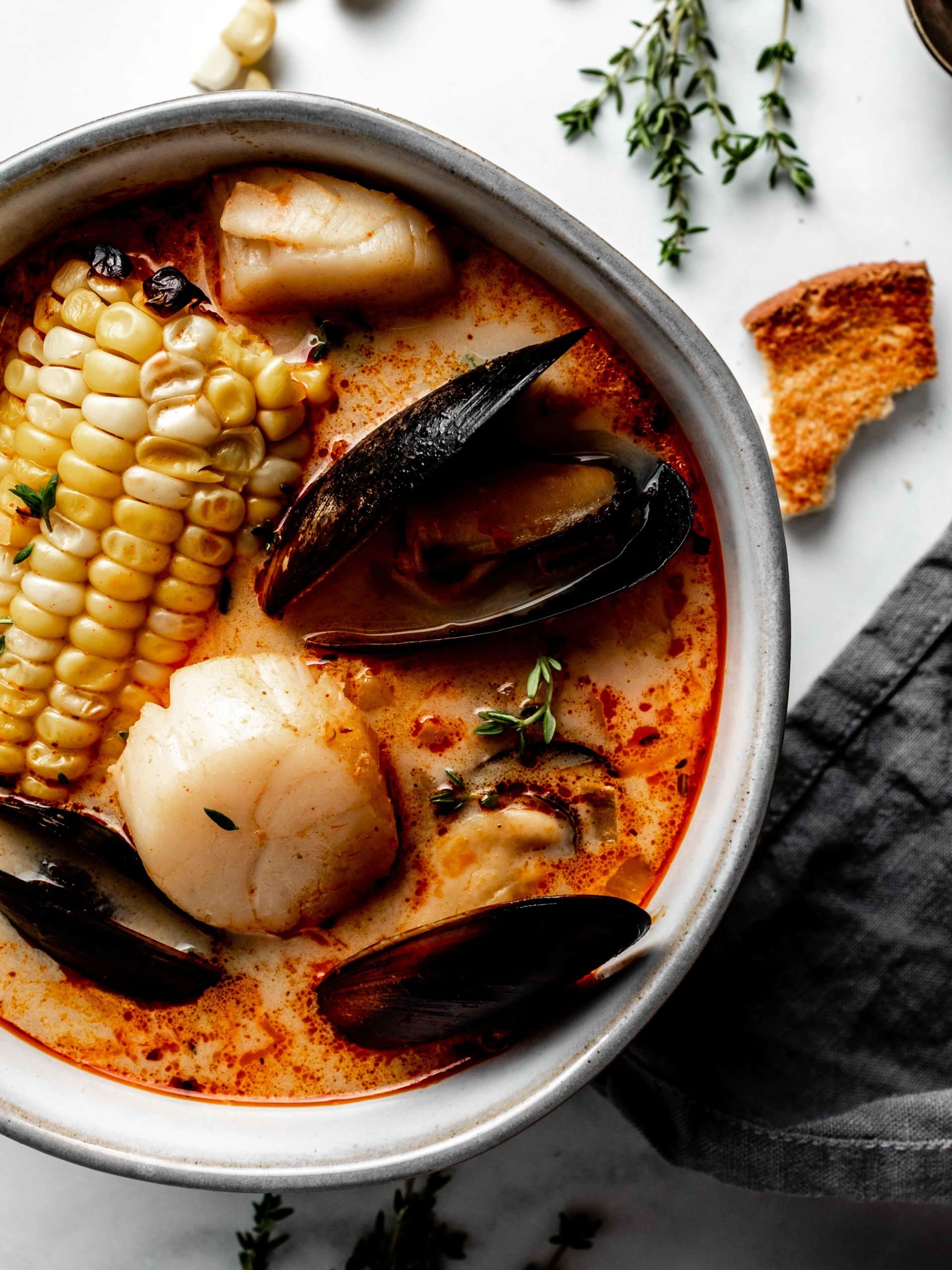 summer corn and seafood stew
---
Author:

Brit Kapustina

Total Time:

45 minutes

Yield:

4

Prep Time:

15 minutes

Cook Time:

30 minutes

Category:

Dinner

Method:

Soup

Cuisine:

Global
1 tablespoon

(15 grams) unsalted butter

1

small yellow onion, diced

2

cloves garlic, minced

2

roma tomatoes, diced

½ tablespoon

paprika

1 teaspoon

dried oregano

½ teaspoon

cayenne

½ cup

(120 ml) dry white wine

3 cups

(700 ml)

corn stock

1

pound (450 grams) mussels, scrubbed and debearded

½

pound (230 grams) sea scallops

½

pound (230 grams) large shrimp, peeled and deveined

¼ cup

(60 ml) heavy cream
kosher salt to taste

fresh thyme

to garnish

corn on the cob

for serving
---
Instructions
Melt the butter in a wide saute pan over medium-low heat. Add the diced onion and cook for 10 minutes or until slightly golden.
Add the minced garlic and cook an additional minute.
Stir in the chopped tomato, paprika, oregano and cayenne. Mix well and cook for one minute.
Pour in the white wine and cook for 3-4 minutes or until reduced by half.
Pour in the corn broth and season generously with salt and pepper. Bring to a boil, reduce heat and simmer uncovered for 5 minutes.
Add the mussels, shrimp and scallops. Cover the pot and cook over medium heat until all mussels are open, the shrimp is pink and the scallops are opaque (about 5-7 minutes). If using fresh mussels, discard any mussels that haven't opened.
Remove from heat and stir in the heavy cream. Adjust salt to taste.
Garnish with fresh thyme and serve with corn on the cob.
Keywords: seafood stew, corn stew, corn soup, seafood soup
This post may contain affiliate links through which we may earn a small commission at no additional cost to you. We only recommend products that we genuinely love and would use ourselves.