These Czech sweet buns or buchty are soft, pillowy and filled with your favorite jam or fruit preserves!
Lightly golden on the outside with a soft and tender center, these filled yeast buns are a Czech classic! While cherry preserves are our favorite filling, you can also use other jams, poppy seeds or farmer's cheese. Sweet and satisfying buchty are perfect as a grab-and-go breakfast or light dessert.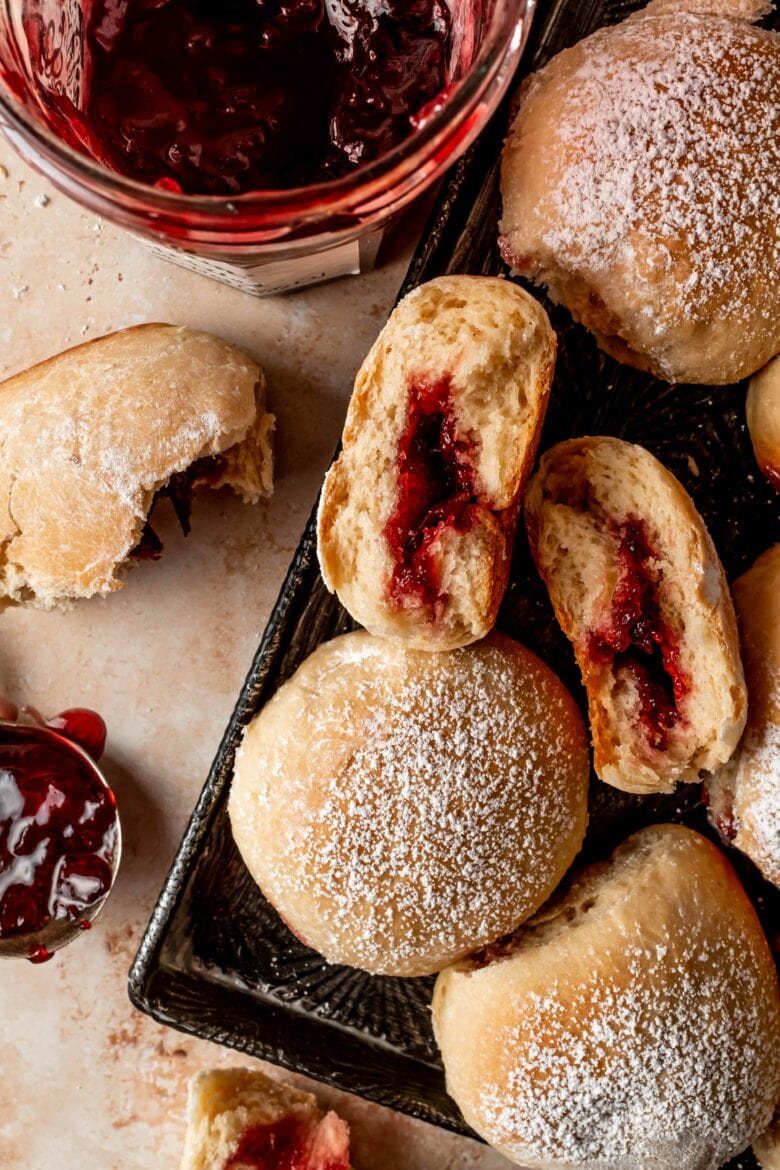 Czech Fairy Tales and Honzovy Buchty
Buchty (singular form: buchta) originated in Czechia and have been enjoyed for generations. The sweet rolls are also popular throughout Central Europe and called buchteln in Germany and Austria.
In Czechia, these buns are often referred to as české buchty (Czech buns) or honzovy buchty (Honza's buns). Český Honza is a well-known fairytale character who comes from a small village. Honza is sometimes described as lazy, but almost always characterized by his wit and resourcefulness. Whether it's fighting dragons or helping someone in need, he uses his cleverness to get out of whatever mischief or challenging situation he finds himself in.
And how does that relate to buchty? Honza's mother (or sometimes grandmother) packs him these delicious filled buns for energy before he sets off on his adventures!
Making the Dough
Buchty are made from a dough similar to brioche. The yeasted dough is enriched with butter, egg yolks and milk, and flavored with vanilla extract and lemon zest.
You can make buchty dough in five easy steps:
Melt the butter and activate the yeast.
Melt the butter first so it has time to cool slightly before adding it to the dough. Activate the yeast by sprinkling it over a small bowl of warm milk mixed with a teaspoon of sugar. Let the mixture stand for 10 minutes or until foamy. If using instant yeast, you can skip this step.
Combine ingredients and knead.
Use a stand mixer fitted with a dough hook to mix together all ingredients until the dough forms and becomes smooth and elastic. This dough isn't too difficult to work with, so you can also knead it with your hands if you prefer.
First rise.
Place the dough in a greased bowl and cover. Set aside in a warm space until it doubles in size. This will generally take between 1.5-2 hours, but can take longer.
Shape and second rise.
Divide the dough into 18 balls. Flatten each into a disc, fill with your choice of filling and pinch to close. Place the buns in a greased tin, cover and let rest in a warm space for 30 minutes.
Bake!
Preheat your oven to 350°F (180°C) and bake for 25-30 minutes or until lightly golden. Allow to cool and dust with powdered sugar before serving.
Choosing Your Filling
Now the fun part: choose your own adventure! The most common fillings for Czech buchty are plum jam, poppy seed filling and tvaroh (farmer's cheese), but here are some other great options:
Fruit jam or preserves: Cherry preserves are our favorite option, but apricot, raspberry and strawberry would all work well. Just make sure the consistency isn't too runny.
Cream cheese: Mix with sugar and a bit of vanilla extract for the perfect amount of sweetness!
Pie filling: Canned pie filling is a great choice! Poppy seed pie filling is perfect for this recipe, but apple and cherry pie fillings are also great options.
Nutella: Not at all traditional, but incredibly delicious! If going with nutella, we suggest using almond extract instead of vanilla and switching out the lemon zest for orange zest.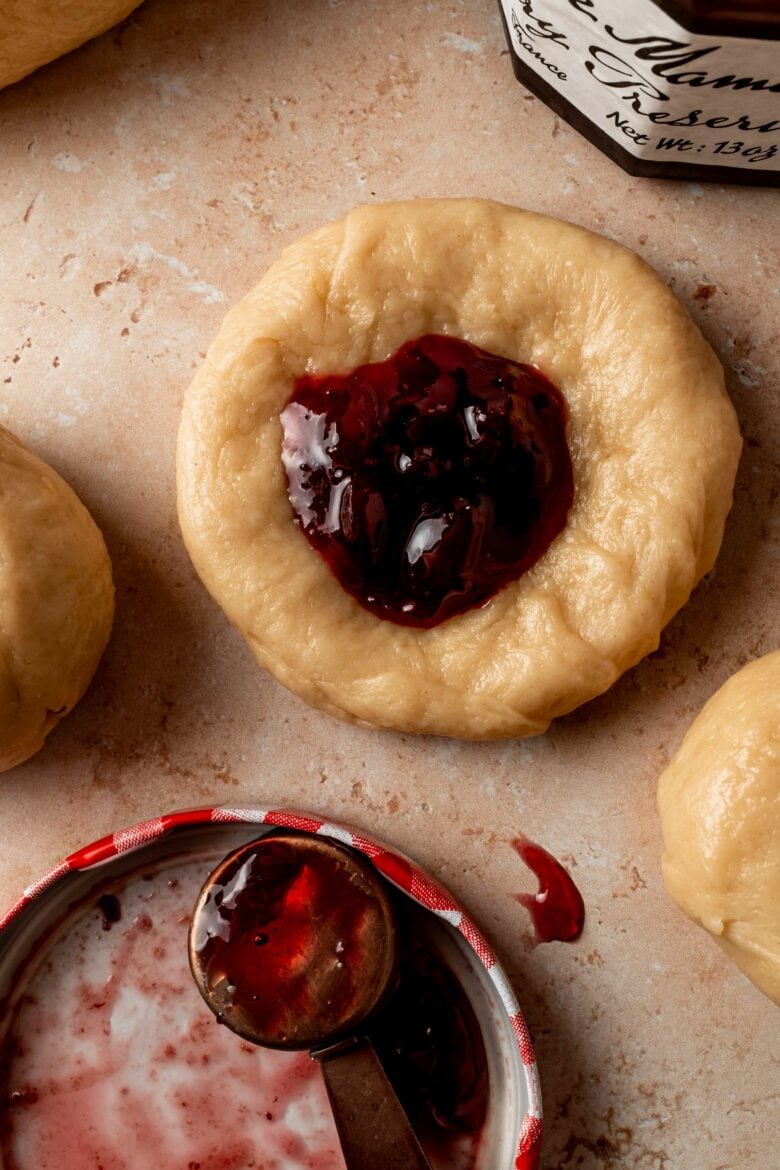 Baking the Buchty
I bake the buchty in two 8-inch (20 cm) round tins. Each pan holds nine buchty. You could also bake them all together in a 9×13-inch (23×33 cm) cake pan.
Lightly grease your pan with butter or a bit of vegetable oil. Arrange the buchty so that they're barely touching each other. The buns will rise into one another in the oven, but will be easy to pull apart after baking.
Bake the buchty at 350°F (180°C) for about 25 minutes or until lightly golden on the top. If you're unsure, you can use an instant read thermometer to check the temperature. It should be at about 190°F (88°C). This method isn't foolproof with buchty as it can be difficult to make sure you're registering the temperature of the bread and not the jam.
Expert Tips and Tricks
Make sure the yeast is active. Dissolve a teaspoon of sugar in warm milk and sprinkle the yeast over the top. Make sure the yeast becomes foamy, which will mean it is active and ready to use. If there are no signs of activity, the yeast may be expired or inactive.
Measure the flour with a kitchen scale. It's easy to overmeasure flour when using measuring cups, which can affect the texture of your dough. Use a kitchen scale for consistent results.
Allow enough time to rise. This dough is quite heavy and may require more than 1.5 hours to double in size depending on how warm or cold your house is.
Use a thick filling. Stay away from anything too liquidy, as it may seep out during baking.
Baking times can vary. Baking time can vary depending on the size of your buns and baking pans. The buns are ready when they are lightly golden. When you gently press the baked buchty, they should spring back without leaving an indentation. If using an instant read thermometer, the temperature of the fully baked dough should be at about 190°F (88°C).
Buchty: FAQs
How long does the dough need to rise?
The dough will need 1.5-2 hours for the first rise or until the dough doubles in size. Because the dough is quite heavy, it may take a bit longer for the dough to double in size in cooler environments. The second rise after the buns are formed will take 30 minutes.
Why didn't my buns rise?
The most common culprit is expired or inactive yeast. Dissolving the yeast in liquid that is too hot can also kill the yeast.
What types of filling can I use?
Plum jam, tvaroh (farmer's cheese) and poppy seed are classic fillings. We also like cherry preserves, but other jams and spreads (like nutella!) would be great options.
Can I freeze these buns?
Yes! You can store the baked buns in an airtight container in the freezer for up to three months. Thaw in the refrigerator or at room temperature before reheating as desired.
For more czech recipe inspiration, make sure to check out these posts!
Print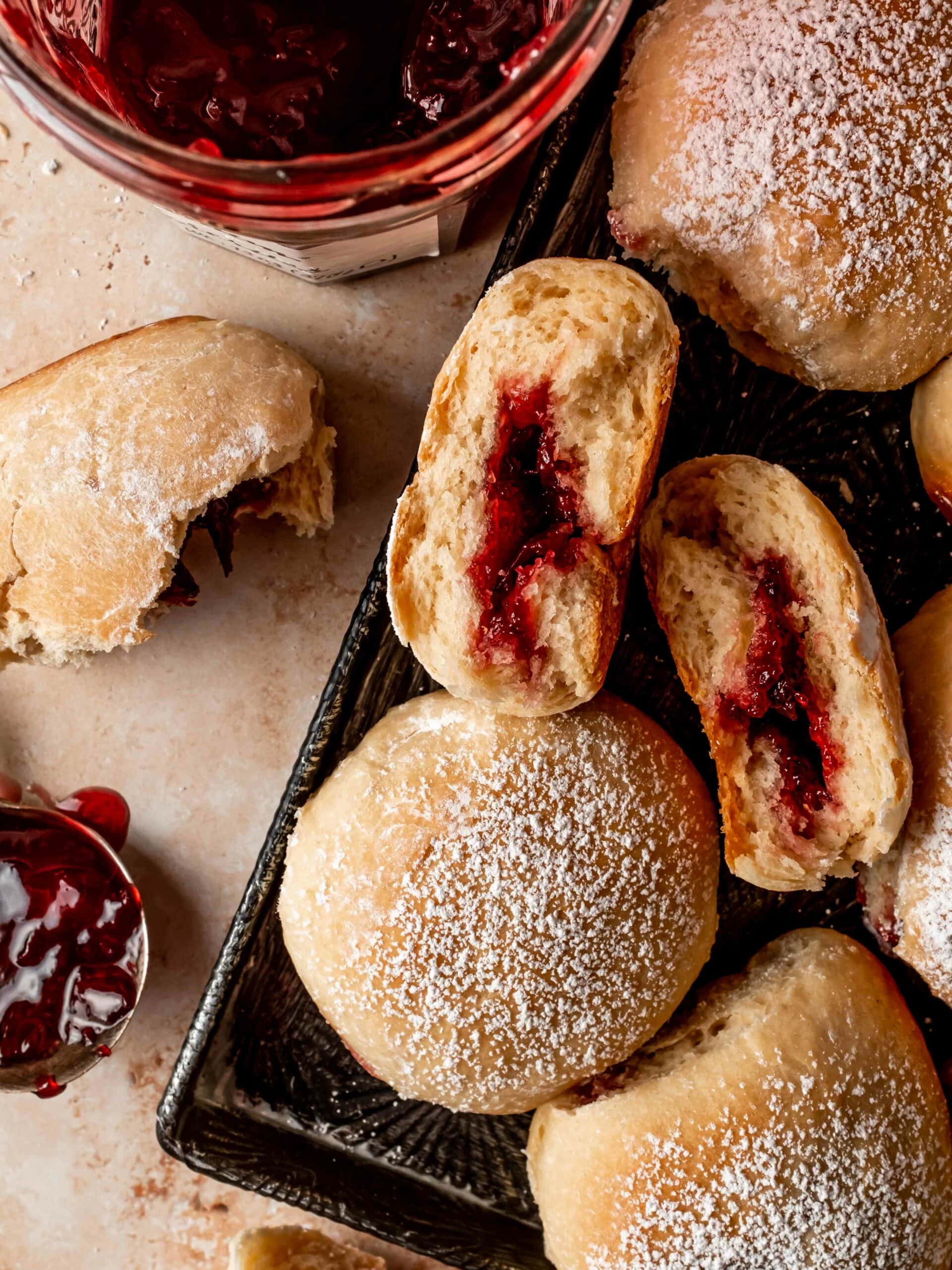 Buchty | Sweet Filled Buns
---
Author:

Brittney

Total Time:

3 hours 25 minutes

Yield:

18

Prep Time:

30 minutes

Proofing Time:

2 hours 30 minutes

Cook Time:

25 minutes

Category:

dessert

Method:

baking

Cuisine:

czech
1 cup

(

240

ml) warm milk, divided

½ cup (100 grams) + 1 teaspoon granulated sugar

4 cups (500 grams) all purpose flour, spooned & leveled*

½ teaspoon kosher salt

½ cup (113 grams) unsalted butter, melted and slightly cooled

3 large egg yolks

1 teaspoon vanilla extract

grated lemon zest from 1 lemon

⅔ cup

(

200 grams

) cherry preserves (or your favorite jam or preserves)

powdered sugar for dusting
---
Instructions
Activate the yeast. Combine ¼ cup (60 ml) warm milk with 1 teaspoon sugar in a small bowl. Sprinkle in the active dry yeast. Set aside for 10 minutes or until foamy.

Make the dough. Mix together the flour, sugar and salt in the large mixing bowl of a stand mixer fitted with a dough hook.

Pour the foamy yeast mixture into the dry ingredients. Add the remaining milk, melted butter, egg yolks, vanilla extract and lemon zest.

Mix the dough on low speed until it begins to come together. Increase the speed to medium and continue mixing 8-10 minutes or until the dough is smooth and elastic. Alternatively, turn the dough out onto your work surface and knead with your hands until smooth and elastic.

First rise. Shape the dough into a ball and place in a greased bowl. Cover and set aside in a warm space for 1.5-2 hours or until it doubles in size.

Fill and shape the buns. Once the dough has doubled in size, punch it down several times with your hands. Divide into 18 pieces (each piece will be about 55 grams).

Roll each piece of dough into a ball and then flatten into a disc. Fill with ½ tablespoon of jam and pinch together the edges to reform into a ball.

Second rise. Arrange the buns in two lightly greased 8-inch (20 cm) round pans.* Cover and set aside in a warm space for 30 minutes.

Bake. Preheat the oven to 350°F (180°C). Bake for 25-30 minutes or until golden brown.

Allow to cool completely and lightly dust with powdered sugar before serving.
Notes
Substitute instant yeast. You can use 1 3/4 teaspoons (5 grams) of instant yeast in place of active dry yeast. Skip the first step and add the yeast and entire amount of milk directly to the dry ingredients. Dough made with instant yeast may rise more quickly.
Measuring flour: We highly recommend using a kitchen scale to measure flour. If measuring by volume, use the spoon and level method to avoid over-measuring the flour. Lightly spoon flour into the measuring cup until it's completely full. Then run the back of a knife over the cup to gently scrape off any excess.
Pan size: You can use two 8-inch (20 cm) round pans or one 9×13-inch (23×33 cm) pan.
Storing: Cover and store at room temperature for several days or in the refrigerator for up to 1 week. Baked buns can be frozen for up to 3 months.
Keywords: buchty, czech buns
This post may contain affiliate links through which we may earn a small commission at no additional cost to you. We only recommend products that we genuinely love and would use ourselves.