This easy dragon fruit salad makes for a refreshing snack or light dessert! The vibrant medley of fresh berries and tropical dragon fruit is sure to be the life of the party at your next picnic or summer gathering!
We're taking fruit salad to the next level with the addition of sweet dragon fruit! Its crisp flesh is juicy and dotted with little black seeds, providing a wonderful contrast of color and texture to any fruit salad. Our dragon fruit salad features fresh berries and an easy mint and lime dressing for a refreshing summertime twist!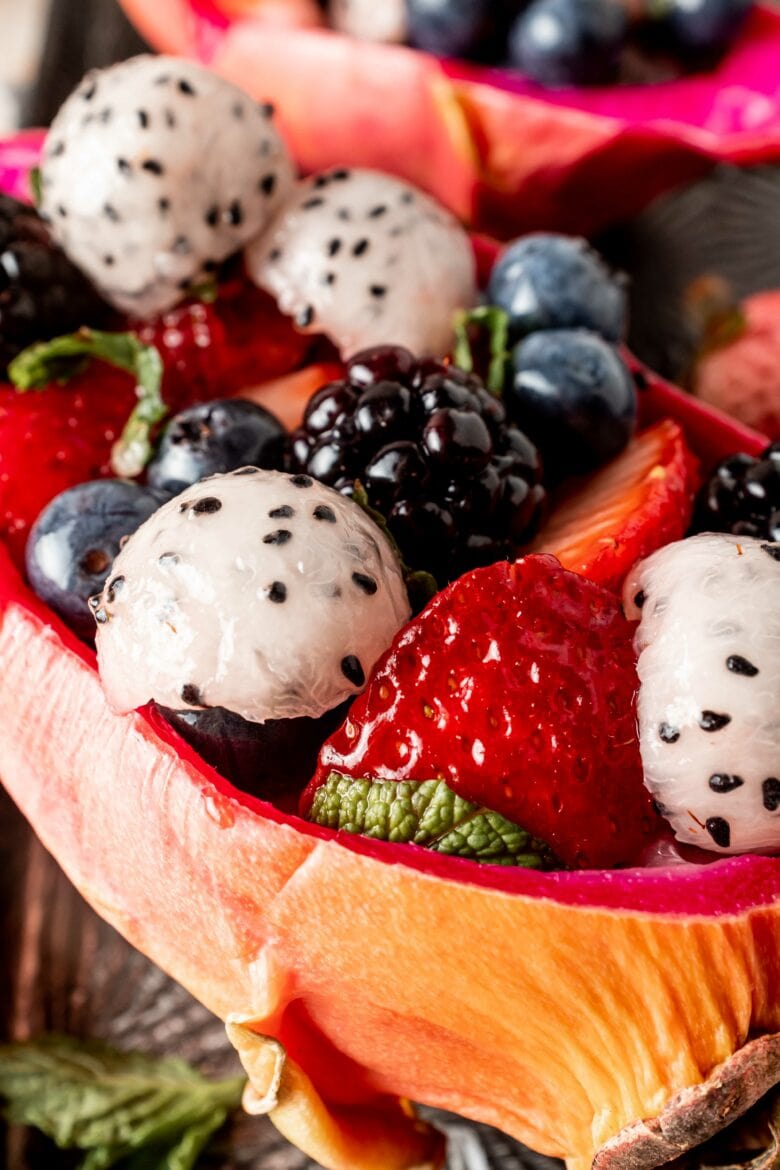 Using Dragon Fruit in Fruit Salad
Also known as pitaya, dragon fruit is a tropical fruit produced by several cactus species native to Central and South America. It's characterized by its vibrant skin and green "scales."
Dragon fruit can be found in numerous varieties. White dragon fruit, the variety pictured in our dragon fruit salad photos, has a bright pink peel and white flesh. Red dragon fruit has the same bright pink peel, but the inside ranges from light pink to vibrant pink. And yellow dragon fruit has a yellow exterior with white flesh.
What Does Dragon Fruit Taste Like?
While both sweet and sour varieties of dragon fruit exist, you'll likely only come across the sweet variety in the States. Its flavor is often described as a cross between kiwi and pear with subtle floral undertones.
The most common variety with pink skin and white flesh has the mildest flavor. Dragon fruit with pink skin and pink or red flesh tends to be slightly sweeter and yellow dragon fruit is the sweetest variety. Any of these varieties will work well in this dragon fruit salad.
Choosing Dragon Fruit
When choosing dragon fruit, you should stay away from anything green, which will be underripe. The skin should be a vibrant pink (or yellow, depending on the variety) and uniformly colored. The dragon fruit should be slightly soft to the touch, but not at all mushy for this dragon fruit salad.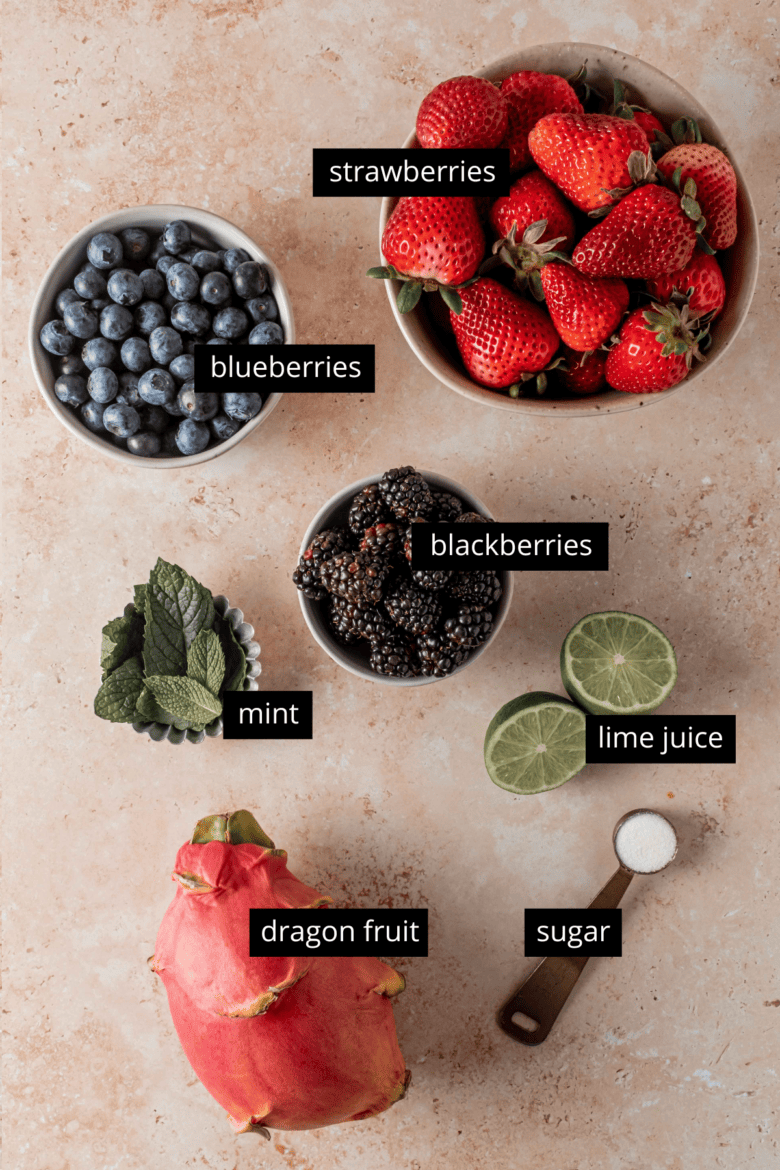 How to Cut Dragon Fruit
Dragon fruit may look intimidating, but it's surprisingly easy to cut! Start by slicing down the middle lengthwise and then choose one of these methods for your dragon fruit salad:
Spheres: Use a melon baller to scoop out the flesh into small spheres.
Slices or cubes: Use your fingers to peel the skin away (this is easier to do when the dragon fruit is quartered). Cut into small slices or cubes.
Dragon fruit will lose some of its crisp texture after cutting, so we recommend preparing it not long before serving.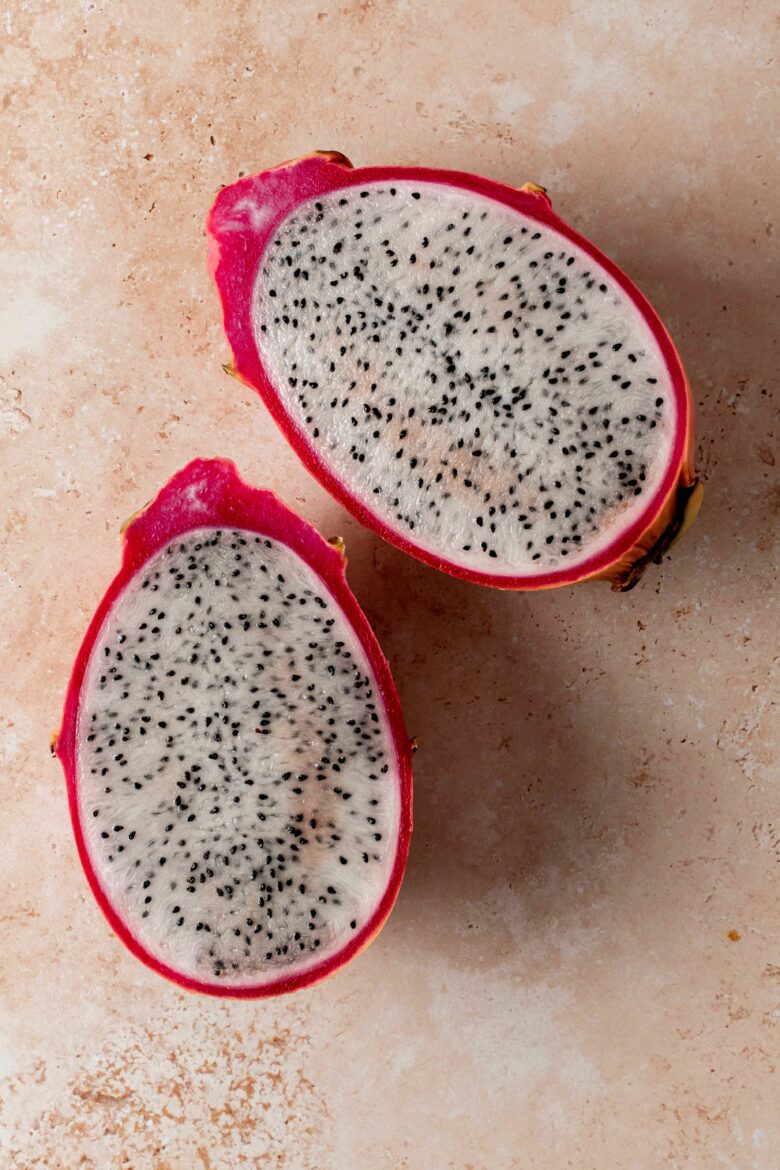 The Berries
Now let's get to the rest of the fruit for this dragon fruit salad! For a vibrant presentation and bright taste, I opted for a mixture of fresh berries. They add both sweet and tart flavors for a perfectly refreshing and balanced blend. An added bonus? Blueberries and blackberries don't need to be cut!
I used a mix of strawberries, blueberries and blackberries. Raspberries and cherries would also make great additions or substitutions.
Mix it up!
Here are two of our favorite fruit salads where dragon fruit would make an excellent addition:
Melon Salad: Use a melon baller to scoop spheres of watermelon, honeydew and cantaloupe.
Tropical Fruit Salad: Think kiwi, pineapple and mango!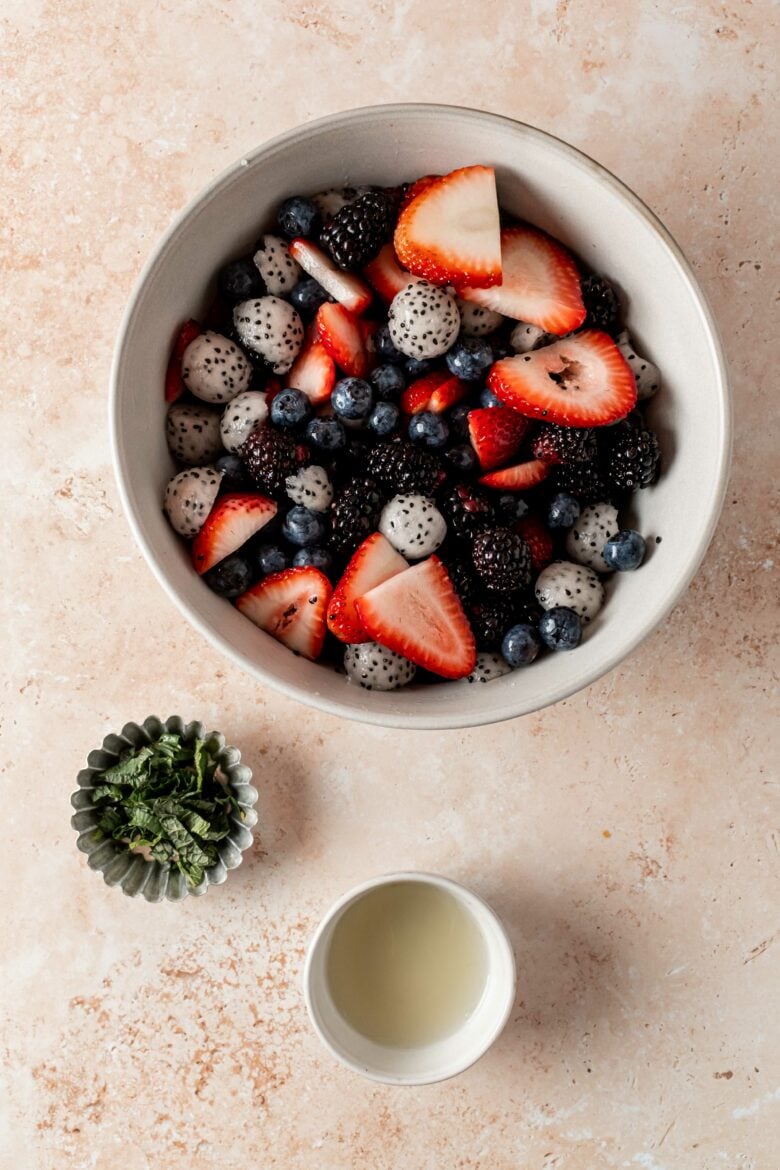 Mint + Lime Dressing
With perfectly ripe and juicy fruit, you don't need much in the way of dressing. For this dragon fruit salad, we go for a simple blend of chopped mint leaves, fresh lime juice and a pinch of sugar.
With so much sweetness from the fruit, do you really need to add sugar? In our humble opinion, yes! It's only a few teaspoons and helps to extract juice and soften the fruit. The flavors meld together into a well-balanced and cohesive salad!
If you're not a huge mint person, you can feel free to leave it out or mix in some lime zest for additional flavor.
Dragon Fruit Salad: FAQs
How do I choose dragon fruit?
Avoid green dragon fruit, which will be underripe. Look for dragon fruit with an evenly-colored peel: either vibrant pink or yellow depending on the variety. When touched, the fruit should be slightly soft but not overly mushy.
Can I make this fruit salad ahead of time?
You can prepare the fruit and dressing one day in advance, but we recommend adding the dressing just 30 minutes before serving for best results. Also keep in mind that dragon fruit can lose some of its crispness after cut, so you may want to add it to your salad on the day of serving.
How do I store leftovers?
Leftover fruit salad can be stored covered in the refrigerator for several days. The fruit will soften, but it makes an excellent topping for waffles and pancakes and is wonderful stirred into yogurt!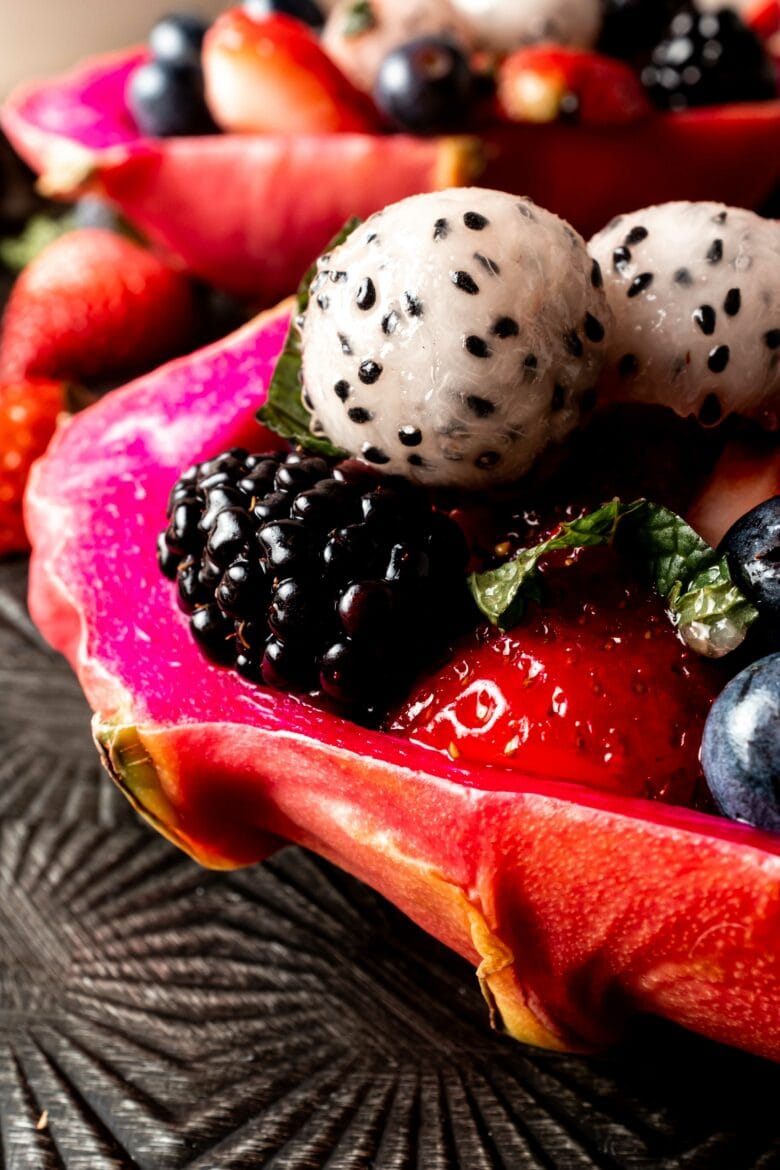 For more of our favorite fruit-forward dishes, make sure to check out these recipes!
Print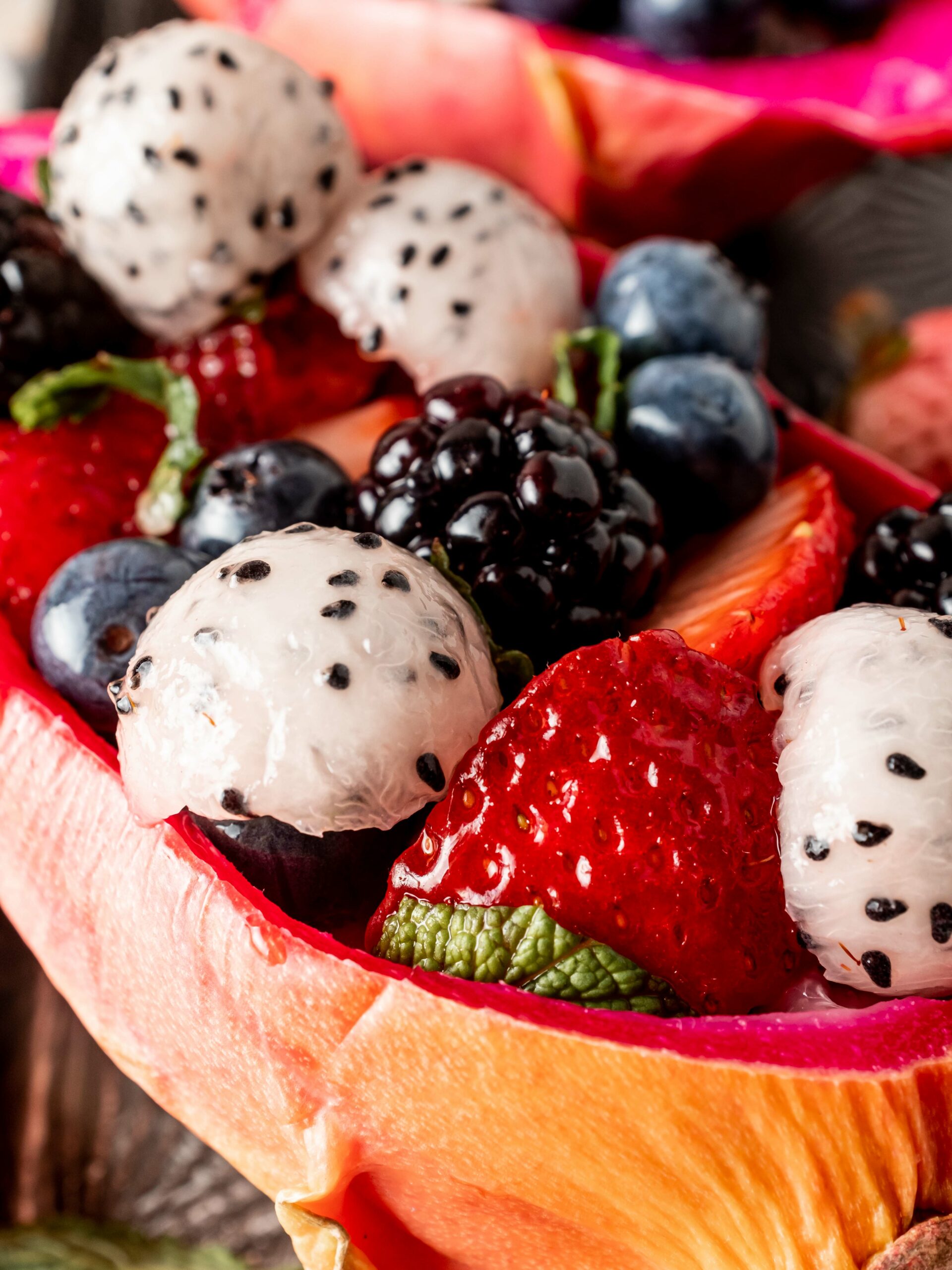 Easy Dragon Fruit Salad with Berries
---
Author:

Prep Time:

10 minutes

Total Time:

10 minutes

Yield:

8
Description
Add a refreshing and vibrant touch to your next summer gathering or picnic with this easy dragon fruit salad, featuring fresh berries and a citrusy mint dressing!
---
dragon fruit

1 whole

strawberries, sliced

16 oz (450 g)

blueberries

6 oz (170 g)

blackberries

6 oz (170 g)

fresh mint, chopped

10 leaves

fresh lime juice

¼ c (60 ml)

granulated sugar

2 tsp
---
Instructions
Cut the dragon fruit in half. Use a melon baller to scoop out balls.* Reserve the peels for serving if desired.
Combine the dragon fruit, sliced strawberries, blueberries, blackberries and chopped mint in a large bowl.
Whisk together the lime juice and sugar. Pour over the salad and gently toss to coat.
Notes
Make ahead: Pour the lime juice mixture over the salad 30 minutes to 1 hour before serving for best results.
Cutting dragon fruit: If you don't have a melon baller, you can peel the skin off the dragon fruit. Then use a knife to thinly slice or roughly chop.
Storing: Fruit salad can be stored covered in the refrigerator for 1-2 days, but is best enjoyed soon after adding the dressing.
Category:

dessert

Method:

no bake

Cuisine:

global
Keywords: dragon fruit salad
This post may contain affiliate links through which we may earn a small commission at no additional cost to you. We only recommend products that we genuinely love and would use ourselves.