These mouthwatering oven-baked St. Louis ribs are almost ridiculously easy to make. This recipe includes an easy homemade rub and tips to get tender, juicy ribs in the oven every single time!
Making St. Louis ribs in the oven is as easy as it gets. We start with our favorite dry rub — the perfect blend of sweet and savory with a little heat. We cook the ribs low and slow for maximum tenderness. And then we finish them off with a bit of barbecue sauce and a blast of high heat for perfect caramelization!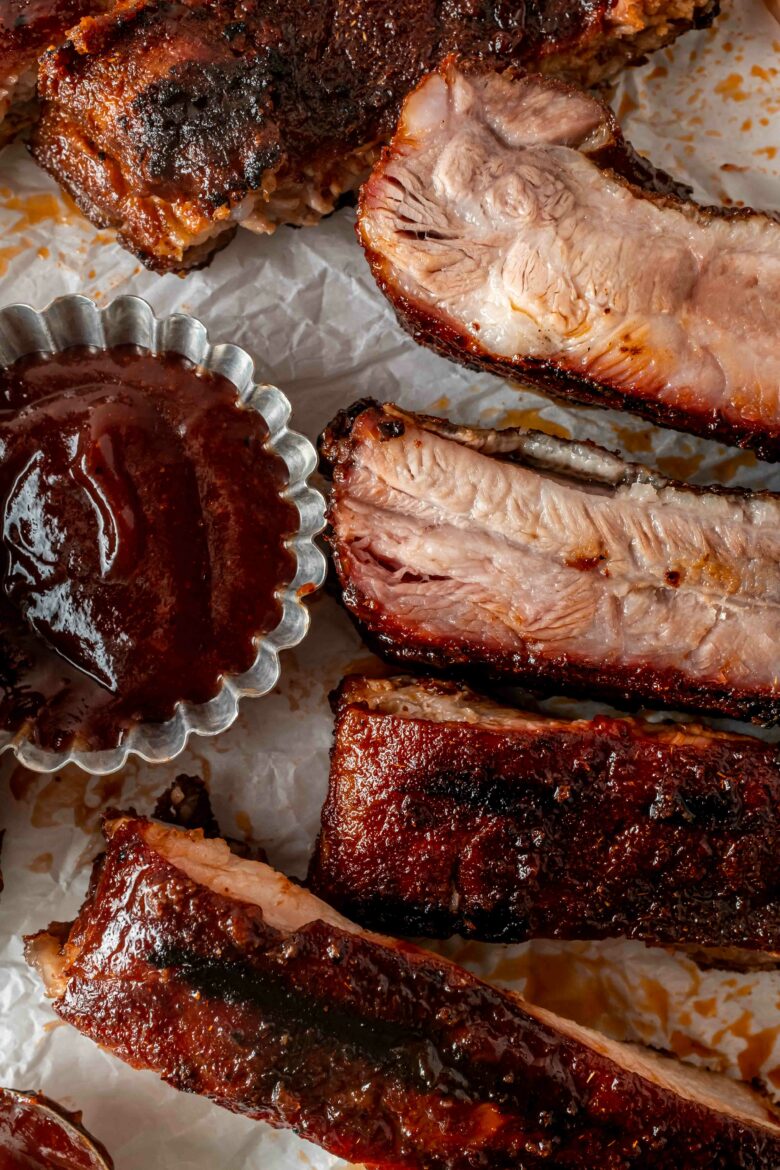 What are St. Louis Style Ribs?
There are two types of pork ribs:
Baby back ribs come from the top of the rib cage. They're shorter, more tender and leaner. They're also more expensive.
Spare ribs are cut from the bottom of the rib cage. They're larger, have more meat between the bone and more marbling, which equals more flavor!
But then what are St. Louis ribs? St. Louis ribs are just spare ribs that have been trimmed of the tips (which consist primarily of cartilage) and the extra flap of meat at the end. Cutting the ribs into a uniform shape makes them easier to cook and eat.
Prepping the Ribs
To prep the ribs you'll start by removing the membrane or silverskin, which is just the thin layer on the backside of the ribs. It's completely edible, but can have an unpleasant papery texture when cooked.
Use a knife to gently remove a corner of the membrane and then just use your hands to peel it off. It can be slippery, so you can also use a paper towel for better grip if needed.
But don't stress if you can't find it — some stores will sell ribs with the membrane already removed. For more information on removing the membrane, check out this article.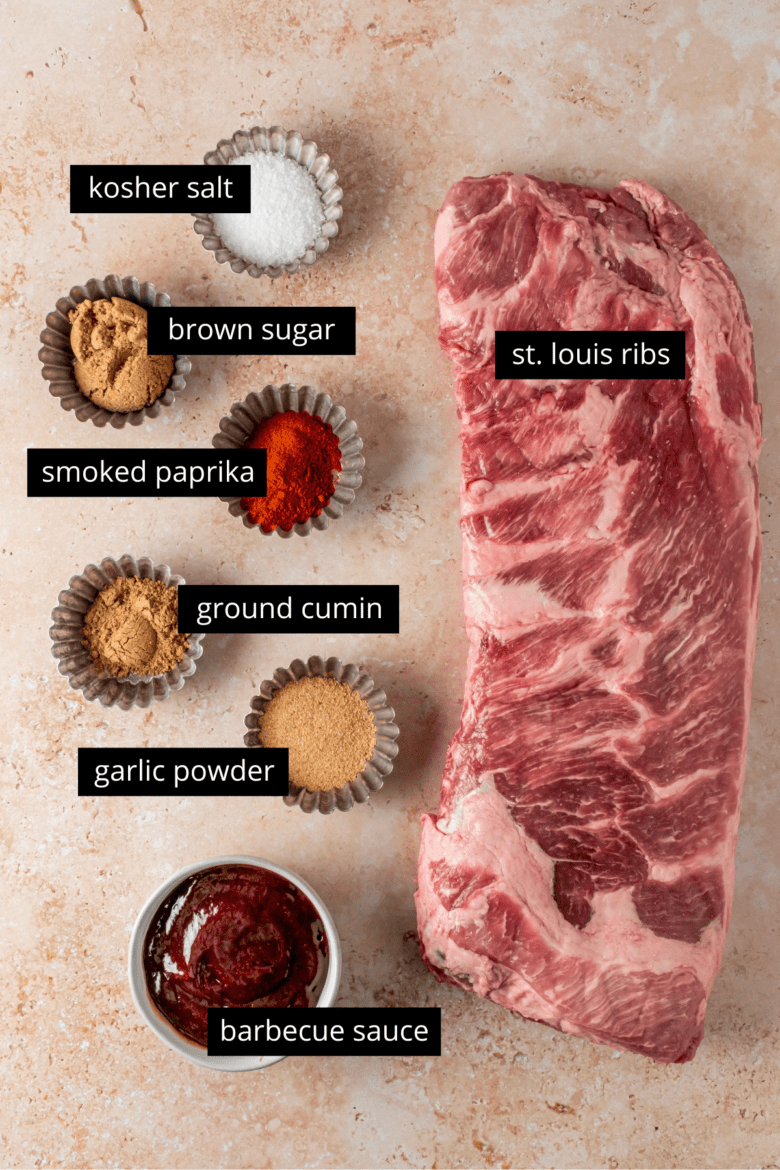 The Dry Rub
Our ideal dry rub for ribs is the perfect balance of sweet and smoky with a bit of spice! Here's what you'll need:
Kosher Salt: The coarse texture makes it perfect for sprinkling and less likely to clump together.
Brown Sugar: The sugar provides a little sweetness and helps with caramelization of the bark.
Smoked Paprika: Make sure you're using a good-quality smoked paprika (I prefer a spicy version) for an intense smoky flavor. Regular paprika just won't cut it for this recipe.
Ground Cumin: Cumin pairs extremely well with pork and adds a deep savory note to our rub.
Garlic Powder: Or feel free to substitute granulated garlic, in which case I would double the amount.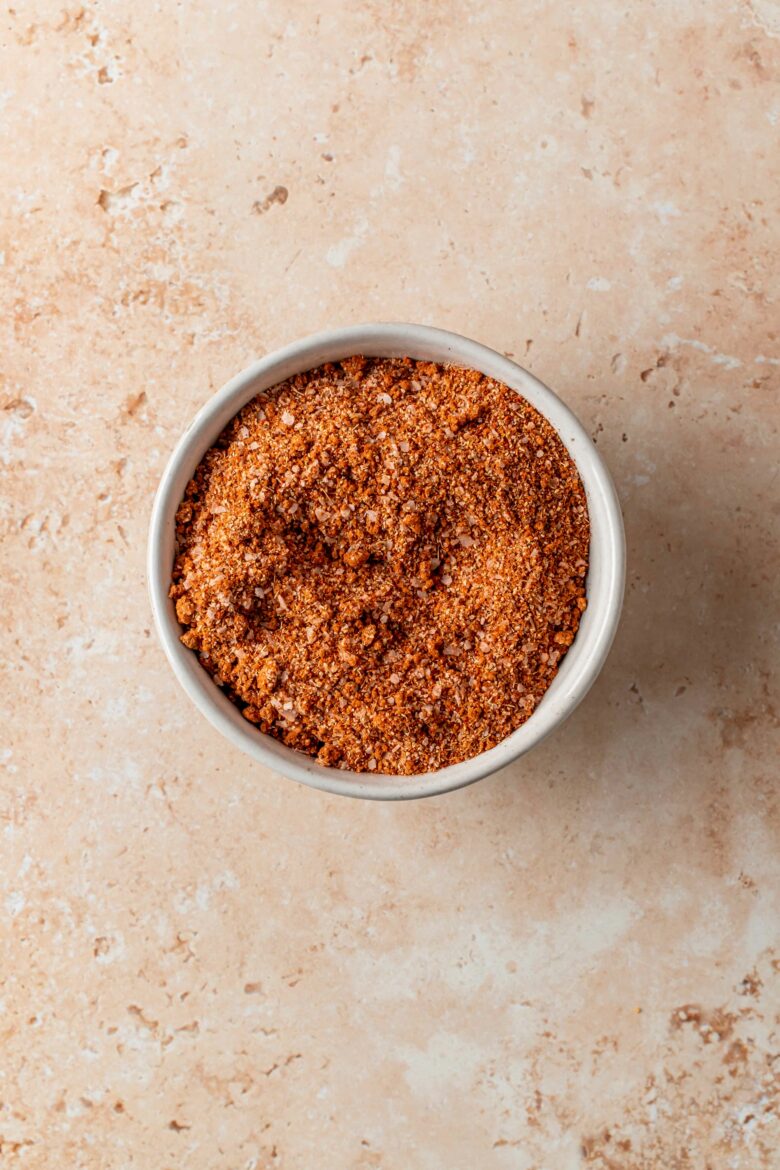 Oven-Baked Ribs
We cook the ribs in two steps to achieve tender, juicy perfection:
Tightly wrap the ribs in foil. Cook for 2 hours at 250°F (120°C).
Unwrap the ribs. Continue cooking for 1.5-2 hours or until tender.
The first step traps steam, which creates tender ribs while keeping them moist. But it also prevents a nice bark from forming. Which is why we cook the ribs unwrapped for the final hour or two.
The Finish
To get the perfect bark (the crispy layer of spices that forms on the outside of the ribs), we like to baste with barbecue sauce and finish with high heat for a bit of delicious caramelization. You can do this with a grill or by placing the ribs under the broiler for 5-10 minutes.
Both methods will give you perfectly tender ribs with a nice bark, but I definitely prefer finishing our oven-baked St. Louis ribs on the grill. It gives the meat a beautifully caramelized exterior with a bit of delicious charring.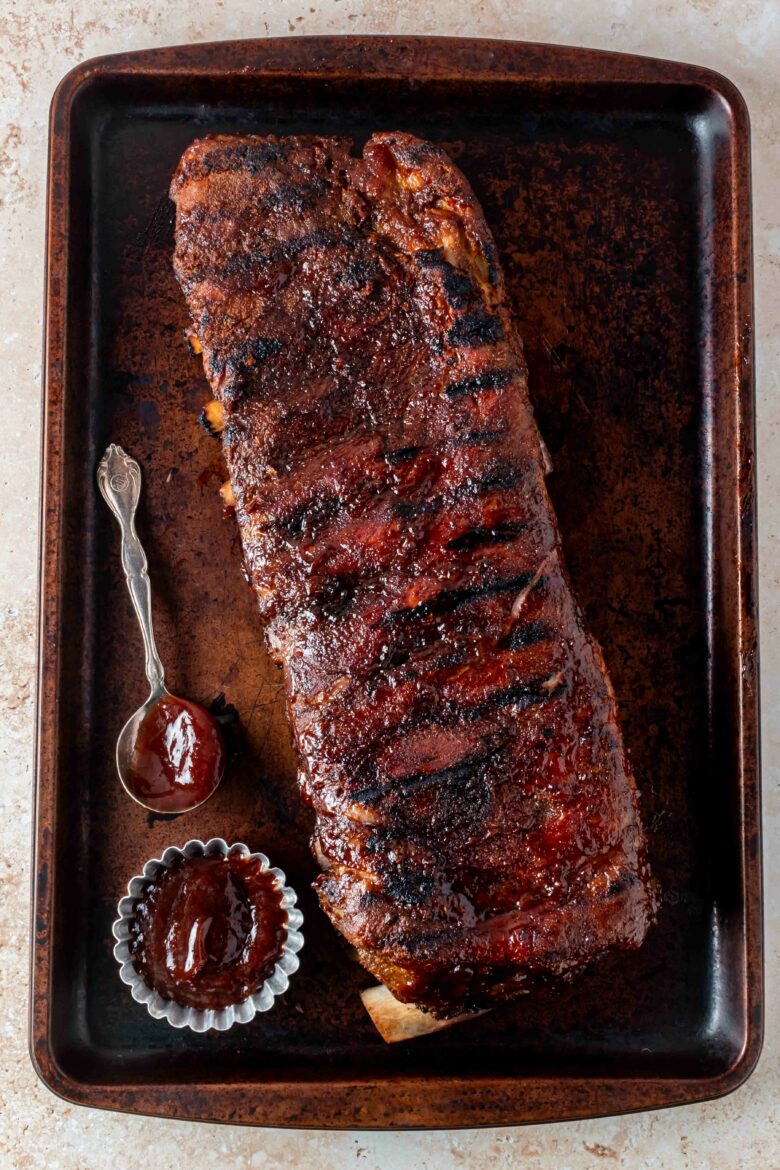 Oven-Baked St. Louis Ribs: FAQs
How do I store leftover ribs?
Leftover ribs can be stored in an airtight container in the fridge for up to 4 days.
How do I reheat oven-baked ribs?
These ribs are best reheated in the oven. Cover with foil and bake at 275°F (135°C) until heated through.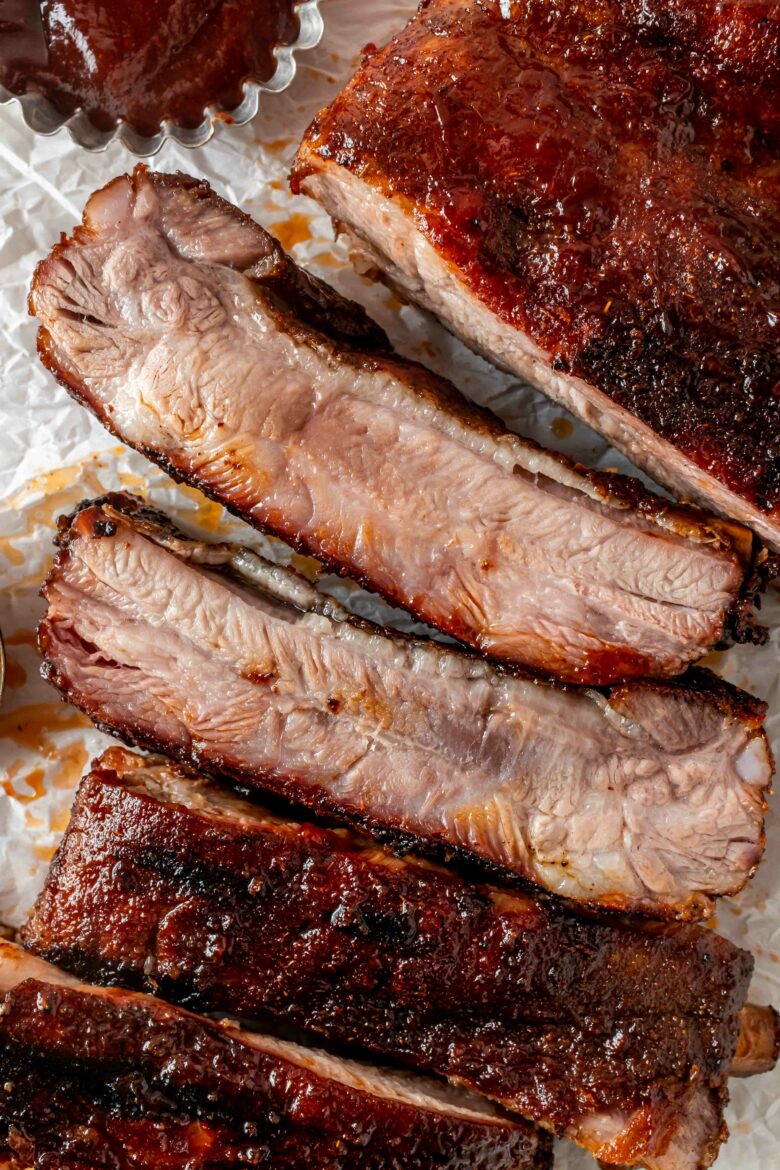 And if you're looking for more meaty mains, make sure to check out these favorites:
Print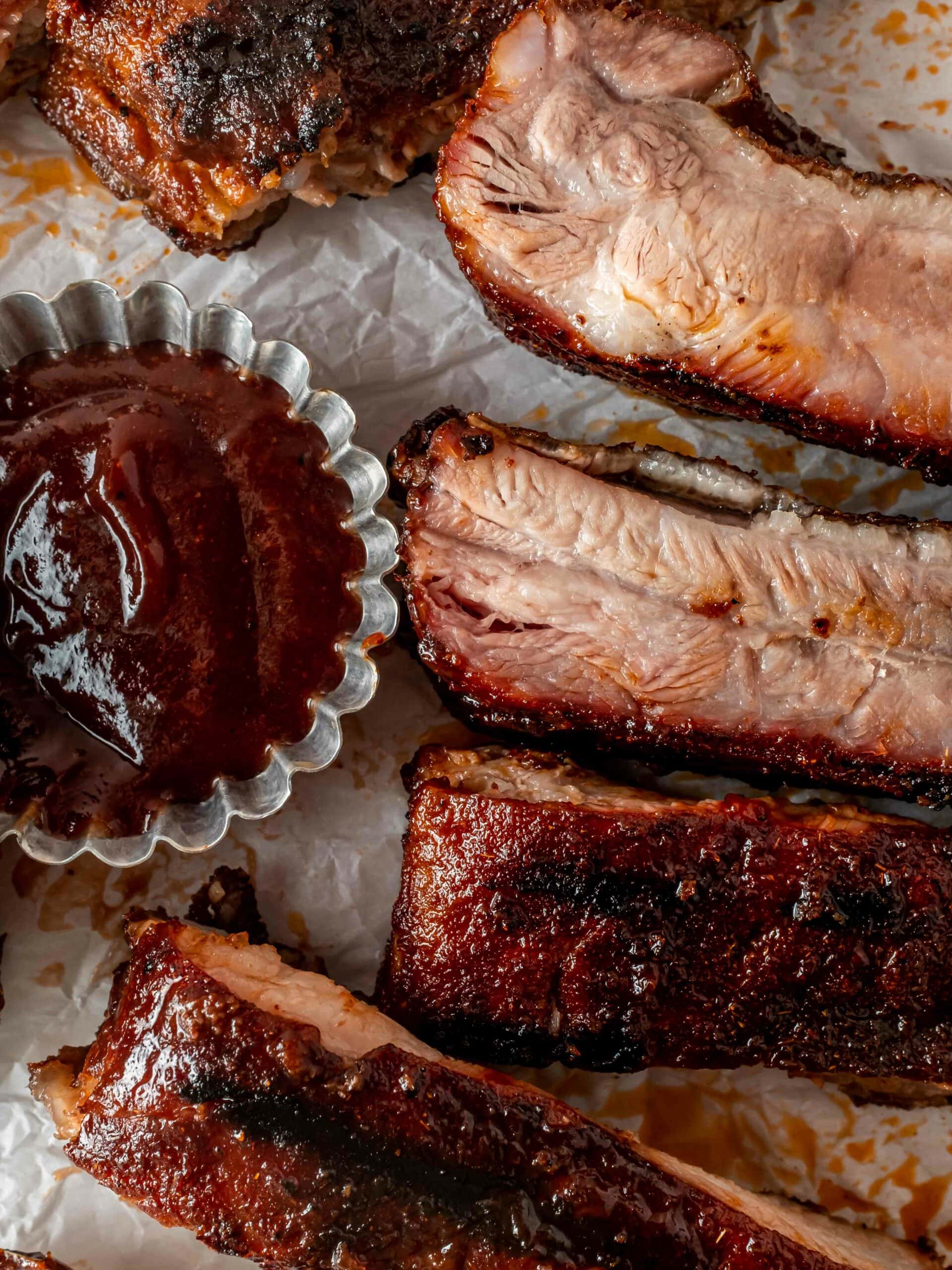 St. Louis Ribs in Oven
---
Author:

Prep Time:

10 minutes

Marinating Time:

2 hours

Cook Time:

4 hours

Total Time:

6 hours 10 minutes

Yield:

2
Description
This recipe for St. Louis ribs in the oven includes an easy homemade rub and tips to get tender, juicy ribs every single time!
st. louis style ribs

1 slab

(2.5-3 lbs / 1 kg)

kosher salt

1.5 tbsp

brown sugar

1.5 tbsp

smoked paprika

1 tbsp

ground cumin

1 tbsp

garlic powder

1 tbsp

barbecue sauce

¼ c (70 g)

(plus additional for serving)
---
Instructions
Oven-Baked Ribs
Peel the membrane off the back of the ribs. Pat the ribs dry.

In a small bowl, combine the salt, brown sugar, smoked paprika, cumin and garlic powder. Rub the spice mixture into all sides of the ribs. Wrap in plastic wrap and refrigerate for at least 2 hours and up to overnight.

Preheat oven to 250°F (120°C).

Wrap the rack of ribs in foil, sealing tightly. Place on a rimmed pan and cook for 2 hours.

Discard the foil and place the ribs back on the pan meat side up. Continue cooking for 1.5-2 hours or until the ribs are tender.
Finishing the Ribs
Option 1: Grill (our preferred method). Preheat the grill to medium-high heat (400°F / 200°C). Place the ribs on the grill and cook 5 minutes per side or until slightly charred. Baste with barbecue sauce every few minutes.
Option 2: Broil. Change the oven setting to broil. Generously brush the ribs with barbecue sauce. Broil for 5 minutes or until the barbecue sauce is bubbling and the ribs are lightly caramelized.
Notes
Storing: Leftover ribs can be stored in the refrigerator for up to 4 days.
Category:

dinner

Method:

baking

Cuisine:

american
Keywords: St. Louis Ribs in Oven, Oven Baked St. Louis Ribs
This post may contain affiliate links through which we may earn a small commission at no additional cost to you. We only recommend products that we genuinely love and would use ourselves.