These homemade falafel with fresh herbs and delicious spices are bursting with flavor and easy to make! Serve your crispy falafel with warm pita, fresh veggies and our super easy spicy tahini sauce!
Falafel, which most likely originated in Egypt, are made with ground chickpeas and a mixture of fragrant herbs and spices. In addition to being one of our favorite late night snacks, the popular Middle Eastern street food has become a staple in our kitchen when we're looking to add a little vegetarian protein to dinner at home. And they're so easy to make — after soaking your chickpeas overnight, these homemade falafel come together very quickly!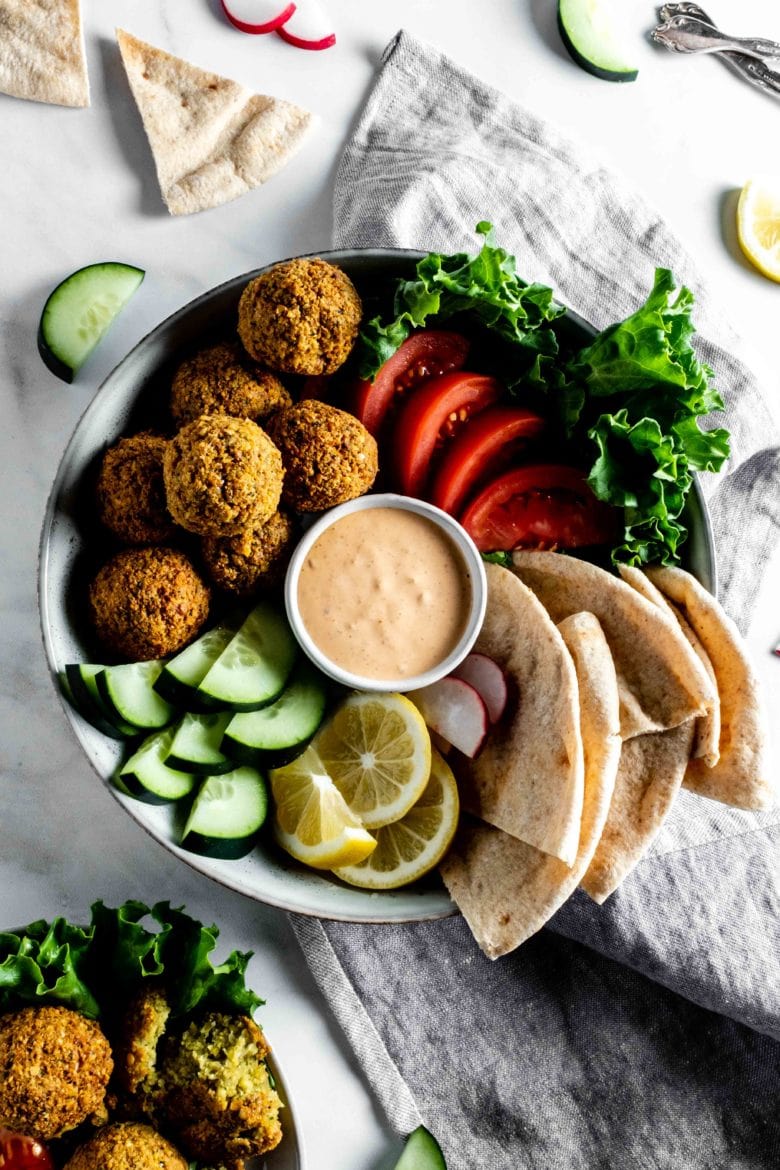 preparing the dough
To prepare the dough, start by soaking your chickpeas in cold water for at least 12 hours. The chickpeas will expand considerably, so be sure to use a large bowl and cover them with a good amount of water so that they stay full submerged. Also make sure that you're using dried chickpeas; canned chickpeas have already been cooked and won't give you the texture needed for this recipe!
Once your chickpeas are soft, drain them and place them in a food processor along with the rest of the ingredients. In addition to the spices and herbs, I also add a few tablespoons of flour to help bind the mixture together. While using too much flour can make your falafel too dense, I find that two or three tablespoons is just about the perfect compromise. And to counteract any issues with density, I usually add in a teaspoon of baking powder, which ensures that the insides of our falafel remain light and airy.
When it comes to processing the mixture, you want the consistency to be coarse and almost paste-like. If your chickpea mixture isn't forming easily into a ball, you might need to process it a bit more. Just make sure the mixture isn't too fine or it will lose the characteristic falafel texture!
forming and frying falafel
Once your dough is the right consistency, you can start forming the falafel into balls. I usually roll them out with my hands, but a cookie scoop would also work well here. If the dough appears too crumbly when you're forming the falafel, try adding an extra tablespoon or two of flour. But as long as your falafel mostly hold together, they should keep their shape during frying.
To begin frying, heat approximately two inches (5 cm) of vegetable oil in a small pot over medium to medium-high heat. The temperature should be at around 350 F (180 C) or just a bit higher. If you don't have a thermometer, drop a bit of falafel dough into the pan. If it sizzles, you're ready to start frying!
Add a few falafel to the pot and cook for about five minutes total, turning occasionally to ensure they cook evenly. Make sure not to overcrowd the pot. If you add too many falafel at once, the temperature of the oil will reduce by too much and the falafel won't hold together as well. Remove the falafel with a slotted spoon to a paper towel lined plate to absorb any excess oil.
spicy tahini sauce
This spicy tahini sauce is super easy to whip up and very customizable. The base is made with tahini and water and it's flavored with just chili garlic sauce and a splash of soy sauce.
The amount of water you use will depend on how thick your tahini is so make sure to add more as needed. And while we use this chili garlic sauce, sriracha or really any other hot sauce would work well here too. Just make sure to start with a little and adjust to taste!
In addition to the spicy tahini sauce, we like to serve falafel with a range of veggies (tomatoes, lettuce, cucumbers and radishes) and toasted pita bread to make an entire meal. But they're also great served over hummus as a delicious appetizer!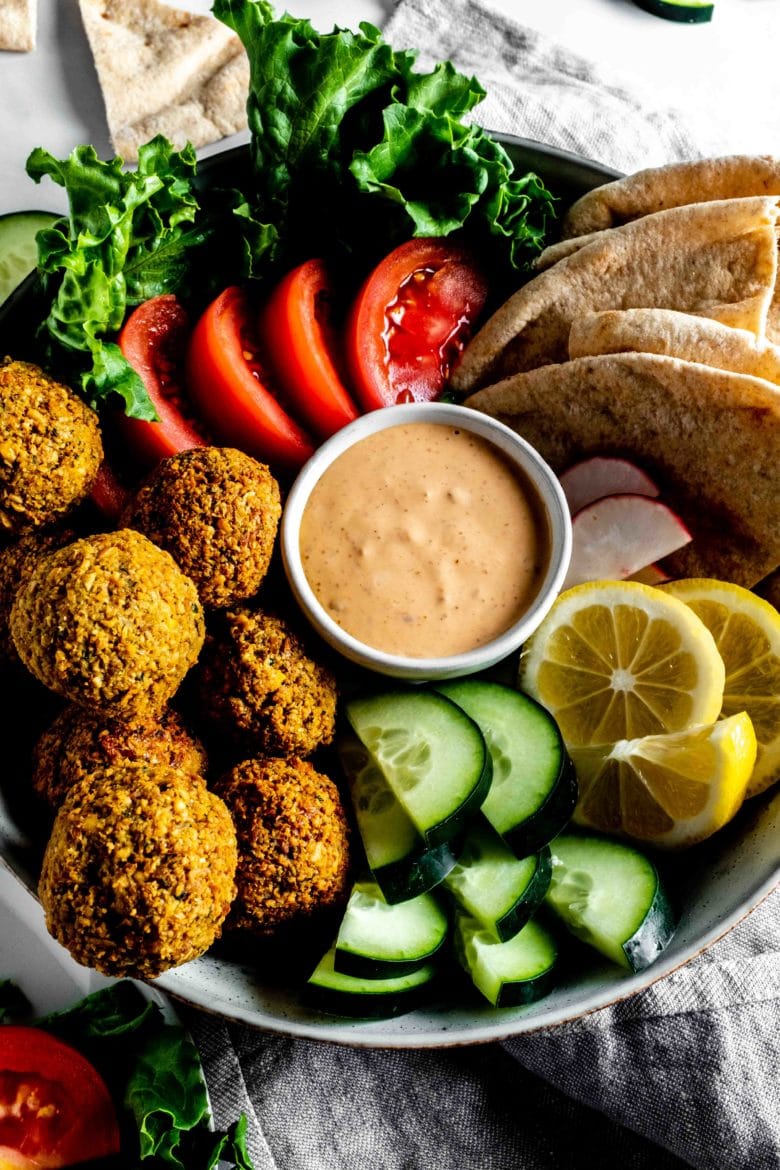 And if you're craving more crispy comfort foods, give these recipes a try!
Print
Falafel + Spicy Tahini Sauce
---
Author:

Brit Kapustina

Total Time:

50 minutes

Yield:

24 falafel

Prep Time:

30 minutes

Cook Time:

20 minutes

Category:

Dinner

Cuisine:

Middle Eastern
Falafel
1

pound (450 grams) dried chickpeas

½

bunch (40 grams) cilantro (leaves and thin stems)

2

green onions

3

cloves garlic

2

–

4

tablespoons (30-60 grams) all purpose flour

2 teaspoons

ground cumin

2 teaspoons

ground coriander

½ teaspoon

cayenne

1.5 teaspoons

kosher salt

1 teaspoon

baking powder

vegetable oil

for frying
Spicy Falafel Sauce
⅓ cup

(80 grams) tahini

¼ cup

(60 ml) water

1

–

2

tablespoons chili garlic sauce

1 teaspoon

s

oy sauce
---
Instructions
Falafel
Soak the chickpeas in cold water overnight or for at least 12 hours. Make sure to cover with enough water as they will expand considerably.
Drain and rinse the chickpeas and place in a food processor along with the rest of the falafel ingredients (except for the vegetable oil). Start with just two tablespoons of flour and add more if you find the dough won't hold together. Pulse until the mixture has a coarse, paste-like consistency.
Roll the chickpea mixture into approximately 24 small balls using about two tablespoons of dough for each.
 Fill a deep pot with approximately two inches of oil and heat over medium-high heat. You can drop a bit of the falafel dough into the pot to see if it's ready. If it sizzles, you're ready to start frying!
Making sure to work in batches so as not to reduce the temperature by too much, fry the falafel until golden brown on all sides (about four-five minutes total). Remove the falafel with a slotted spoon to a paper towel lined plate to absorb any excess oil.
Spicy Tahini Sauce
Starting with one tablespoon of chili garlic sauce, mix together all ingredients until combined. Add more chili garlic sauce to taste.
Keywords: spicy falafel sauce
This post may contain affiliate links through which we may earn a small commission at no additional cost to you. We only recommend products that we genuinely love and would use ourselves.