This vibrant arugula salad is packed full of sweet and savory deliciousness including slices of prosciutto, fresh pears and crunchy walnuts! Serve your salad with a drizzle of simply honey vinaigrette and topped with warm and crispy fried goat cheese!
This delicious fried goat cheese salad is the salad of my dreams. While the crispy goat cheese is the star of the show, this arugula salad also features fresh pears, crunchy walnuts and generous portions of savory prosciutto. It's a well balanced meal, yet hearty enough for dinner! And it's all topped with a simple honey vinaigrette that can be made using ingredients you most likely already have in your pantry.
This recipe started as a craving for smažený sýr or fried cheese, an incredibly popular dish in Czechia that is often served as a vegetarian option along with fries and tartar sauce — the preferred condiment of the nation. My first encounter with this Czech delicacy was at the pub beneath our apartment in Prague, where I ordered the four dollar lunch special: fried gouda with potatoes, fresh greens and (of course) tartar sauce. After that, the delicious smell of smažený sýr wafting up to our apartment would regularly draw me downstairs for a quick bite. One day, the promise and intrigue of a burger with fried cheese even brought me to McDonalds where I tried the cheese king — a seasonal menu item in Czechia — which consisted of a hamburger topped with smažený sýr, bacon AND cheese sauce. It was delicious and indulgent and possibly too much of a good thing, as I never returned to order it again.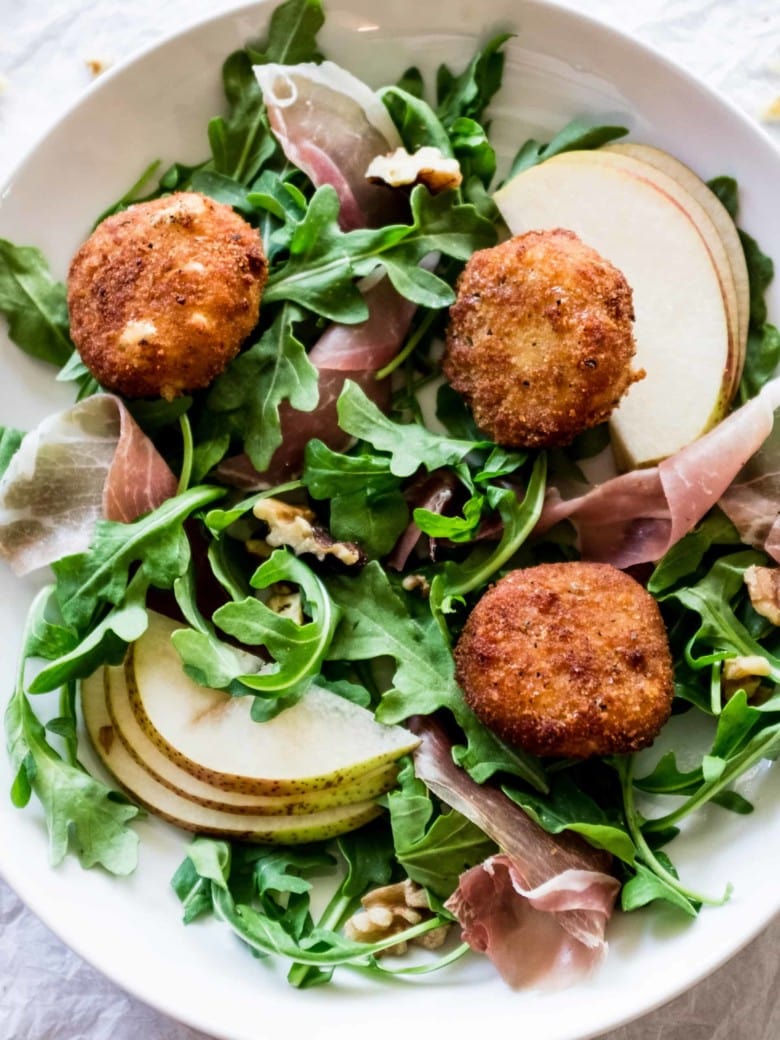 While smažený sýr is often made with semi-hard cheeses, it works just as well with goat cheese. I like to buy my goat cheese in log form and then put it in the freezer before cutting it into slices. While putting the log in the freezer makes it easier to cut, the goat cheese can get a bit crumbly. Luckily, it's easy enough just to press any pieces back together and mold the goat cheese into whichever form you prefer. Frying the goat cheese is also quick and easy and only takes about 30-60 seconds per side over medium-high heat. Make sure to remove the goat cheese with a slotted spoon as opposed to tongs, as the fried cheese can fall apart easily when it has just finished cooking.
Print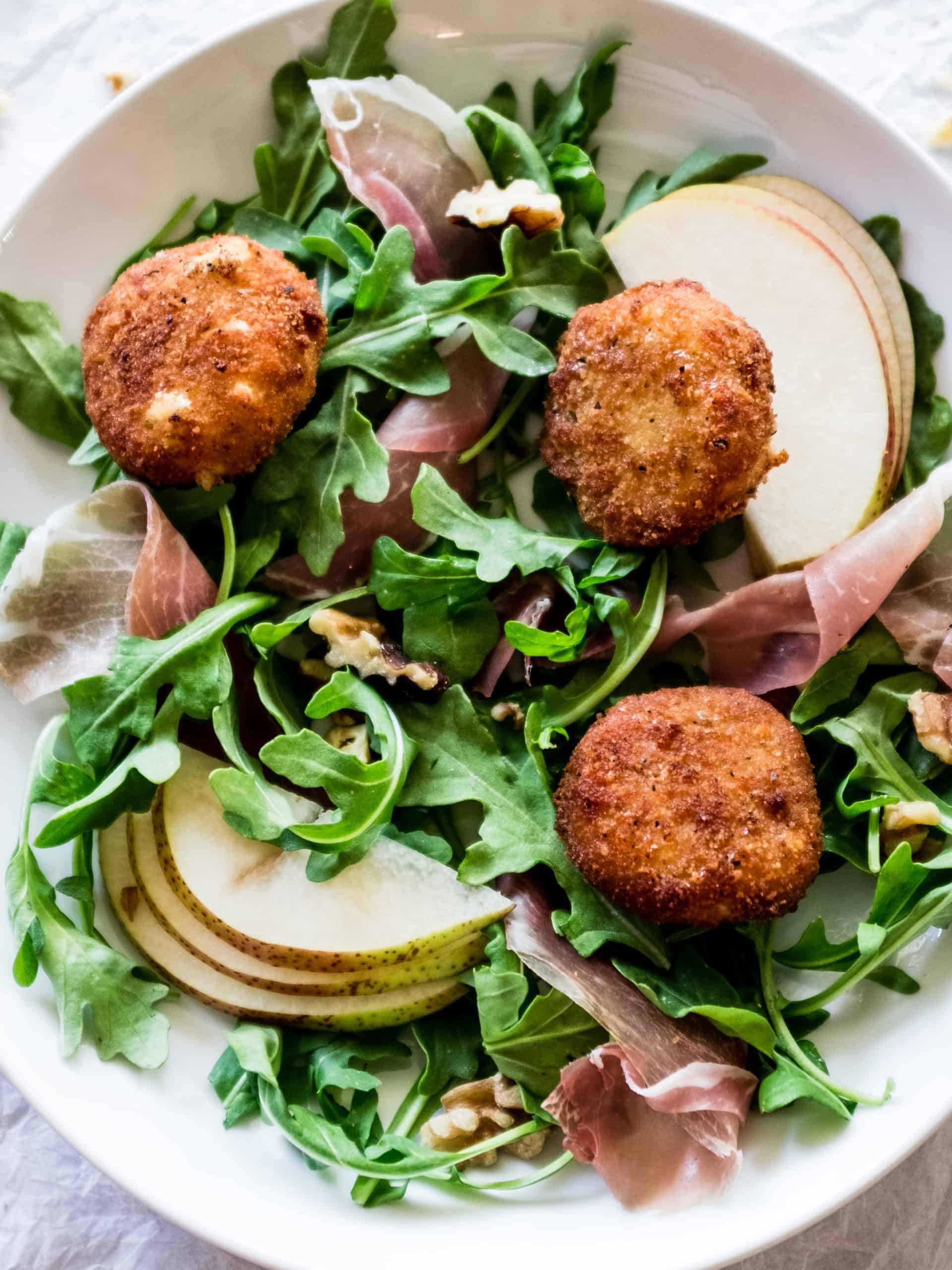 Fried Goat Cheese Salad
---
Author:

Brit Kapustina

Total Time:

30 minutes

Yield:

4

Prep Time:

15 minutes

Cook Time:

15 minutes

Category:

Dinner

Method:

Salad

Cuisine:

Global
Fried Goat Cheese
8 ounces

(230 grams) goat cheese log

½ cup

(60 grams) all purpose flour

2

large eggs

1 cup

(80 grams) panko bread crumbs

½ teaspoon

dried oregano

½ teaspoon

kosher salt

vegetable oil

for frying
Salad
5 ounces

(140 grams) baby arugula

4

–

6

slices prosciutto

1

large pear

⅓ cup

(40 grams) walnuts, roughly chopped
Honey Vinaigrette
⅓ cup

(80 ml) olive oil

2 tablespoons

red wine vinegar

1 tablespoon

honey

¼ teaspoon

dried oregano

¼ teaspoon

kosher salt
---
Instructions
Fried Goat Cheese
Cut the goat cheese log into ½ inch (1.5 cm) slices. You can place the goat cheese in the freezer for 15 minutes before slicing to make this process easier.
Add the flour to a bowl. Add the eggs to a separate bowl and beat. Add the panko, oregano, salt and pepper to a third bowl and mix.
Roll the goat cheese slices in flour, then coat them with egg and finally dredge in the panko mixture.
Heat approximately an inch of oil in a skillet over medium or medium-high heat. Add a few goat cheese slices to the skillet and fry for about one minute or until golden brown on one side. Flip and cook the other side. Remove the fried goat cheese to a plate lined with a paper towel to absorb any excess oil. Repeat with the remaining goat cheese.
Salad
Combine all ingredients for the honey vinaigrette in a jar. Cover and shake until combined. Alternatively, you can whisk the ingredients together in a small bowl.
Place the arugula in a large bowl.
Slice the pear and tear the prosciutto slices into pieces. Add the pear, prosciutto and chopped walnuts to the salad.
Drizzle honey vinaigrette over the salad to taste.
Top the salad with fried goat cheese or serve on the side.
Keywords: goat cheese salad, fried goat cheese salad
This post may contain affiliate links through which we may earn a small commission at no additional cost to you. We only recommend products that we genuinely love and would use ourselves.