Homemade vodka infusions are incredibly easy to make and a great way to up your cocktail game! These three fruit infusions are the perfect starting point for anyone looking to experiment with flavored vodka!
After turning a bottle of bottom shelf vodka into a delicious spiced infusion (that unexpectedly resembled my favorite Czech liqueur Becherovka), we were hooked on the process. Lately we've been experimenting with making infusions using different fruit combinations and today we're sharing three of our favorite concoctions: cucumber mint, strawberry lime and cranberry orange!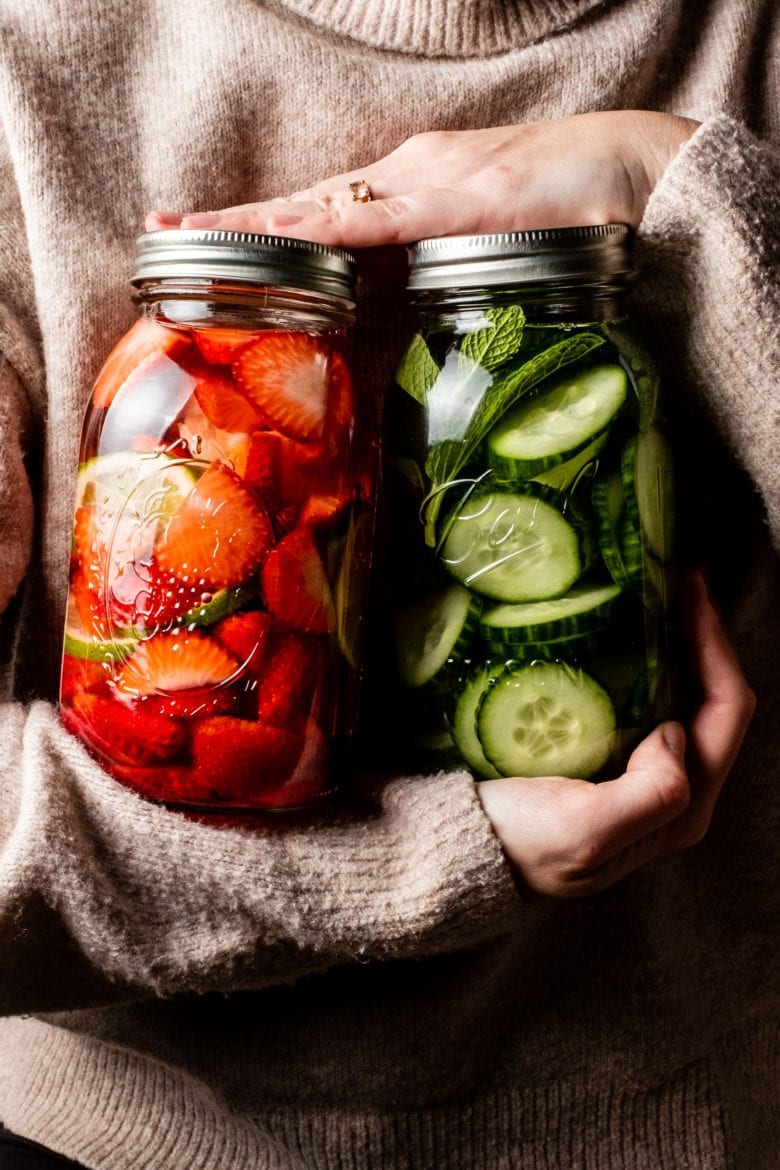 how to infuse vodka with fruit
Unlike gin or rum, vodka is essentially a blank canvas which makes it perfect for extracting and preserving the flavors of your favorite fruits and herbs. The alcohol also prevents any mold from growing on the fruit so you don't have to worry about it going bad. For these reasons alone vodka infusions have become my go-to option when I've got overly ripe fruit on my hands that I need to use quickly!
Plus, infusing vodka with fruit couldn't be more simple: rinse your fruits of choice, chop everything up and add to a jar along with the vodka! Then just store your sealed jars in a dark, cool place until they're ready to be strained and enjoyed. It's really that easy!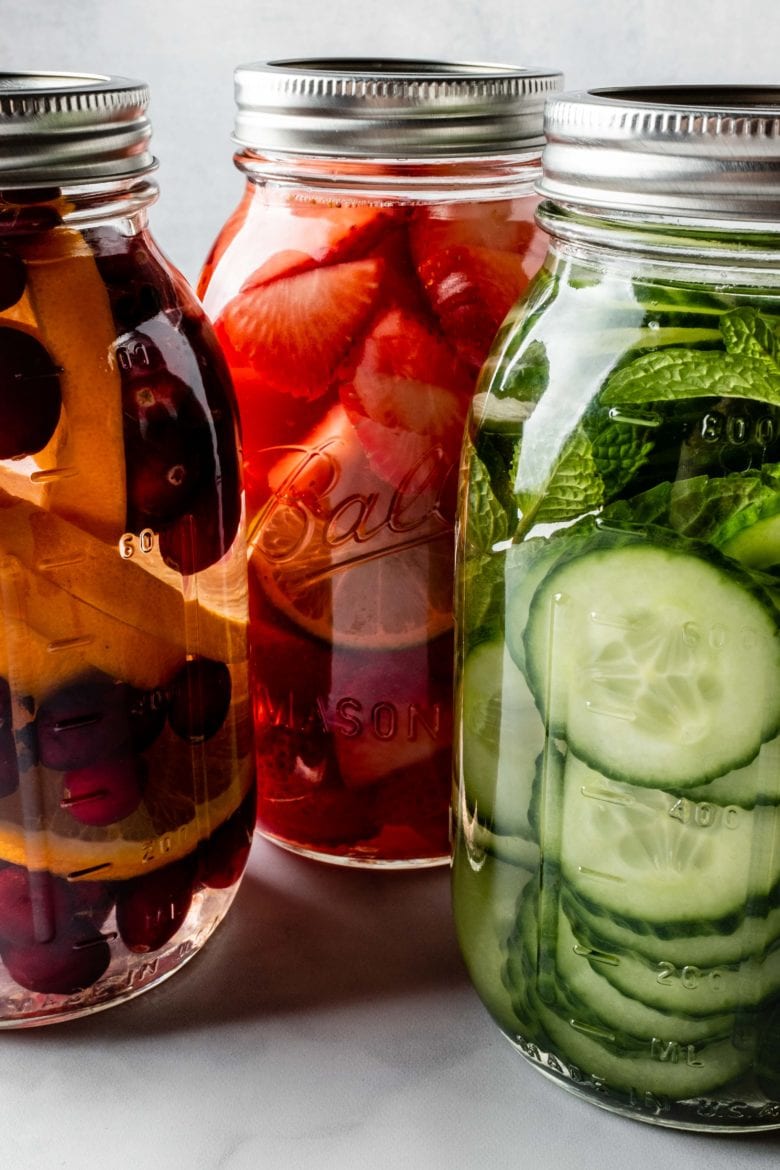 infusion steeping times
I've included recommendations for about how long you should let your vodka infusions steep before straining, but really they're very loose guidelines. You should definitely test your infusions every two days to determine when the flavor is right for you.
We let our cranberry orange and cucumber mint vodkas steep for one week to get a really deep flavor, but you could even let them sit for a bit longer. The strawberry lime infusion was ready after only four days and I wouldn't recommend letting it go too much longer, as the bitterness of the lime will start to come out more. Four days was the perfect amount of time to give the infusion the perfect citrusy sweet balance that we were looking for!
And remember that the flavors will change over time even after you strain the infusions. Luckily, I usually find that they transform into something even better. For example, spices like the cinnamon stick that we add to the cranberry orange vodka tend to mellow a bit to create a more balanced infusion!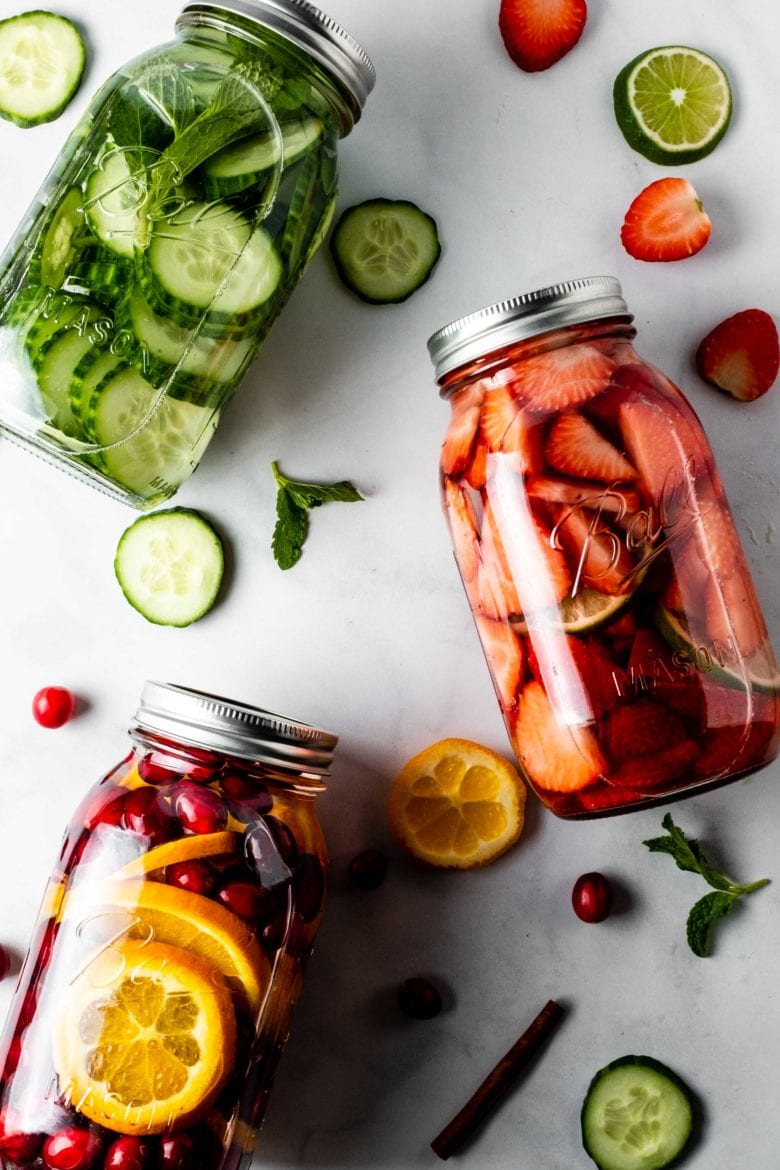 cocktail ideas
Because we tend to drink our flavored vodka infusions with just a splash of club soda, we always add a tablespoon of sweetener (sugar, honey or maple syrup) to the jar right after straining. It adds just a touch of sweetness and helps to balance out the overall concoction. While you can definitely skip this step if you'd rather, I'd still highly recommend the spoonful of maple syrup in the cranberry orange vodka — it really pulls the infusion together!
And now for a few cocktail ideas! One of our favorite ways to use the cranberry orange vodka is in our mulled wine recipe in place of the rum. But it'd also be fantastic in a vodka cranberry or any other vodka and juice drink.
To be honest, the strawberry lime infusion is sweet enough that you can even sip on it without any additional mixers! But it also makes a great addition to strawberry limeades or to make a strawberry moscow mule!
And I have to admit, while I love the strawberry lime and cranberry orange vodkas in their own right, the cucumber mint is something that I don't enjoy straight. That being said, it adds an insanely fresh taste to cocktails so we like to keep a batch on hand to make refreshing cucumber vodka sodas, spiked lemonades and cucumber vodka martinis!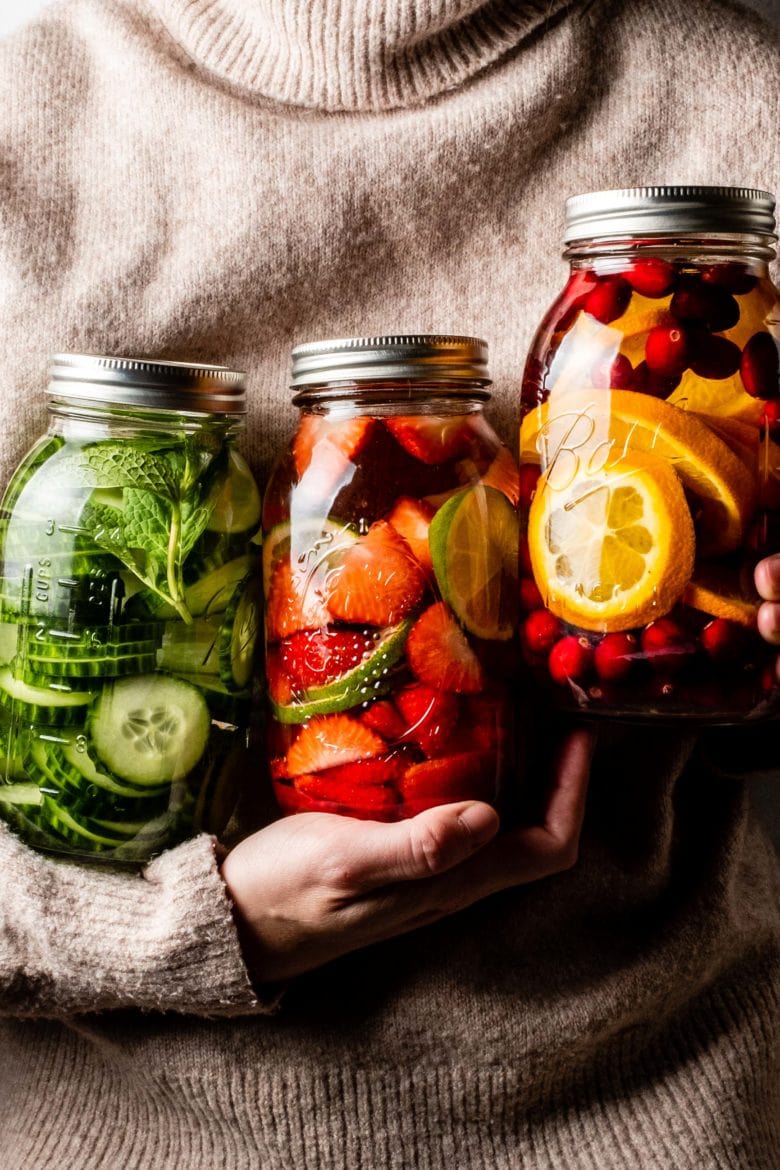 And don't forget to check out some of our favorite drinks for more cocktail inspiration!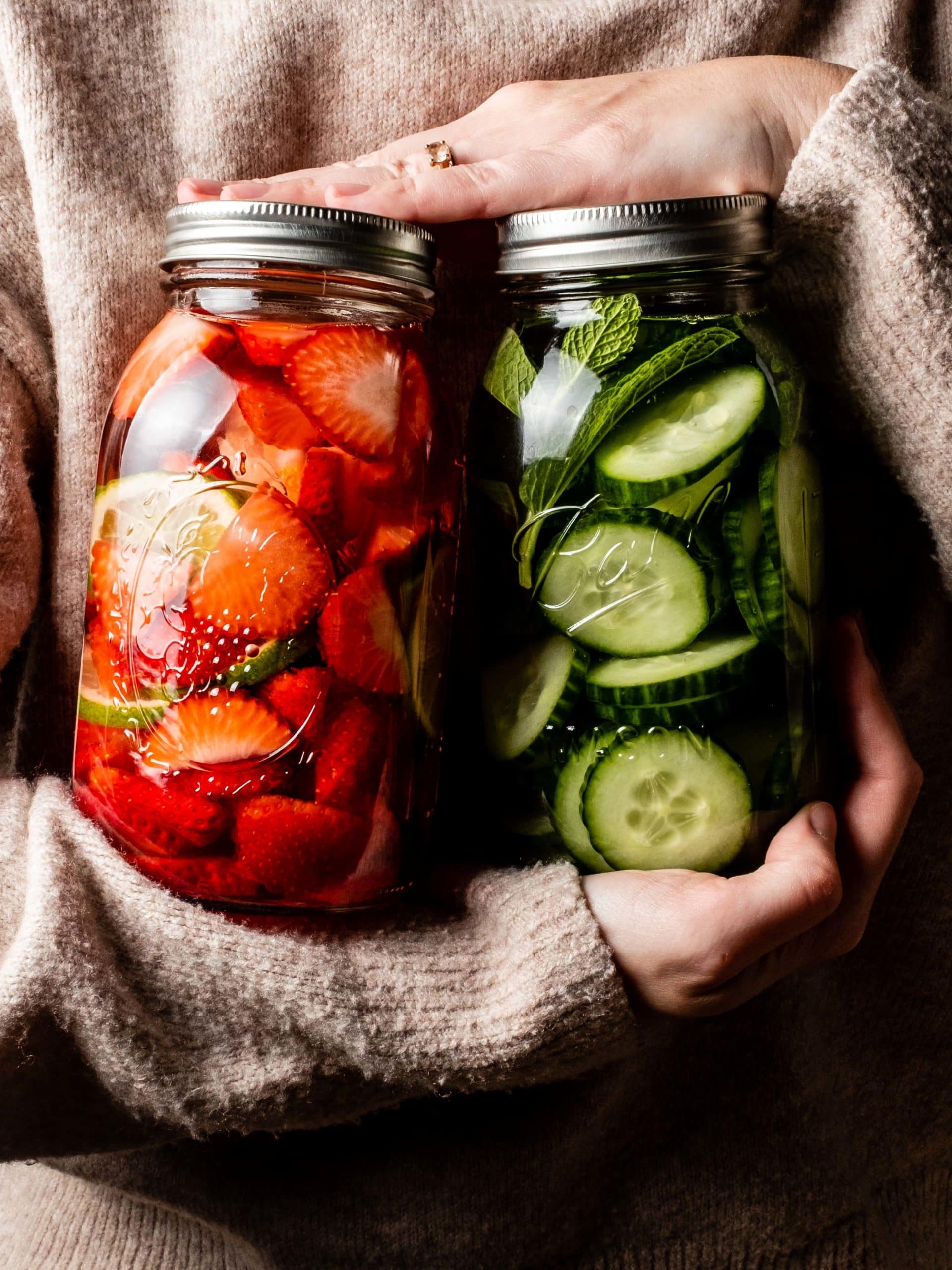 ingredients
strawberry lime
vodka

500 ml

sliced strawberries

2 c (300 g)

lime

1 small

honey

1 tbsp
cranberry orange
vodka

500 ml

cranberries

1.5 c (150 g)

orange

1 small

cinnamon

1 stick

maple syrup

1 tbsp
cucumber mint
vodka

500 ml

cucumber

1 large

mint

2 sprigs

sugar

1 tbsp
instructions
strawberry lime
Hull and slice the strawberries. Slice the lime.
Add the strawberries, lime and vodka to a quart sized jar. Seal and store in a cool, dark place for 4-5 days.
Strain the vodka into a clean jar and discard the fruit. Add the honey and shake well.
Seal, refrigerate and serve cold.
cranberry orange
Slice the orange. Use a toothpick to poke 3-4 holes into the cranberries.*
Add the cranberries, orange, cinnamon stick and vodka to a quart sized jar. Seal and store in a cool, dark place for one week.
Strain the vodka into a clean jar and discard the cranberries, orange slices and cinnamon. Add the maple syrup and shake well.
Seal, refrigerate and serve cold.
cucumber mint
Slice the cucumber.
Add the cucumber, mint and vodka to a quart sized jar. Seal and store in a cool, dark place for one week.
Strain the vodka into a clean jar and discard the cucumber and mint. Add the sugar and shake well.
Seal, refrigerate and serve cold.
notes
Cranberries: For an even stronger cranberry taste, you can puree ½ cup (50 g) of the cranberries in a food processor before adding to the jar.

Did You Make This Recipe?
This post may contain affiliate links through which we may earn a small commission at no additional cost to you. We only recommend products that we genuinely love and would use ourselves.