Tender beef short ribs braised in a thick walnut sauce and spiced with dried and ground marigold petals, this yakhni is a festive dish with bold flavors! It's spicy, invigorating and perfect served with crusty bread on a chilly day!
It's no secret that we're huge fans of Georgian food around here! And with colder weather moving in, hearty Georgian stews have started making a regular appearance on our dinner table. So today we're sharing one of our favorites: marigold braised beef and walnut stew or yakhni! This beef short rib version is not entirely traditional, but maintains the bold flavors that make the walnut stew so incredibly invigorating: dried and ground marigold petals and chile peppers.
our take on georgian yakhni
We first came across yakhni in one of our favorite cookbooks: Siharuli: Recipe for Georgian Happiness by Tinatin Mzhavanadze (only available in Russian). And siharuli, which translates as joy in Georgian, is exactly what you'll be experiencing when you tuck into a big bowl of this aromatic beef and walnut stew!
Yakhni is popular in the Adjaran region of Georgia, where it's generally made in huge quantities and served at weddings. Our version is adapted to use ingredients that we can source locally, except for the ground marigold which you can easily find online. We also make our yakhni on a much smaller scale — it serves only four as a main dish or about six if part of a larger meal.
cooking with marigold
If I could convince you to add one ingredient to your spice cabinet for the colder months it would have to be dried marigold. Sometimes translated as imeretian saffron or even (confusingly) just saffron, marigold is a popular seasoning in Georgian cuisine. It adds a bit of earthiness and beautiful color to everything it touches and the wonderfully intense aroma makes for an energizing and warming stew — perfect for winter!
You can buy this vibrant golden spice as dried petals or ground into powder form. For this recipe we use ground marigold which you can find online here (this particular product was translated as saffron, but I've used it before and can confirm it is marigold).
And if you're in need of more recipes using marigold, we have a few ideas! It's one of the spices used in our khmeli suneli roasted chicken and would also be a great addition to this walnut and caramelized onion yogurt dip. Or try adding marigold to your favorite spice mix. I find that it works particularly well with other warming spices such as cloves or cumin! Just make sure not to overdo it. You generally only need ¼ – ½ teaspoon ground marigold per recipe — yakhni is a bit unique in that it uses an entire tablespoon.
preparing the beef and walnut stew
Now let's start cooking!
Make a broth by simmering the short ribs to tender perfection. We'll start with our beef short ribs — we're looking for meaty bone-in ribs cut into manageable sized pieces. Generously salt and sear the ribs in a large pot to develop delicious flavor. Then cover the beef ribs with water and simmer until nice and tender. This usually takes me about an hour and a half.
Prepare the seasoned walnut paste. While the short ribs are simmering, combine the walnuts, garlic, marigold, coriander and dried chile powder in a food processor. Pulse until a paste forms, scraping down the sides a few times. We generally use cayenne for the dried chile powder, but feel free to use your favorite. Just don't shy away from the spice — yakhni should have a good kick to it!
Saute the onions and walnut paste. Once your short ribs are tender you can remove them from the pot and reserve the cooking liquid in a separate bowl. Then add a bit of butter and saute the onions and walnut paste. Make sure to cook the paste for at least a few minutes — this will help to toast the walnuts and spices and release an extra layer of flavor!
Add broth until you reach your desired consistency. After returning the short ribs to the pot, you'll add about 1.5 cups (350 ml) of the cooking liquid or just enough to form a thick stew. Feel free to add more broth to reach your desired consistency and season with salt (and additional cayenne!) to taste.
For more Georgian-inspired meals, make sure to check out these recipes!
Print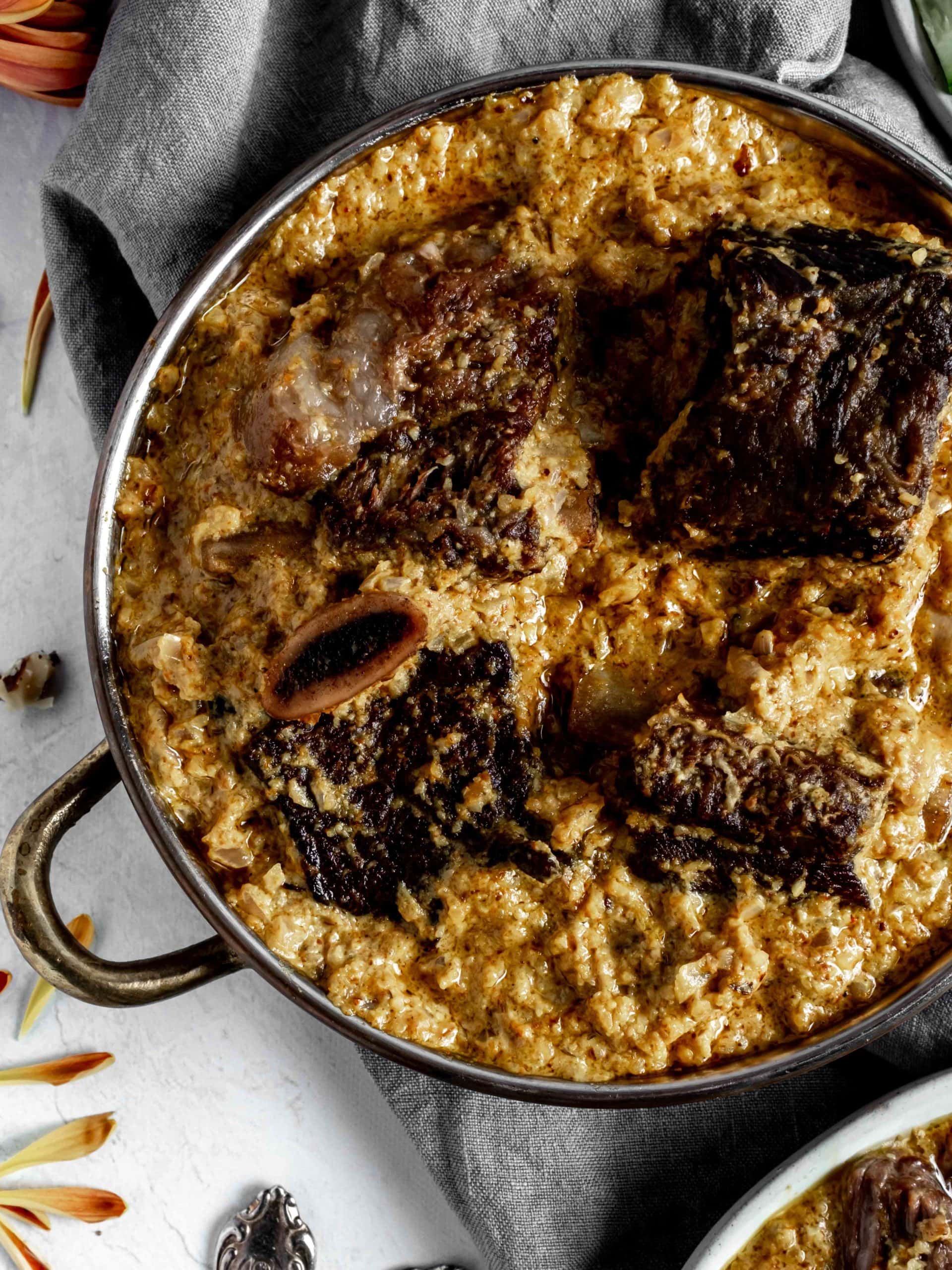 georgian yakhni | marigold braised beef and walnut stew
---
Author:

Brittney

Total Time:

2 hours 15 minutes

Yield:

4

Prep Time:

15 minutes

Cook Time:

2 hours

Cuisine:

georgian
2.5 pounds (1 kg) bone-in beef short ribs

1-2 tablespoons vegetable oil

4 cups (1 liter) water

3 tablespoons

(

45 grams

) unsalted butter, divided

2

yellow onions, diced

2.5 cups (250 grams) walnuts, chopped

4 cloves garlic

½ tablespoon ground coriander

½-1 teaspoon cayenne (or other spicy ground chile)

kosher salt to taste
---
Instructions
Generously season the beef short ribs with salt.

Heat the vegetable oil in a large pot over medium-high heat. Working in batches, sear the meat until browned on all sides.

Return all beef short ribs to the pot, add water to cover (approximately 4 cups or 1 liter) and bring the mixture to a boil. Skim any foam off the top of the broth and discard. Reduce heat to low, cover and cook for 1.5-2 hours or until the meat is very tender.

Add the walnuts, garlic, marigold, coriander and cayenne to a food processor. Pulse until the walnuts are finely ground and almost paste-like in consistency. Set aside.

When the beef short ribs are tender, remove from the pot and set aside. Pour the cooking liquid into a heatsafe bowl and reserve for the last step.

Melt 2 tablespoons (30 g) of butter in the pot over medium-low heat. Add the diced onion and cook for 10 minutes or until lightly golden.

Add the remaining tablespoon (15 g) of butter and the walnut mixture. Cook 3 minutes, stirring continuously.

Return the beef short ribs to the pot and add enough of the cooking liquid to form a thick gravy (approximately 1.5 cups or 350 ml). Season with salt to taste (approximately 1-2 teaspoons).
Keywords: yakhni, iakhni, georgian, georgian stew, georgian food, walnut stew
This post may contain affiliate links through which we may earn a small commission at no additional cost to you. We only recommend products that we genuinely love and would use ourselves.