These little desserts are everything you love in a german chocolate cake, but in cookie form! Our german chocolate cookies start off with a rich chocolate thumbprint cookie that is then filled with toasted coconut and pecan frosting and topped with a drizzle of chocolate!
Because I've never really loved cake, one of my favorite adventures in cooking has always been creating cookies with the flavors of popular cakes! My dad's preferred cake is german chocolate and, since my parents are staying in the Ozarks with us this week, I whipped up these german chocolate cookies for their arrival.
While I love the idea of german chocolate cake (chocolate, pecans, coconut — what's not to love?), the cake is traditionally made with sweet baking chocolate and then topped with a sugary frosting. It's a combination that's often just a bit too much for me! Although these german chocolate cookies will still satisfy any sweet tooth, they do go easier on the sugar, which allows the toasted pecans and coconut to really shine!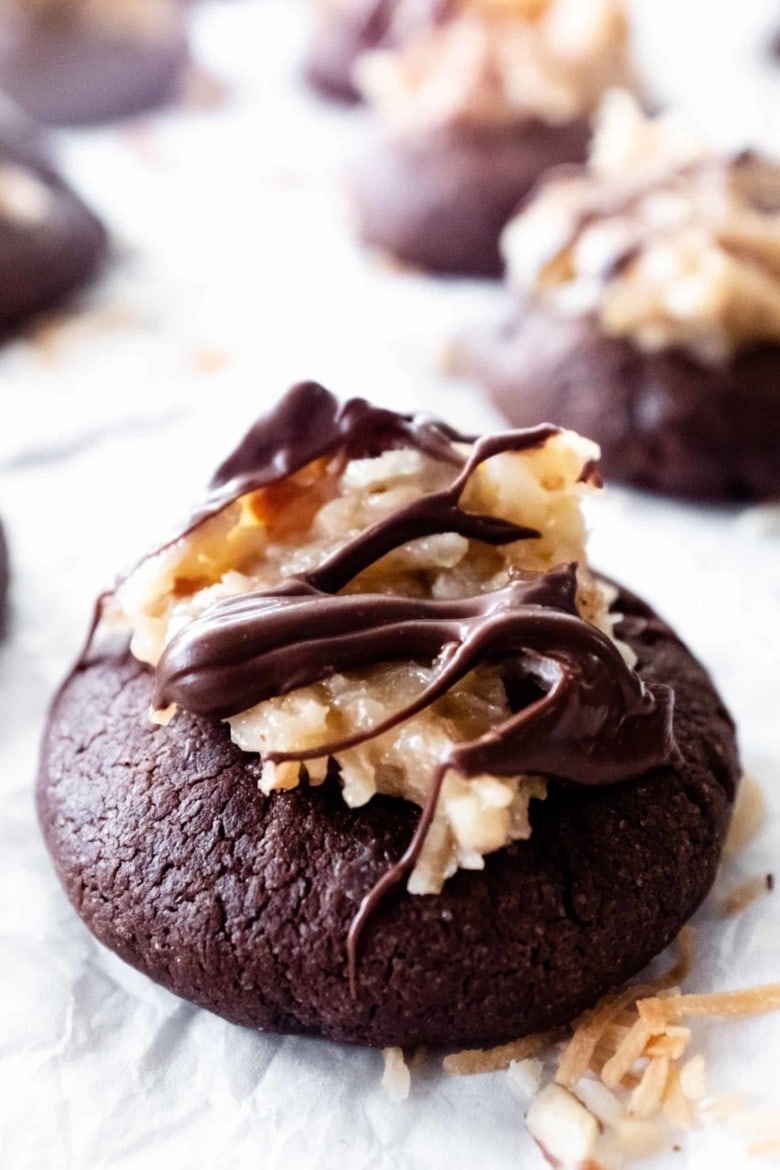 Some people are surprised to find that german chocolate cake is not, in fact, German in origin! The cake was originally named German's chocolate cake after the brand of baking chocolate used — german sweet chocolate created by Samuel German! While you can still buy german's sweet baking chocolate today, it's quite difficult to find outside of the states. So, as with many german chocolate cakes made today, we'll forgo the original sweetened chocolate in favor of unsweetened cocoa powder for our cookie base.
The chocolate thumbprint cookies have a consistency that's more cake-like than most cookies — perfect for cake-inspired cookies! To make the indent, I used the back of a teaspoon, but as the name suggests, you could also use your thumb to make a little dent for our delicious coconut pecan frosting. If the indent disappears during baking, you can just lightly press it down again when the cookies come out of the oven!
For the traditional german chocolate filling, I whipped up a batch of homemade custard using evaporated milk and mixed in toasted coconut flakes and pecans. While you don't have to toast your coconut flakes and chopped pecans, I highly recommend it! It only takes a few minutes, gives the add-ins a crunchier texture, and makes your house smell amazing.
Finally, because german chocolate cake is occasionally garnished with chocolate frosting, I added a quick drizzle of chocolate on the finished cookies. While the chocolate garnish is definitely not necessary, I do like to add it for a bit of embellishment when I'm making these cookies for friends and family.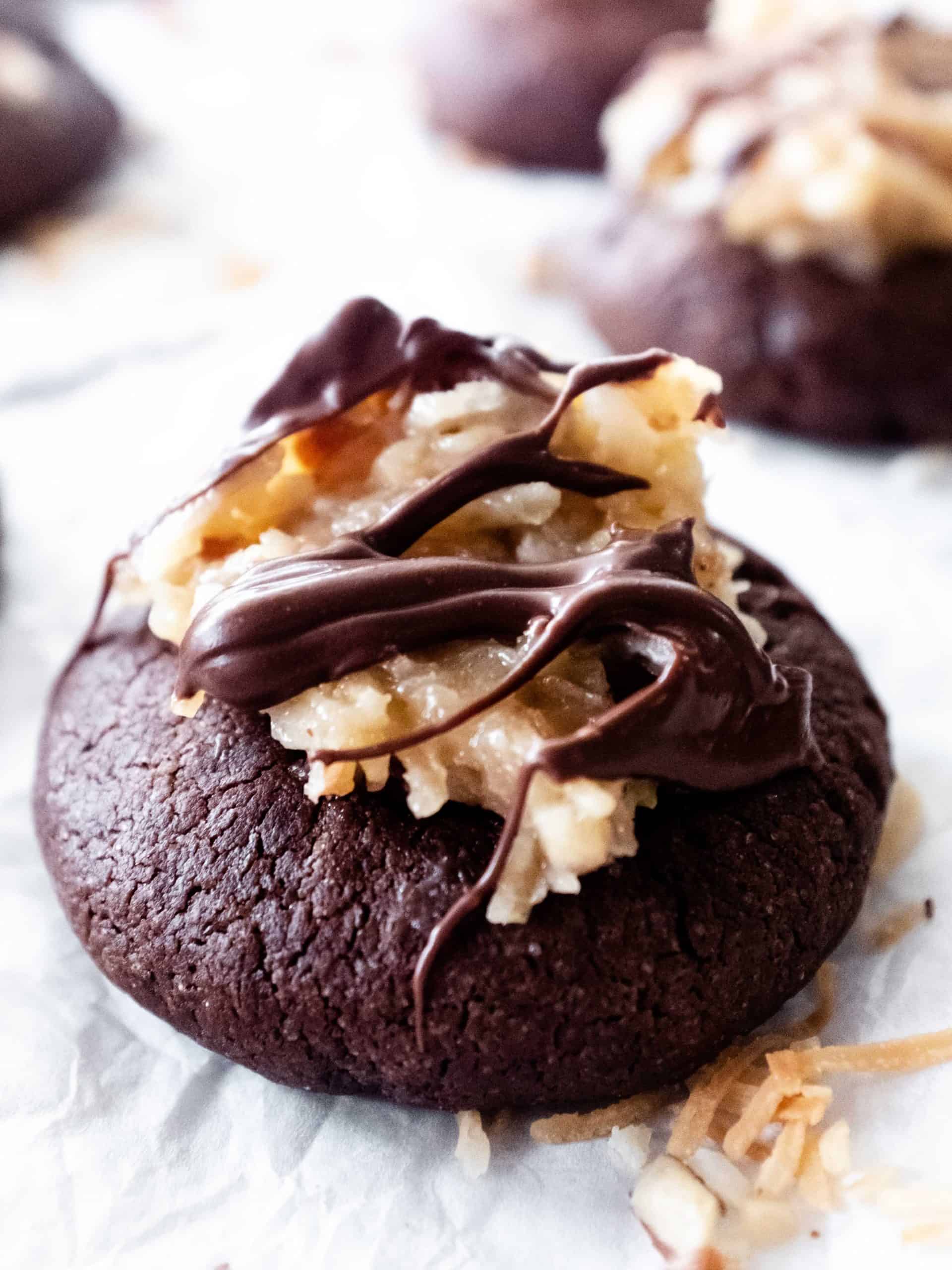 ingredients
chocolate thumbprint cookies
butter

230 g (1 c)

sugar

200 g (1 c)

egg

1 large

vanilla extract

1 tsp

flour

240 g (2 c)

cocoa powder

60 g (½ c)

(unsweetened)

salt

½ tsp
toasted coconut pecan frosting
coconut flakes

40 g (½ c)

chopped pecans

70 g (½ c)

evaporated milk

120 ml (½ c)

sugar

70 g (⅓ c)

egg

1 yolk

butter

60 g (¼ c)
chocolate drizzle (optional)
chocolate chips

150 g (¾ c )
instructions
chocolate thumbprint cookies
Cream the butter and sugar together on high with an electric mixer.
Add the egg and vanilla extract and mix until combined.
Slowly mix in the flour, cocoa powder and salt until the dough comes together.
Cover the dough and place in the refrigerator for 30 minutes.
Preheat the oven to 350F (180C) and line a baking sheet with parchment paper.
Form the dough into balls and make an indent in the center either with your thumb or the back of a teaspoon.
Place the formed cookies on the baking sheet leaving a bit of space between them and bake for 12-14 minutes.
If the indent has puffed up during baking, slightly press back down with a spoon.
Let the cookies sit for five minutes and then remove to a wire rack to cool.
toasted coconut pecan frosting
Place the chopped pecans and coconut flakes on a baking sheet in a single layer. Bake at 350F (180C) for about 7-10 minutes, stirring occasionally. Keep a close eye on them so they don't burn! Set aside.
In a small saucepan, cook the evaporated milk, sugar, egg yolk and butter over medium low heat, stirring occasionally.
When the mixture begins to boil, continue stirring until the sauce thickens (about 5-6 minutes).
Remove from heat and stir in the coconut flakes and pecans.
Once both the cookies and frosting have cooled, fill each cookie with 1-2 teaspoons of frosting.
chocolate drizzle (optional)
Pour the chocolate chips into a microwave safe bowl. Microwave the chocolate chips in 15 second increments. Once they begin to melt (it should take between 30-45 seconds), stir until the mixture becomes smooth.
Drizzle the mixture over the filled cookies with a spoon.

Did You Make This Recipe?