Bursting with fresh flavors and packed with veggies, our greek farro salad makes for a satisfying side dish or light lunch! This colorful salad is nutritious, easy to make and ready in just 30 minutes!
Creamy and tangy feta, fresh and crunchy veggies, as well as chewy and nutty farro — this dish is all about contrasting textures and flavors! Our greek-inspired farro salad is a hearty and nutritious grain-based salad perfect for your next cookout, potluck or even a regular old Tuesday night!
For more farro recipes make sure to check out our reverse sear rack of lamb with dijon mustard sauce + herby farro!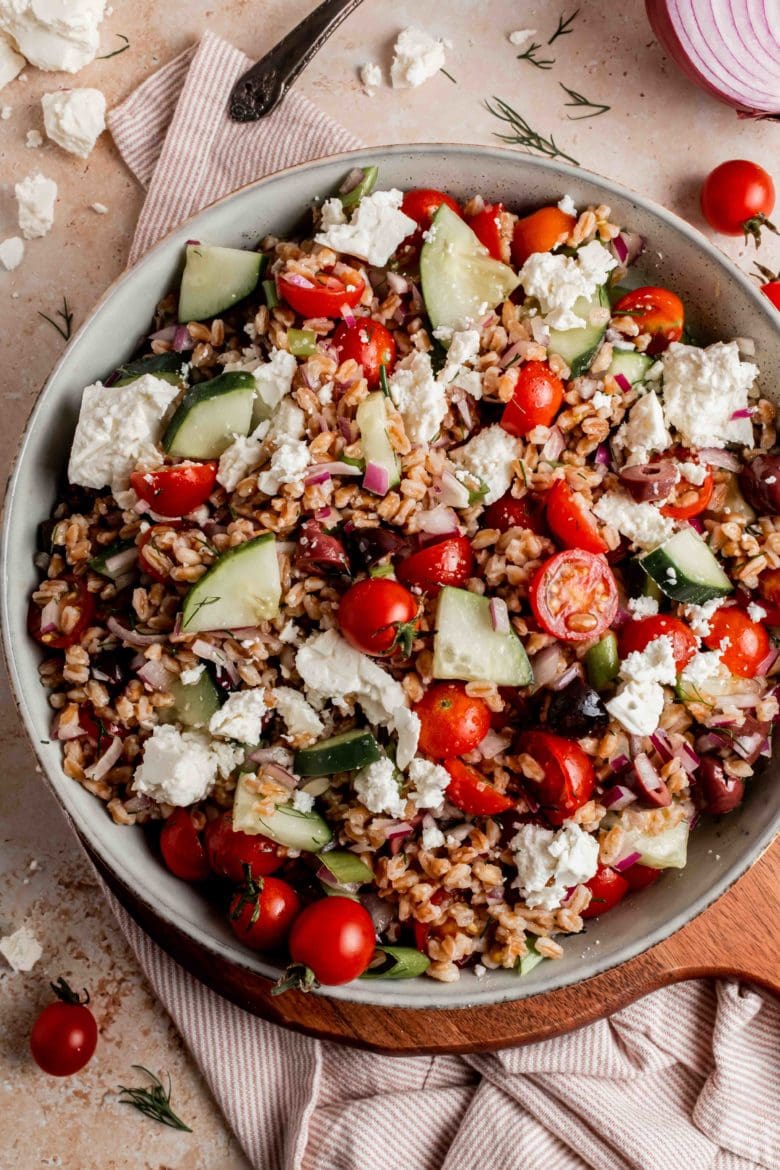 all about farro
If you're not familiar with farro, it's a nutrient-rich grain with a chewy texture and almost nutty flavor. The ancient grain is super versatile and easy to cook!
Farro is perfect for salads like this one, but also makes an excellent base for grain bowls and risottos. And it holds up quite well during cooking, which makes it the perfect addition to soups and stews!
cooking farro
We prefer to cook farro for this recipe just like pasta: bring a pot of salted water (or vegetable broth) to boil, add the farro and cook until tender. Then just drain and rinse with cold water.
The cook time will differ depending on whether your farro is whole, pearled (without the bran), or semi-pearled (with some of the bran intact). The majority of farro I've come across in the United States is pearled or semi-pearled which will take about 20-30 minutes. But to make sure you get the perfect texture, we recommend cooking your farro according to package instructions. 
And if you're looking for a super quick option, I've also used Trader Joe's partially cooked farro in this recipe, which is ready in just 10 minutes!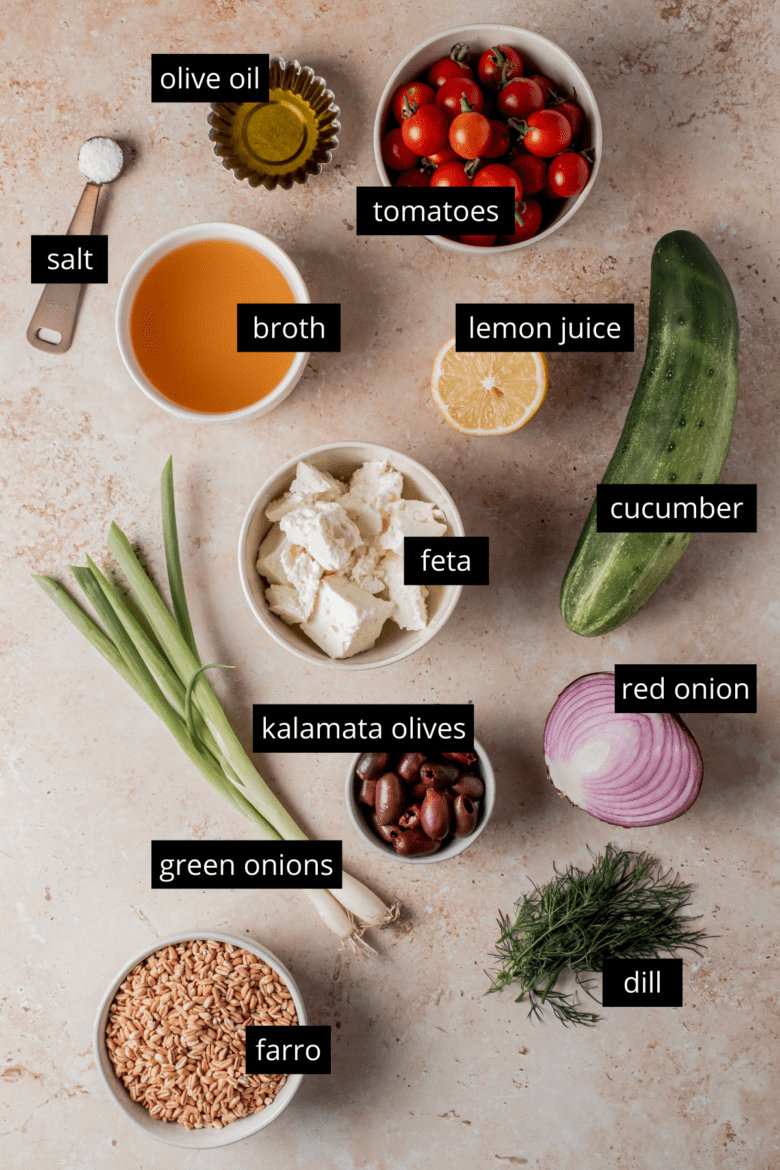 making the salad
This salad is really as simple as chopping all of the ingredients and then mixing them together! While we've given concrete amounts for the veggies and dressing, everything in this type of salad is best adjusted to taste. Looks like it could use a few more tomatoes? Toss them in! Could do with a bit more brightness? Add another squeeze of lemon juice!
You can also serve this salad warm or cold. I like to serve it warm right after the farro is cooked, but also enjoy any leftovers straight from the fridge!
mix it up!
We tend to make variations of this farro salad with whatever we have on hand. Here are some of our favorite additions and substitutions:
Vegetables: Cucumbers and tomatoes (cherry, grape, roma — whatever you have) are our favorite veggies for this salad. Some other good options include zucchini, yellow squash or bell peppers. Spinach and arugula also make great mix-ins!
Dressing: The dressing is quite simple: just lemon juice, olive oil and salt. The lemon juice can be substituted for a bit of red or white wine vinegar if needed. We also add fresh dill and green onions for flavor, but oregano or parsley would also be excellent here!
Cheese: Buying block feta in brine will give you the best flavor, but pre-crumbled feta will work in a pinch. And to make this recipe vegan, simply leave out the feta.
greek farro salad: FAQs
What is farro?
Farro is an ancient grain that's nutritious, easy to cook and super versatile! Here we prepare it by boiling it in broth and draining any excess liquid.
What does farro taste like?
Farro has a chewy texture and almost nutty taste. If you're familiar with barley, it has a similar flavor profile.
Can I make this farro salad ahead of time?
Yes! In fact, the flavors will have a chance to really marinate together as the salad sits. If you'd like the farro salad warm, try mixing up everything except the farro a day in advance and cooking the farro when you're ready to enjoy.
How long can I keep leftovers?
This greek farro salad will keep for 5 days stored in an airtight container in the refrigerator.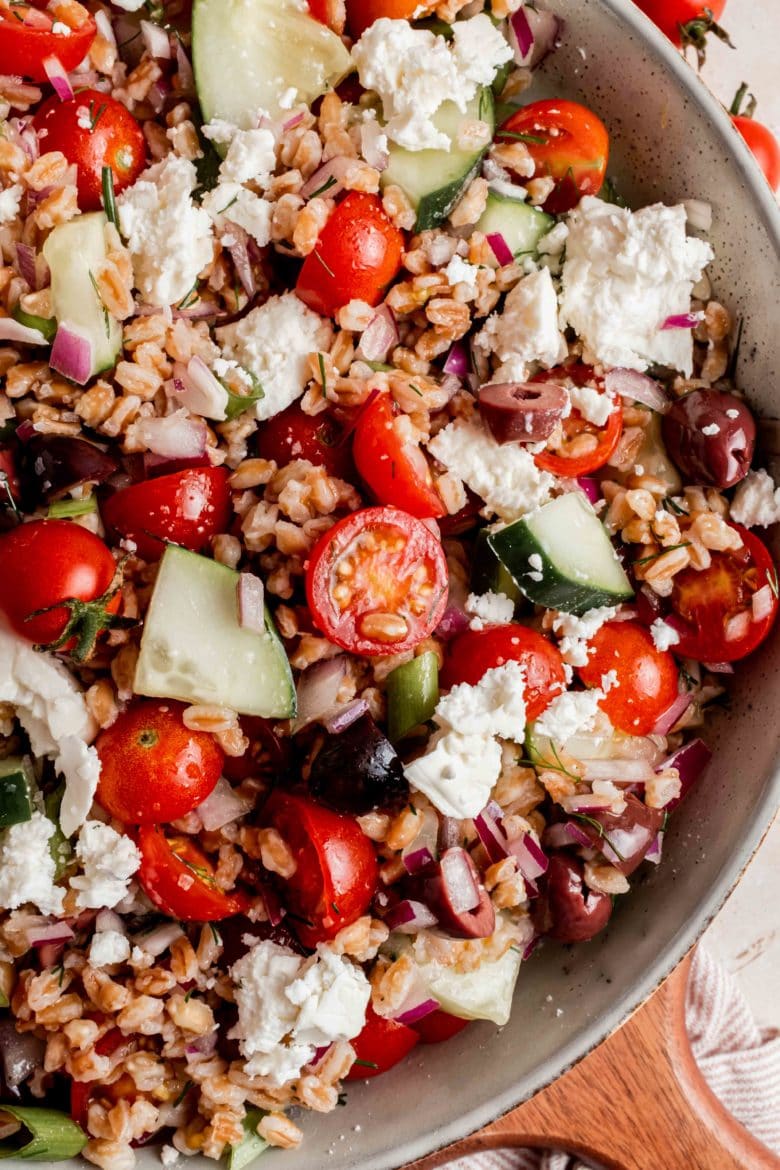 For more delicious side dishes, make sure to check out these recipes!
Print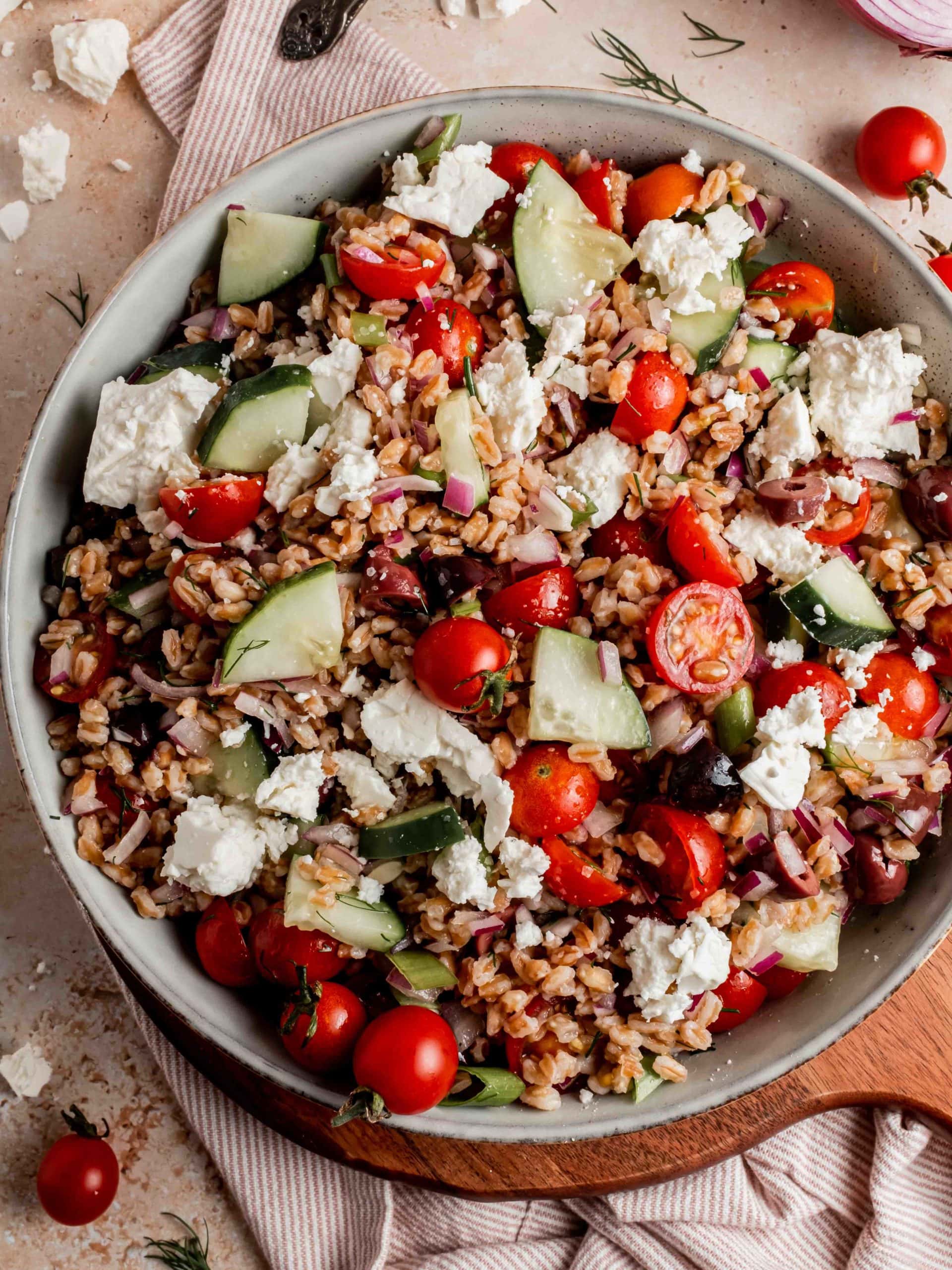 greek farro salad
---
Author:

Prep Time:

10 minutes

Cook Time:

20 minutes

Total Time:

30 minutes

Yield:

6
Description
Bursting with fresh flavors and packed with veggies, our greek farro salad makes for a satisfying side dish or light lunch!
---
farro, rinsed

1 c (160 g)

vegetable broth*

3 cups (700 ml)

cherry tomatoes, halved

8 oz (230 g)

kalamata olives, pitted + halved

½ c (60 g)

cucumber, chopped

1 medium

red onion, finely diced

½ small

green onions, chopped

2 stalks

fresh dill, chopped

2 tbsp

feta, crumbled

6 oz (170 g)

lemon juice

2-3 tbsp

olive oil

3 tbsp

salt

to taste
---
Instructions
Bring the vegetable broth to boil in a saucepan over medium-high heat. Add the farro and cook until tender (about 20-30 minutes).* Drain any excess liquid and rinse with cold water.
While the farro is cooking, prepare the remaining ingredients. Combine the chopped tomatoes, olives, cucumber, red onion, green onion, dill and feta in a large bowl. Fold in the cooked farro.
Stir in the lemon juice, olive oil and salt. Adjust to taste.
Notes
Vegetable broth: Salted water can be substituted for vegetable broth.
Cooking farro: Pearled farro and semi-pearled farro will generally be ready in 20-30 minutes. Whole grain farro will take longer and is best soaked overnight. For best results, follow the cook time on your package instructions.
Storing: This salad will keep for 5 days stored in an airtight container in the refrigerator.
Category:

side

Method:

no bake

Cuisine:

global
Keywords: greek farro salad, farro salad recipes, farro recipes
This post may contain affiliate links through which we may earn a small commission at no additional cost to you. We only recommend products that we genuinely love and would use ourselves.