Looking for a new way to transform your latest farmer's market find? Grilling radishes brings out their mild sweetness while retaining a refreshing crunch! Try serving your grilled radishes on a crusty baguette with salted herb butter — a French inspired snack that is as easy as it is delicious!
Radishes are one vegetable we can never pass up at the farmer's market. And while we love eating all varieties raw in salads, on sandwiches or with dips, our favorite way to prepare round red radishes is on the grill! Served with a toasted baguette, homemade herb butter and sea salt, this radish appetizer is a beautiful balance of simplicity and decadence.
And if you're looking for more ways to enjoy radishes, don't forget to check out our roasted radishes and potatoes + creamy dill kefir dressing!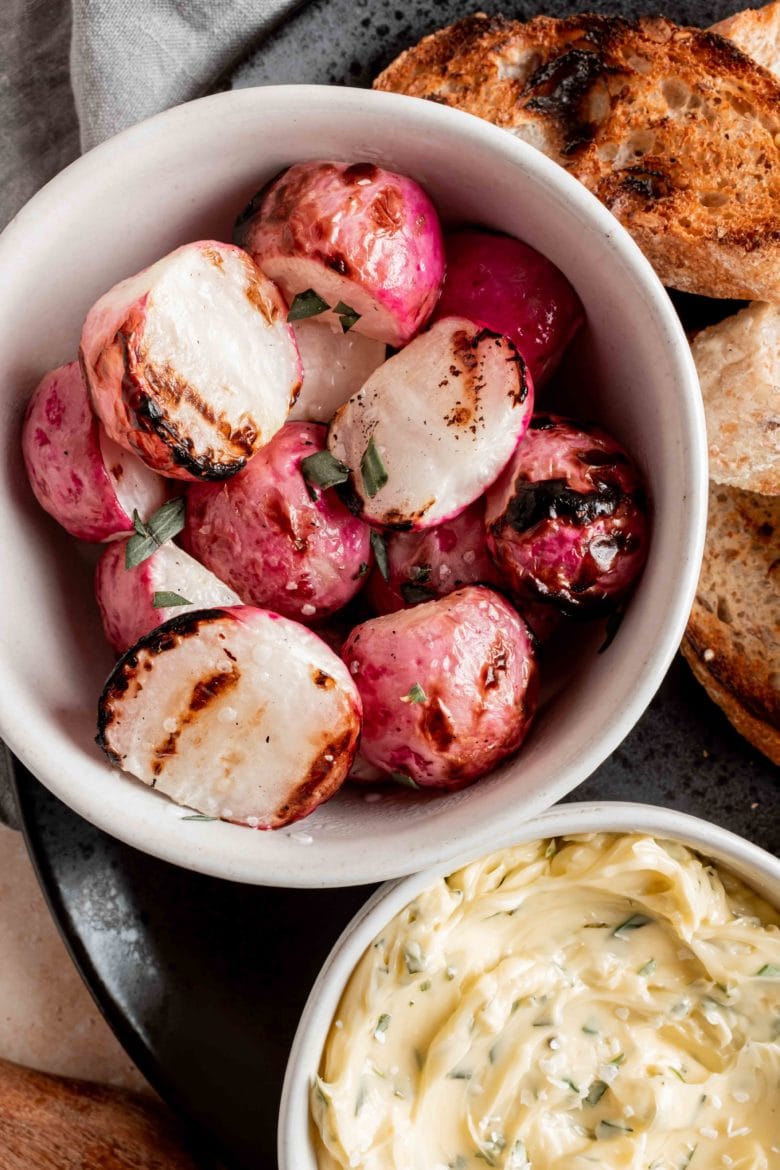 grilling radishes
Grilling radishes couldn't be easier! Start by scrubbing off any dirt and trimming both the root and stem ends. Then just toss the radishes with a bit of olive oil and salt until evenly coated.
Now fire up the grill! I prefer to cook the radishes over direct medium-high heat for 2-3 minutes per side. They'll be slightly charred in places, but retain a nice crunch.
Here are a few tips and tricks to get the most out of your grilled radishes:
Make sure your radishes are similar in size so they cook evenly. I like to leave any smaller radishes whole and cut the larger ones in half. If you have very large radishes, you may even want to cut them into quarters so they'll cook quickly.
It's best to go by sight and texture when grilling vegetables. You'll want the radishes to be charred in places and only slightly tender. Reduce or increase the heat as necessary.
Don't discard the radish leaves — they're delicious on their own sauteed in a bit of oil!
radishes and butter
To enjoy our grilled radishes, we opted for a twist on the classic French snack of radishes with butter and sea salt!
The variety of radishes traditionally used for this dish (French breakfast radishes) have quite a mild flavor and are generally eaten raw. Here we use round red radishes, which have a sharper flavor when raw, but turn mild and sweet on the grill. Our grilled take on the delicious snack also includes a toasted baguette and homemade herb butter!
herb butter baguette
Making the homemade herb butter is as easy as mixing butter with your choice of fresh herbs and a bit of sea salt! I used a mix of tarragon, oregano and basil this time, but parsley, dill and chives would also make excellent mix-ins.
As for the baguette, you can place slices on the grill (our preference) or toast them in a dry skillet on the stovetop.
The secret to the success of this easy appetizer is using high quality ingredients. Opt for a european-style butter, such as Kerrygold or Plugra. These butters have a higher butterfat and a richer, creamier texture. While you might not notice the difference in baking, that flavor boost makes all the difference in this snack!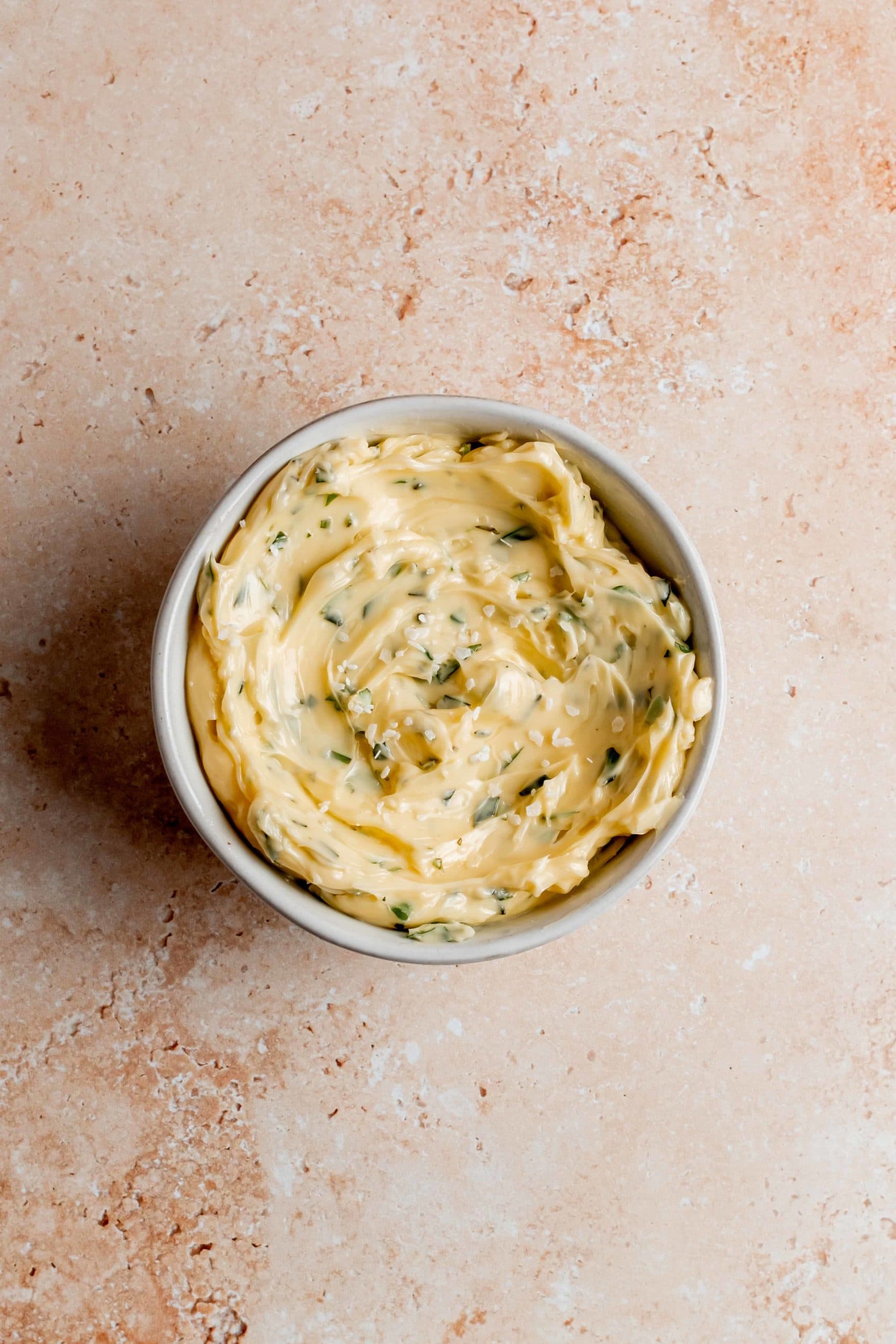 what to serve with radish toasts
Because this radish dish is ridiculously easy to prepare, we've found ourselves enjoying it as an appetizer, afternoon snack or even light lunch!
The herb butter can be made ahead of time and the radishes and baguette slices only take a few minutes on the grill, which makes them an excellent option when you have guests. And no need to make up the toasts yourself — you can just serve the sliced baguette, radishes and butter separately on a platter and let everyone make up their own snack!
Some of our favorite dishes to serve alongside this radish appetizer at a grill-out or dinner party include grilled meats or fish (especially this grilled salmon) and other dips and sides that are great with toasted baguette (like our favorite baked goat cheese dip or this walnut and caramelized onion yogurt dip)!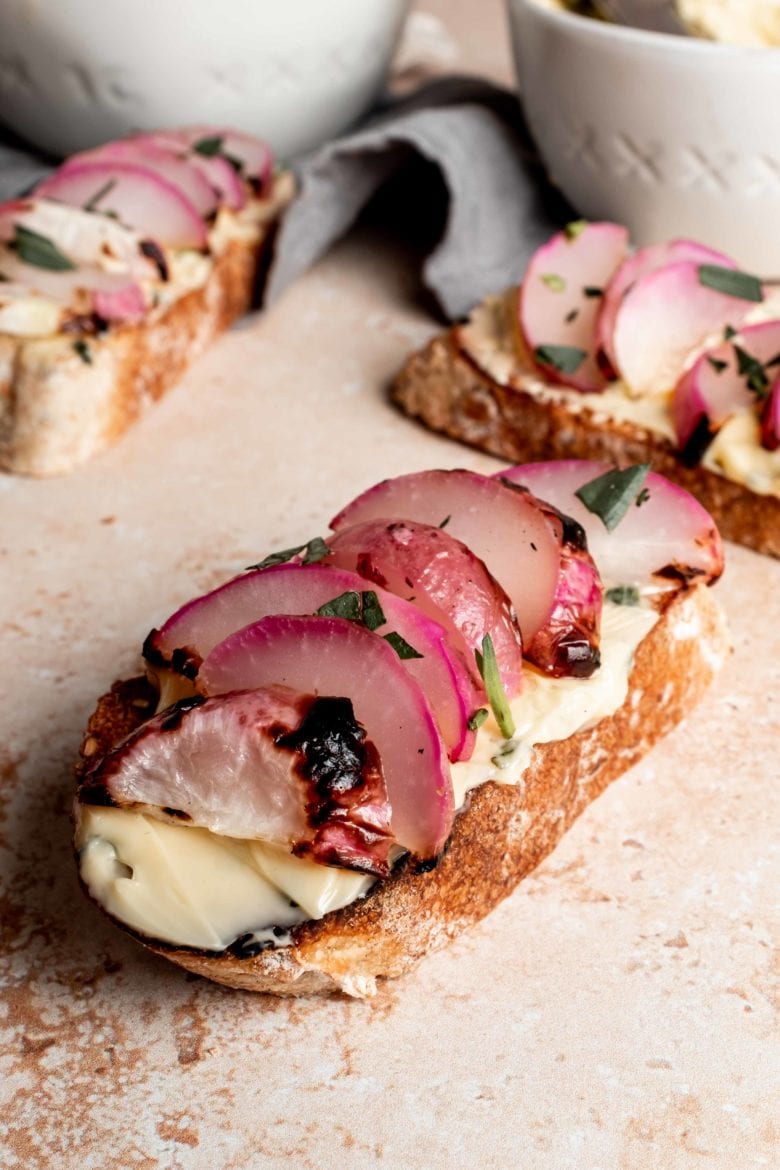 grilling radishes: FAQs
What do cooked radishes taste like?
This will depend on the type of radish. Round red radishes lose a bit of their spicy bite and take on a much milder and sweeter flavor once cooked.
What type of radish is best for grilling?
While you can grill any variety of radish, we tend to go with the common round red radish for this dish. They have a sharp flavor that turns sweet and mild on the grill. Other varieties, such as watermelon or french breakfast radishes, already have a more mild flavor and are better enjoyed raw (in our humble opinion).
What's the best way to grill smaller radishes?
If your radishes are small, you can use a grill basket or thread them on a skewer to make grilling easier. If using bamboo skewers, make sure to soak them in water for at least 20 minutes so they don't burn.
For more vegetable-forward appetizers and sides, make sure to give these recipes a try!
Print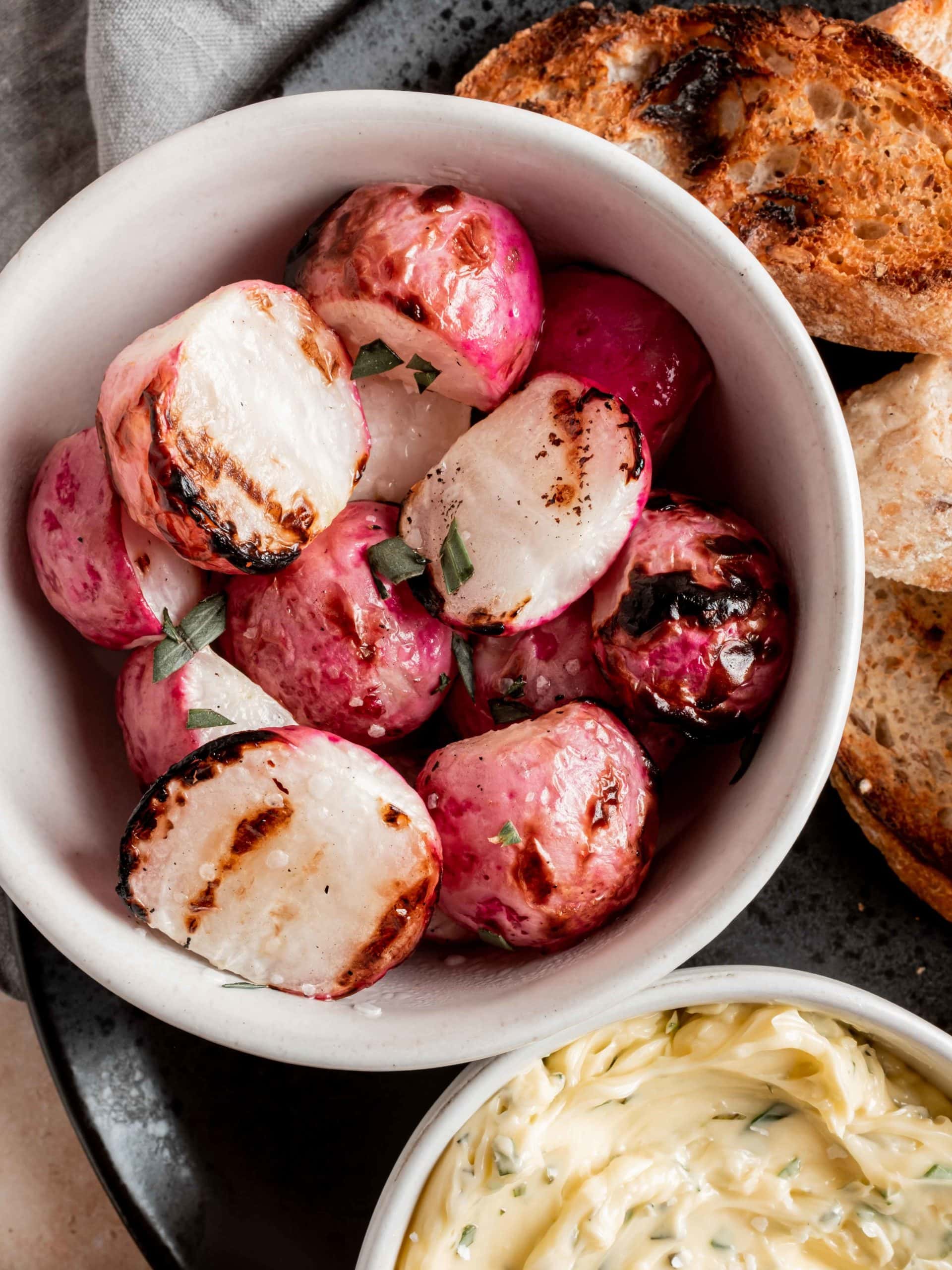 grilled radishes + herb butter baguette
---
Author:

Prep Time:

15 minutes

Cook Time:

10 minutes

Total Time:

25 minutes

Yield:

6
Description
Learn how to grill radishes with these easy tips! Grilling radishes brings out their mild sweetness while retaining a refreshing crunch!
---
grilled radishes
radishes

1 bunch

olive oil

1 tbsp

salt

to taste
herb butter baguette
unsalted european style butter

½ c (115 g)

(softened)

chopped fresh herbs

2-3 tbsp

(chives, basil, parsley, dill, oregano or tarragon)

sea salt

½ tsp

baguette

1 loaf
---
Instructions
herb butter baguette
Allow the butter to come to room temperature. Use a fork to mash it together with salt and the chopped herbs of your choice.

Slice the baguette diagonally into ½ inch (1.5 cm) pieces.

Heat the grill to medium (350F or 180C). Place the baguette slices on the grill and cook uncovered (about 1-2 minutes per side).*
grilled radishes
Heat your grill to medium-high (375-400F or 190-205C) and brush the cooking grates with oil.

Trim the radishes (stems and root ends), rinse and pat dry. Cut the larger radishes in half and keep any smaller radishes whole. Toss the radishes with olive oil and salt until evenly coated.

Place the radishes on the grill directly over the flame. Close the lid and cook for 2 to 3 minutes per side, or until slightly charred in places.
assembly
Slice (or chop) the grilled radishes.

Top the baguette slices with herb butter and grilled radish slices.
Notes
Toasting the bread: The bread can also be toasted in a dry skillet over medium heat (about 1-2 minutes per side).
Category:

appetizer

Method:

grill

Cuisine:

french
Keywords: grilled radishes, radishes and butter, grilling radishes, how to grill radishes
This post may contain affiliate links through which we may earn a small commission at no additional cost to you. We only recommend products that we genuinely love and would use ourselves.