Cheesy bacon stuffed mushrooms hot off the grill are the ultimate summer appetizer! Easy to make and impossible to resist, these grilled stuffed mushrooms are a guaranteed crowd pleaser!
Grilled mushrooms stuffed with melty cheese, crispy bacon and just the right amount of heat — the perfect addition to your next summer gathering! You can make these cheesy treats in just 30 minutes or prep them a day in advance for an easy make ahead appetizer!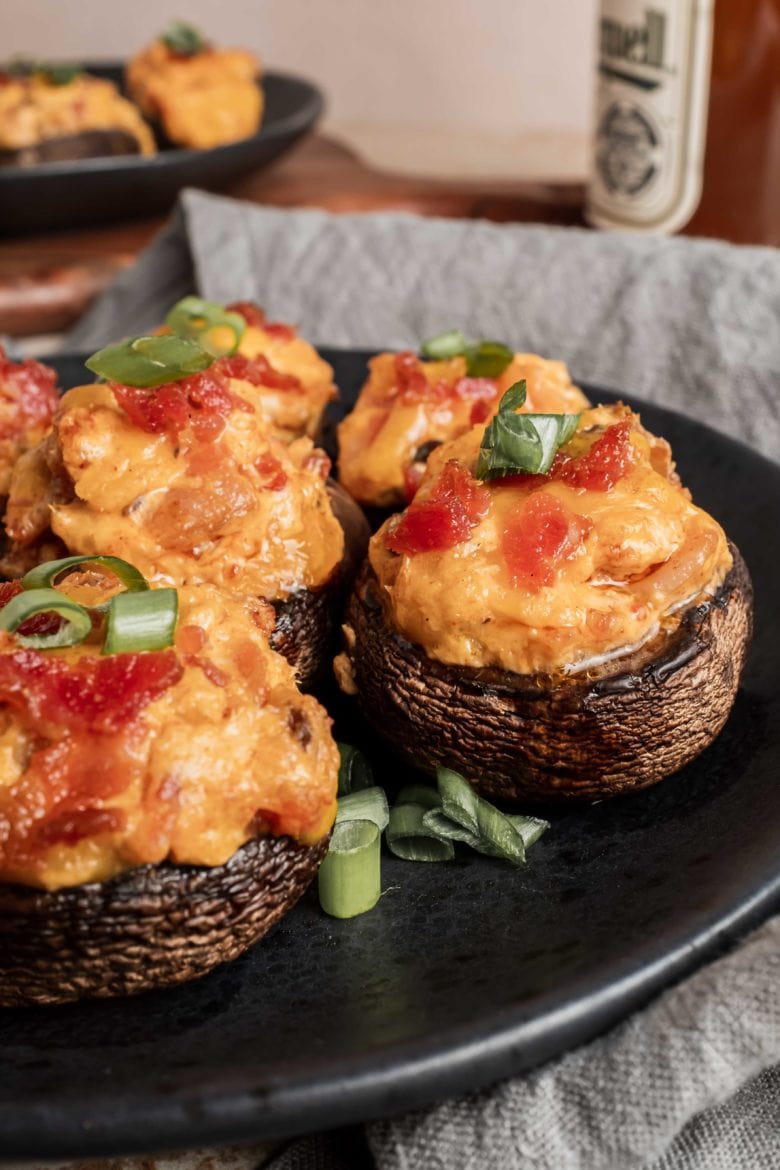 prepping the mushrooms
choosing mushrooms
Button mushrooms and cremini mushrooms (also called baby bellas) are our preferred choice for these grilled stuffed mushrooms.
We generally choose whichever package has a good amount of similar-sized mushrooms. We're looking for mushrooms that will hold a heaping tablespoon of filling. That being said, a little variety in size is fine — you might just need to take some off the grill a bit earlier than others.
cleaning + removing the stems
When it comes to cleaning the mushrooms, you can either rinse them or use a damp paper towel to rub off any dirt. Using the paper towel method will ensure no excess water absorption, which can help prevent soggy mushrooms. That being said, rinsing the mushrooms is my preferred method as it's quite a bit easier. Just make sure to thoroughly dry the mushrooms before stuffing.
To remove the stems, I usually just snap them off by hand. You can then use a small knife to cut out any little bits remaining in the cap.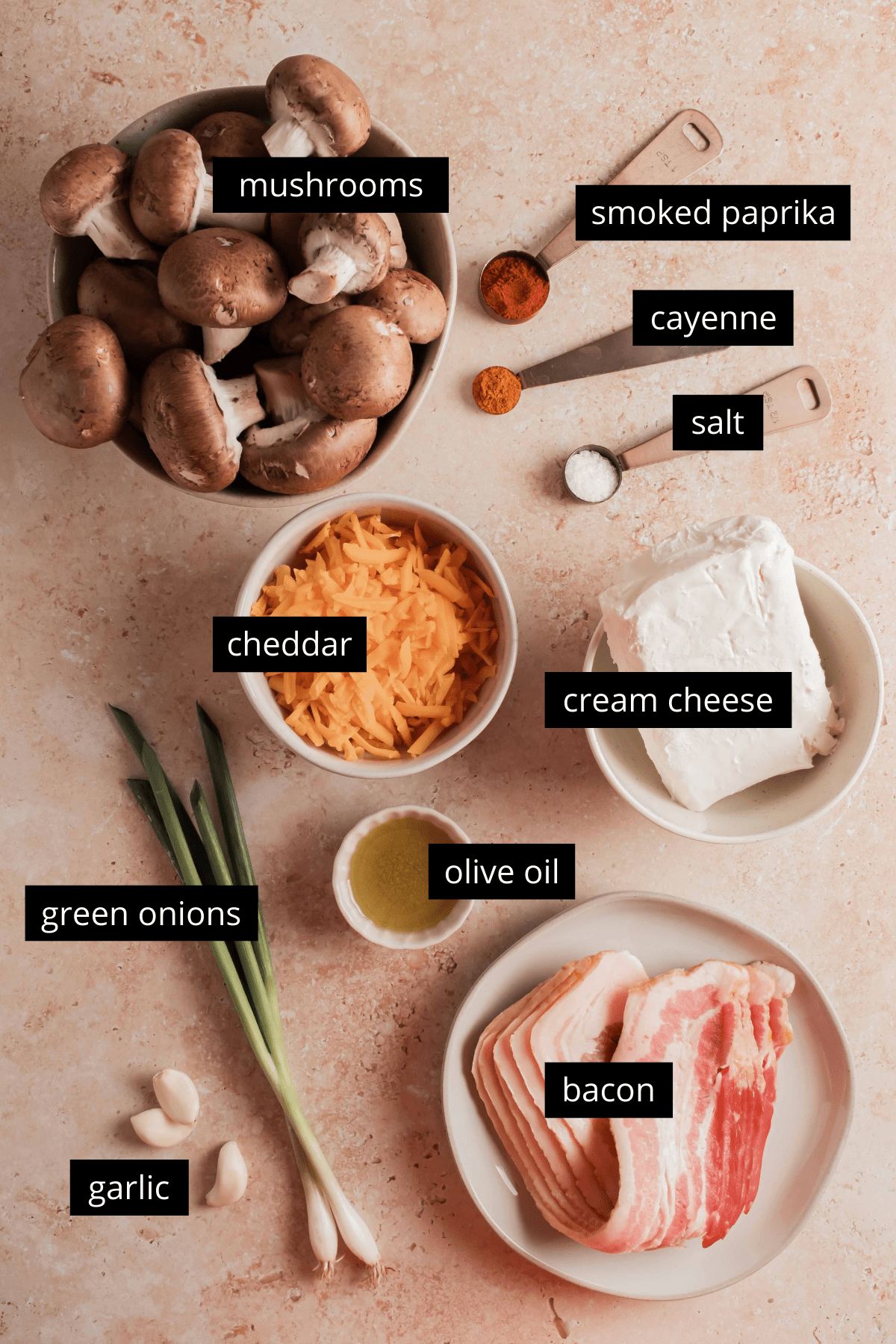 cheesy bacon filling
Here's what you'll need:
Bacon: Cooked until just crispy!
Garlic: Three cloves of minced garlic for an extra bit of flavor.
Mushroom stems: Discard any tough ends and finely chop the rest. The mushroom stems will add an incredible depth of flavor to the mix!
Cheese: Cream cheese and cheddar are our cheeses of choice here. Feel free to substitute the cheddar for your favorite shredded cheese.
Spices: Smoked paprika, cayenne and a pinch of salt give these stuffed mushrooms just a little kick. Make sure you're using smoked paprika to get maximum flavor and adjust the cayenne to taste.
The filling can be made in just three easy steps:
Cook the bacon until crispy.
Saute the chopped mushroom stems and garlic in a bit of rendered bacon fat until tender.
Mix everything together!
fire up the grill!
To prep the mushrooms for the grill, start by lightly brushing the bottoms of the caps with a bit of olive oil. Then fill each cap with a heaping tablespoon or two of the delicious cheesy bacon filling.
Now get the grill going! Preheat the grill to medium-high (about 375-400F or 190-205C), clean the grates and brush them with oil. 
When the grill is hot, place the bacon stuffed mushrooms directly over the flame. Close the lid and cook for about 5-8 minutes depending on the size of your mushrooms. You'll know they're done when the cheese is melty and the mushrooms are soft (they'll squish a bit when grabbing them with tongs). Serve warm and enjoy!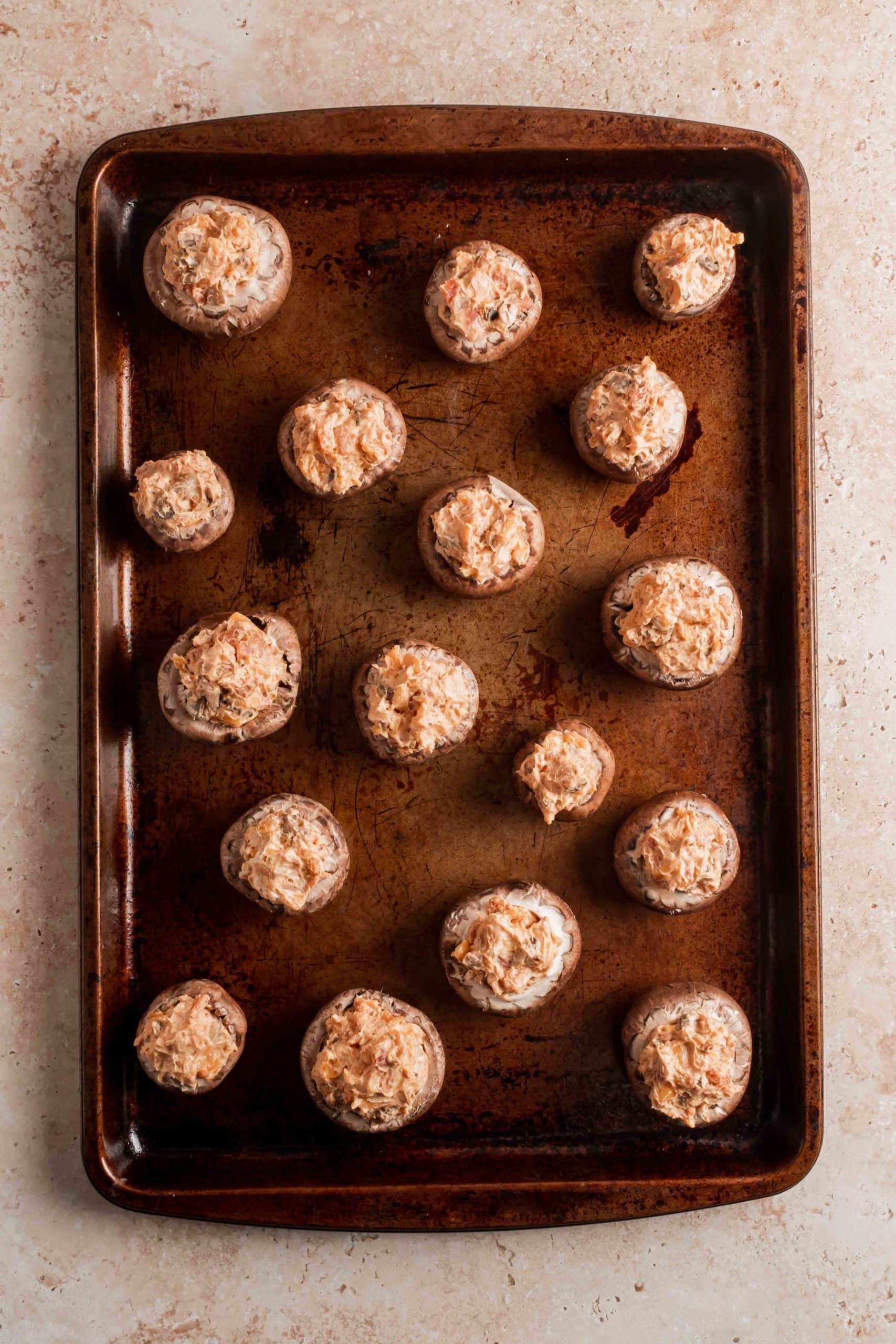 grilled stuffed mushrooms: FAQs
Can I make this recipe ahead of time?
To make this recipe ahead of time, I recommend prepping both the mushrooms and filling up to a day in advance, but only adding the filling on the day of grilling.
Can I bake these stuffed mushrooms?
Yes! They can be baked at 400F (200C) for 15-20 minutes or until the mushrooms are tender and the cheese is melty.
How do you prevent stuffed mushrooms from getting watery?
Clean the mushrooms using a damp paper towel (as opposed to rinsing or soaking) to avoid taking on any excess water. Additionally, you could pre-bake the mushrooms for 5-10 minutes before adding the stuffing so that they release some of their liquid.
Fore more summer appetizer inspiration, make sure to check out these recipes!
Print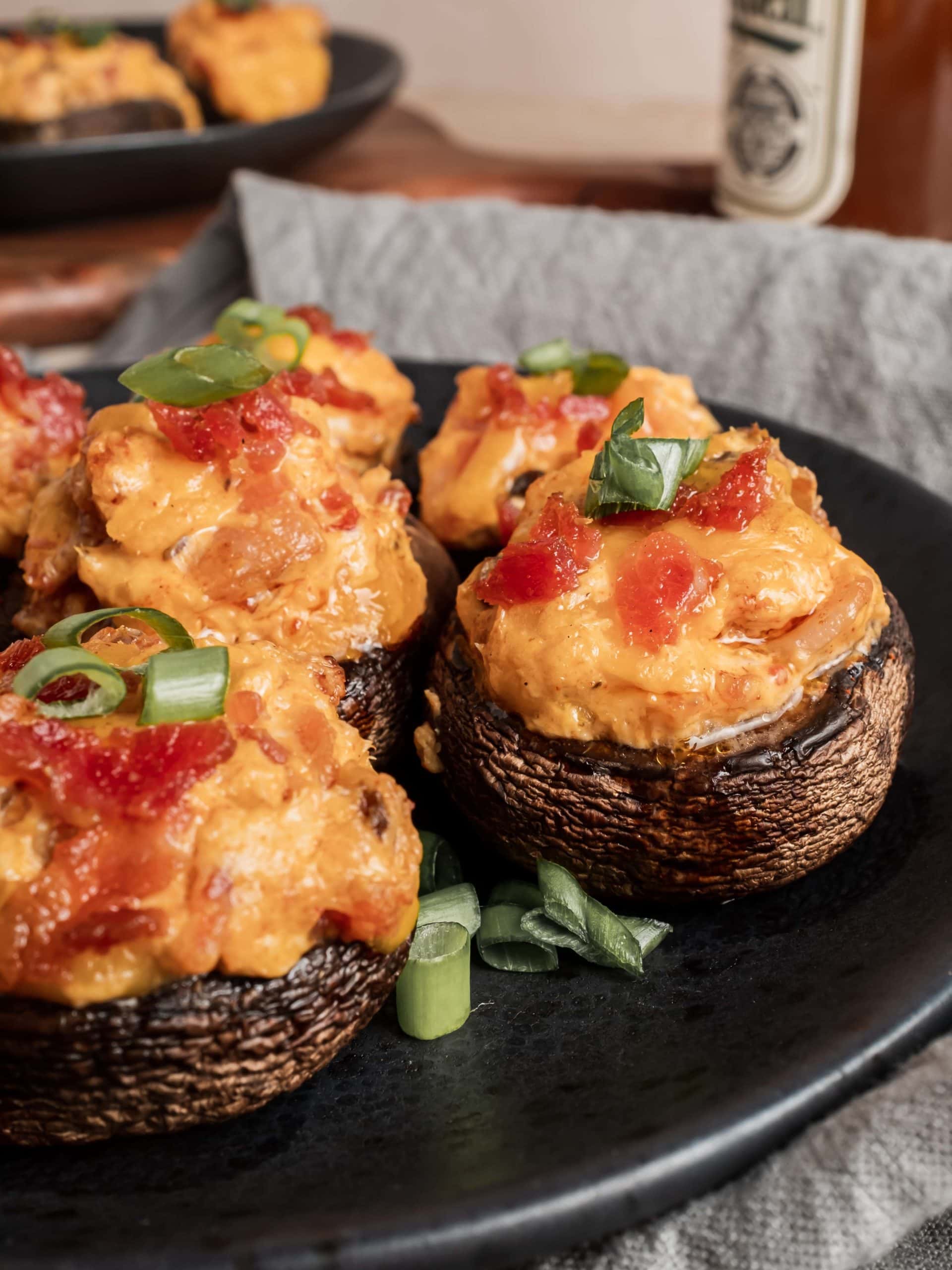 grilled stuffed mushrooms
---
Author:

Prep Time:

20 minutes

Cook Time:

8 minutes

Total Time:

28 minutes

Yield:

8
Description
Easy to make and impossible to resist, these cheesy grilled stuffed mushrooms with bacon are a guaranteed crowd pleaser!
---
button or cremini mushrooms*

1 lb (450 g)

(cleaned and thoroughly dried)

bacon

6 slices (180 g)

garlic

3 cloves

cream cheese, softened

8 oz (225 g)

cheddar, shredded

½ c (60 g)

smoked paprika

1 tsp

ground cayenne

¼ tsp

salt

to taste

olive oil

1 tbsp

green onions (optional)

to garnish
---
Instructions
Remove the mushroom stems. Finely chop the mushroom stems, discarding any tough ends. Set aside.

Chop the bacon into small pieces. Cook in a skillet over medium heat for 5 minutes or until just starting to crisp up. Transfer to a paper towel lined plate to soak up any excess grease.

Drain all but 1 tablespoon of rendered bacon fat from the skillet and add the chopped mushroom stems and garlic. Cook for 5 minutes or until the stems are tender.

In a medium bowl combine the softened cream cheese, cheddar, smoked paprika, cayenne and salt. Mix in the bacon, mushroom stems and garlic until well combined.

Lightly brush the bottoms of the mushroom caps with olive oil.

Fill each mushroom with a heaping spoonful of the filling. Top with extra cheddar and bacon if desired.

Heat your grill to medium-high (375-400F or 190-205C) and brush the cooking grates with oil. 

Place the mushrooms on the grill directly over the flame, close the lid and cook for 5-8 minutes or until the cheese is melty and the mushrooms have softened.
Notes
Choosing Mushrooms: Both button mushrooms and baby bellas (also called cremini mushrooms) work great in this recipe. Just make sure you choose a package where the mushrooms are similar in size and large enough to hold a good spoonful of filling.
Category:

appetizer

Method:

grill

Cuisine:

global
Keywords: grilled stuffed mushrooms, bacon stuffed mushrooms
This post may contain affiliate links through which we may earn a small commission at no additional cost to you. We only recommend products that we genuinely love and would use ourselves.