Looking for a halloween dessert sure to impress? Try these pumpkin-shaped cream puffs topped with a sweet and crispy layer of craquelin! Fill your choux au craquelin with your favorite pumpkin filling or use our thai tea pastry cream to get that beautiful shade of orange!
These little choux au craquelin pumpkins are the cutest way to celebrate halloween! Our pumpkins are actually filled with thai tea pastry cream — partly because we were a bit pumpkined out and partly because the color worked so well. But really any type of creamy or custard-like pumpkin filling would also work great in these fall-inspired treats!
choux au craquelin
These little pumpkins are made of choux pastry covered in orange craquelin. You'll start by whipping up a batch of choux dough, which is easy enough to make but does require a little technique. If you're looking for more detailed information on making choux pastry, you can check out this recipe.
And then before baking you'll top each portion of piped choux with a round of craquelin, which is a cookie-like dough that creates a crackly, lacey layer over the choux. Craquelin adds a bit of sweetness and crunch, while also helping to moderate the expanding choux and giving it an even shape. Orange craquelin is absolutely perfect for this recipe because it makes the cream puffs look like tiny pumpkins!
making craquelin
To make the craquelin you'll need butter, sugar, flour and food coloring. While brown sugar is most commonly used, I decided to go with regular granulated sugar here to make it easier to get the perfect shade of orange.
After combining the ingredients, roll out the craquelin dough to ⅛ inch (3 mm) thickness and then place the craquelin in the freezer for at least 10 minutes. You'll then cut out circles and place them on top of the piped choux before sending them off to the oven. The craquelin will gradually melt and encase the cream puffs in a deliciously sweet and crunchy layer!
Just one note on how much craquelin to use per cream puff. If you use too much craquelin, the mixture will pool around the bottom of the cream puff and begin to burn. You can clean this up before serving, but it won't look as neat. After a bit of trial and error, I found that using a round of craquelin that is the same diameter as the choux makes for a perfect fit!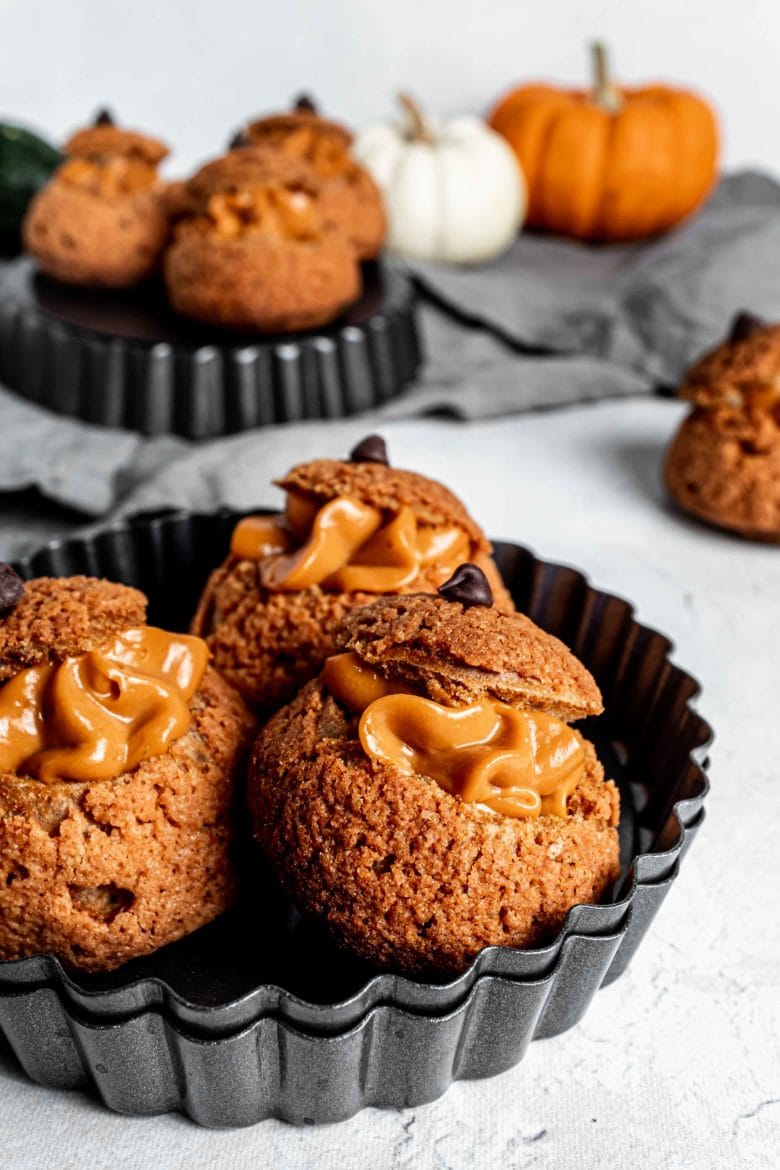 pumpkin assembly
Any orange pastry cream will work well for the filling. We used our thai tea pastry cream for a beautiful burnt orange color, but something pumpkin flavored would be even more festive!
And now we're ready for assembly! You'll first want to cut the tops off of the cream puffs (like little jack o' lanterns). This step can be a bit tricky as the craquelin can easily break off, especially if you've been heavy handed with the craquelin. Make sure to use a sharp knife and cut them soon after they're cool enough to handle.
And the finishing touch on our little pumpkins — a mini chocolate chip as the stem! I just plopped the chocolate chips on top of each pumpkin and they stayed well enough, but if you need to transport these halloween desserts somewhere you might need a little extra adhesive. I would recommend a bit of royal icing or even a drop of melted chocolate to hold each chocolate chip in place!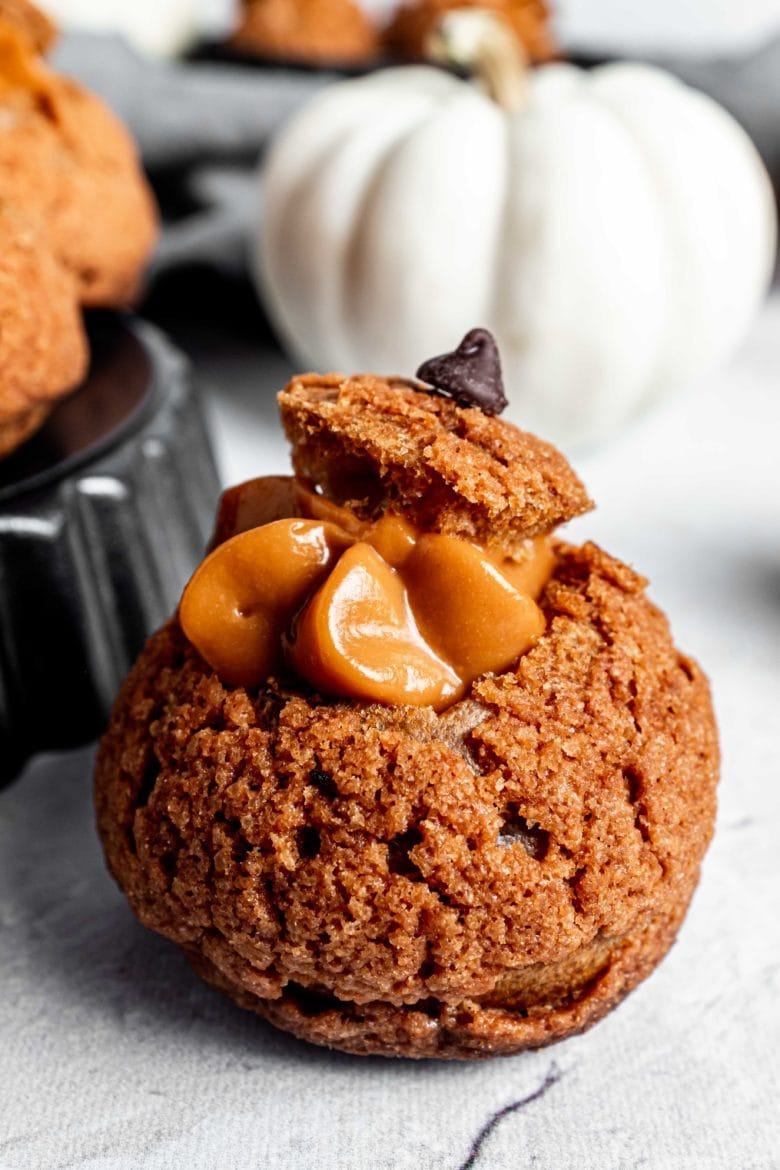 For more dessert ideas perfect for your fall celebrations, check out these recipes!
Print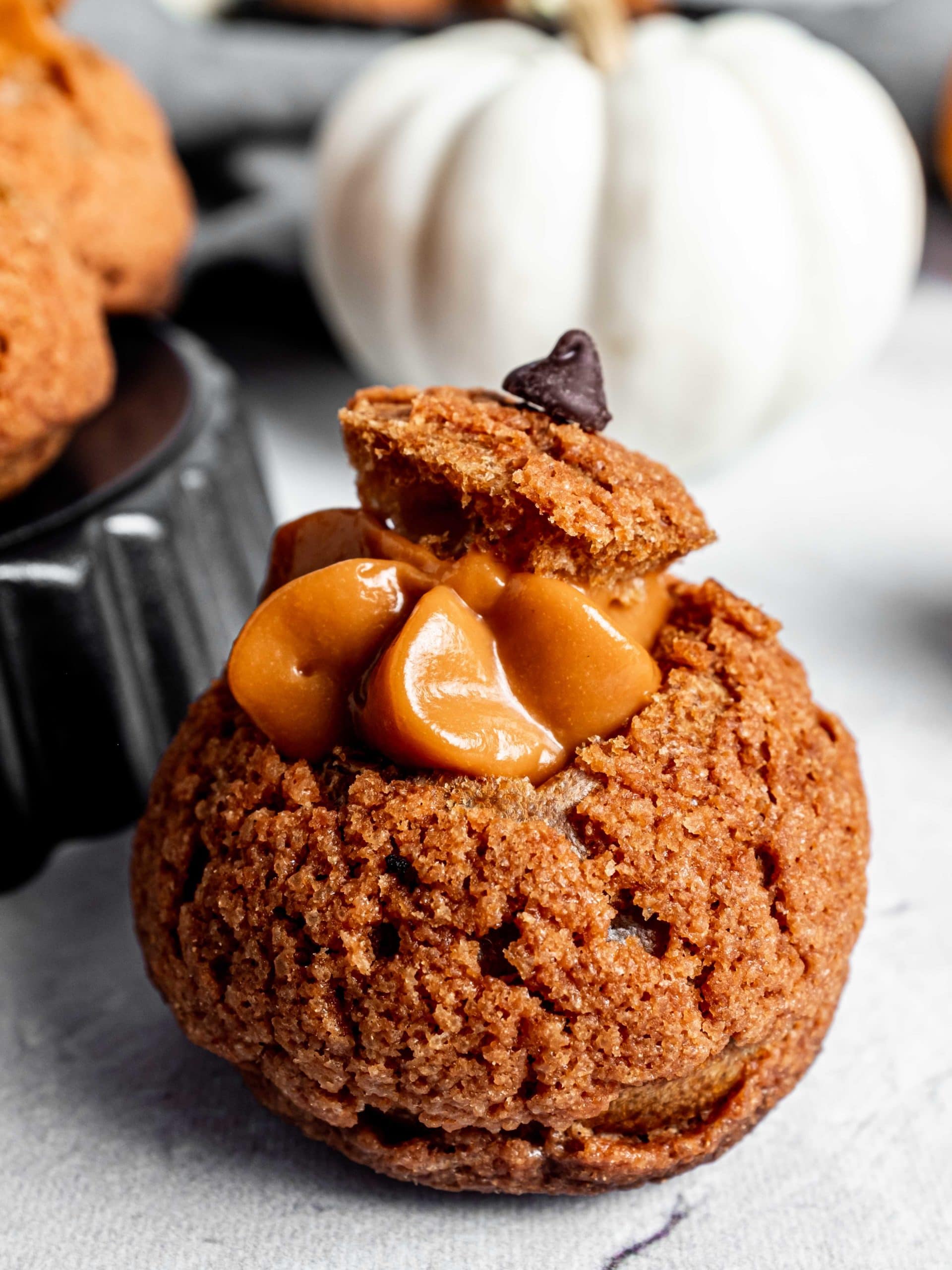 halloween choux au craquelin
---
Author:

Prep Time:

30 minutes

Cook Time:

40 minutes

Total Time:

1 hour 10 minutes

Yield:

24
craquelin
softened butter

½ c (115 g)

granulated sugar

¼ c (50 g)

all purpose flour

½ c (60 g)
choux pastry
all purpose flour

½ c (60g)

(spooned and leveled*)

milk

¼ c (60 ml)

water

¼ c (60 ml)

butter

4 tbsp (55 g)

salt

pinch

eggs

2 large (100 g)
assembly
---
Instructions
craquelin
Mix together the softened butter and sugar until smooth.
Add the food coloring (a few drops of orange or a mixture of red and yellow) and stir until fully incorporated.
Add the flour and mix until combined.
Roll the dough out to ⅛ inch (3 mm) thickness between two layers of parchment paper.
Place in the freezer for at least 10 minutes before using.
choux au craquelin
Measure out and sift the flour. Set aside.
Combine the milk, water, butter and salt in a saucepan over medium heat. Cook until the butter has melted and the mixture begins to simmer, stirring occasionally.
Reduce heat to low and add all of the flour to the saucepan at once. Quickly stir the mixture until the dough forms into a ball.
Cook for 1-2 minutes while pressing the dough down against the bottom of the pot and stirring. The dough should reach a temperature of about 170 F (77 C) and leave a film on the bottom of the saucepan.
Remove from heat and transfer to a bowl. Let cool for about 10 minutes or until the dough reaches below 140 F (60 C).
While the dough is cooling, combine the eggs in a separate bowl and lightly beat.
Once the dough is cool, add ⅔ of the egg mixture to the dough and use an electric mixer to combine. The dough should curdle at first and then come together again.
Start to gradually add more of the egg mixture until the dough turns into a shiny and smooth paste that sticks to the spoon. Do not add more eggs than necessary – the mixture should be pipeable, but hold its form.
Preheat the oven to 360 F (180 C) and line a baking sheet with parchment paper.
Transfer the choux dough to a piping bag fitted with a large round tip (I use Wilton 2A).
Pipe mounds at least 1 inch (2.5 cm) apart. The mounds should be approximately 1.5 inch (4 cm) in diameter and about ⅓ inch (0.8 cm) tall around the edges. Smooth down any points with a wet fingertip.
Cut out circles of frozen craquelin that are 1.5 inch (4 cm) in diameter. Place on the top of each piped mound.
Bake for 40-45 minutes or until the cream puffs underneath the craquelin are golden brown. Do not open the oven for the first 30 minutes.
Remove the choux au craquelin from the oven and let cool for 10-15 minutes.
assembly
Once the cream puffs are cool enough to handle, use a sharp knife to cut off the tops. Let cool completely before filling.
Transfer your pastry cream to a piping bag and fill each cream puff.
Top with the lid that you previously cut out and place a mini chocolate chip on top. To make the chocolate chip stick better, you can melt additional chocolate and use it as adhesive.
Notes
Spooned and leveled: Scooping a measuring cup into a flour container can result in much more flour than intended, which can affect the success of your dough. To get a more accurate measurement, use a spoon to lightly scoop flour into the measuring cup until it's completely full. Then run the back of a knife over the cup to gently scrape off any excess.
Category:

baking and desserts

Cuisine:

global
Keywords: halloween desserts, halloween recipes, pumpkin choux au craquelin, pumpkin cream puffs
This post may contain affiliate links through which we may earn a small commission at no additional cost to you. We only recommend products that we genuinely love and would use ourselves.