Wonderfully refreshing and inspired by the changing seasons, this harvest moon cocktail embraces the flavors of both summer and autumn. The beautifully golden rum cocktail is easy to make and infused with a deliciously spiced homemade simple syrup!
We're bidding farewell to summer and greeting the fall with this harvest moon cocktail that embraces the best of both seasons! Start with rum and a splash of mango nectar — an almost tropical combination and an ode to the bright, sunny days of summer. Then add fresh apple cider and a spoonful of homemade spiced maple simple syrup for a bit of cozy autumn comfort. Top with club soda and your harvest moon cocktail is ready!
a rum cocktail for the changing seasons
You'll need just five ingredients (and a bit of ice) to make this delicious apple cider cocktail:
Spiced rum: I like using spiced rum in this recipe, but really gold rum and dark rum are both great substitutes and work well here.
Mango nectar: Mango nectar adds that bit of tropical sunshine to our cocktail — the final days of summer! I buy this brand — you can find similar cans at most larger grocery stores for less than a dollar. A mango juice blend would also work as a substitute.
Apple cider: And then add a bit of autumn — fresh apple cider! A quality apple juice can also be used.
Spiced maple simple syrup: The star of the show is the spiced simple syrup. It couldn't be easier to make and really infuses the cocktail with fall flavor. You'll find the recipe below.
Club soda: I usually only add a few tablespoons up to ¼ cup (30-60 ml) of club soda, but you can adjust depending on how strong you like your drink. And really you could skip the club soda altogether and the drink would still be delicious. I just tend to prefer my cocktails with a little something sparkling!
To make the drink, just mix your rum, mango nectar, apple cider and simple syrup in a glass with ice until chilled (about 30 seconds). And then top with cold club soda to taste!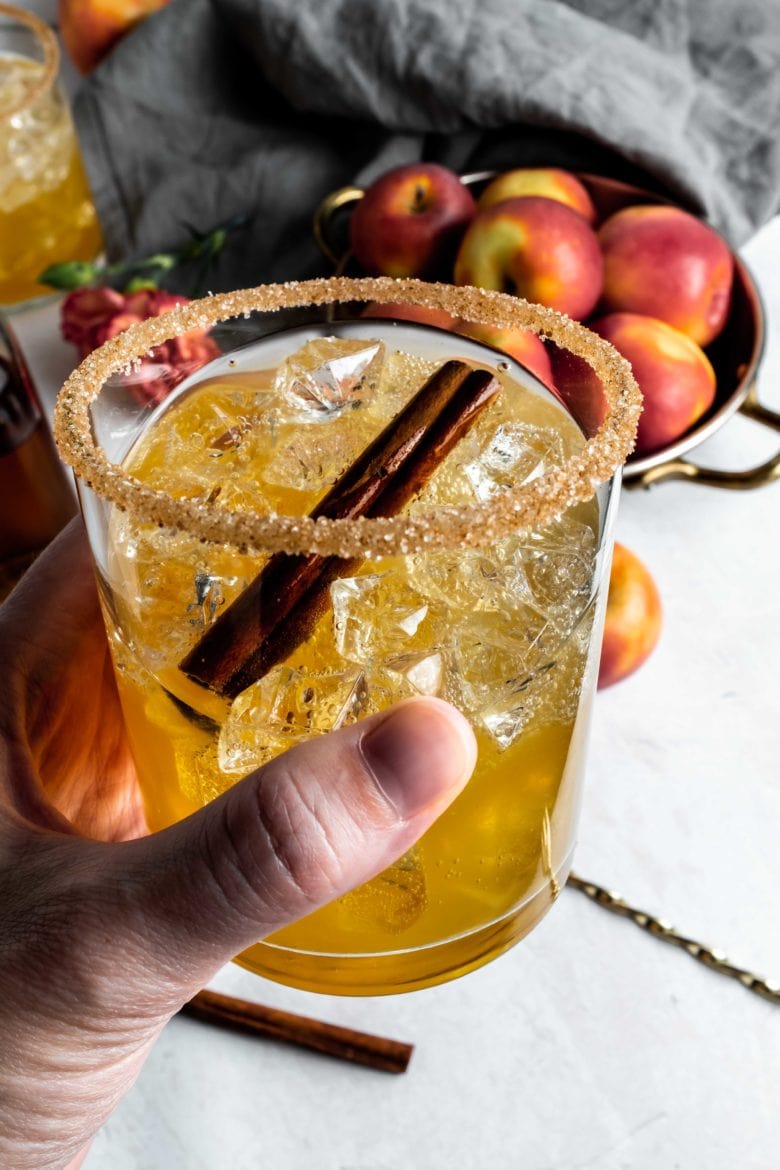 spiced maple simple syrup
The spiced maple simple syrup is easy to make and really adds the autumn coziness to this rum cocktail! Start by mixing water with sugar and pure maple syrup in a small saucepan over medium-low heat. Once the sugar has dissolved, you'll then add a mixture of your favorite fall spices and let the syrup simmer for about 10 minutes.
For the spices you can really use whatever fall flavors you have on hand, just make sure you're using whole spices. For this blend I used one cinnamon stick, a small piece of fresh ginger (no need to peel), whole cloves and whole juniper berries. I know juniper berries are a bit less common in the US, but they add such a beautiful woodsy, slightly piney flavor to the syrup — perfect for fall! You can leave them out if you'd like or add something completely different. Star anise, a few allspice berries or even vanilla bean would work well.
Once your spices have simmered (make sure not to boil here, just barely simmering is fine), remove the mixture from heat and allow to cool before using. Make sure not to discard the spices until the syrup comes to room temperature — we want to really give them a chance to infuse the syrup! Once cooled, strain and use immediately or store in an airtight container in the fridge for several weeks.
And where else can you use this spiced simple syrup? It's definitely great in other rum or even gin cocktails, but I absolutely love it with coffee and tea! Try making a spiced maple latte by combining hot milk, espresso and a good splash of this syrup. Sprinkle with a bit of cinnamon and enjoy!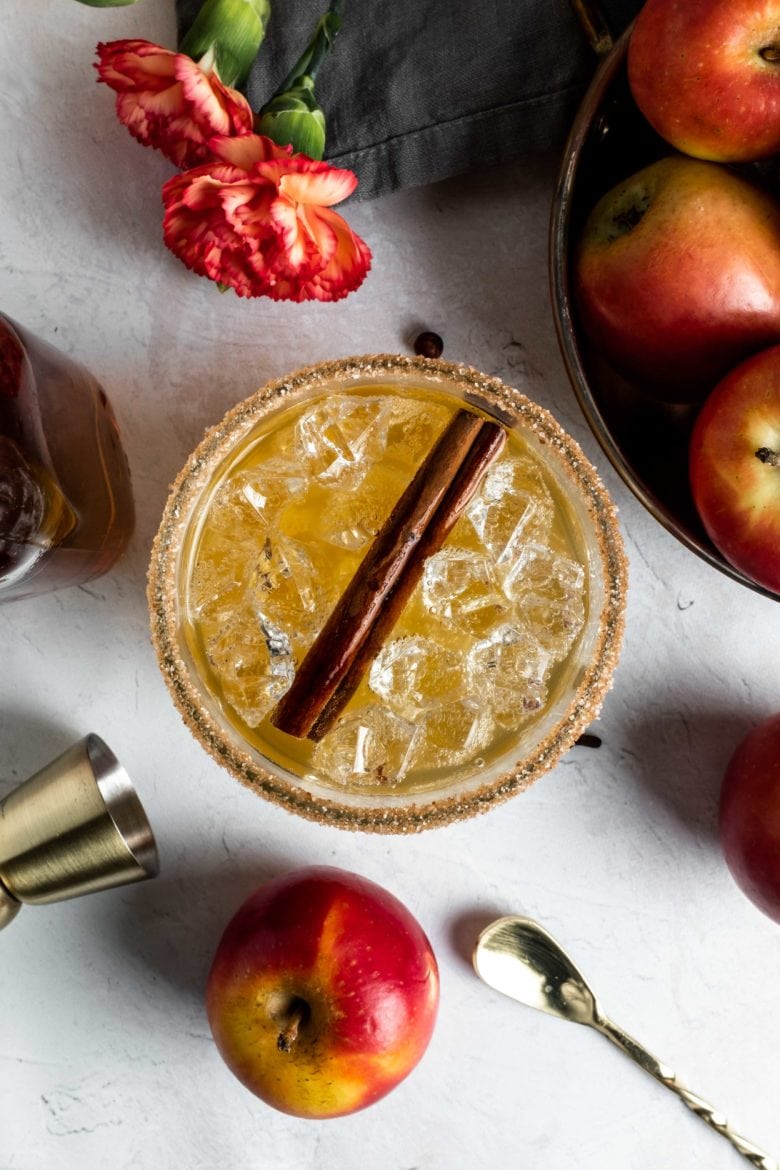 For more cocktail inspiration, make sure to give these a try!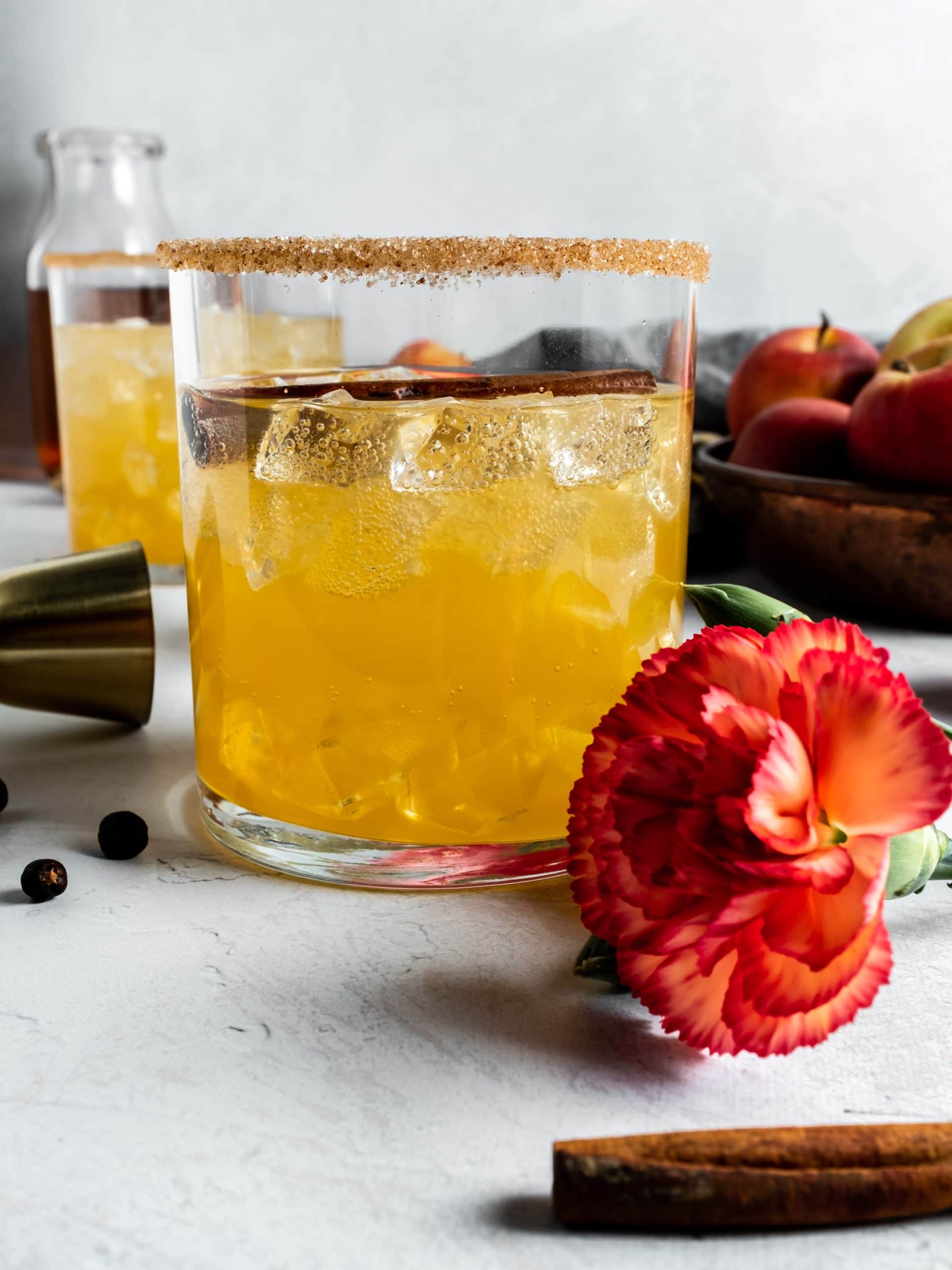 ingredients
harvest moon cocktail
spiced rum

1.5 oz (45 ml)

mango nectar

1 oz (30 ml)

apple cider

1 oz (30 ml)

spiced maple simple syrup

½ oz (15 ml)

club soda

to top
spiced maple simple syrup
water

1 c (240 ml)

sugar

¾ c (150 g)

pure maple syrup

¼ c (60 ml)

cinnamon

1 stick

ginger

1 inch (2.5 cm) piece

cloves

3 whole

juniper berries (optional)

5 whole
instructions
harvest moon cocktail
Add the rum, mango nectar, apple cider and simple syrup to a glass with ice. Stir until chilled.

Top with club soda to taste.
spiced maple simple syrup
In a saucepan bring water, sugar and maple syrup to a simmer over medium-low heat, stirring until the sugar has dissolved.
Add the cinnamon stick, ginger, cloves and juniper berries. Cook for 10 minutes just barely simmering. Remove from heat and allow to cool to room temperature.
Strain the syrup and store in the refrigerator in an airtight container for several weeks.

Did You Make This Recipe?
This post may contain affiliate links through which we may earn a small commission at no additional cost to you. We only recommend products that we genuinely love and would use ourselves.