Making homemade chicken stock is a great way to use any leftover rotisserie or roasted chicken bones! Try this simple recipe to use as a more nutritious and flavorful base for your soups and stews or use it to make one of my favorite comfort foods — a delicious pastina in brodo!
Sometimes when we need a shortcut, we pick up a rotisserie chicken to add a bit of protein to salads and sandwiches or to make a quick filling for these chicken empanadas. And an added bonus to buying an already roasted chicken for these easy dinners? The bones make for a rich and savory chicken stock!
If you're like us and tend to buy rotisserie chicken on busy weeks, you might not get around to making the stock right away, which is not a problem! Just store the bones and any other chicken scraps in the freezer until you're ready to make your stock. You won't even need to thaw them before use — just add everything directly to the stock pot!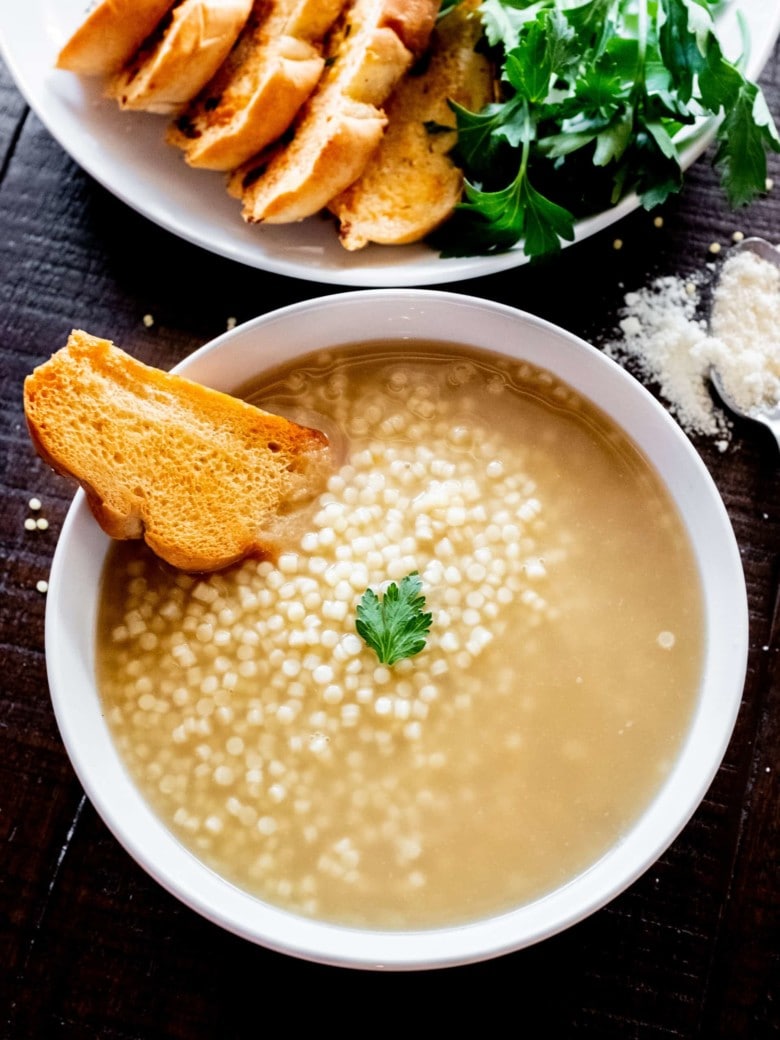 While you could add a wide variety of vegetables and herbs to your chicken stock, I prefer to keep it simple so as to not take away from the rich chicken flavor. I always add an onion, carrots and celery, but sometimes I'll switch out the parsley for fresh rosemary or thyme or even add a few cloves of garlic depending on how I plan to use the stock. You'll also find that salt isn't on the list of ingredients for the stock. I like to keep my stock unsalted until I'm ready to use it, as the salt level I prefer will be determined by the type of dish I'm cooking.
While homemade chicken stock is a great base for soups like this easy tomato soup or this delicious crab bisque, it's so flavorful that I often prefer to serve it with only a few added ingredients. My absolute favorite way to turn this chicken stock into a meal is to just add pasta or dumplings, such as russian meat pelmeni or korean kimchi and pork mandu. And whenever I'm under the weather I always crave a simple pastina in brodo, which is basically the italian equivalent to chicken noodle soup. To make this easy comfort food, just boil your favorite type of tiny pasta (pastina) in the stock and stir in a few tablespoons (or a lot of tablespoons) of grated parmesan!
ingredients
chicken stock
chicken bones

1 carcass

(leftover bones from large rotisserie or roasted chicken; any wings, skin or connective tissue are great additions too!)

onion

1 large

carrots

2 medium

celery

2 ribs

parsley

8 sprigs

whole peppercorns

½ tsp

water

3 l (12 c)
pastina in brodo
chicken stock

2 l (8 c)

pastina*

300 g (10 oz)

salt

to taste

grated parmesan

to taste
instructions
chicken stock
Prepare the vegetables. Cut the onion in half (you don't need to peel the onion). Roughly chop the carrots and celery.
Add the chicken bones, vegetables, parsley (stems attached) and peppercorns to a large pot.
Pour in the water and bring to a boil. Skim off any foam that forms on top of the stock and discard.
Reduce heat and simmer for at least 3 hours.
pastina in brodo
Reheat the chicken stock and bring to a boil. Add salt to taste - I generally add about 2-3 teaspoons if using unsalted homemade stock.
Add the pastina and cook according to package instructions.
Divide into bowls and stir in grated parmesan to taste. I like to add about 3 tablespoons per individual serving!
notes
pastina: pastina just refers to any type of tiny pasta - I like to use acini di pepe or stelline!

Did You Make This Recipe?