Looking for a way to use leftover sweet corn cobs? Turn them into a delicious corn stock with this simple recipe! Homemade corn stock is easy to make and adds an incredible burst of fresh flavor to all of your favorite chowders, stews and risottos!
With sweet corn season upon us, we're already thinking about all of the ways to use our favorite summer crop. And after kicking off this year's harvest with a batch of mexican street corn fritters, we decided it would be great if we could cut down on food waste by finding a way to use the mountains of bare cobs we go through each summer.
As a kid we would actually take big buckets of leftover corn cobs to feed the cows! Since that option isn't as viable now that we live in a city, we've started to hoard bare cobs in the freezer until we have enough to whip up a batch of homemade corn stock. It only takes a few ingredients, goes great in any recipe that calls for vegetable broth and is incredibly flavorful! It also freezes beautifully so you can enjoy the fresh taste of sweet corn well into winter!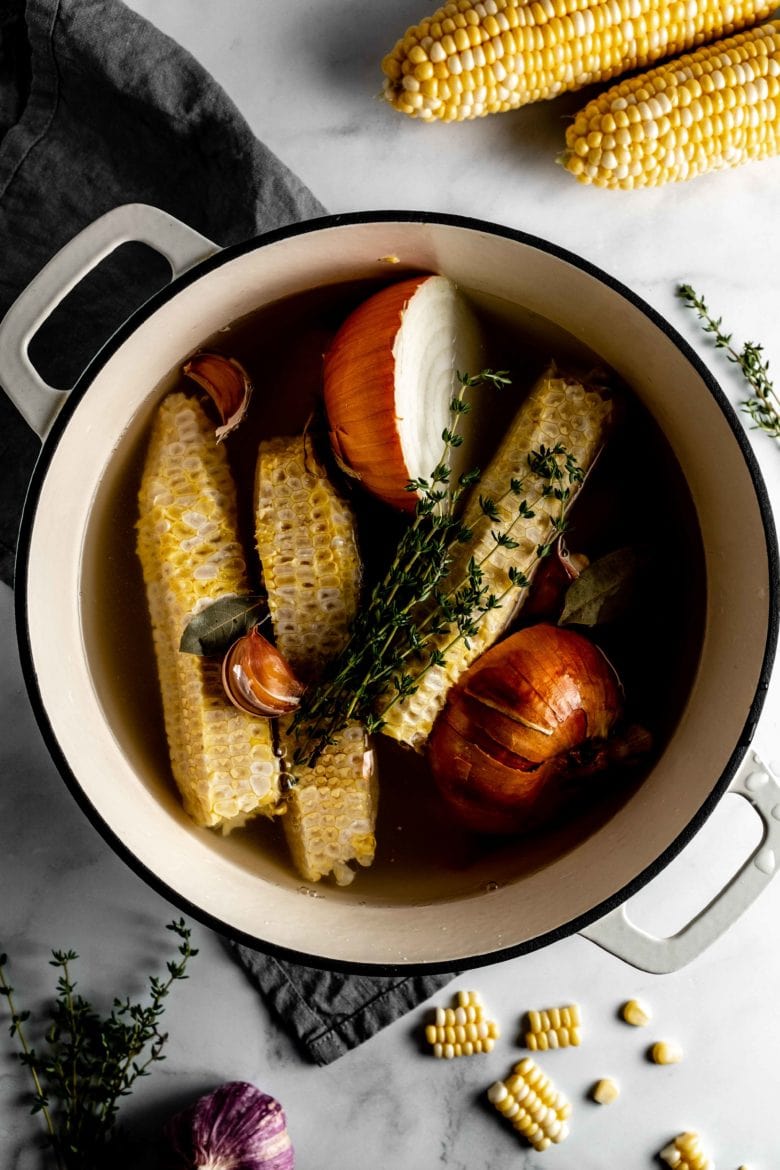 making homemade corn stock
Making homemade corn stock is a great way to extend the all too short sweet corn season and it couldn't be easier! To start, you'll need eight bare corn cobs. If you only go through a few pieces of corn at a time you can always keep the bare cobs in the freezer until you have enough to make a broth. And no need to thaw them — just add them right into the water!
As for the rest of the stock, I like to keep it quite simple to really bring out the corn flavor. My go-to combination includes just four ingredients: onion, garlic, fresh thyme and a few bay leaves. The onion and garlic balance out the sweetness of the corn and the thyme and bay leaves give the stock an added herby flavor boost. Depending on how you plan to use the stock, you could definitely switch out the thyme for parsley, rosemary or even sage. And while I chose not to add any additional spices to this version, whole black peppercorns or a few allspice berries also wouldn't be amiss here.
To make the corn stock, just add all ingredients to a pot of water (about 12 cups or 3 liters), bring to a boil and then reduce heat and simmer uncovered until the flavor is to your preference. Because the corn cobs are so flavorful, this stock doesn't need to simmer on the stove for as long as other vegetable broths and it's done in about an hour and a half. Now just discard the vegetables and herbs and store the stock in the refrigerator for up to five days or freeze for later!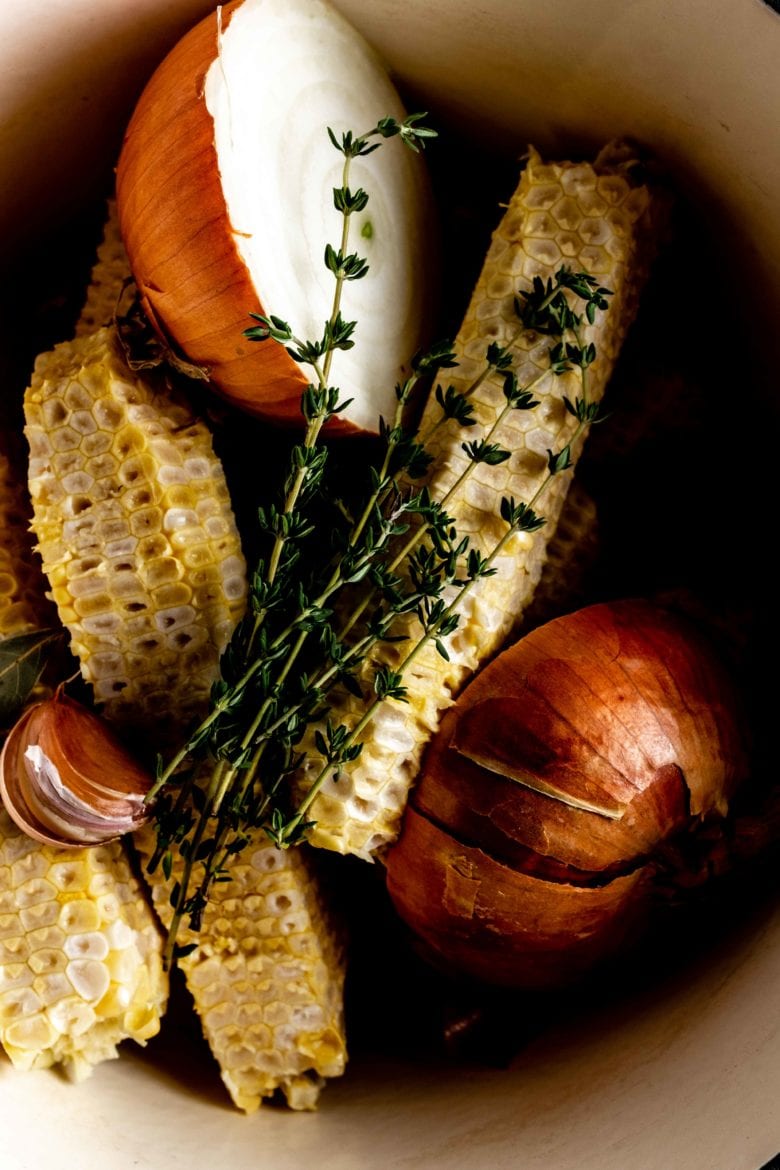 how to use corn stock
One quick note before we get to how to use this amazing golden broth: I don't add salt during the cooking process as the amount of salt needed depends more on what dish I'll be making with the stock. That's all to say don't be afraid to add a bit more salt to your final dish than if you were to use store-bought broth.
Now onto all of the delicious ways you can use this stock:
Risotto. The corn stock adds deliciously sweet undertones when paired with nutty rice dishes! And don't stop at risotto, you could try a sweet corn paella or jambalaya too!
Seafood stew! Our absolute favorite way to use this corn stock is to make a summer seafood stew with mussels, scallops and shrimp. It's both savory and spicy, which pairs so well with the sweet corn stock.
Polenta or grits. Use it in place of water to add even more corn flavor!
Corn chowder — or really any type of chowder!
While these are some of our favorite ideas, you can really use this corn stock as a substitute for vegetable broth in any recipe!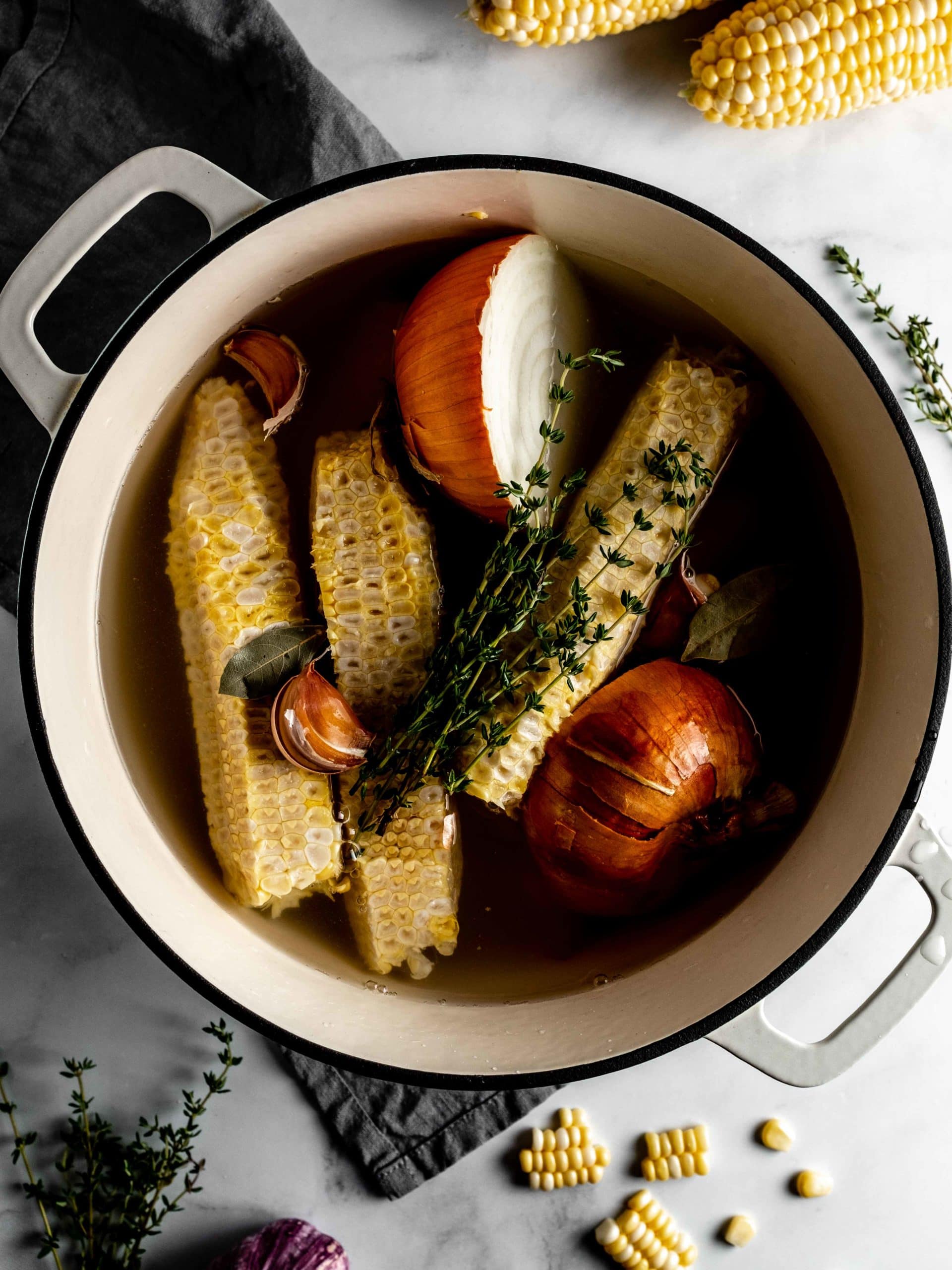 ingredients
corn

8 cobs

(husked and without kernels)

garlic

4 cloves

yellow onion

1 large

thyme

3 sprigs

bay leaves

2 leaves

water

12 c (3 l)
instructions
Smash the garlic cloves and halve the onion (no need to remove the peel).
Add all ingredients to a large stock pot. Bring to a boil over high heat. Lower the heat to a simmer and cook for 1.5 hours.
Strain the corn stock, discarding the vegetables and herbs.
Store in the refrigerator for up to five days or freeze for later use.

Did You Make This Recipe?
This post may contain affiliate links through which we may earn a small commission at no additional cost to you. We only recommend products that we genuinely love and would use ourselves.