This decadently rich and creamy homemade hot chocolate is the perfect way to warm your soul on a cold winter morning! Try our european-style hot chocolate with a bit of whipped cream, a dash of amaretto or a few candy canes for a festive twist!
The hot chocolate that I grew up with was more reminiscent of warm chocolate milk than anything else. It wasn't until I spent a Christmas with my best friend and her family in a little town in Italy that I discovered what I had been missing out on! Incredibly thick and decadently rich, the hot chocolate I had that winter completely transformed my opinion of the festive beverage. Now that colder weather has arrived in the Ozarks, we've be recreating the irresistible treat at home with this homemade hot chocolate recipe!
how to make italian style hot chocolate
This recipe uses both unsweetened cocoa powder and chopped dark chocolate. For the dark chocolate, I generally prefer to use something at about 70%. Lately, we've been using Lindt 70% smooth dark chocolate bars and we have not been disappointed! One bar is enough to make about two big mugs or three more reasonably portioned cups.
The other ingredients include milk, sugar and a bit of cornstarch. Depending on the type of chocolate you use, make sure to adjust the sugar to taste. As for the cornstarch, this is what makes the hot chocolate incredibly thick and creamy. You can decrease the amount by half if you're looking for a thinner hot chocolate.
To make the hot chocolate, first add the cocoa powder and cornstarch to cold milk in a small saucepan. Make sure to use a sifter for this step to avoid getting any lumps! Stir everything together until smooth and then add in a bit of sugar. If you're unsure of the amount, start with just a little and add more when your hot chocolate is almost finished. Bring the mixture to a slight boil and stir to dissolve the sugar. Then add your chopped dark chocolate and continue stirring until the mixture thickens and the chocolate has completely melted. And that's it — you're now ready to enjoy your delicious cup of pure bliss!
add a bit of holiday cheer!
If you want to make your homemade hot chocolate extra special, we've definitely got a few ideas for you!
Our favorite way to serve hot chocolate is to top it with a bit of whipped cream and an extra sprinkling of chopped dark chocolate. And for a festive touch, I like to add a candy cane to each mug to infuse the hot chocolate with pepperminty goodness!
Or maybe you're a fan of chocolate oranges? Try making your hot chocolate with a bar of dark orange chocolate. Or really any flavor that calls to you! Just remember to stay away from any chocolate with chopped pieces of nuts or fruit so that your hot chocolate remains silky smooth.
And if you're looking to serve this hot chocolate as an after dinner drink, I have to recommend adding a dash of amaretto liqueur. It's my absolute favorite way to enjoy hot chocolate and adds just an extra bit of warmth for those cold evenings!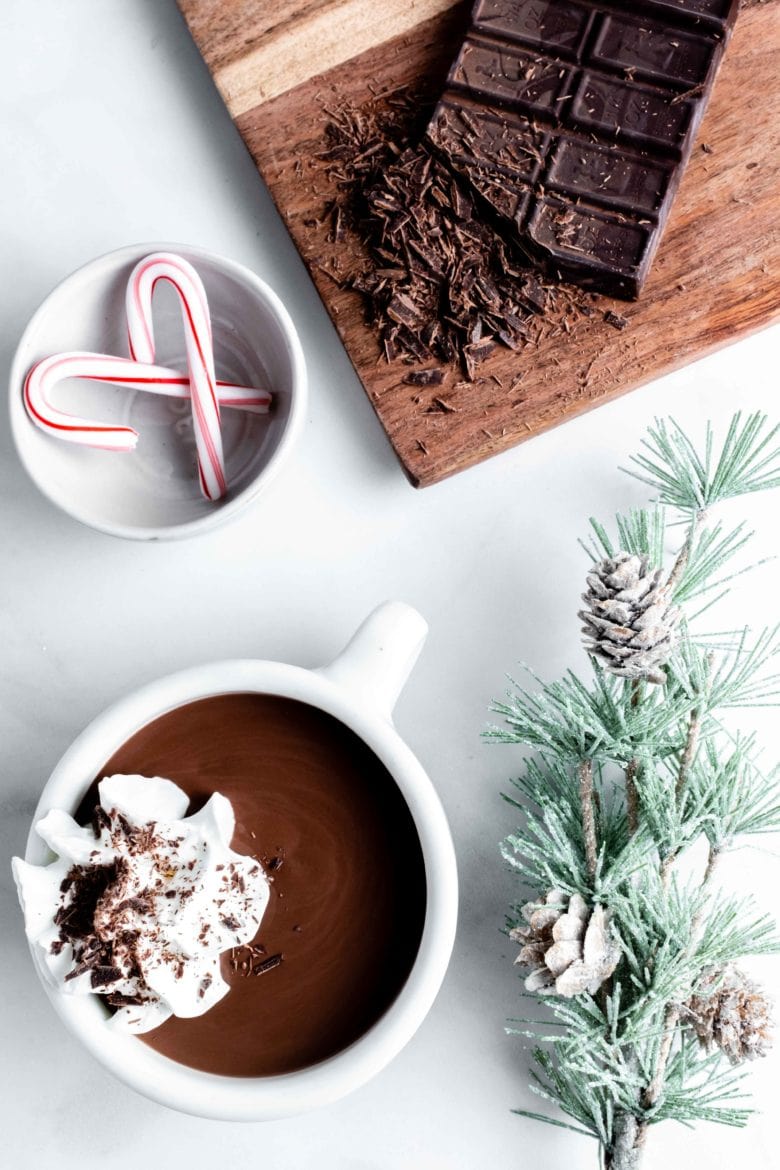 For any other chocolate fiends out there, here are some of our favorite chocolate creations!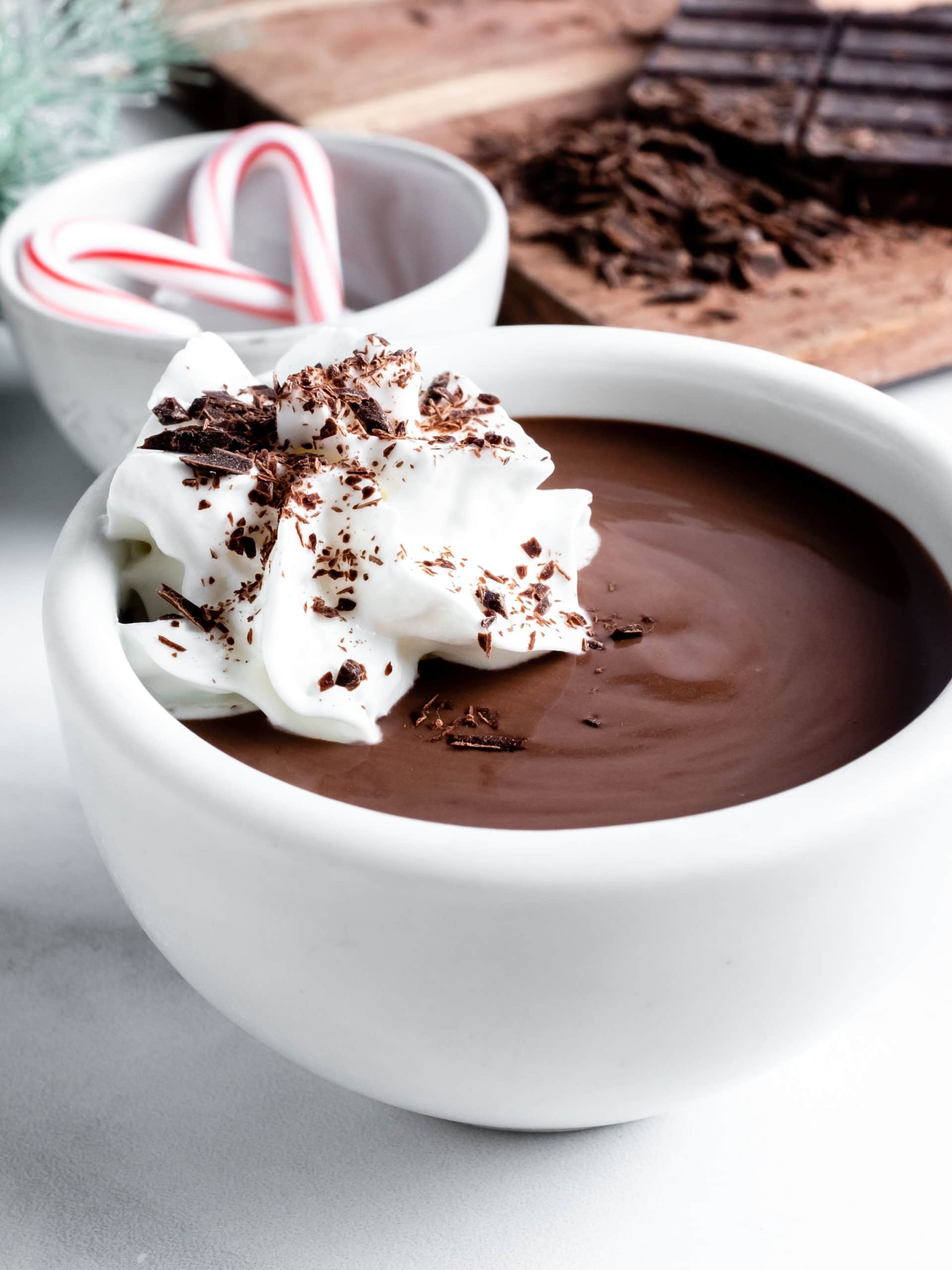 ingredients
dark chocolate*

3.5 oz (100 g)

milk

2 c (480 ml)

unsweetened cocoa powder

2 tbsp

cornstarch

1 tbsp

sugar

2 tbsp
instructions
Finely chop the dark chocolate and set aside.
Pour the milk into a small saucepan. While still cold, sift in the cocoa powder and cornstarch and whisk until smooth.
Add the sugar and bring the mixture to a slight boil over medium heat, stirring until the sugar is fully dissolved.
Add the finely chopped chocolate and continue stirring until the chocolate has fully melted and the mixture has thickened (5-7 minutes).
notes
Chocolate: For the chocolate, I like to use something around 70% or above. Definitely adjust the sugar to taste depending on the chocolate you choose!

Did You Make This Recipe?
This post may contain affiliate links through which we may earn a small commission at no additional cost to you. We only recommend products that we genuinely love and would use ourselves.