This no-churn ice cream is smooth, creamy and bursting with deliciously crunchy pieces of homemade honeycomb candy! Rich and indulgent, our honeycomb ice cream is always a refreshing treat on a hot summer day!
What's better than homemade ice cream? Homemade ice cream with delicious chunks of crunchy honeycomb candy! No matter how many ice cream creations we dream up, we keep coming back to this honeycomb ice cream as our absolute favorite flavor.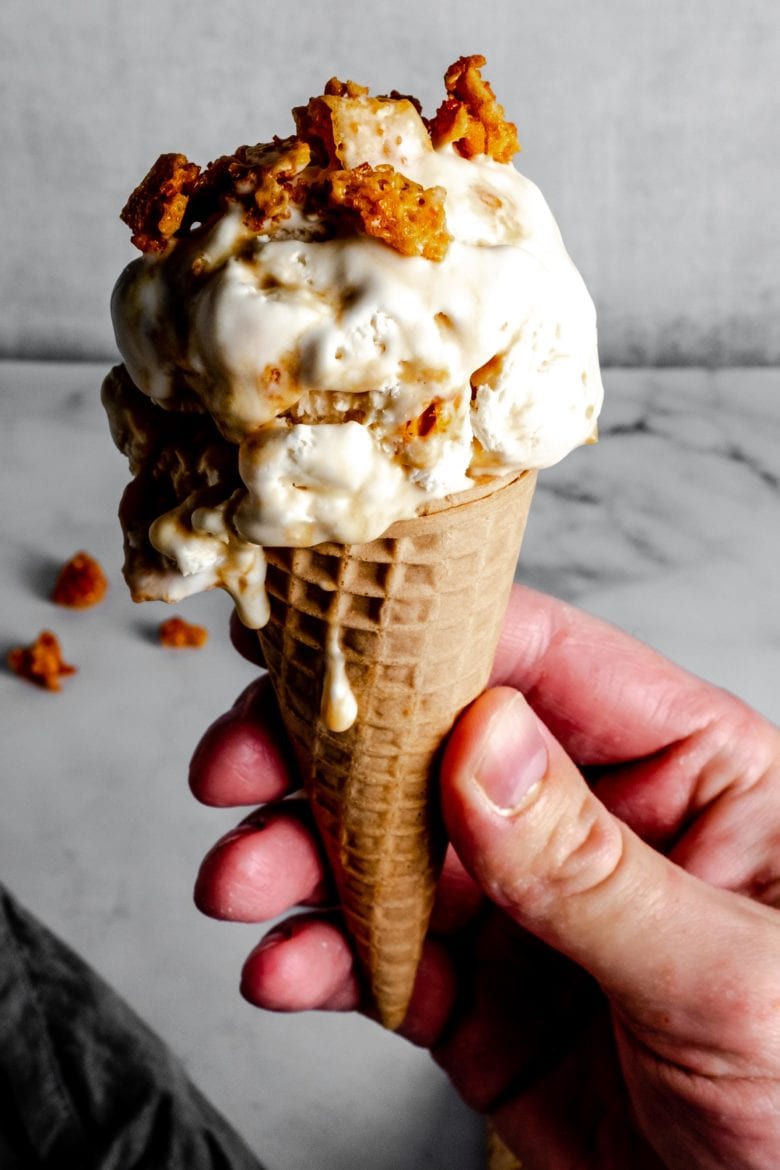 making honeycomb
If you've never come across honeycomb candy, it's a deliciously crunchy confection that can be made with only a few ingredients. Our recipe calls for just honey, sugar and baking soda.
To make the honeycomb, honey and sugar are cooked together on the stovetop until the mixture turns a beautiful amber color. Next, the mixture is removed from heat and baking soda is added. As the mixture begins to foam and bubble you'll pour it out onto a baking sheet lined with parchment paper. And that's it! Now you just have to wait until it cools and then break it up into small pieces!
For a more in-depth read on the technical aspects of making this delicious candy, you can check out our recipe for chocolate dipped honeycomb. The post includes additional tips and tricks to make sure your honeycomb is a success, but I've summarized the main points below:
Have all ingredients and tools ready before you start. You'll need a baking sheet lined with parchment paper on a heat proof surface, pre-sifted baking soda, a candy thermometer and a wooden or silicone spatula.
Make sure your saucepan is deep enough — the volume will increase rapidly after adding the baking soda! 
To avoid crystallization, don't directly stir the mixture. Swirl the saucepan instead.
easy no-churn ice cream
Making ice cream without an ice cream maker (no-churn ice cream) is much easier than you might think and you really only need two ingredients: heavy cream and sweetened condensed milk. The heavy cream is first whipped to stiff peaks and then folded into the sweetened condensed milk. Next, the mixture is placed in the freezer for four hours and then your ice cream is ready to scoop!
Really the only somewhat difficult part of making no-churn ice cream is ensuring that your heavy cream is properly whipped so here are a few tips:
Make sure your cream is cold before starting! I like to measure out my heavy cream and chill the entire bowl before I get started.
You'll want to use an electric mixer to beat the cream until stiff peaks form, but what does that even mean? The cream will be glossy and have a texture that holds its shape. If you turn your whisk or beaters upside down the peaks should remain standing up.
But don't overbeat your cream! Over-whipped cream can take on a grainy, curd-like texture so make sure to stop as soon as stiff peaks form.
honeycomb ice cream!
And now let's put it all together! Once your honeycomb candy is ready you can break it up into little pieces with your hands (or place it in a ziplock and use a mallet to crush it). I like to have pretty big chunks of honeycomb in my ice cream, but the size is totally up to you. One tip: if you're making this ice cream for a special occasion, I recommend saving a bit of honeycomb to crumble over the top before serving — it makes for a beautiful presentation!
Now combine the crushed honeycomb with the sweetened condensed milk and a bit of vanilla extract (although the vanilla is optional). Then proceed with the no-churn ice cream method: whip the heavy cream to stiff peaks and fold it into the sweetened condensed milk mixture. Place it in the freezer uncovered for at least four hours (or overnight) and enjoy!
And how should you store honeycomb ice cream? After the initial four-hour freezing time, cover your ice cream with plastic wrap and place it towards the back of the freezer. I find that the ice cream has the best texture if eaten within the first two weeks.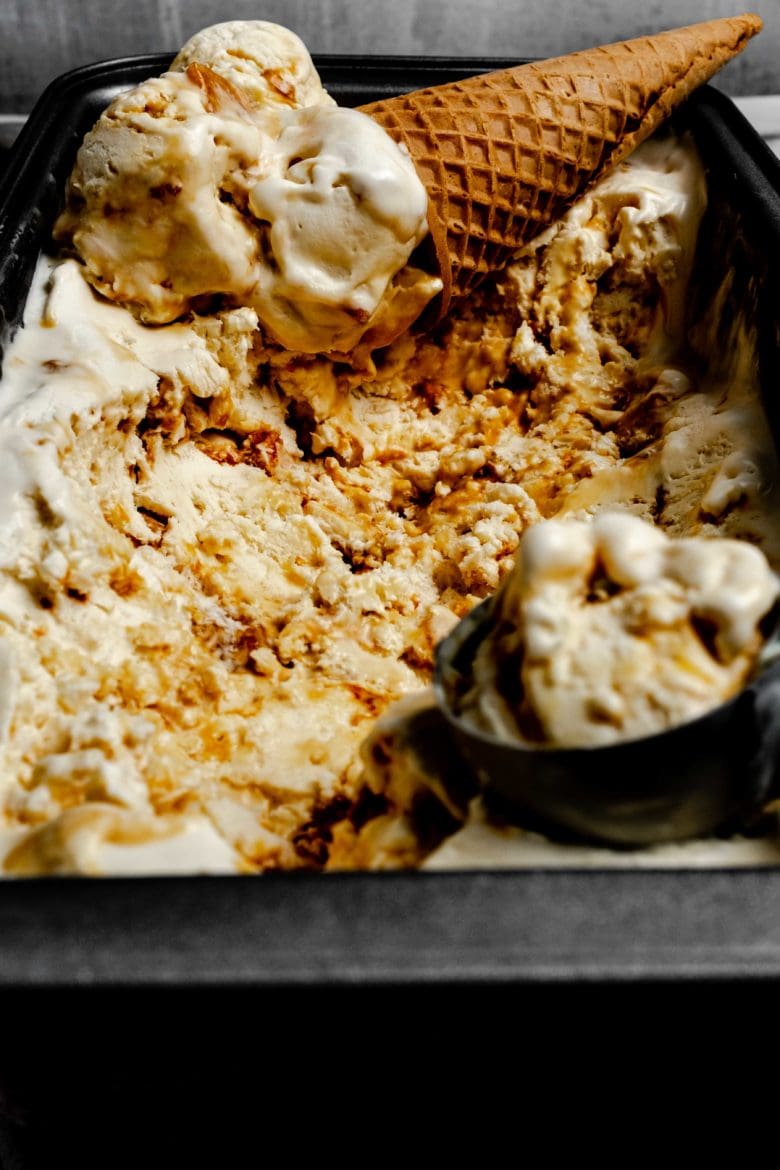 Looking for more frozen treats perfect for summer? Check out these recipes!
Print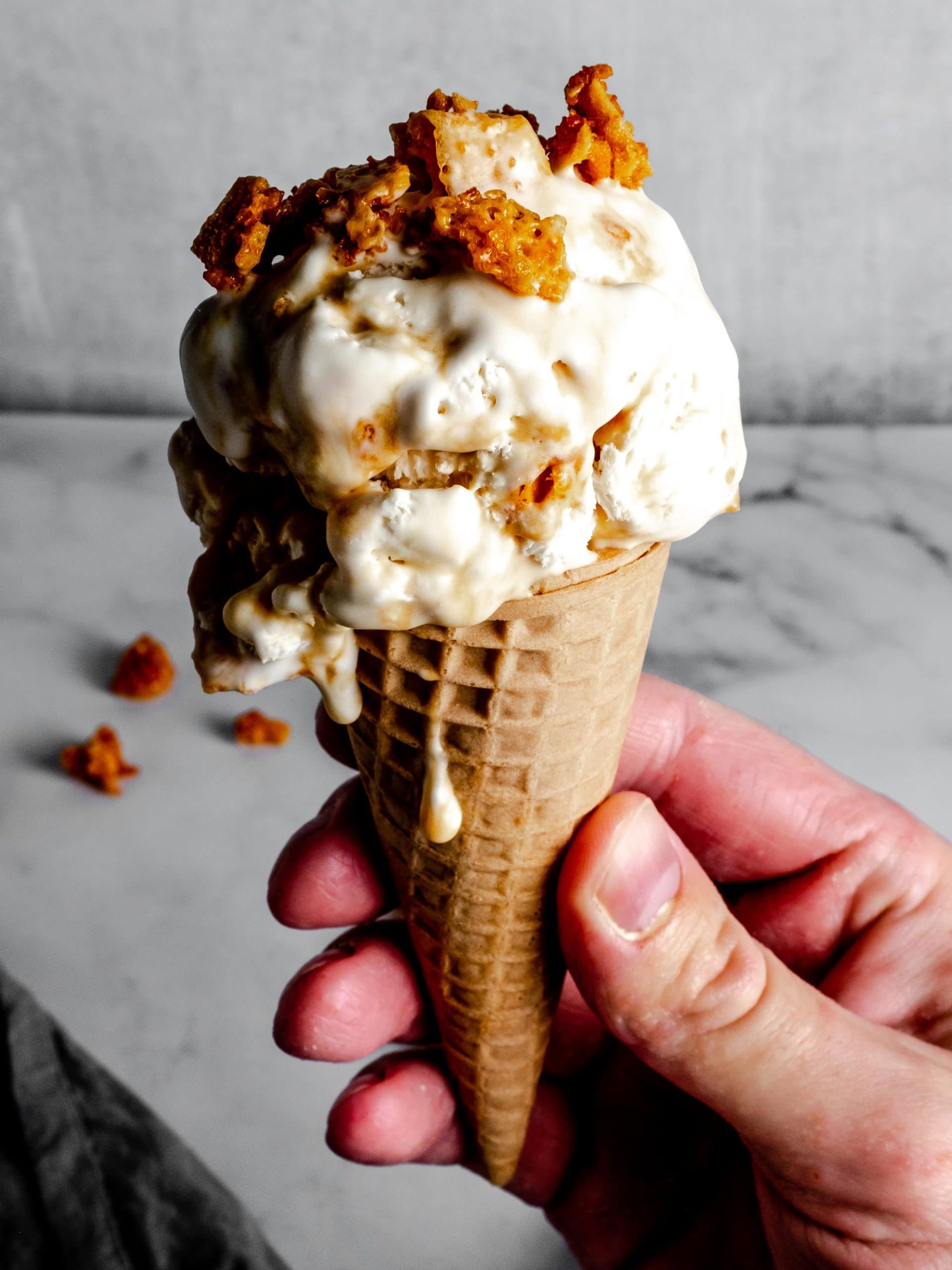 no-churn honeycomb ice cream
---
Author:

Brit Kapustina

Total Time:

25 minutes

Yield:

12

Prep Time:

10 minutes

Cook Time:

15 minutes

Category:

Dessert

Method:

No Churn Ice Cream

Cuisine:

Global
Honeycomb Candy
2 teaspoons

(10 grams) baking soda

¼ cup

(70 grams) honey

½ cup

(100 grams) granulated sugar
No-Churn Ice Cream
2 cups

(470 ml) heavy cream

14 ounces

(400 grams) sweetened condensed milk

1 teaspoon

vanilla extract
---
Instructions
Honeycomb Candy
Before you begin, make sure you have everything prepared. Line a rimmed baking sheet or baking dish with parchment paper and place it on a heat resistant surface. Prepare a wooden or silicone spatula and a thermometer. Pre-sift the baking soda.
Place the honey and sugar into a deep saucepan – the volume will rapidly increase during cooking, so make sure the saucepan is deep enough.
Melt the mixture over low heat for about 5 minutes. Occasionally swirl the saucepan.
Once the mixture forms a liquid, increase the heat to medium. Occasionally swirl the saucepan. Cook until the mixture reaches a temperature of about 300 F (150 C). Start checking the temperature as the mixture develops an amber color.
This is a time sensitive step. When the mixture reaches the right temperature turn off the heat and immediately stir in the baking soda. As the mixture expands and begins to foam, pour it onto the prepared baking sheet. Scoop out any leftovers.
Leave the honeycomb to set on the baking sheet for about 30 minutes.
After the honeycomb has set, break it into small pieces. Don't start making the ice cream until your honeycomb has cooled completely!
No-Churn Honeycomb Ice Cream
Place your ice cream container in the freezer.
In a large bowl, mix together the sweetened condensed milk with the vanilla extract. Mix in the honeycomb pieces and set aside.
In a separate bowl, use an electric mixer to whip the heavy cream to stiff peaks.
Gently fold the heavy cream into the condensed milk with a spatula.
Pour into your ice cream container and place in freezer for four hours or until scoopable.
Keywords: honeycomb ice cream
This post may contain affiliate links through which we may earn a small commission at no additional cost to you. We only recommend products that we genuinely love and would use ourselves.