Hearty, tender and juicy, these Italian style meatballs in a rich tomato sauce are the ultimate comfort food! Serve them atop a heaping plate of spaghetti or alongside our delicious 15-minute brown butter orzo!
Meatballs in tomato sauce — an Italian classic! While we enjoyed this last batch with a quick pot of light and creamy brown butter orzo, these tender and juicy meatballs are incredibly versatile. Of course you could use your Italian meatballs to top off your spaghetti, but they're also great as a standalone appetizer and especially delicious on a toasted hoagie with melty mozzarella!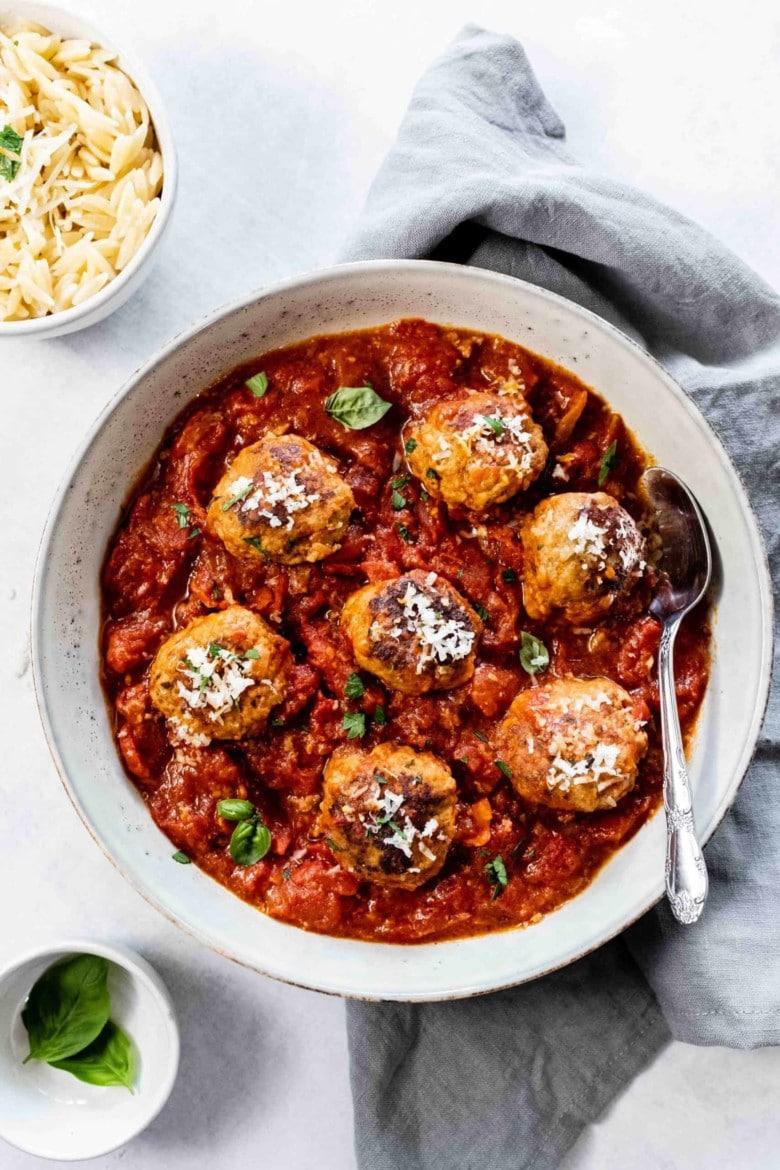 polpette al sugo
These easy polpette al sugo (meatballs in tomato sauce) are made with just a few ingredients: ground beef, egg, grated parmesan, parsley and a few slices of stale bread. The stale bread is soaked in milk and then added to the mixture — it makes for a much better texture than store bought breadcrumbs and results in meatballs that are melt-in-your-mouth tender!
And that sauce! Just a can of whole tomatoes, a bit of chopped onion, olive oil and basil. And of course a pinch (or three) of red pepper flakes if you like it a little spicy.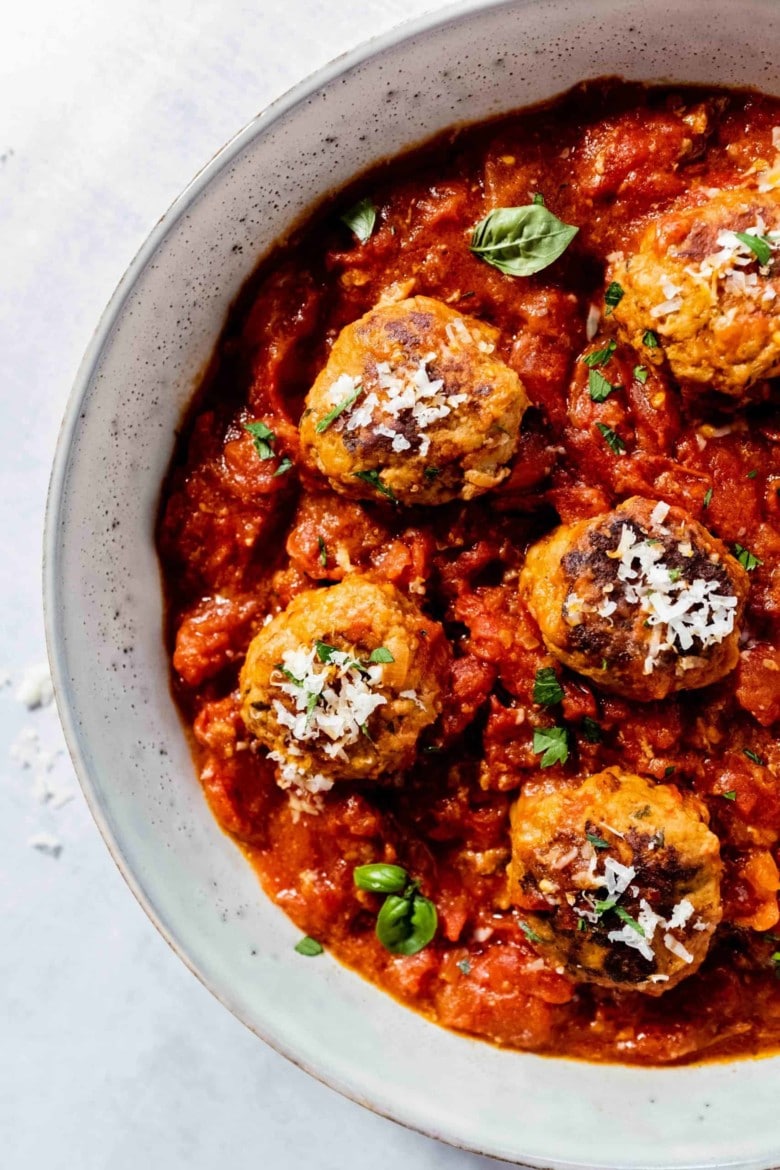 brown butter orzo
Orzo, pastina shaped like small grains of rice, is one of my favorite sides for saucy dishes like these meatballs. I like to use the risotto method when making orzo, which results in a delicious, creamy texture! Start by melting a bit of butter and cooking it until it turns golden brown with a nutty aroma. Toast your orzo in the buttery goodness, add a few cups of vegetable broth, cover and simmer to perfection! The best part? It only takes 15 minutes!
I also like to top my orzo off with a bit of grated parmesan when serving it alongside Italian meatballs. If you're looking to use this incredible dish for another meal, you've definitely got some other great options for add-ins. Once the orzo is cooked, try mixing in a bit of goat cheese or feta — or make it a whole meal by adding in slices of spicy sausage!
As we move into the colder months, we're definitely going to be making this recipe often! If you're looking for more warming comfort foods to get you through the fall and winter, give these a try!
ingredients
italian style meatballs
day old bread

2 slices (60 g)

milk

¼ c (60 ml)

ground beef

1 lb (500 g)

egg

1 large

grated parmesan

6 tbsp (30 g)

chopped parsley

1 tbsp

salt

½ tsp
sauce
olive oil

2 tbsp

onion

½ small

whole tomatoes

28 oz can (800 g)

red pepper flakes

¼ tsp

basil

to taste
brown butter orzo
butter

3 tbsp

orzo

8 oz (230 g)

vegetable broth

2 c (480 ml)

parmesan

to taste

salt

to taste
instructions
italian style meatballs
Tear the bread into pieces and soak in milk until soft. Drain the excess milk. Break up the bread into small pieces and add to a large bowl.
Add the ground beef, egg, parmesan, chopped parsley and salt to the bread and mix.
Form the meatballs into approximately 20 balls.
In a medium bowl, crush the whole tomatoes with your hands and set aside. Finely chop the onion.
Heat olive oil over medium heat in a large skillet with deep sides and add the chopped onion. Cook for one minute.
Add the meatballs and brown on all sides.
Pour in the crushed tomatoes and add the red pepper flakes if using. Bring to a boil, reduce heat and simmer for 20 minutes or until the sauce has reduced. If the meatballs haven't cooked through, cover and cook an additional 5 minutes.
Garnish with basil and serve with brown butter orzo.
brown butter orzo
While the meatballs are simmering, make the orzo.
Melt the butter in a saucepan over medium heat. Stirring often, cook for about 3-4 minutes or until the butter turns a golden brown. 
Add in the orzo. Mix well to coat and cook an additional minute.
Pour in the vegetable broth and bring the mixture to a boil.
Reduce heat to low, cover and simmer for approximately 15 minutes or until all liquid has been absorbed.
Add parmesan and salt to taste.

Did You Make This Recipe?