Jägerschnitzel, which can be translated as hunter's schnitzel, is a delicious German recipe consisting of a crispy pork cutlet smothered in a creamy mushroom sauce. This schnitzel recipe is comfort food at its finest and pairs exceptionally well with your favorite lager.
I first encountered schnitzel — breaded and fried thin meat cutlets — during a trip to visit the Christmas markets in Mainz. The schnitzel was absolutely astronomical in size and eclipsed the entirety of my dinner plate! Ultra thin and pleasantly crisp, it made a lasting impression and inspired me to try all types of schnitzels from käseschnitzel (cheesy schnitzel) to jägerschnitzel (hunter's schnitzel). This recipe for jaegerschnitzel has become a favorite in our household and, covered in a delicious mushroom cream sauce, is the ultimate comfort food!
how to butterfly meat for schnitzel
Schnitzels are generally cutlets of veal or pork that are pounded with a meat tenderizer to be very thin. Because I usually get pork chops that are a bit too thick to immediately pound as thin as I need them (approximately ⅛ inch or 3 mm), I start by butterflying the meat. It's quick and easy and results in a schnitzel that is evenly cooked and incredibly tender! Read on for a more detailed look at the technique!
1. Prepare the pork chop
Trim the fat off the pork chop and remove the bone if present. Un-flatten the pork chop by pressing its sides towards each other. This makes it easier to slice.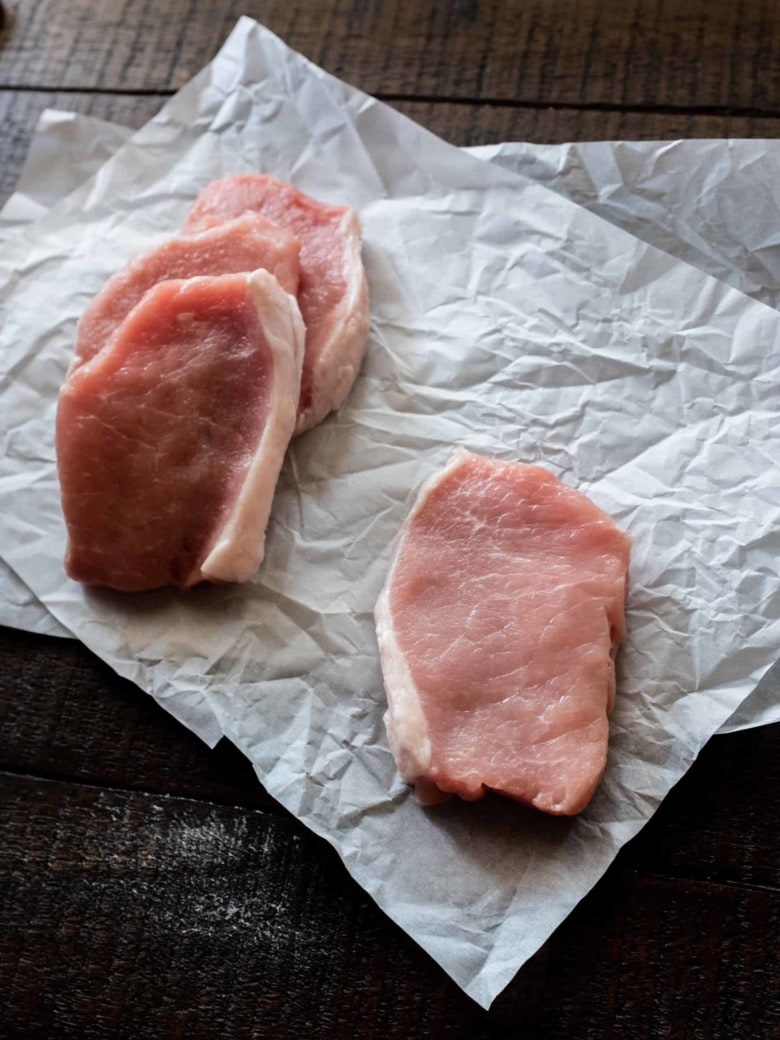 2. Slice the pork chop horizontally
Make a horizontal cut (parallel to the surface) through the long side of the pork chop, but don't cut all the way through. Leave a small portion of about ⅛ of an inch attached at the opposite side so you can open the pork chop like a book.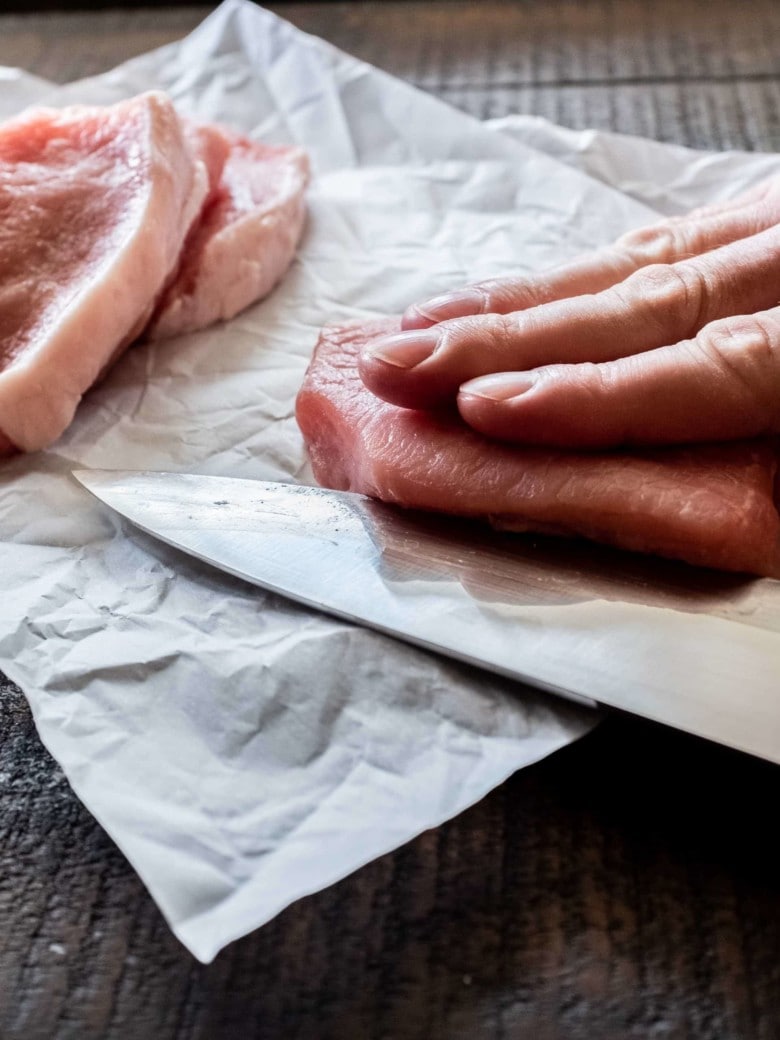 3. Open and flatten the pork chop
Open the pork chop like a book and press to flatten. The resulting cutlet should be half as thick and twice as large in surface area than what you began with. Now you're ready to further flatten the pork chop with a meat tenderizer!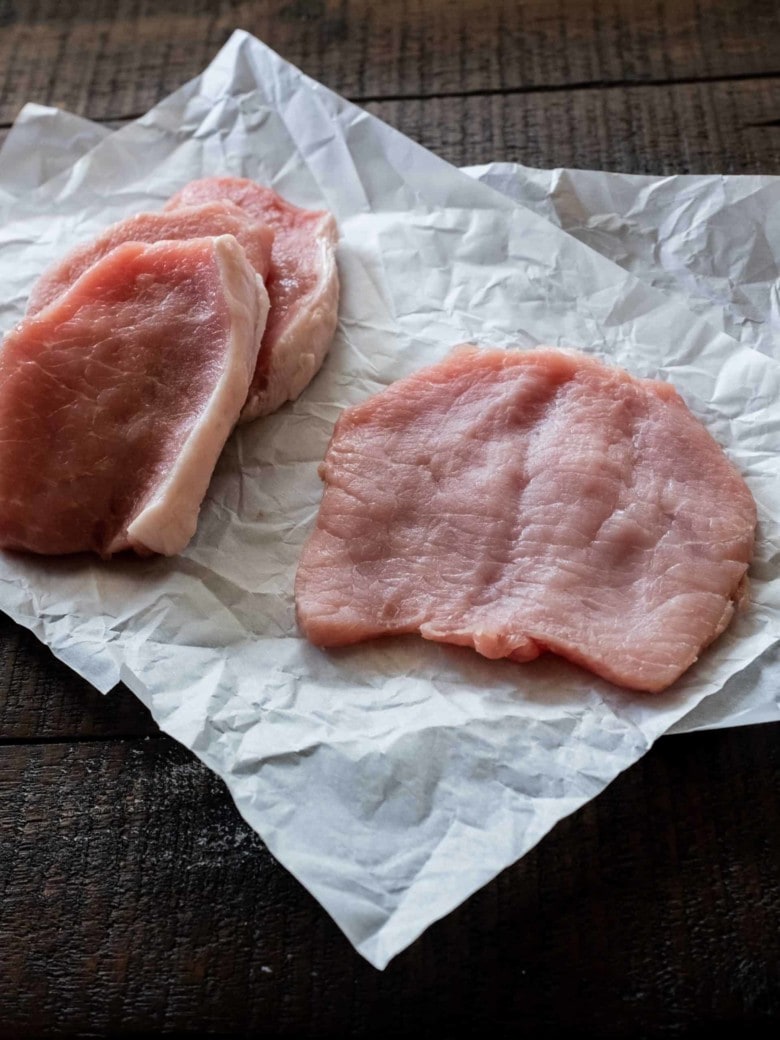 deep frying
Schnitzels are easy to deep fry on the stove. Try to use a pan with deep sides to prevent excessive splashing and if possible, find a pan that is just slightly bigger than your cutlets so you can use a minimal amount of oil. To being frying, heat about half an inch of oil (13 mm) over medium-high heat. There should be enough oil for the schnitzel to float. To check if the oil is hot enough to add the schnitzel, drop a tiny pinch of flour into the oil. If it starts bubbling immediately, you're ready to cook! One more quick tip — take care to place the schnitzel into the oil slowly and in a motion away from yourself to prevent any splashing in your direction. And that's it!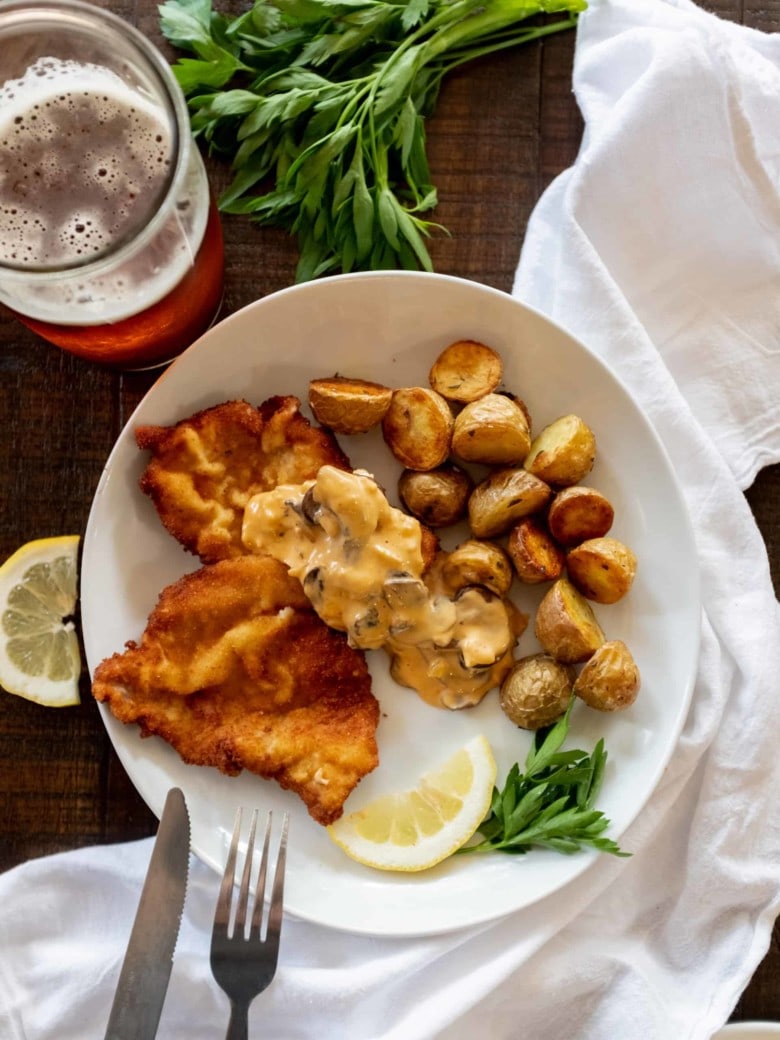 hunter's sauce
You can serve up schnitzel with a variety of different sauces and garnishes, but my go-to choice is jägersoße, or hunter's sauce. Sauteed mushrooms and cream give this sauce a rich flavor that is the perfect complement to schnitzel! And if you want to add even more flavor to your sauce, I suggest a bit of speck (a type of smoked pork belly), wine or, my favorite choice, a bit of tomato paste. This sauce is so full of flavor and easy to make, I rarely make schnitzel without it!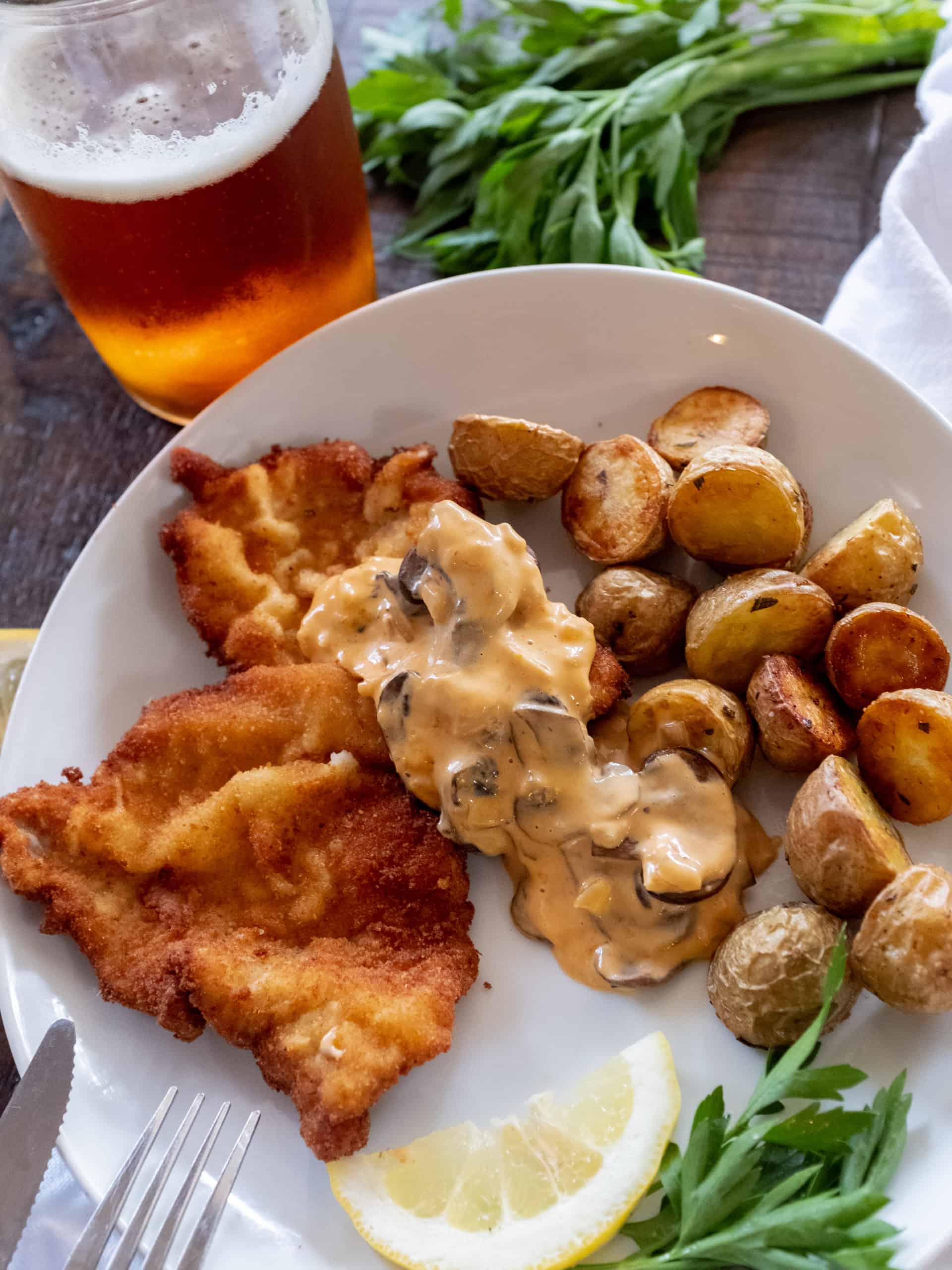 ingredients
schnitzel
pork chops

500 g (1 lb)

salt and pepper

to taste

flour

60 g (½ c)

eggs

2 large

panko breadcrumbs

1 c

oil

for frying
jaeger sauce
mushrooms

300 g (10 oz)

onion

1 small

garlic

2 cloves

butter

2 tbsp

tomato paste

1 tbsp

vegetable stock

250 ml (1 c)

heavy cream

250 ml (1 c)

salt

to taste

chopped parsley

½ bunch
instructions
schnitzel
To prepare the meat, remove the bone and trim the fat. Butterfly the pork chops as needed (see above for detailed instructions).
Place the prepared pork chop between two layers of plastic wrap and pound with a meat tenderizer or the bottom of a pan until about ⅛ inch (3 mm) thick.
Season the pork chops with salt and pepper on both sides.
Prepare a plate with flour, a shallow bowl with lightly beaten eggs and another plate with breadcrumbs.
Place a pan with deep sides on medium-high heat and add enough oil for the cutlets to float (½ inch or 13 mm)
When the oil is hot (drop a pinch of flour into the pan to see if the oil begins bubbling), dredge the cutlets in flour and shake of the excess. Next, coat in the egg mixture and then in the breadcrumbs.
Fry for about 2 minutes on each side, or until golden brown.
Remove to a paper towel lined plate to absorb any excess oil.
jaeger sauce
Meanwhile, prepare the sauce. Slice the mushrooms. Chop the onions and mince the garlic.
In a large skillet, melt one tablespoon of butter over medium heat. Add the mushrooms and saute for 10 minutes or until browned. Remove from pan and set aside.
Add another tablespoon of butter to the pan. Add the onions and cook until golden brown or for about 10 minutes.
Add the garlic and cook for two more minutes.
Stir in the tomato paste and cook for another two minutes.
Pour in the vegetable stock and heavy cream. Mix well. Bring to a boil and then reduce heat to low.
Return the mushrooms to the pan and add salt to taste. Simmer the sauce for about 5 minutes or until it thickens to the desired consistency.
Sprinkle with chopped parsley before serving.

Did You Make This Recipe?