Homemade spätzle covered in melty gruyere and topped with fresh chives and fried onions — it's comfort food at its finest! This käsespätzle recipe is so incredibly delicious and easy enough to prepare that you'll want to make it again and again!
Today I'm sharing another recipe inspired by the year I lived in southwestern Germany — käsespätzle! If you're not familiar with spätzle, it's a type of small dumpling made with just flour, eggs, water and salt. It's super filling, ultra comforting and absolutely delicious served alongside anything saucy. And while it's popular in the cuisines of other nearby regions in various forms, this käsespätzle (literally cheese spätzle) is my favorite version and the one nearest to my heart.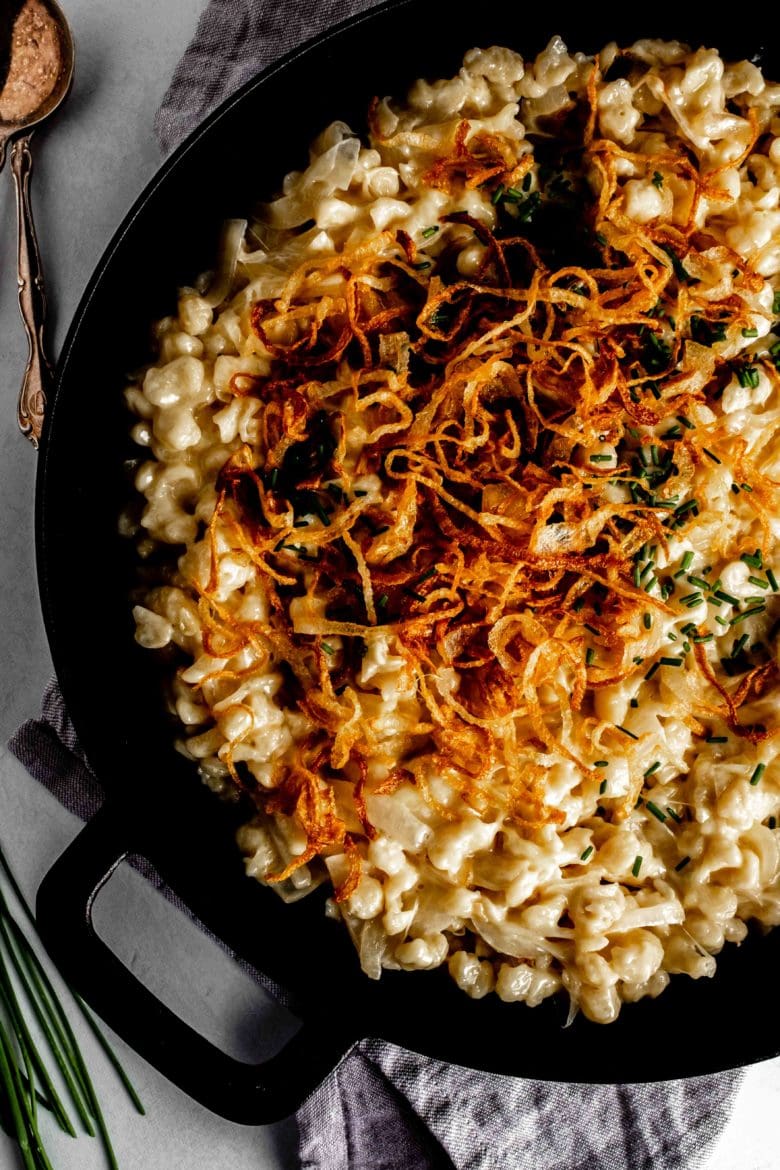 making spätzle
When it comes to making homemade dumplings or pasta, spätzle is about as easy as it gets. Start by mixing together all of your ingredients — flour, salt, eggs and water. You can use an electric mixer if you'd like, but I generally use a whisk. That being said, you need to really whip the mixture so if doing it by hand make sure to put quite a bit of strength into it! We're looking for a consistency that's fairly thick, but will flow steadily from your spoon.
Now all that's left to do is boil your little dumplings to perfection! Traditionally, the dough is spread on a board in a thin layer and then cut and rolled into the water in small pieces. This technique can take some time to master, but you can see a nice video of it here. I usually just use a spätzle maker, which makes the process much easier. There's a few different types of makers — here are the ones I've tried:
This spätzle maker tends to result in dumplings that are a bit shorter than what I'm used too, but that doesn't have an impact on the overall taste. It's also affordable and much easier to use than pushing the dough through a colander or grater.
When I moved back to the US, my colleagues gifted me a press-type spätzle maker. While this isn't the exact one I have used, it looks quite similar and I've found it creates the least mess.
And if you don't want to invest in a spätzle maker, no problem! You can simply push the dough through a colander or the large holes of a grater into the boiling water. It's easy enough, but can sometimes be a bit of a hassle to clean up.
And finally — your spätzle is finished when it floats to the top of the pot. Use a slotted spoon to scoop up the dumplings and immediately rinse them with cold water to stop the cooking.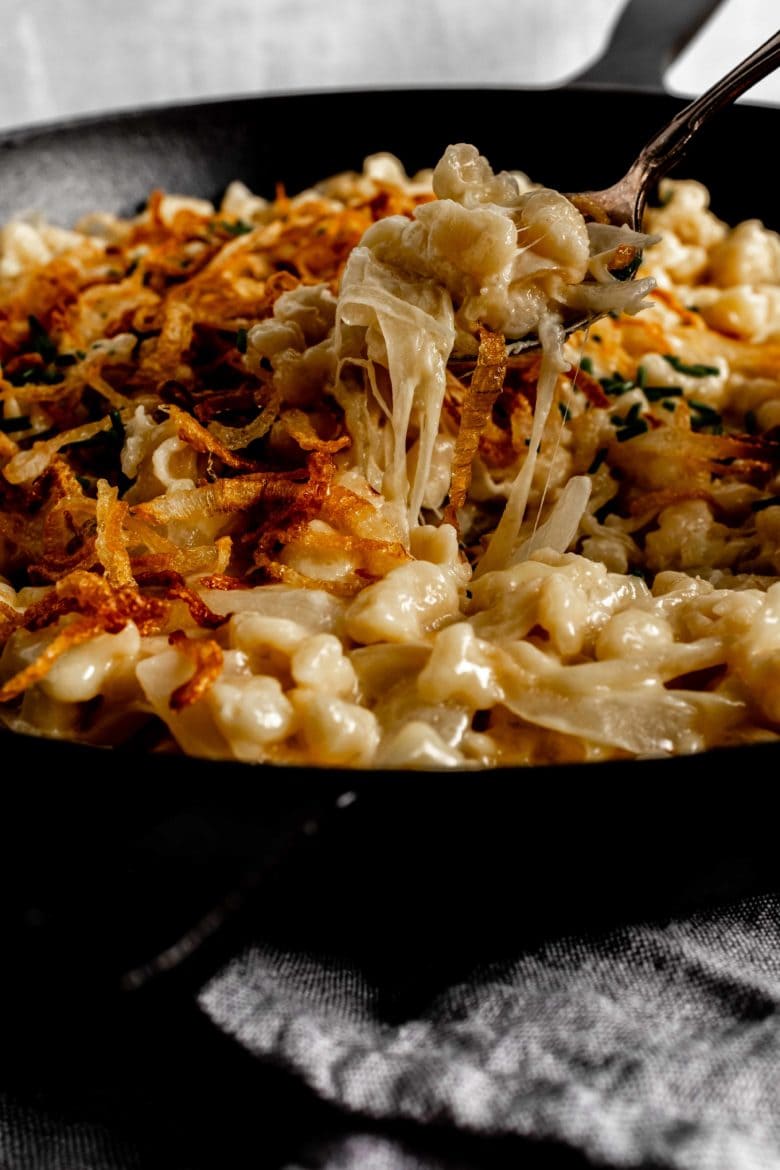 all of the käse!
And now what should you do with your prepared spätzle? My favorite options are to serve it alongside a creamy mushroom sauce (like this jäger sauce) or make käsespätzle, which literally translates to cheese spätzle!
Where I lived in Germany, bergkäse (mountain cheese produced in the Alps) was most often used when making this dish. I use gruyere in this version, but emmental would make a great substitute.
To make cheese spätzle, start by sauteing sliced onion in a bit of butter. There aren't many ingredients in this recipe, so make sure to be patient with your onion until it's nice and caramelized — it should take about 20 minutes. Next add a bit of vegetable broth and heavy cream and cook until the sauce thickens. Now just stir in your homemade spätzle and add about 2 cups (200 g) of shredded gruyere. Let the mixture cook until the gruyere has melted and that's it!
This käsespätzle makes a great entree, but also works well as a side dish alongside grilled bratwurst or any of your favorite German fare. Either way, I always like to top it with fresh chopped chives and fried onions, but that's completely optional!
For more of our favorite cheese-filled appetizers and entrees, make sure to check out these recipes!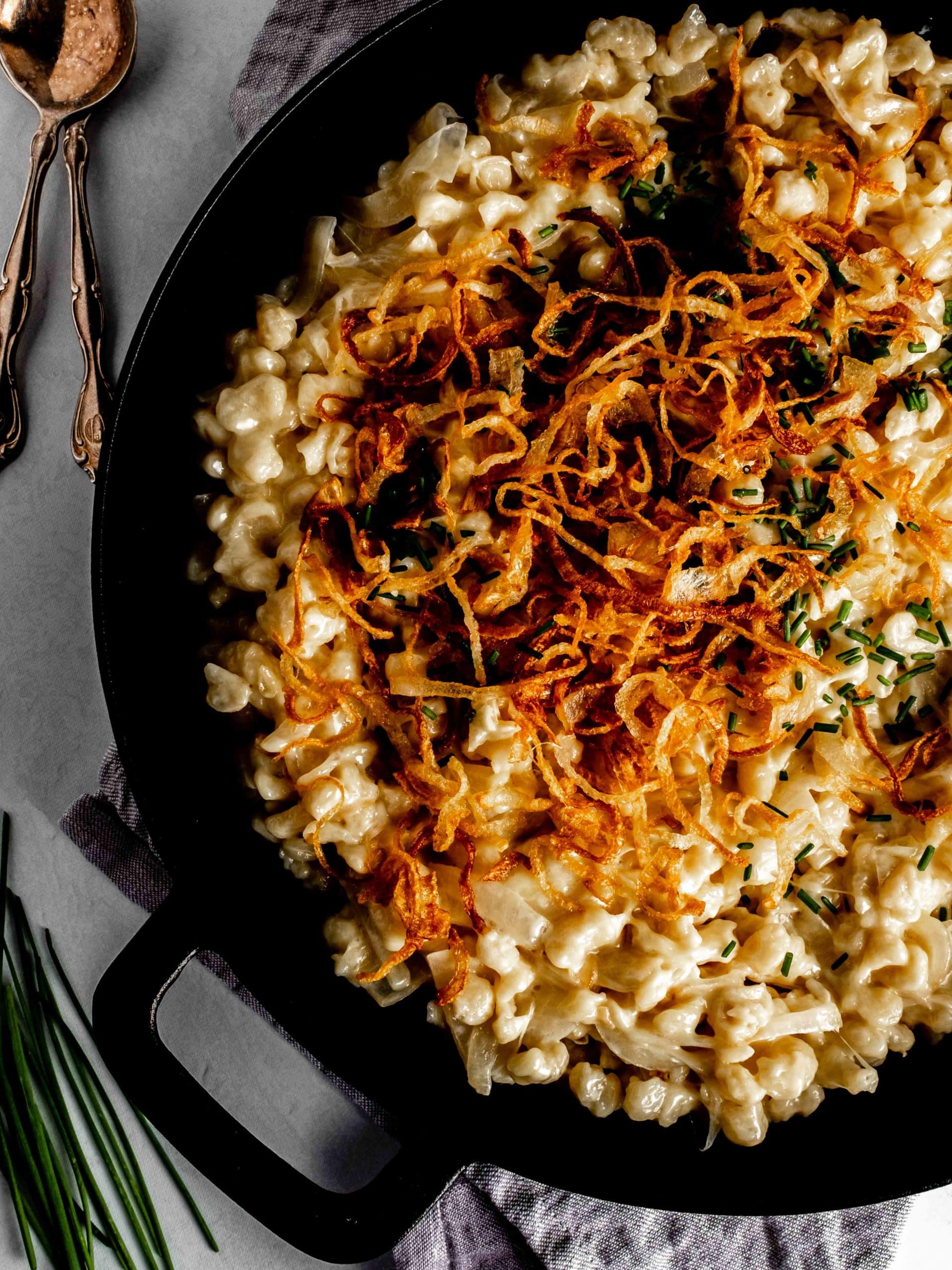 ingredients
spätzle
flour

2 c (240 g)

(spooned and leveled*)

salt

½ tsp

eggs

3 large

water

½ c (120 ml)
käsespätzle (spätzle with cheese)
butter

2 tbsp

onion

1 medium

vegetable broth

¼ c (60 ml)

heavy cream

½ c (120 ml)

shredded gruyere

2 c (200 g)

salt and pepper

to taste

chives (optional)

to garnish

fried onions (optional)

to garnish
instructions
spätzle
In a large bowl, whisk together the flour, salt, eggs and water. The mixture should be quite thick, but still flow from a spoon. Add a bit more water if necessary.
Let the dough rest for at least 10 minutes. In the meantime, bring a large pot of salted water to boil. 
Working in batches, push the spätzle dough through a colander or the large holes of a grater into the boiling water. Alternatively, use a spätzle maker for this step.
Cook until the spätzle begins to float. Immediately remove with a slotted spoon and rinse with cold water.
käsespätzle (spätzle with cheese)
Cut the onion into thin half circles.
Melt the butter in a large skillet over medium heat.
Add the onion and a pinch of salt. Cook for 20 minutes or until lightly caramelized, stirring often. Reduce heat a bit if the onions are cooking too fast.
Add the vegetable broth and heavy cream. Season with salt and pepper to taste. Bring the sauce to a boil and cook, stirring often, until the sauce thickens slightly (about 2 minutes).
Reduce heat to a simmer and mix in the spätzle. 
Add the grated gruyere and simmer, stirring occasionally, until the cheese has melted.
Top with chives and fried onions if desired.
notes
Spooned and leveled: Scooping a measuring cup into a flour container can result in much more flour than intended, which can affect the success of your dough. To get a more accurate measurement, use a spoon to lightly scoop flour into the measuring cup until it's completely full. Then run the back of a knife over the cup to gently scrape off any excess.

Did You Make This Recipe?
This post may contain affiliate links through which we may earn a small commission at no additional cost to you. We only recommend products that we genuinely love and would use ourselves.